Nothing is more exciting than running a successful small business. However, as you get busier, it becomes more difficult to keep up with your growing business needs. 
If you struggle to keep organized and find that your team constantly falls behind on important sales tasks, you probably need a CRM for workflow automation. Luckily, there are several CRMs with features that can enhance your team's productivity and streamline your business processes.
Wondering what a CRM for workflow automation can do for your business? Today you will learn exactly why you need a CRM to automate your workflows, and find out which are the best CRMs to help grow your business.
Why use a CRM for workflow automation?
If your workflows are not in order, many aspects of your business will suffer, including your customers. Automating your workflows will have a positive impact on several components of your business.
Let's take a look at how using a CRM for workflow automation will simplify each step of your sales process.
Lead collection
Consistently having sales prospects come from multiple channels is a great thing. It means that your business has a lot of exposure and people are interested.
Keeping your leads organized is an important step to successfully give each one the attention they need, but it becomes difficult and time-consuming to centralize all of the information on leads you're receiving. If you're unable to keep up, you end up missing out on potential revenue.
Automating your lead collection process will ensure that every lead is accounted for. A CRM for workflow automation can help you with that, and make everything that follows much easier.
Lead assignment
Lead assignment can be another time-consuming task for sales managers, but it's also another process that can easily be automated.
Once you establish an organized way of collecting your leads, you need to assign each of them to a sales rep. It's important to assign your leads right away, but you also want to make sure that this process is organized so as to not have several sales reps contact the same lead.
Using a CRM for workflow automation allows for an organized method of assigning leads and ensures that every lead is followed up with in a timely manner.
Prospect follow-up
It's important to follow up with every prospect, and only following up once is rarely enough to move closer towards turning your lead into a customer.
According to Brevet, 80% of sales require an average of five follow-ups in order to close a deal. Multiply that by the number of prospects you have, and you realize that your sales team has their work cut out for them. 
Inevitably, if you're following up manually, some sales are going to slip through the cracks. However, a CRM can help prevent that from happening.
A CRM allows you to leverage automation by instantly scheduling follow-up activities for your sales reps. With an automated process in place, you can rest assured that each lead is followed up with and brought down the sales funnel by your team.
Sales pipeline management
Tracking your sales data gives you the best insights into your business, such as:
The likelihood that each ongoing deal will close.
How much revenue has come in.
How each of your sales reps is performing.
Manually tracking these data points is a slow process, so it's an excellent one to automate.
Instead of spending hours in Excel trying to figure out these insights, a sales automation tool such as a CRM streamlines this process for easy-to-read insights on the numbers you need.
Even better, CRM tools often feature options to filter data by categories such as:
Closed/won deals.
Sales rep.
Total revenue.
Using these filters helps you dig deeper into the data to understand what is currently working well for your business and what you may need to improve.
Still wondering how using a CRM for workflow automation can help improve your business? Let's get more specific and explore the benefits of using a CRM for workflow automation.
What are the benefits of using a CRM for workflow automation?
Automating your workflows is essential for keeping your business moving forward. After all, your goal is to grow, right? A CRM can help you grow faster by automating the manual tasks you hate doing, benefiting other areas of your business as a result.
Let's take a look at some of the key benefits of using a CRM for workflow automation.
Gain data-driven insights on your customers
As a small business, your top priority is your customers. After all, your customers are what will directly grow your business.
To have the best insights into your customers, you need to know their pain points, learn their needs, and figure out a way to deliver solutions for them.
Using a CRM for workflow automation will help you get to know your customers better by gathering helpful information on them, which allows you to implement strategies to better serve their needs. 
Increase the productivity of your team
Using a CRM for workflow automation means less manual work and more meaningful work.
Tasks that your sales team must tackle on any given day include:
Managing leads.
Following-up with customers.
Answering customer questions.
Creating estimates.
Scheduling meetings.
And more!
There are only 24 hours in the day, and you can't expect your sales reps to work all of them, so it becomes impossible for them to complete all of these tasks and still have time to do their main job: sell!
Using a CRM to automate these workflows allows your sales team to focus on high-value tasks, which will increase productivity and performance from your sales reps.
Don't waste your productivity on manual tasks. Let your CRM workflow automation software do the work for you.
Strengthen your relationships with your customers
In order to retain customers, you must maintain a positive relationship with them.
Maintaining a positive relationship with your customers requires a lot of time and attention, and if your sales team is bogged down with administrative tasks, they may not be giving each customer the attention they need. This is where a CRM can help.
With a CRM eliminating the need for manual data entry, you free up time for relationship-building tasks such as:
Visiting your customers' offices.
Performing product demos in person.
Taking customers out for lunch.
A CRM will never be able to replace the human aspect that is necessary to building relationships with your customers, so leverage it to complete the other tasks that don't require as much of your attention.
Thinking a CRM may be the solution for your business? Let's discuss what you should be looking for when choosing a CRM for workflow automation.
What to look for in a CRM for workflow automation?
Every business can benefit from using a CRM for workflow automation, but there's no one-size-fit-all solution when it comes to finding the right one.
When choosing a CRM for workflow automation, consider the following factors.
Size of your organization
The size of your business determines the type of capabilities you may need from a CRM. This can be measured by:
Number of employees.
Number of users.
Number of customers
Number of transactions.
The bigger your business, the more capabilities you will need from your CRM.
Your industry
Different industries have different needs. For example, the automation needs of an online retailer are different from the needs of a non-profit organization.
You want to make sure that the CRM you choose makes sense for your industry. Some industries have more complex sales pipelines, and others need deeper customer engagement. Choose a CRM for workflow automation that makes your business stand out from the competition.
Software integrations
Your goal in getting a CRM is to automate your workflows, so you want to consider whether a potential CRM can integrate with your current tools.
Luckily, today most CRM solutions are designed to integrate seamlessly with a variety of different applications, including:
Email.
Calendars.
Schedulers.
Chatbots.
Social media management.
However, be sure to double-check before you commit to one system. You don't want to think you've found the perfect solution only to find out that it won't integrate with your calendar!
Your business objectives
This is probably the most important factor to consider when choosing a CRM for workflow automation. What business objectives do you want your CRM to help you reach?
Are you simply looking to keep better track of your customers? Do you want to offer better customer service? Or maybe you want to create a personalized customer experience.
No matter what your business objectives are, there is a CRM system out there that will help you achieve your goals and improve your business.
Now let's take a look at some of your options.
The 4 best CRMs for workflow automation
Choosing a CRM for workflow automation can be difficult as there are so many systems on the market, each with their own capabilities.
Many CRM platforms offer free trials, so before committing to a solution, it's recommended that you try it out to see if it's the right fit for your business.
To help you get started, we've put together a list of tools to help you decide what the best CRM for workflow automation is for your business.
1. Method:CRM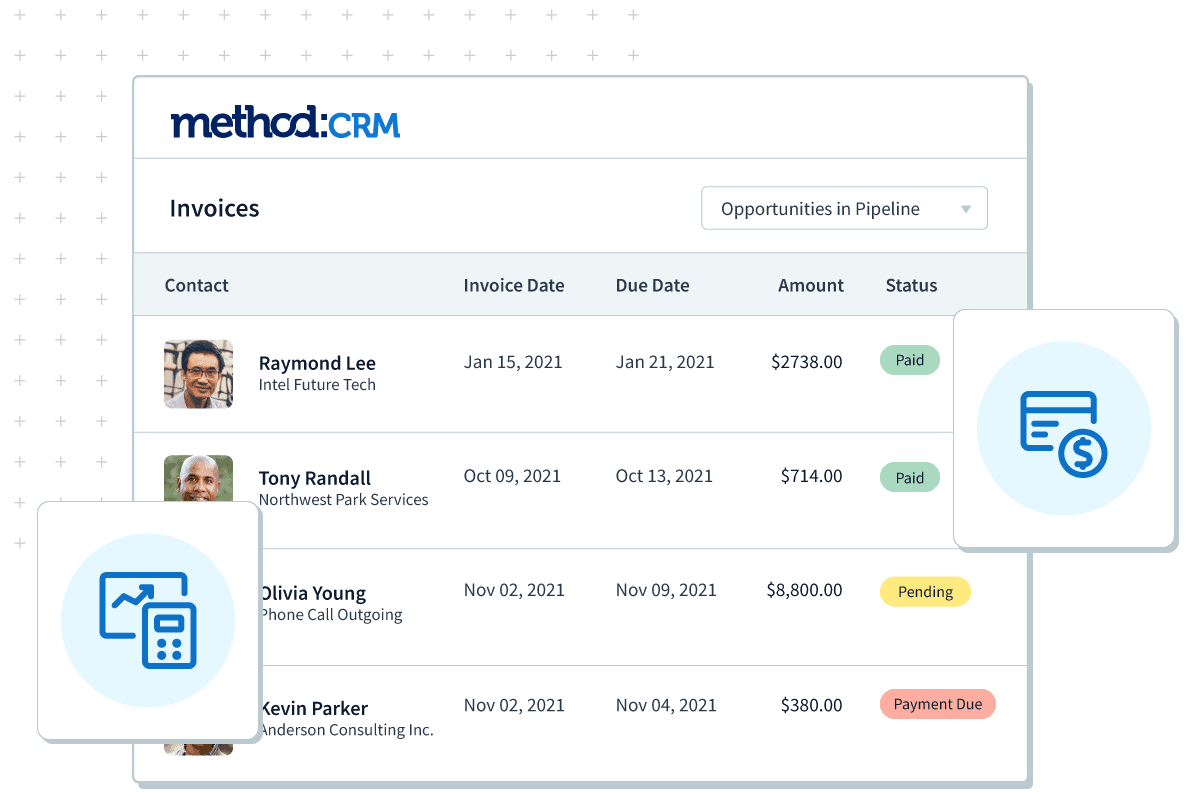 Method:CRM is the only CRM on our list that provides two-way sync with QuickBooks Online and QuickBooks Desktop. In fact, Method is the #1 rated QuickBooks CRM. 
Method:CRM can help you streamline your sales process and turn your leads into repeat customers. We specialize in solutions for small and medium sized businesses across many industries, such as:
Manufacturing.
Non-profit.
Construction.
Accounting.
Field services.
Method:CRM also offers unlimited workflow automation, meaning this CRM solution can easily grow with your business.
Some of the key workflows that Method:CRM can help you automate include:
Lead management: Web to lead forms allow you capture every lead from your website, then instantly add them to QuickBooks when they become customers.
Seamless billing: Convert a customer estimate to an invoice and collect payment all in one place by using Method:CRM's self-service customer portal. The process is smooth for your customers, and each step syncs to your QuickBooks account.
CRM integrations: Method:CRM integrates with your favorite apps so you can access your data from anywhere. Keeping track of your contacts is easy with our Gmail and Outlook integrations, and send email campaigns in just a few clicks with our Mailchimp integration.
Reporting: Method:CRM's reporting capabilities allow you to build custom reports, create reusable templates, and uncover the insights you need to grow your business.
Method:CRM's 100% customizable, no-code platform means that you can adapt it to automate your workflows to your needs without any coding knowledge. But don't worry, if you do find that you want to create something more complex, you can always call on one of Method's customization experts.
Method offers two competitive pricing options, Contact Management and CRM Pro, both of which can be customized to suit your business's specific needs.
2. HubSpot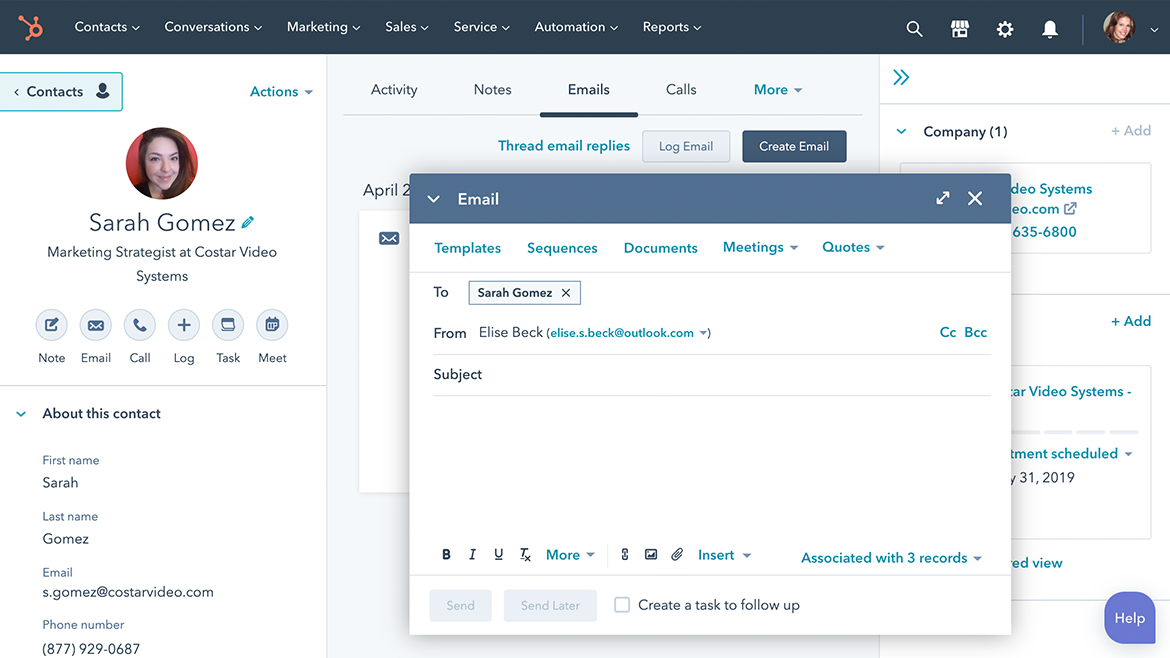 HubSpot's CRM platform will allow your sales reps to get richer insights into your customers and warmer leads. HubSpot is a good choice for those who want to automate their marketing processes, as well as their sales processes. 
HubSpot's automation software allows for email marketing and social media management. It can even be used as a CMS (content management system) for content marketing. However, be aware that their email templates are difficult to modify without basic CSS knowledge, and their reporting capabilities are limited.
As well, HubSpot does offer a limited free version of their plans, but if you take advantage of its full capabilities, the monthly price can add up quickly.
For example, if you're looking to automate your sales workflows, moving from their Starter plan to their Professional plan means a jump from $50 a month to $500 a month. Upgrading to their Enterprise option is another major jump, costing $1,200 a month.
3. Salesforce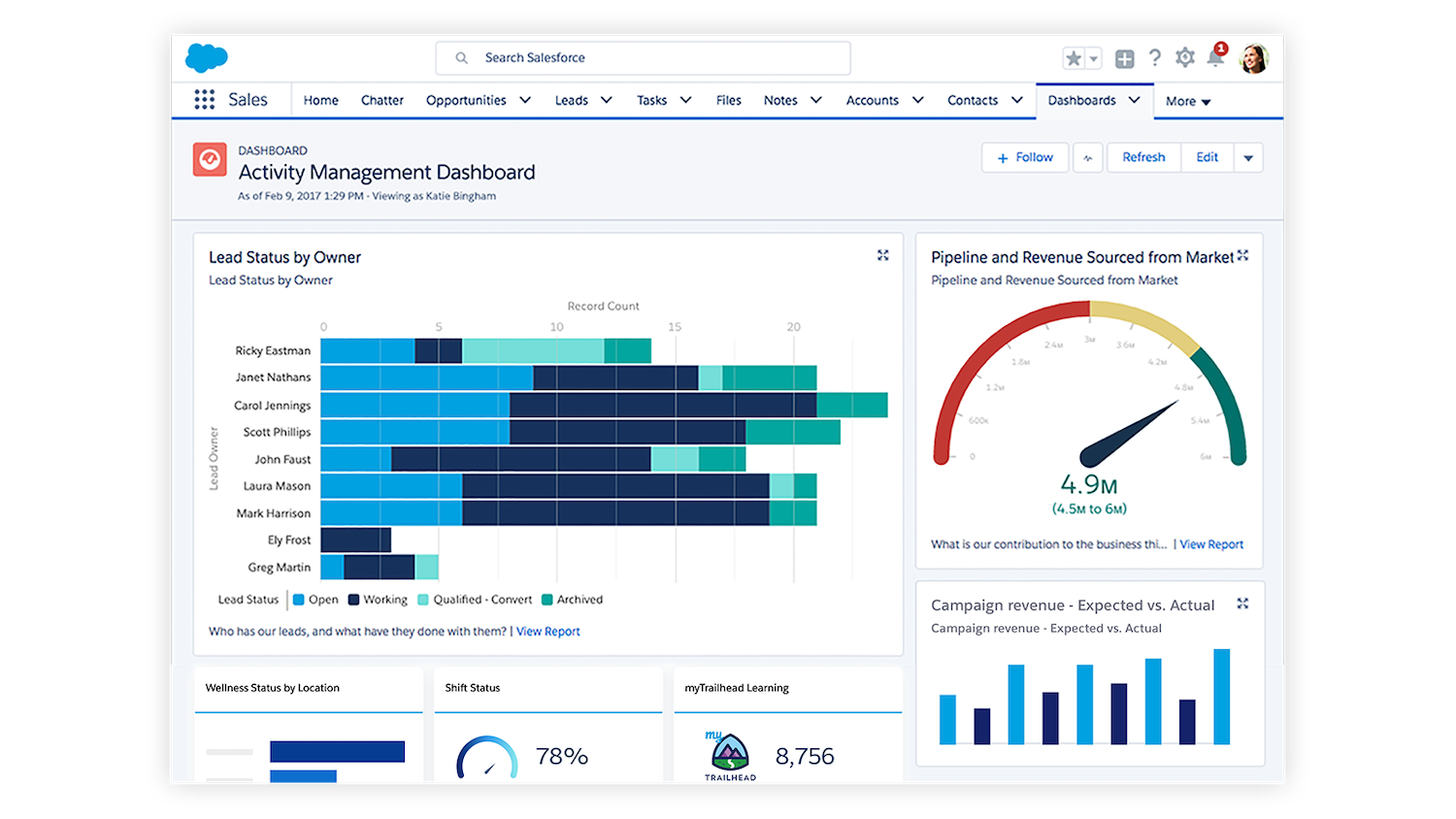 Salesforce has a popular CRM platform suitable for businesses of all sizes and a wide range of industries. Salesforce offers capabilities such as:
Lead and contact management.
Opportunity management.
Customizable reports.
Users praise Salesforce for the large choice of tools they offer that help you connect with your customers' needs. However, Salesforce customer support is limited, with users noting that live support is not easily accessible.
Furthermore, Salesforce is one of the pricier CRM options for workflow automation on our list. They also only have the option to bill annually, which must be considered when planning your CRM budget. 
4. Zoho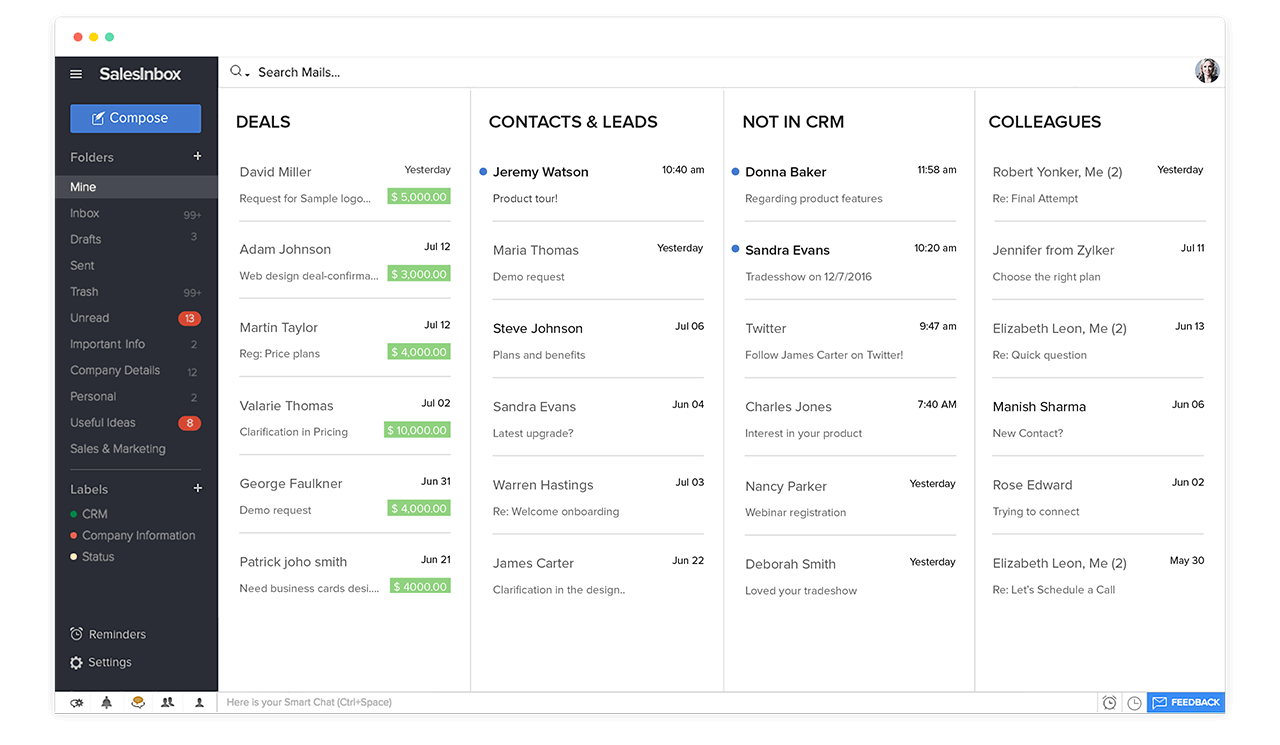 Zoho is a CRM platform and has a lot of the capabilities you need from a CRM for workflow automation. 
A notable feature is that their multi-channel support allows you to reach your customers via phone, live chat, email, or through social media. They also have an AI-powered sales assistant called Zia to provide interpretations, solutions, and predictions for your sales team.
Although Zoho's pricing is reasonable, their overall capabilities are limited. For example, there is a limit on the number of custom fields you can add. As your business grows, you might find yourself in need of more complex business functions that Zoho may be unable to support.
Recap: How to choose the right CRM for workflow automation
Choosing a CRM for workflow automation is difficult, but you're the only one who can make that choice.
A CRM that works for one organization may not work for another, so it is important to determine your business's specific needs and figure out how you want to propel it forward.
What you should look for in a CRM solution is:
Native integrations with the tools you already use.
The option to try before you buy.
Ability to personalize your workflows.
All in all, choosing the right CRM for workflow automation will motivate your team and drive your business forward.
Method:CRM has everything a CRM solution should deliver, and more. Start your free 30-day trial today!
Image credit: Michael Burrows via Pexels