Customer service is essential for any growing business. To provide the best customer experience, you need the right tools behind you, like customer relationship management (CRM) software.
But with all the options available, which one is the best CRM for customer service? Read on for the best CRM tools for customer service in 2023 and beyond!
What is customer service software?
Customer service software is any program or tool used to assist customers. It has a variety of uses like organizing support requests, collecting customer data, and reporting issues with a product or service.
Good customer service solutions help you handle customer queries quickly and accurately. In turn, this creates a better customer experience that sets you apart from the competition.
Some examples of customer service software are:
Customer relationship management (CRM): A CRM for customer service ensures that key customer details never fall through the cracks and that your team is equipped with the information they need to provide excellent service.
Call center support: Phone calls are one of the most common customer service channels. Call center support software routes calls to the right customer service representatives for customer inquiries and concerns.
Live chat app: Many companies implement a live chat app on their website homepages or social media accounts. This lets customers talk directly to a customer service rep without having to make calls.
Automated customer support agents: Whether through your CRM for customer service or another tool, you can implement AI-based chatbots to handle simple customer requests. This frees up your human customer representatives to address more pressing and complex inquiries.
Knowledge base pages: A self-service knowledge base or help center empowers customers to solve common issues on their own. Maintain these pages so they contain up-to-date information.
Video chat: Some customer issues need more than a phone call, which is where video chat comes in. A good video chat app lets customer support agents share their screens and demonstrate how to solve issues.
These days, people expect a lot out of customer service. To fulfill these high customer expectations, apply these best practices:
Meet customers on their terms — be present on all communication channels and provide 24/7 customer service if possible.
Use the customer's purchase history and preferences to personalize their customer experience.
Implement collaboration tools to facilitate communication between teams.
What is CRM software?
Customer relationship management (CRM) software stores your customer data in one place that everyone in the company can access. CRM tools for customer service boasts tools like lead management, online customer portals, and reporting dashboards.
The main goal of a CRM is to nurture lasting relationships with customers, even after they purchase your product.
If the customer has a good experience buying your products, they'll be happy to come back for more business in the future.
Some benefits you can get from implementing CRM for customer service include the following.
Make customers happy
42% of worldwide consumers will pay more for a good customer experience. So, implementing CRM for customer service allows your team to handle inquiries more effectively, which improves your customer service.
Ans consistently providing an exceptional customer experience results in loyal customers that buy more and promote your business to others.
Resolve disputes fast
CRM tools for customer service record email exchanges and phone calls, which comes in handy when handling customer complaints.
If someone complains about your customer service agent being unprofessional or unhelpful, you can cross-check the records to verify the customer's claims.
Plus, these historical records give a full picture of the interactions a customer has had with your business over time.
Boost customer service agent productivity
As a small business, you may not have a large customer service team. However, a CRM for customer service automates tasks for your team such as customer management, communication, and service requests.
This allows faster call resolutions and more customer issues to be resolved each day. A true win-win!
Track and manage inventory
Some CRM tools for customer service provide inventory tracking capabilities. This is helpful as real-time inventory tracking informs you of where your products are and how many you have in stock.
In turn, this makes you much less likely to miss a shipment and disappoint customers.
Why do small businesses need a CRM for customer service?
Businesses of all sizes benefit from CRM tools for customer service. Here are some great reasons to implement a CRM for customer service as a small business.
Quicker resolution
A CRM for customer service makes issue resolution easier and faster.
From the customer perspective, multiple channels to get support lets them use a platform they're comfortable with and frequent. From your end, customer service reps can easily look up customer data, resulting in faster response times.
CRM tools for customer service also record common questions asked by customers so you can put the answers on your FAQ page. This frees your customer support team to work on other customer issues.
Real-time data sharing
Your company may have different teams, but you all deal with the same pool of customers.
CRM tools for customer service provide a central hub for the information gathered by your marketing, sales, and service teams. You can create highly-detailed customer profiles based on the interactions a customer has with your brand and give the employees that need this data access to it.
In addition to helping your team provide better customer service, these detailed profiles enhance your marketing campaigns and customer personas.
A complete history of each customer
A record of past customer interactions comes in handy for repeat buyers or those with persisting customer service issues.
Instead of having to go through a lengthy introduction and data verification, your customer support agents get right into solving the problem.
Plus, customer interaction records can be analyzed to identify the most common issues among customers. If an issue appears repeatedly, there may be something wrong with your product or service that's worth addressing.
Increase customer lifetime value
Customer lifetime value (CLV) is the total worth of a customer based on all the transactions they will complete with your business.
Since customer retention is cheaper than customer acquisition, high CLV ensures sustainable business growth.
Consistently delivering an excellent customer experience is the key to constant CLV improvement. CRM for customer service helps you provide personalized services and resolve customer issues so they stay loyal and happy.
Another plus is that your loyal customers are more likely to make repeat purchases and engage in word-of-mouth marketing.
Your guide to the eight best CRM tools for customer service
While most CRM tools offer similar features, some of them are more suited to your needs than others. Here are the best CRM for customer service options on the market today.
Method:CRM syncs up with QuickBooks to make your customer management, sales, accounting, and bookkeeping easier. It boasts integration with numerous business tools like Gmail, Outlook, Google Calendar, Zapier, and many more.
Some features that make Method:CRM a top choice include its:
Online consumer portal: Empower your customers to make purchases, update contact information, and complete payments through a simple online portal.
360-degree customer database: Store and access all your customer information in one intuitive database.
Automatic invoicing tools: Save time on invoice creation with pre-filled invoice templates.
Customer interaction tracking: Record details on every customer interaction for future reference.
Plans and pricing
Method:CRM starts at $25 per month per user. You can also sign up for a free trial — no credit card or contract required.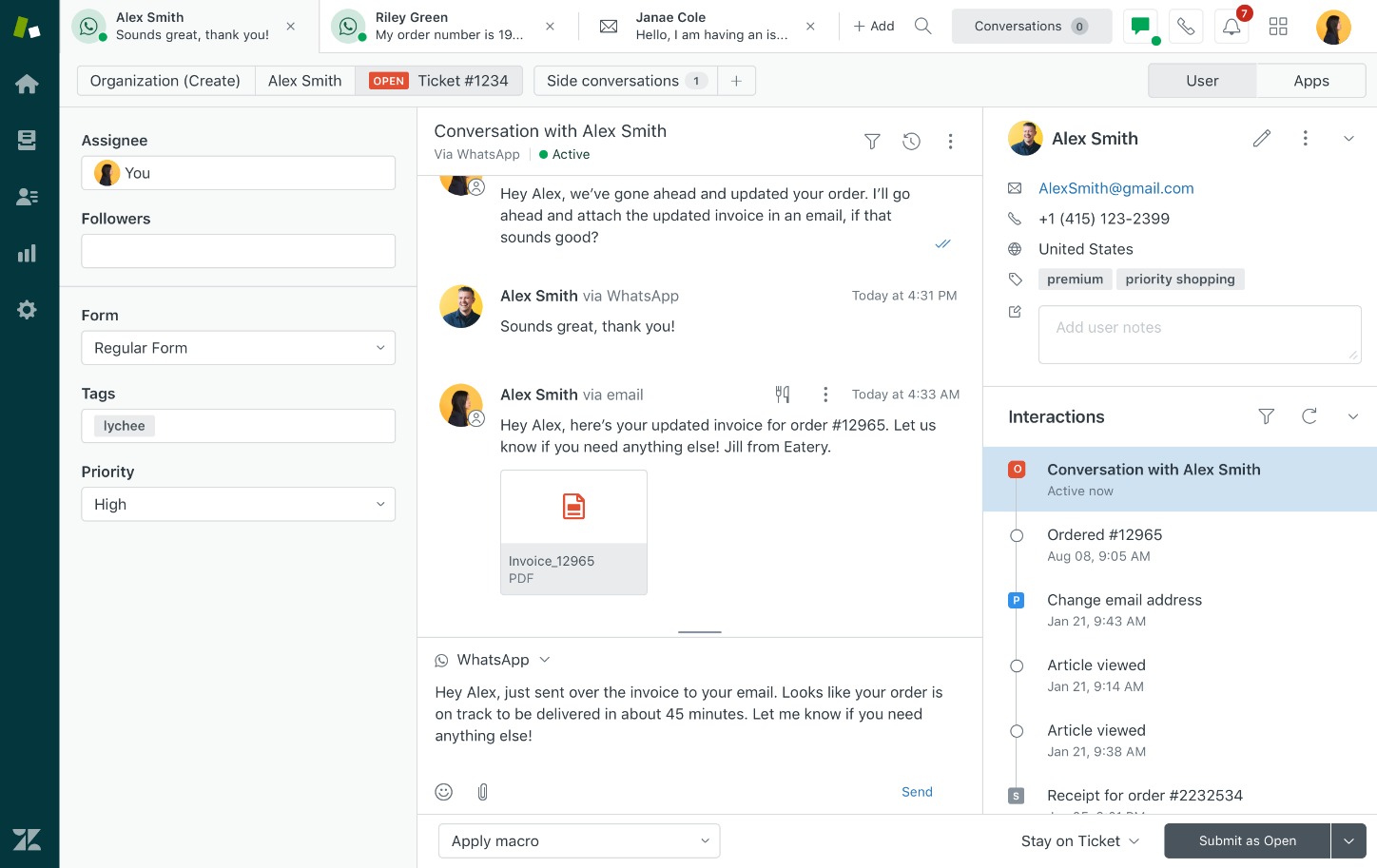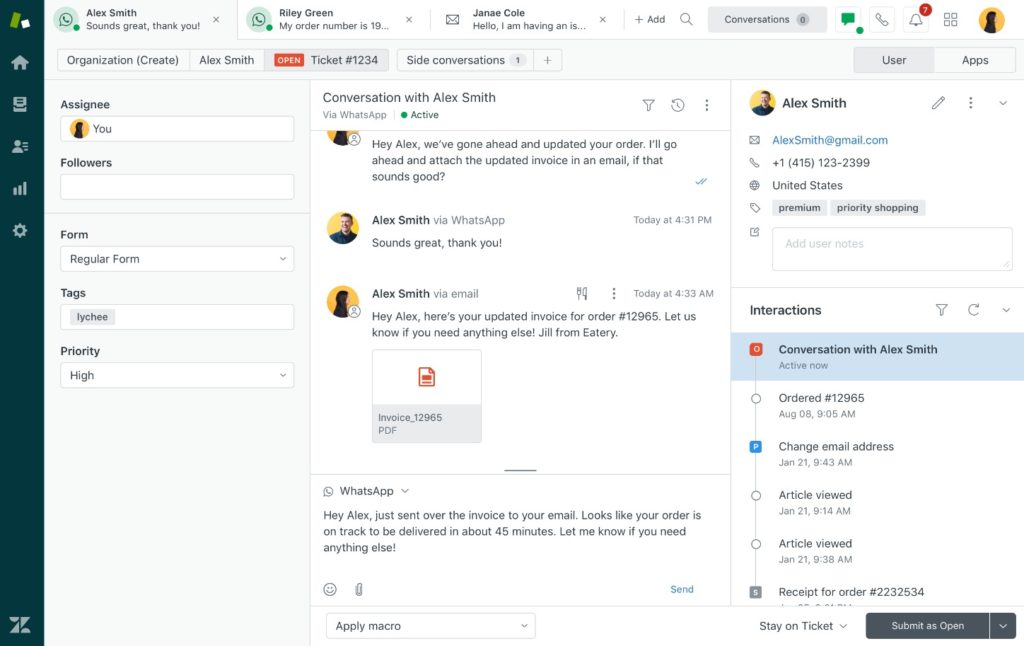 Image credit: G2
Zendesk is a popular help desk software that unifies your customer service experience across multiple channels. This software links multiple chat and messaging services with one chat window per customer, regardless of what apps they use.
Some key features offered by Zendesk include:
Help center page builder: Craft informative self-service knowledge bases that help customers and support agents alike.
Always-on artificial intelligence chatbot: Save your customer service agents' time by programming Zendesk's Answer Bot to answer simple customer inquiries.
Platform customization: Download plugins through Zendesk Marketplace to add extra functionality to your software.
Data reporting tool: Measure customer satisfaction and support team performance from pre-filled reports.
Plans and pricing
Zendesk's premium plans start at $49 per month per user. It also offers a one-month free trial.
Salesforce Sales Cloud is a CRM platform with a robust dashboard that helps you provide personalized customer service. Its mobile app also lets you access customer data wherever you are.
Other features found on Salesforce Sales Cloud include:
Sales forecasting: Predict future demand and estimated revenue from current customer data.
Lead management dashboard: Assign leads to the right sales reps to improve your closing rate.
Report creation tool: Check on customer analytics reports to make more informed decisions.
Automated approvals: Save time by automatically approving business requests like travel reimbursement and expense reports.
Plans and pricing
Salesforce Sales Cloud's premium features start at $25 per month per user. There's also a 14-day free trial.
Image credit: Clarity CRM
Clarity is a CRM for customer service that allows you to modify the interface according to your needs. It also offers free customer service for all its users.
Some other notable features of Clarity CRM include:
Online contact management: Organize customer data by segments and preferred products to craft better marketing campaigns.
Mobile CRM app: Look customer data up and generate quotes from anywhere.
Email marketing tool: Send bulk marketing emails faster.
Task management dashboard: Track employee productivity by monitoring their day-to-day tasks.
Plans and pricing
Clarity CRM's paid plans start at $39 per month per user. You can also sign up for a demo on its website.
SugarCRM is an award-winning CRM software that maps customer journeys effortlessly. It also automatically assigns tasks to the appropriate employees to improve efficiency.
SugarCRM also boasts features like:
Omnichannel customer communications: Talk to customers on whatever channel they prefer, and keep consistent records of your interaction history.
Sentiment analysis tools: Predict how customers feel about your brand with an AI customer satisfaction estimate.
Self-service portal: Empower customers by allowing them to seek solutions on their own.
Real-time customer alerts: Get updates on your top customers' important activities.
Plans and pricing
SugarCRM's premium features start at $49 per month per user. You can also sign up for a demo if you like.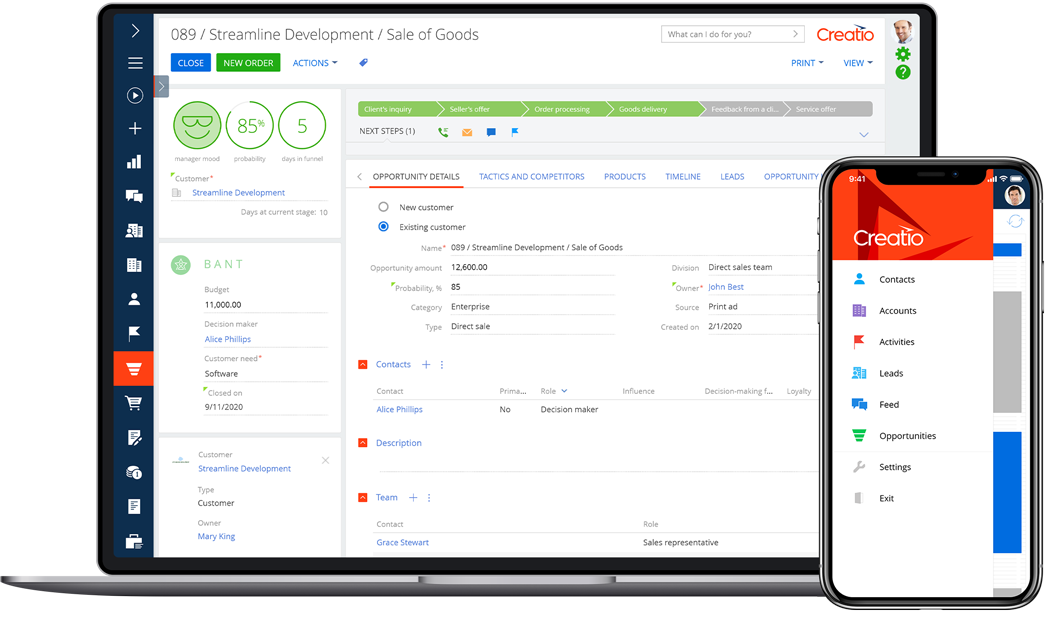 Creatio is CRM software that gives you total freedom to create your own dashboard. Its CRM tools for customer service, such as the Studio feature, offers pages, views, and workflows that you can mix and match according to your needs.
In addition to this flexibility, Creatio also offers:
Website behavior tracking: See how customers browse your website and learn which pages are most popular.
Automatic customer segmentation: Create segmented audiences based on select attributes for more effective marketing.
Marketing campaign management tools: Run multichannel campaigns through a single dashboard.
360-degree customer profiles: Store information about your customer so you can provide the best products for them.
Plans and pricing
Creatio's premium CRM features start at $540 per year per user.
Image credit: Capterra
Freshdesk is a popular help desk software used by major companies like Bridgestone and Pearson. Its Freshchat platform merges all messages from a customer into one inbox regardless of channel, keeping communications organized.
Freshdesk also offers features like:
AI-powered chatbots: Build smart chatbots with minimal coding to address simple customer inquiries.
Quick messaging templates: Greet website visitors with pre-written messages.
Collaborative ticketing: Encourage multiple customer support agents to work on especially challenging tickets together.
Internal team forwarding: Forward tickets to other teams without switching to another app.
Plans and pricing
Freshdesk's premium plans start at $18 per month per user. This CRM for customer service offers a free plan and a 21-day free trial.
HubSpot is CRM software that merges marketing, sales, customer service, and content management tools in one platform. Some of its best features include:
Ad tracking dashboard: Track the performance of online ads to better justify spending and redirect resources to more productive campaigns.
Secure customer portal: Give customers the ability to create purchase orders and make payments without customer service assistance.
Customer knowledge base: Provide FAQ and help pages so customers can solve problems independently.
Document management system: Store useful sales documents and brochures that your sales agent can share with potential customers.
Plans and pricing
HubSpot's premium plans start at $50 per month per user. This CRM for customer service offers a set of free tools too if that price point is too high for you.
Recap: The value of using a CRM for customer service
As a small business owner, it's a good idea to implement CRM tools for customer service. Adopting the right CRM software allows you to:
Boost customer service agents' productivity.
Improve customer happiness.
Assist in resolving disputes.
Manage product inventory.
Many CRM tools for customer service help you achieve these benefits, but none are quite like Method:CRM. One of the top choices for CRM software today, it's built especially for businesses like yours to deliver the best customer service possible.
Sign up for a free trial of Method:CRM right now!
Image credit: Flamingo Images via Adobe Stock