Compare Salesforce vs. Jobber vs. Method:CRM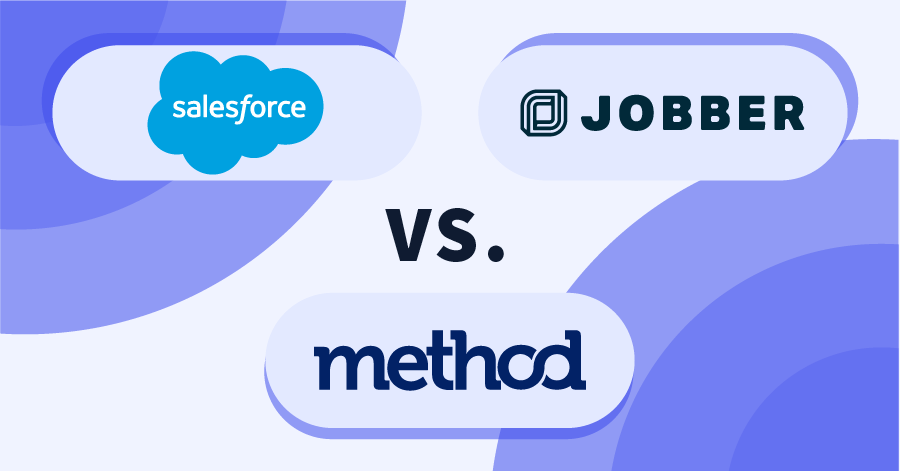 Continue reading for details on each CRM's price, features, benefits, and limitations.
By auto-assigning follow-ups, tracking progress on deals, and identifying how your business is performing in real-time, CRM systems help your business reach new heights. In this blog, you'll learn the differences between:
Salesforce.
Jobber.
Method:CRM.
Continue reading for details on each CRM's price, features, benefits, and limitations.
Salesforce vs. Jobber vs. Method:CRM
The main difference between Salesforce, Jobber, and Method:CRM is how they optimize your workflows. Each CRM offers a range of automation and varies in how custom you can get with your workflows.
Salesforce overview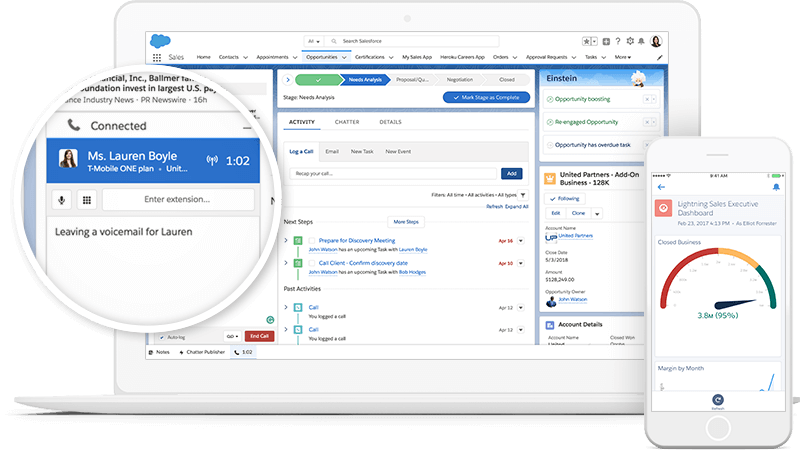 With Salesforce, you get a powerful set of tools to scale your business to new heights.
Organizations can manage their operations more effectively with Salesforce's complex automation and cloud services.
Salesforce is most famous for its Sales Cloud, which includes:
Inventory tracking.
Campaign management.
Customer relationship management.
Email automation.
Reports and dashboards.
How Salesforce works
Salesforce runs off a cloud-based interface accessible to you and your team members from anywhere.
It provides the tools needed to manage your contacts better, collaborate with team members, track opportunities at different stages of the customer journey, and create custom reports.
Jobber overview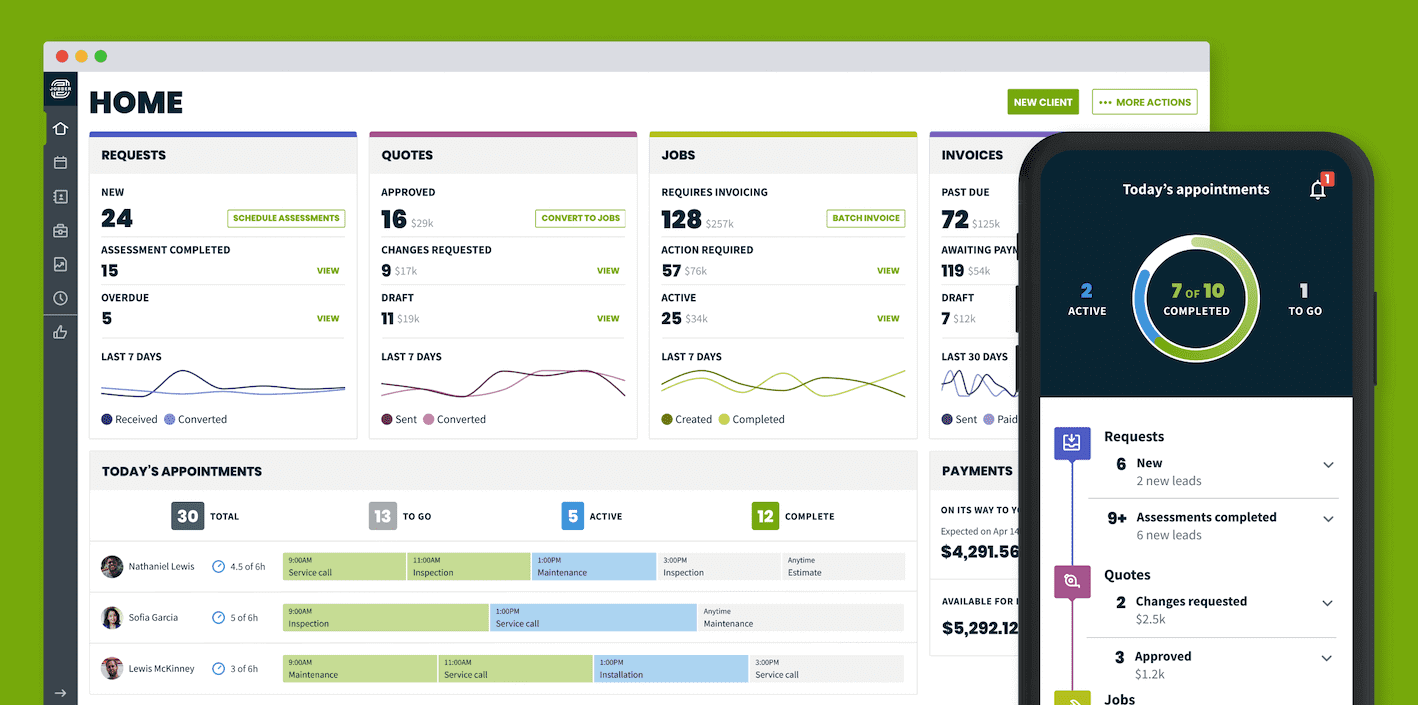 Jobber is an online field service management solution that makes it easier for technicians to log jobs, create invoices and other financial documents, and follow up with customer payments.
Seamlessly integrating with your favorite apps to save time on data entry and ensure the accuracy of information being tracked, you can integrate the following third-party applications:
QuickBooks Online.
Paypal.
Square.
Stripe.
And more!
Jobber is a practical and easy-to-use CRM for your employees on the go.
How Jobber works
Jobber is accessible online via desktop and mobile to allow your team members to update information while on the go.
With Jobber, your team can log photos from different work sites, generate reports on key insights, follow up on invoices, and collect payments from your customers.
Method:CRM overview
Thanks to Method's robust two-way QuickBooks and Xero sync, it's simple to maintain your financial information and essential customer details within one interface.
Method:CRM automates the creation of estimates, payments, invoices, and receipts, so you close deals faster and get paid sooner.
Aside from this, Method also helps you automate:
Sales reporting.
Lead management.
Customer communications.
How Method:CRM works
Using Method:CRM, you effectively manage your leads from when they first contact you to when they make a purchase.
Then, you can provide your customers with a self-service option through a portal — from which they can:
Access transaction documents.
Approve quotes and proposals.
Pay invoices.
Featuring a mobile application and third-party integration with your favorite apps like Outlook, Zapier, and Mailchimp, you can access the essential information you need anywhere, anytime.
Comparing Salesforce, Jobber and Method:CRM
Still not entirely convinced about any of these options? Continue your CRM research here:
Key features
Sales reporting.
Custom documents for invoices, quotes, estimates, and more.
Drag and drop Lightning App builder.
Opportunity tracking.
Primary benefits
Advanced marketing and sales automation.
Cloud-based CRM.
Intuitive, mobile-friendly dashboard.
Team collaboration and document sharing.
Limitations
Salesforce makes sense for large enterprises but might lack certain features that make sense for your small business needs.
Key features
Quoting and follow-ups.
Email and postcard marketing.
Online payments.
Reporting.
Job forms.
Expense tracking.
Primary benefits
Mobile application to log information on the job.
Client hub.
"On my way" text messages for clients.
Credit card processing.
14-day free trial.
Limitations
While Jobber excels in field service operations, it is not as well equipped for businesses in other industries.
Another limitation is its inability to trigger recurring payments for customers. Users have also noticed incorrect sales tax calculations after syncing with QuickBooks.The main issue is QuickBooks compatibility, as many users report data loss between the tools.
Key features
Two-way sync with QuickBooks and Xero.
Powerful workflow automation.
Custom reports and dashboards.
A self-service customer portal.
Integrations with Outlook, Gmail, Google Calendar, and more.
Primary benefits
​​Tailored reporting focused on your essential business insights.
Fully customizable email and transaction templates.
Eliminates double data entry.
Customer-friendly online portals.
There are no limits to how you can personalize your CRM.
Free trial for 30 days with unlimited features and users.
Limitations
To get the complete Method:CRM experience, you must be a QuickBooks or Xero user. Method:CRM is also only currently available in the English language.
Salesforce pricing
Salesforce has four small business pricing plans.
Essentials: $25 a user per month.
Sales Professional: $75 a user per month.
Service Professional: $75 a user per month.
Pardot Growth: $1250 per month for up to 10,000 contacts.
Jobber pricing
Jobber has three pricing plans:
Core: $49 a month for one user.
Connect: $149 a month for up to seven users.
Grow: $299 a month for up to 30 users.
Method:CRM pricing
Method:CRM offers three pricing plans, each with a two-way QuickBooks or Xero sync.
Contact Management: $25 a user per month.
CRM Pro: $44 a user per month.
CRM Enterprise: $74 a user per month.
Method:CRM also offers a full-access free trial. Find the perfect plan for you with a list of features and pricing here.
Who should use Salesforce?
Salesforce is best for rapidly scaling businesses on their way to being enterprises. Medium to large-sized companies with ample resources will get the most value from this tool.
Who should use Jobber?
Jobber is a great CRM for field service companies looking to add efficiency while managing multiple jobs.
Who should use Method:CRM?
Method:CRM is the best option for small and medium-sized businesses looking for a customized CRM solution and excellent customer support.
Bottom line
Researching a CRM before committing to one is essential to ensure it meets your needs. With the right CRM, you set the foundation for your business to grow.
The best way to figure out which CRM is ideal for your team is to explore your options. Do your research, then take your top CRM contenders out for a test-drive.
Start your free trial of Method:CRM today!