Find the right CRM plan for your team
Add-on
All features
Features
Contact Management
CRM Pro
CRM Enterprise
 

QuickBooks integration

 Real-time, two-way sync with QuickBooks Online
 Patented two-way sync with QuickBooks Desktop
 Add customers and vendors

  Lead management

 Email Sidebar management
 Activity reminders
 Calendar view
 

Financial management

 View and create estimates
—
 View and create sales orders
—
 View and create invoices
—
 View and create sales receipts
—
 View, create, and process payments
—
 View and create purchase orders
—
 View and create bills
—
 

Contact management

 Customer management
 Vendor management
 Unlimited contact records
 Unlimited custom fields
 Communication history
 Add tags
 Custom list views
 Manage customer support cases
 Let customers submit support cases through portals
 

Sales pipeline

 Web to lead form
—
 Sales opportunities
—
 Custom opportunity stages
—
 Pipeline reports
—
 

Online portals

 Self-serve contact portals
 Accept payments through contact portals
—
 

Communication & productivity

 Send emails
 Email templates
 Activity management
 Calendar
 Workflow automation
 Email campaigns
 

Reports

 Custom reports
 Dashboards
 

Customization

 DIY customization
 Free hour with customization expert
 

Integrations

 Zapier integration
 Gmail add-on
 Outlook add-on
 Mailchimp integration
 Google Calendar integration
 API access
 

Support

 Email support
 Live chat support
 Phone support
 Personalized demo
 Customer success manager
 Self-service help center
 

Administration & extras

 Restrict user permissions
 Single sign-on with Google
 Single sign-on with Intuit
 Mobile app for iOS and Android
 Data import and export
 

Professional customization services
Features
CM
Pro
CE

QuickBooks integration

Real-time, two-way sync with QuickBooks Online
Patented two-way sync with QuickBooks Desktop
Add customers and vendors

Lead management

Email Sidebar management
Activity reminders
Calendar view

Financial management

View and create estimates
—
View and create sales orders
—
View and create invoices
—
View and create sales receipts
—
View, create, and process payments
—
View and create purchase orders
—
View and create bills
—

Contact management

Customer management
Vendor management
Unlimited contact records
Unlimited custom fields
Communication history
Add tags
Custom list views
Manage customer support cases
Let customers submit support cases through portals

Sales pipeline

Web to lead form
—
Sales opportunities
—
Custom opportunity stages
—
Pipeline reports
—

Online portals

Self-serve contact portals
Accept payments through contact portals
—

Communication & productivity

Send emails
Email templates
Activity management
Calendar
Workflow automation
Email campaigns

Reports

Custom reports
Dashboards

Customization

DIY customization
Free hour with customization expert

Integrations

Zapier integration
Gmail add-on
Outlook add-on
Mailchimp integration
Google Calendar integration
API access

Support

Email support
Live chat support
Phone support
Personalized demo
Customer success manager
Self-service help center

Administration & extras

Restrict user permissions
Single sign-on with Google
Single sign-on with Intuit
Mobile app for iOS and Android
Data import and export

Professional customization services
Once you sign up for a free trial, all features from our CRM Pro plan will be added to your account automatically. You can also add more features, including those in our CRM Enterprise plan, during your free trial.
Need expert customization services?​
We know one size doesn't fit all, especially for small businesses. That's why we have a team of expert consultants who can customize Method:CRM so it's just right for you.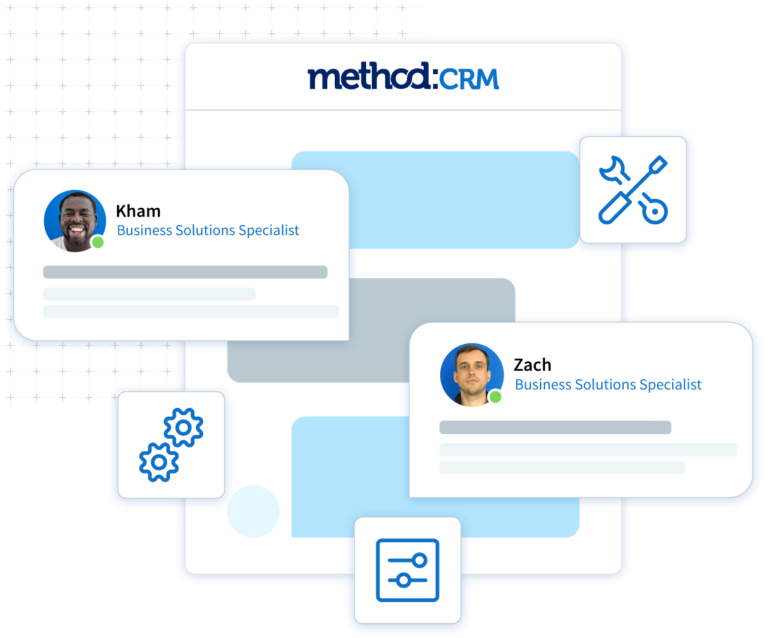 Streamline your business with Method
Start your free trial — no credit card, no contract.