Method:CRM — The best Jobber alternative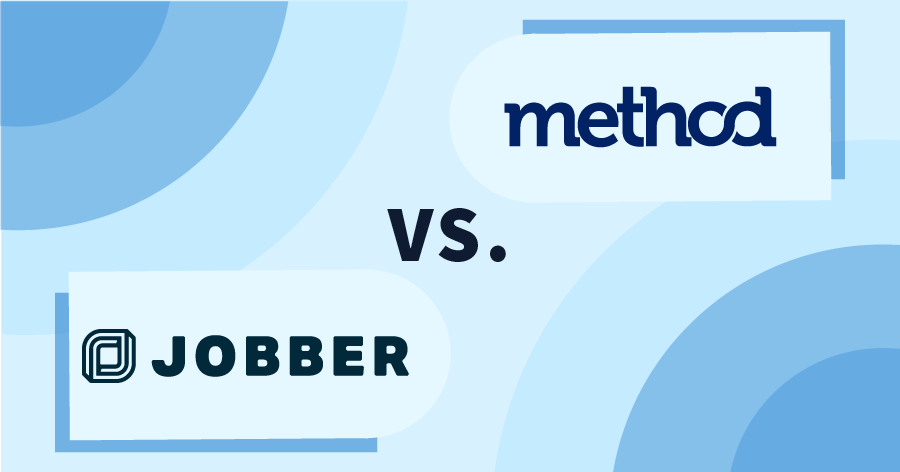 Decide whether Jobber or Method:CRM is the best choice for your small business.
If you've been considering investing in CRM software and have come across Jobber, you want to know what else is available to you before making a final decision. We've narrowed it down to the best alternative to Jobber – Method:CRM.
This is your guide for deciding whether Jobber or Method:CRM is the best choice for your small business.
Why consider alternatives to Jobber?
While Jobber offers small businesses convenient access to CRM tools, if you're seeking software that manages your entire business through automation, you might want to explore elsewhere.
With Method:CRM you create a personalized system that automates all of your workflows and allows you to focus on growth.
Method:CRM vs. Jobber
The main difference between Jobber and Method:CRM comes down to how much you want to automate your business.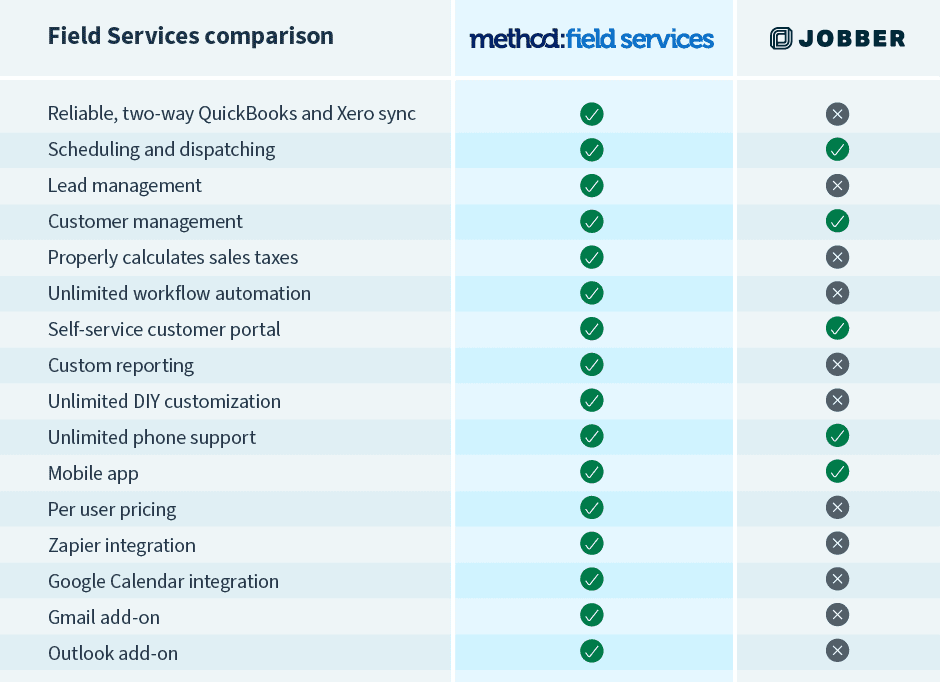 Both are CRM tools for small and mid-sized businesses. Jobber focuses ​​on field service companies that need strong communication between field and office teams. On the other hand, Method automates your workflows – so you can focus on growing your business.
Let's take a look at each CRM option to see which one is right for you.
Method:CRM overview
The automation Method:CRM offers gives you time back in your workday and run your business in the background through their no-code automation platform.
Method:CRM is the best CRM for QuickBooks users since it enhances your accounting, sales, and operations with a powerful, two-way, real-time sync. With Method's two-way sync you can:
Save time and avoid double-data entry.
Lower the chance of mistakes.
Keep your accounting and sales team organized.
How Method:CRM works
Method:CRM helps your business by automating sales, marketing, and customer service processes.
Method's flexibility allows you to build a CRM that is tailored to your company's needs. This includes custom automation for the following processes:
Lead management.
Sales and customer follow-ups.
Payments.
Method makes it simple to sync data from your accounting software to your CRM for QuickBooks and Xero users. Data between both software are automatically updated, so you always have the most accurate information.
Lastly, Method:CRM's integrations with apps like Google Calendar, Gmail, and Outlook keeps your contacts organized and accounted for.
Jobber overview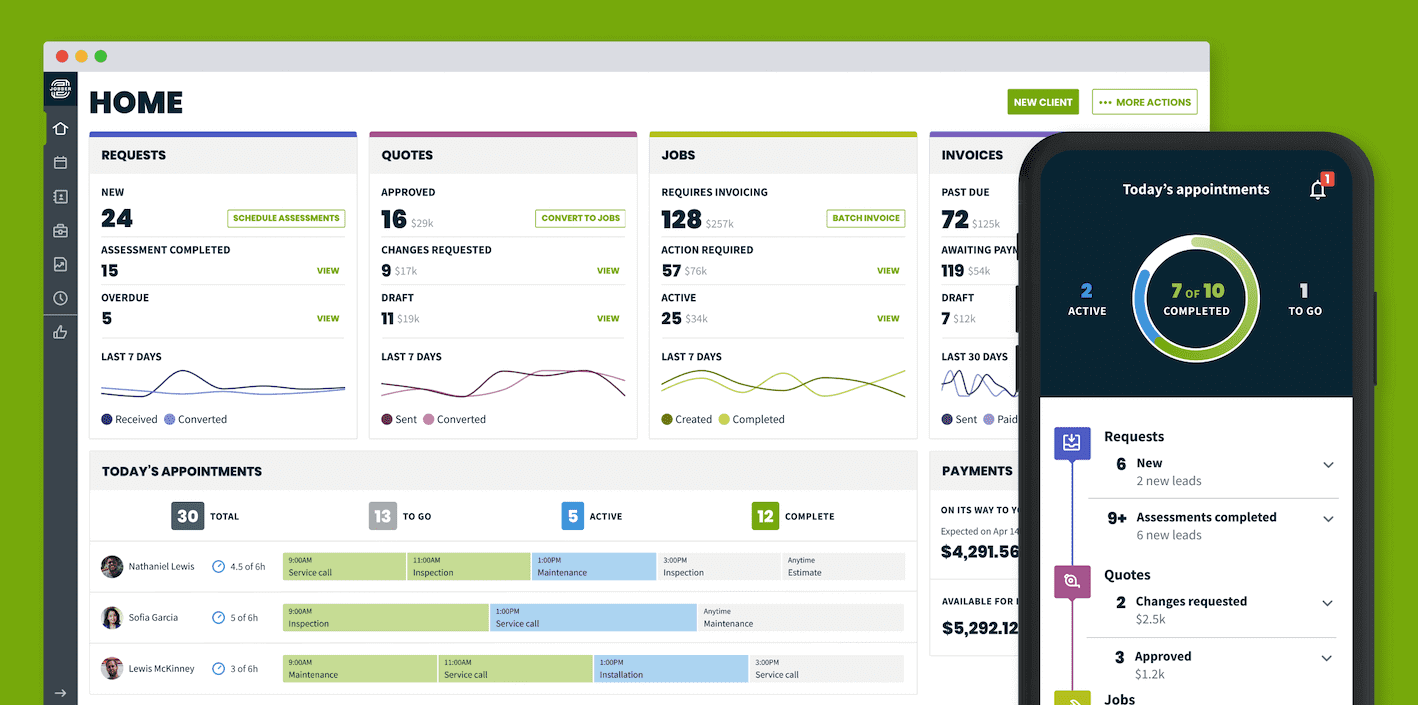 Image credit: Jobber
Jobber is a cloud-based software solution that caters to field service industries. They help to connect your office team with your field technicians.
Jobber supports over 50+ service industries with features like:
Real-time scheduling and dispatching.
Reports.
Invoice creation and billing.
A self-service client hub.
How Jobber works
Jobber lets you make professional invoices using custom templates. You can then send these invoices to customers for payment systems using electronic platforms such as Stripe and Paypal.
Jobber allows you to make custom fields, tags, attach files, and more. You can also use Jobber's self-service portal to:
Approve estimates.
Schedule work.
Pay invoices.
Contact field staff.
Plus, Jobber's scheduling feature has time tracking capabilities that allow you to keep track of field staff more effectively.
Comparing Method:CRM and Jobber
Let's jump into the differences between Method:CRM and Jobber to find out which software is best for your business.
Looking for information on another CRM? Find them in this list:
Key features
Updates data consistently with two-way sync for QuickBooks and Xero users.
Sales process automation.
Lead capture and management.
Reporting and analytics.
A mobile app.
Customer portal.
Integrations with Outlook, Gmail, Google Calendar, Zapier, and other useful apps.
Primary benefits
Tailored reporting and analytics.
Custom templates for your emails, invoices, and more.
Empower customers with online portals.
Endless customization potential.
A free trial for 30 days with unlimited features and users.
Say goodbye to double data entry with powerful automation and integrations.
Limitations
Method is currently only available in English.
You must be a QuickBooks or Xero user to get the most out of Method:CRM.
Key Features
Cloud-based hosting.
Access to their mobile app.
Built-in maps to track your team's progress.
Automatic appointment reminder notifications to customers.
Primary Benefits
Simple to use interface.
PayPal integration is simple and fast.
Access to schedules, notes, and other information.
Integrations with Zapier, MailChimp, Stripe, and other useful apps.
Limitations
Doesn't offer pricing per user.
Frequent sync issues with QuickBooks.
Sometimes items are deleted from the system, which according to some users, are unrecoverable.
Limited automation capabilities.
Limited job costing and project management solutions.
Incorrect sales tax calculations.
Method:CRM pricing
Method:CRM offers three payment plans:
Contact Management plan: $25 per user per month.
CRM Pro plan: $44 per user per month.
CRM Enterprise plan: $74 per user per month.
They also offer a free trial, with all features and unlimited users. No credit card is required to get started.
Jobber pricing
Jobber has three pricing plans which include:
Core plan: $49 per month up to 1 user.
Connect plan: $149 per month up to 7 users.
Grow plan: $299 per month up to 30 users.
Who should use Method:CRM?
Method:CRM is ideal for QuickBooks or Xero users who want to automate workflows, sync customer information, transaction history, and more between their CRM system and accounting tool.
Use Method:CRM to automate your operations to fuel your growth. It's a great software solution for small to mid-sized businesses who want to spend less time on operations and more time on income generation.
Who should use Jobber?
Jobber is great for smaller businesses especially those in the field service industries including:
Cleaning.
HVAC.
Gardening.
Plumbing.
Tree care.
Jobber's invoicing and flexible scheduling features are two of its strengths. Jobber is a good solution if your business works with a lot of recurring jobs.
Bottom line
Jobber is a strong CRM software that offers features for small businesses looking to grow, but that doesn't mean it's the right option for your business.
While Jobber has powerful capabilities, Method:CRM provides tailored business process automation with unrivaled QuickBooks and Xero integration.
Automate your business processes with a free trial of Method:CRM.