Top 6 Jobber alternatives for field service businesses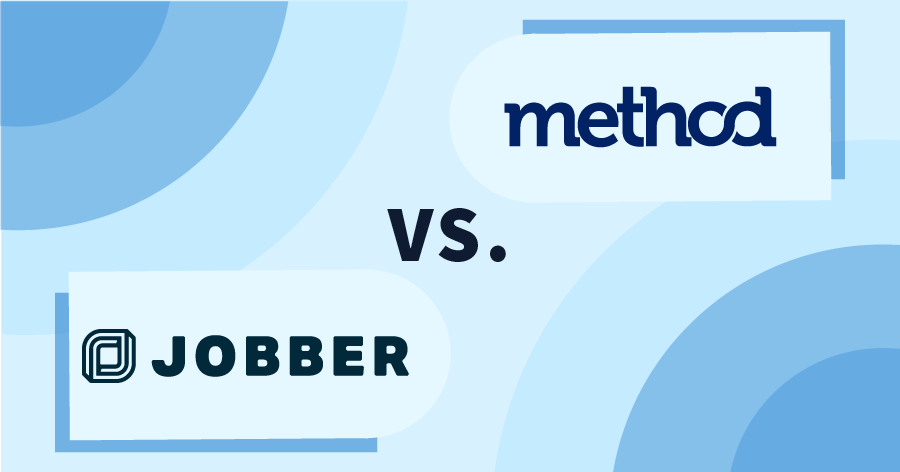 Did you know that almost half of all field service businesses use designated software solutions to boost efficiency?
It's true — our research indicates that 48% of all businesses in the industry use field service management software, and Jobber is among the most popular by far.
If you've been considering investing in software for your field service business like Jobber or Salesforce, you'll want to know everything available to you before making a final decision. Or, maybe you're a current Jobber user looking to replace your software with an upgrade.
This blog delves into:
What you should look for and value in a Jobber alternative.
Why you should consider making the switch.
Your best six options currently on the market.
What is Jobber?
Jobber is a field service management (FSM) software solution that caters to various field service industries. They help to connect your office team with your field technicians.
Our findings show that Jobber supports over 50 service trades, with features like:
Real-time scheduling and dispatching.
Customizable reports.
Invoice creation and billing.
A self-service client hub.
Jobber offers four pricing plans and applies a discount on annual subscriptions:
Lite: a starting price of $9 per month.
Core: $49 per month, up to 1 user.
Connect: $149 per month, up to 7 users.
Grow: $299 per month, up to 30 users.
Jobber and Method both provide a robust suite of features tailored for commercial and field service businesses. These essential SaaS features encompass:
Yet, when diving deeper into the functionalities, Method appears to have an edge in several key areas:
Jobber also offers a 14-day free trial.
Why consider alternatives?
Popular doesn't always equal better. While Jobber offers small businesses convenient access to CRM tools, there are certain areas where it lacks.
Some reasons you might consider alternatives to Jobber are its:
Lack of automation functionality.
Sync issues with QuickBooks and other accounting software, particularly with version updates.
Steep price point and learning curve.
Limitations with contact and project management.
How Jobber works
Jobber lets you make professional invoices using custom templates. You can then send these invoices to customers, which they can pay through electronic platforms such as Stripe or Paypal.
Jobber allows you to make custom fields, add tags, attach files, upload your logo, and more. You can also use Jobber's self-service portal to:
Approve estimates.
Schedule work.
Pay invoices to your vendors.
Contact field staff.
Plus, Jobber's scheduling feature has time tracking capabilities that allow you to keep track of field staff more effectively.
Benefits of Jobber
Simple-to-use interface.
PayPal integration is simple and fast.
Access to schedules, notes, and other information.
Integrations with Zapier, Mailchimp, Stripe, and many others.
Who should use Jobber?
Jobber is great for smaller businesses, especially those in the field service industries. This includes the following categories:
Cleaning.
HVAC.
Pest control.
Gardening.
Plumbing.
Tree care.
Jobber's invoicing and flexible scheduling features are two of its strengths. Once you learn how to utilize Jobber, it will provide reliable scheduling and job management features.
It's a good solution if your business works with many people or recurring jobs.
Image credit: Jobber
Key features of a great Jobber alternative
While Jobber offers a large number of features, it's always beneficial to explore other options and discover a solution that best aligns with your unique requirements.
Any Jobber alternative should have a user-friendly interface and intuitive workflow, but there are a few other features you won't want to go without.
Payments processing and online bookings
A great Jobber alternative should offer strong online booking capabilities that enhance productivity and efficiency in daily operations. For example, having a calendar that tracks your availability improves your chances of booking meetings with potential clients.
The best business software systems also support multiple payment options and payment processing.
With features like these, you ensure data security and privacy while simultaneously making it easier for your customers to engage with you.
Not to mention, self-serve tools like online scheduling give you the ability to offer superior customer support and assistance.
Time tracking and job scheduling
Efficient time tracking and job scheduling are vital for any service company, so a reliable Jobber alternative should excel at them.
The software should allow you to:
Create and manage schedules for your employees.
Assign tasks and track their progress in real time.
It should also provide a clear overview of your ongoing projects and ensure that jobs are completed within the allocated time frames, using features like notifications, alerts, reminders, and internal chat systems.
Customer management and satisfaction
Your Jobber alternative needs to provide effective customer management and improve satisfaction.
It should give you a centralized customer database where you can store relevant information such as:
Contact details.
Service history.
Preferences.
This makes space for personalized interactions and tailored service delivery. It's also beneficial to separate leads and paying customers.
The Jobber alternatives you consider should also have a strong community and active user base for support and knowledge sharing, as it will make troubleshooting much easier.
Other features to look for include automated email marketing, feedback collection, and customer satisfaction surveys.
Field services operations and data-driven decisions
Field services operations are critical to a variety of businesses, and a reliable Jobber alternative should support their efficient management.
For example, it should streamline communication and collaboration within teams in the office and out in the field for seamless coordination and quick response times. In addition, it should make tracking your teams easier.
Your Jobber alternative should also offer robust reporting and analytics capabilities, which empower you to assess and evaluate your business and make data-driven decisions. By leveraging insights from your field service operations, you can:
Identify and analyze areas for improvement.
Optimize your workflows.
Enhance overall efficiency.
To best serve your teams in and out of the office, look for Jobber alternatives that offer extensive training and resources for smooth adoption.
Basic features & lawn care solutions
At the very least, a great Jobber alternative should offer a range of basic features that you'd expect in all field service software dashboards. These features include invoicing and estimates, security measures, contact management, and marketing automation.
For lawn care and landscaping specifically, your software should provide tools for:
Managing recurring services.
Tracking seasonal maintenance tasks.
Handling specialized equipment and materials.
The ability to generate customized lawn care schedules and offer detailed reporting on completed services significantly improves operations and supports the growth of lawn care organizations, such as LawnLove.
Top 6 Jobber alternatives for your field service business
Here are the top 6 Jobber competitors that will benefit your field service business just as much as Jobber, if not more.
Method
Method is the #1 automation tool for QuickBooks and Xero users. With powerful features that simplify your business processes, like online customer support portals and a real-time, two-way sync with your accounting software, Method enhances your customer experience and operations.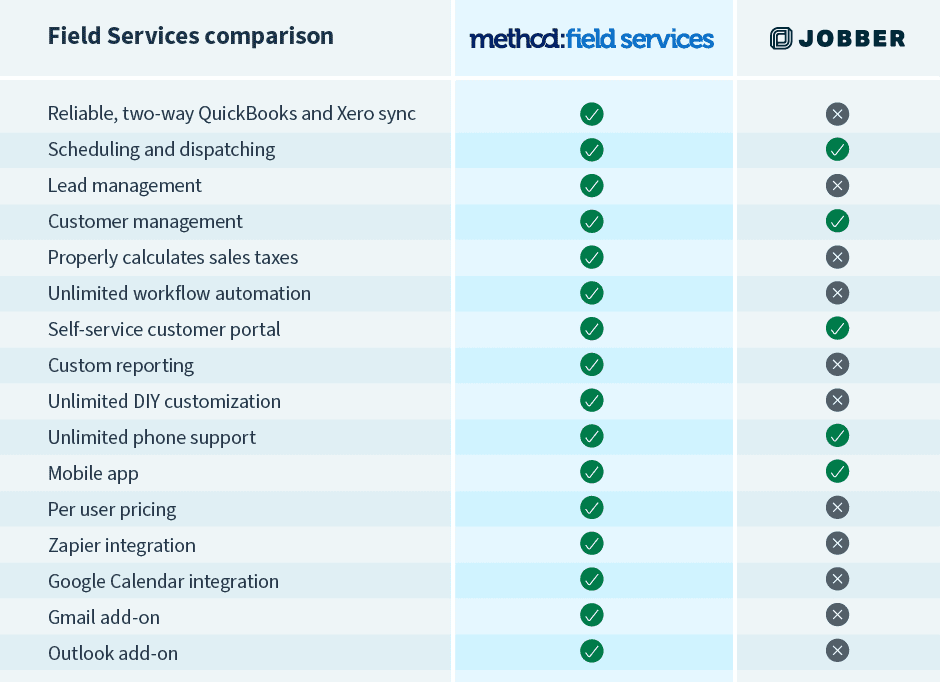 The main difference between Jobber and Method comes down to how much you want to automate your business. A lot of Jobber alternatives don't offer automated workflows and task automation capabilities, whereas this is Method's specialty.
It empowers small businesses like yours to scale effectively by automating your manual sales, marketing, and customer service activities. And with its drag-and-drop interface, your workflows are highly customizable to meet specific business needs.
Plus, Method will provide seamless integration with existing systems, so you don't need to stop using the software that you know and love. It's risky to select a business system that doesn't natively provide integrations with popular third-party tools and services.
Method also has an app for mobile devices that's designed to offer seamless mobile functionality for on-the-go access. It can be easily accessed and used from anywhere, letting business owners connect with their employees on location in just a few clicks.
ServiceTitan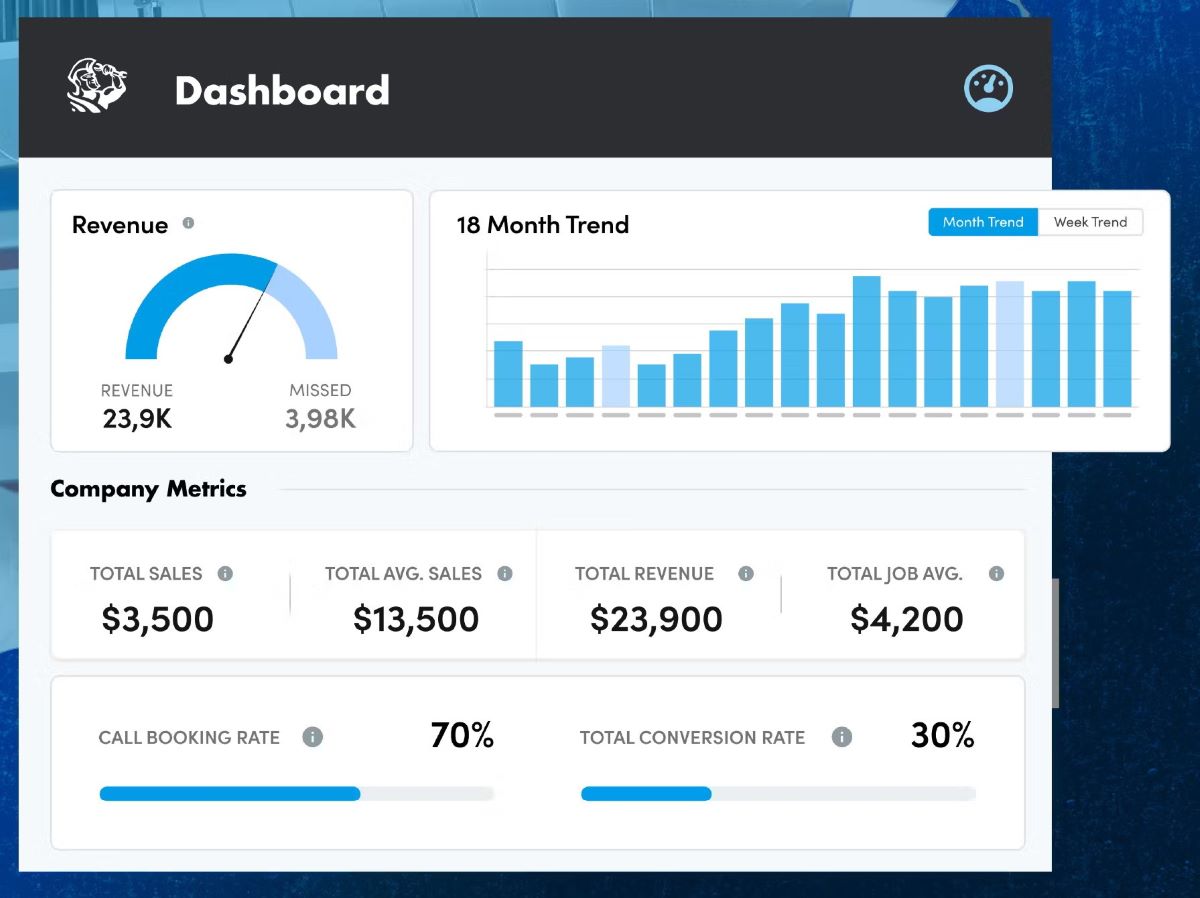 Image credit: GetApp
ServiceTitan is your next top choice when choosing a Jobber alternative. It's a comprehensive field service management software that caters to residential HVAC, plumbing, electrical, and other service industries.
It provides features such as:
Field tech scheduling and dispatching.
Customer information and history.
Job costing and invoicing.
Reporting and analytics.
Like Jobber, ServiceTitan strives to streamline your operations, increase sales, and provide a better customer experience.
Housecall Pro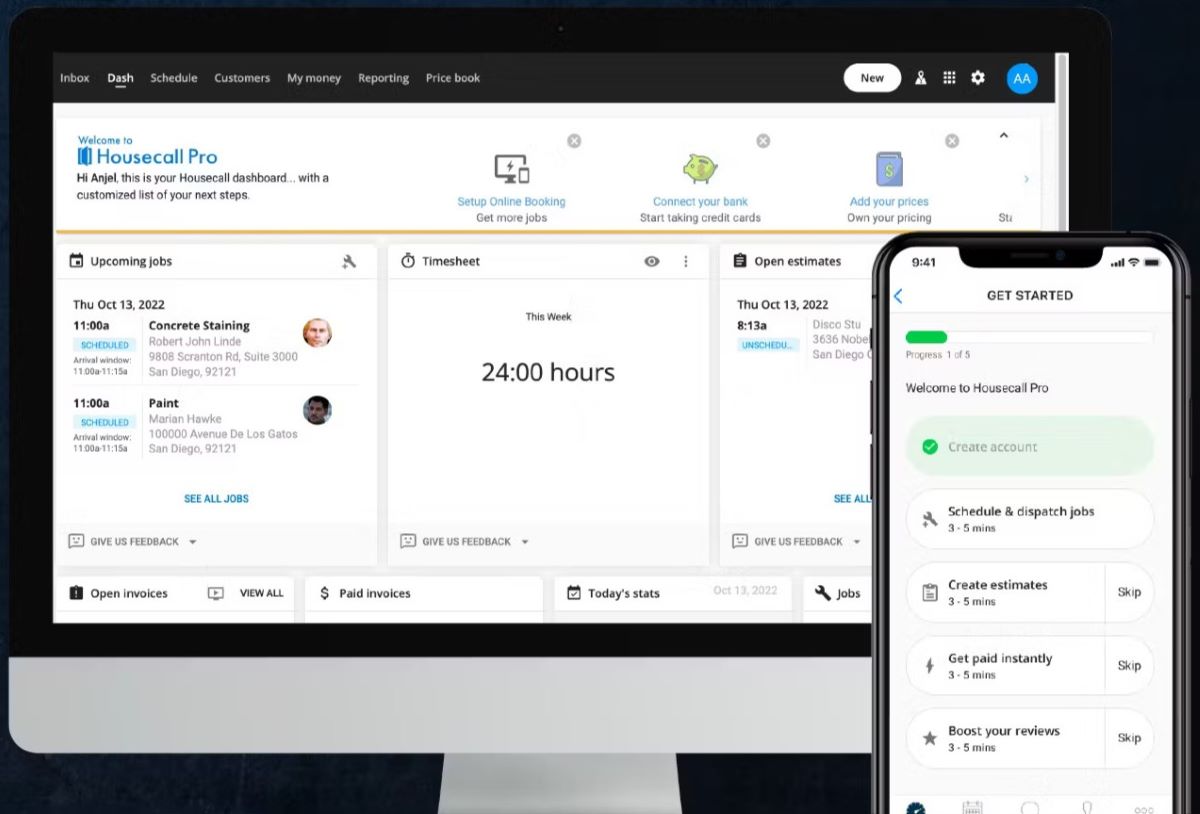 Image credit: Capterra
Housecall Pro is a field service management platform primarily designed for home service professionals. It holds its own against Jobber and offers a few unique tools your business might find beneficial. Plus, it can support multiple languages and internationalization.
Its main features include:
Online booking, scheduling, and dispatching.
GPS routing and tracking.
Estimate, invoice, and payment processing.
Integrations with popular tools like QuickBooks, Microsoft Office, and Mailchimp.
Kickserv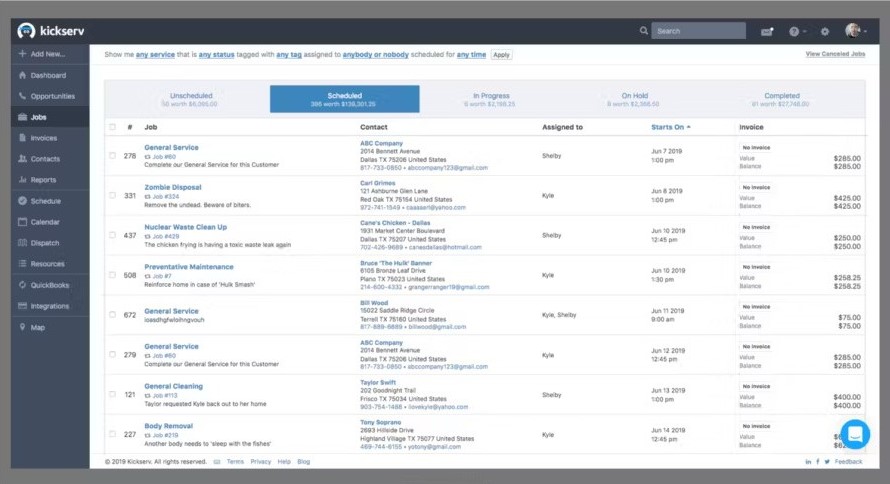 Image credit: GetApp
Kickserv is another great Jobber alternative, focusing on helping service businesses of small and medium sizes streamline their operations.
It's best known for its job management capabilities, but many users leverage the software as an all-in-one solution. Along with job scheduling and dispatching, Kickserv simplifies customer management, invoicing and estimates, and reporting.
It can also provide real-time updates and notifications if you enable them.
FieldEdge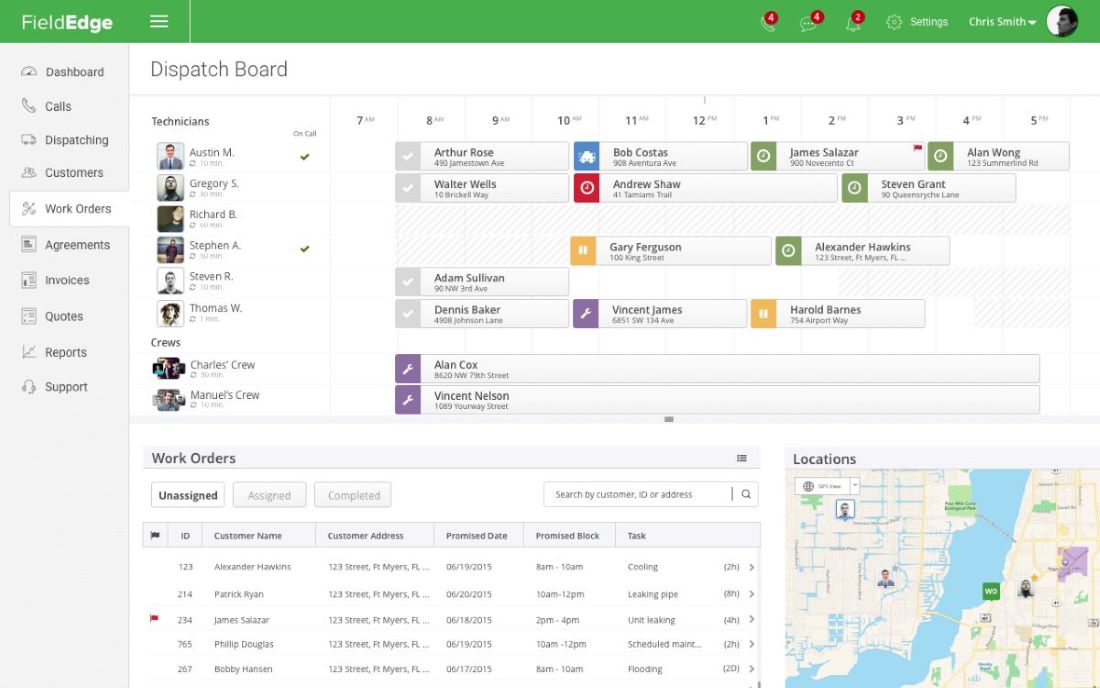 Image credit: Software Advice
The next best Jobber alternative is FieldEdge (formerly dESCO). It's a field service management platform designed specifically for service contractors.
Its comprehensive dashboard is easy to navigate and provides visibility into the functions that service companies care about most, from invoices to work orders. If you want your software to provide comprehensive inventory management solutions, FieldEdge might be the way to go.
FieldEdge also provides features like:
Dispatching and job scheduling with status tracking.
Quoting, invoicing, and payment processing.
A phone app for iOS and Android.
Service Fusion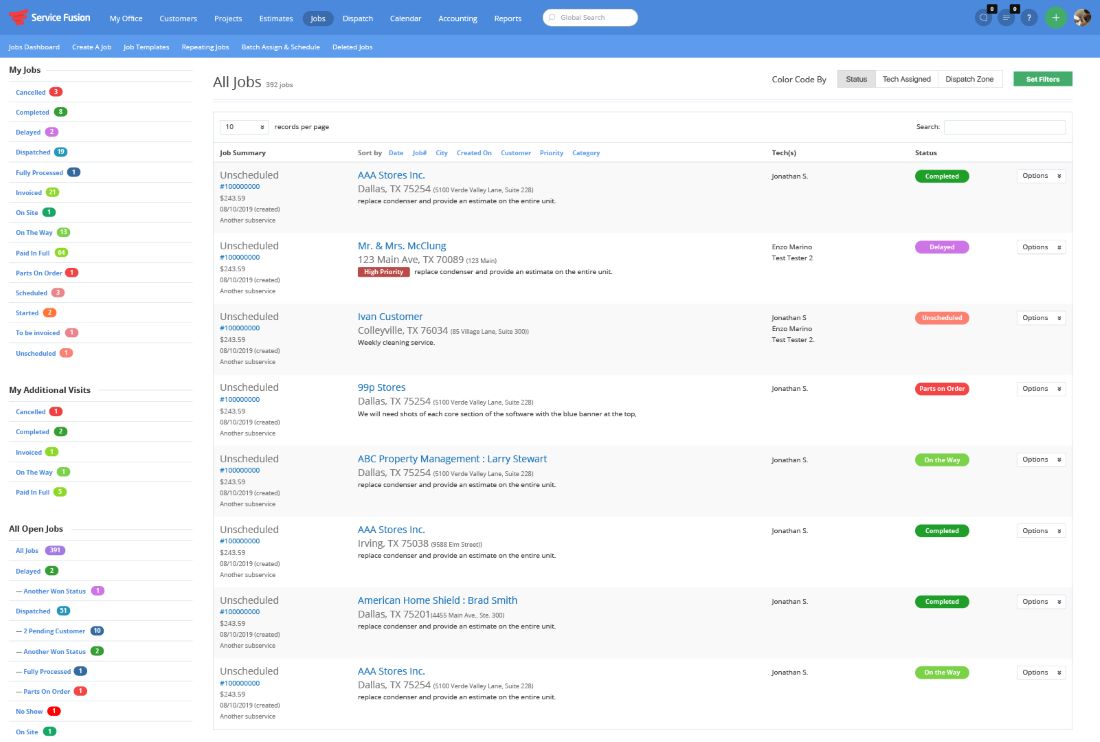 Image credit: Software Advice
Service Fusion is a cloud-based field service management platform that caters to various service industries. It provides a scalable and user-friendly solution that helps manage and grow your service businesses.
Its main suite of features include:
Scheduling and dispatching field techs.
Quote and invoice processing.
Customer relationship management.
GPS tracking.
Why is choosing field service management software necessary?
Whether you're in the HVAC, plumbing, electrical, construction, or any other field service industry, having the right software significantly cuts down your paperwork, optimizes your workforce, and drives success.
Field service management software offers a centralized platform where you can streamline and automate various everyday tasks, including:
Scheduling and dispatching.
Job tracking.
Communication between office and field staff.
This software is particularly useful for small to mid-sized businesses with complex processes or those trying to scale. Larger enterprises might decide to implement a more robust product, like an ERP.
With field service management software, you're able to:
Optimize your resources.
Improve productivity.
Enhance customer satisfaction.
As a result, you minimize errors, reduce costs, and achieve profits in the long run.
Choosing the best Jobber alternative for your business
Ultimately, choosing the best Jobber alternative comes down to your unique business needs. After all, the needs of a lawn care enterprise vastly differ from those of an independent contractor, and most software systems are tailored to specific industries or niche requirements.
The most useful field service management software is the one that best handles the intricacies of your organizational structure and team layout. That's why it's important to carefully consider all your goals, needs, and options before making your final decision.
All your options in this guide are backed by a reputable and trusted vendor or company and have a proven track record and positive customer reviews. Your best bet is to test out each of your options before you fully transition to one.
That said, if you're already a QuickBooks or Xero user, there's no better way to handle your field service operations than with Method.
You can't be everywhere at once, nor should you be. Method seamlessly integrates your accounting data and automates your key workflows, giving you back time and control to focus on what matters — actually delivering your services.
Key takeaways
Jobber is a strong CRM software that offers features for small businesses looking to grow, but that doesn't mean it's the right option for your business.
While Jobber has powerful field service management capabilities, you have to consider what makes your business special and what you need to best show that off.
Not to mention that you have several options that are more cost-effective than Jobber — the systems listed above all offer competitive pricing and return on investment (ROI).
But what's important to touch on is that you're doing the research — and anything is better than nothing. When you incorporate or migrate to any of the field service management software listed above, you'll take things to the next level.
Jobber alternatives FAQs
What software offers the same features as Jobber?
Method offers the same features as Jobber, along with powerful workflow automation and an unbeatable two-way sync with QuickBooks and Xero. Both systems also offer flexible pricing plans to fit different budgets.
Why do you need a Jobber alternative?
You need a Jobber alternative when the software just doesn't cut it for your specific needs. Jobber is a great platform, but it isn't the perfect solution for every business. You should consider other business systems that are scalable to accommodate business growth.
Who should use Method:CRM?
With over 1,300 5-star reviews on apps.com, Method:CRM is the perfect software solution for QuickBooks and Xero users, particularly those running a small business.
Get out of the weeds and into the driver's seat with your free trial of Method:Field Services.