Compare Zoho vs. Jobber vs. Method:CRM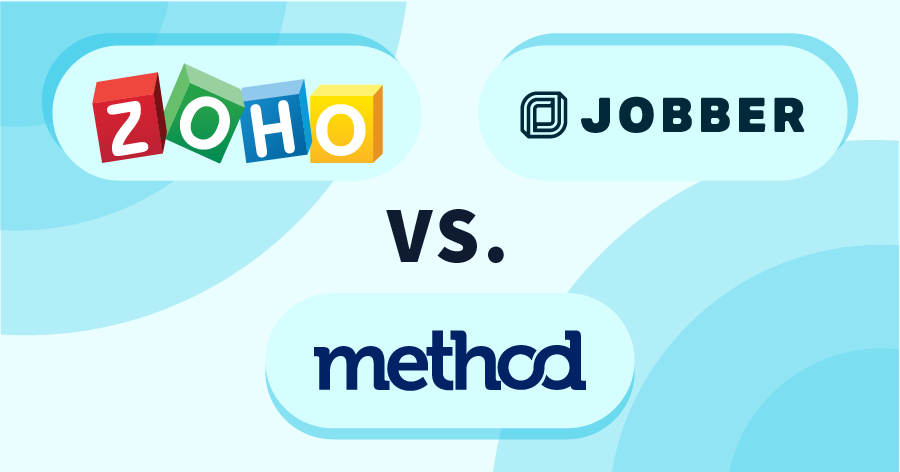 Pick the one that will fuel your growth and help your business run smoother.
When considering the right CRM software solution for your business, it's essential to identify the opportunities each of the products offers. Take time to pay attention to details in areas like user reviews to decide which solution will benefit your organization the most and help you save money and effort in the long run.
In this guide, you'll learn everything you need to know about Zoho, Jobber, and Method:CRM to help you take the right steps in choosing which tool is best for you. Keep reading to compare each CRM software's features, pricing, functionality, and accessibility to pick the solution that will fuel your growth and help your business run smoother.
Zoho vs. Jobber vs. Method:CRM
Jobber, Zoho, and Method:CRM are all web-based, making it easy for users to access their accounts and manage their business from any device with Internet access.
The main differences between Zoho, Jobber, and Method:CRM have to do with their automation and customization capabilities. Let's dive deeper into the comparisons now.
Zoho has a steeper learning curve than the others when configuring complex automation. It may take some training to figure out how to use all its different buttons.
Zoho also lacks the level of support needed for robust customization, making it harder for less tech-savvy folks to use the features they pay for. However, Zoho offers an extensive range of features and a customizable dashboard.
Jobber, on the other hand, is adequate for small and midsize businesses (SMBs). However, it mainly focuses on field service optimization, especially communications between field and office teams.
So when it comes to other industries and different types of workflows, automation isn't Jobber's biggest strength.
As for Method:CRM, it's best equipped to automate custom workflows. This means you can use it to optimize your business all around and create automation that mirrors your exact processes.
Method:CRM is best for SMBs who wish to integrate their accounting software into daily operations and achieve personalized workflow automation. The software offers a powerful system for managing customer relationships.
Now, let's look at each CRM in more detail to figure out which one is right for you.
Zoho overview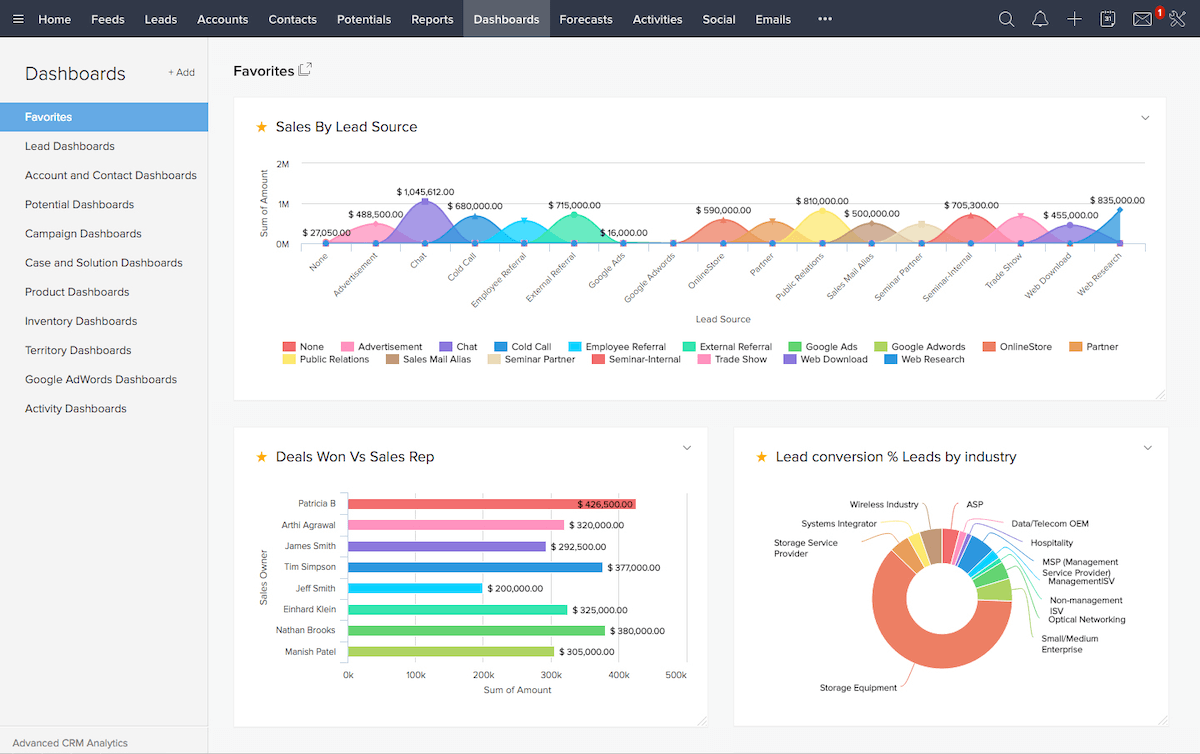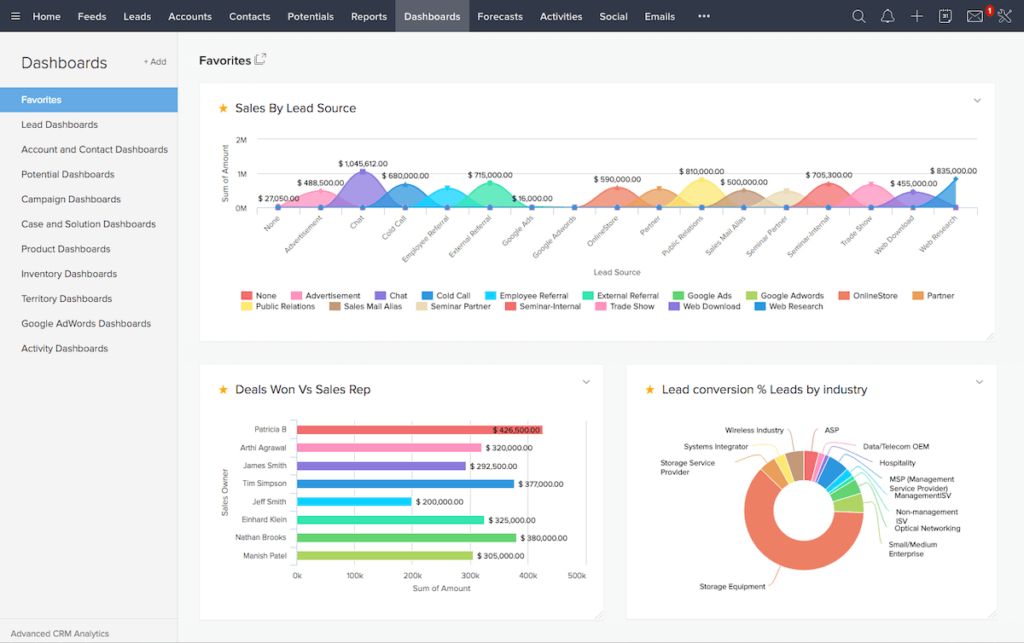 Zoho is a customer relationship management solution best known for its robust set of features. It offers integration with popular apps such as Google Calendar and LinkedIn. Their mission is to empower businesses by helping them:
Convert leads.
Engage with customers.
Increase revenue.
Manage tasks and projects.
Organize contacts, clients, and employees.
Despite the multitude of features that are meant to optimize your workflows, it can be hard to scope which can truly help your company and which can't.
And when deciding which of the CRM vendors is your best option, it's best to focus on features that you know will overcome your challenges.
How Zoho works
A recognition of user needs is critical for any successful CRM software. As a result, Zoho recently introduced ZIA, its AI-powered analytics engine that interprets sales trends.
Additionally, Zoho has a drag-and-drop interface editor called Canvas that's meant to simplify customization. Non-developers can use this feature to easily add custom fields or personalize template layouts.
One of Zoho's biggest strengths is its communication functionality. It lets you get in touch with your customers via phone, live chat, email, and social media. Plus, it offers tools for marketing campaigns, reporting, and performance analytics.
Besides this, Zoho also has many of the features you'd want from a CRM, such as:
Client portals.
Customer journey planning.
Lead and contact management.
Web and email campaign templates.
Jobber overview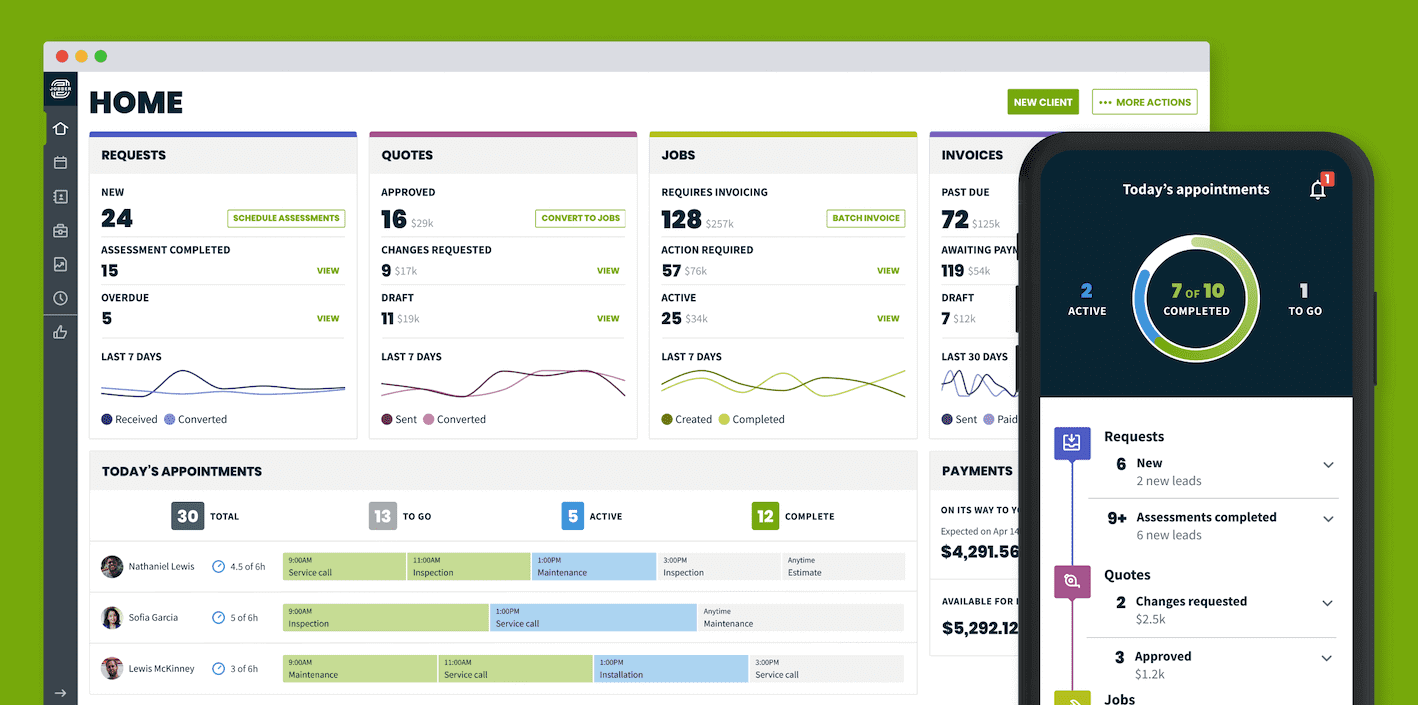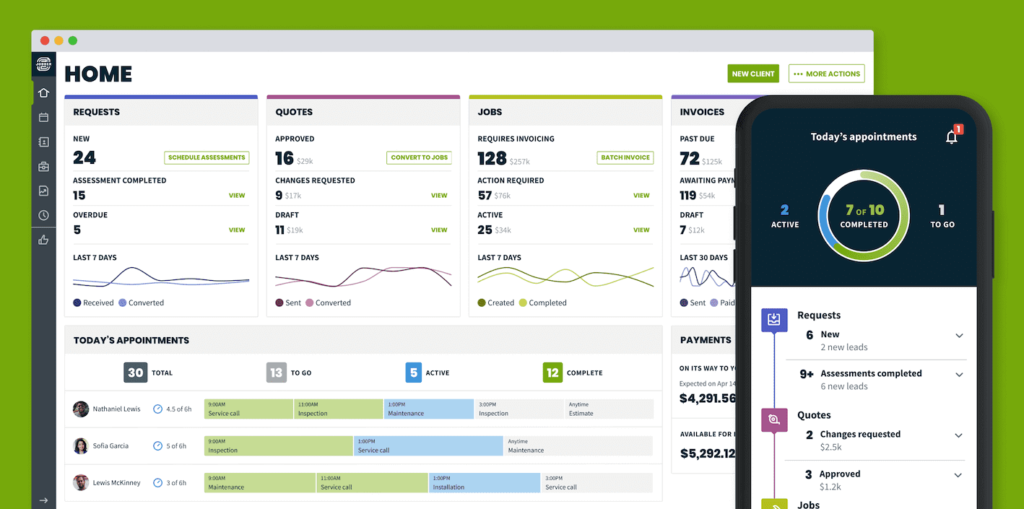 Jobber is a cloud-based CRM solution best suited for businesses in the field service space. It offers features such as GPS tracking, scheduling, and task management.
Its main strength is that it connects office teams with field technicians on a single platform.
Jobber's key features for the service industry include:
Real-time scheduling and dispatching.
Reporting.
Invoice creation.
Billing.
Client portals.
However, Jobber's biggest weakness lies with integration, especially when it comes to syncing with accounting software like QuickBooks.
How Jobber works
Jobber's scheduling feature has real-time tracking capabilities that help you stay on top of field staff and job progress.
On a customer-facing level, Jobber allows for invoice creation through the use of custom templates. Invoicing is made even easier as you can integrate payment platforms like Stripe or Paypal to send invoices to customers directly.
You're also able to create custom fields and tags, insert file attachments, and more. Plus, Jobber's self-service portal can be used to do a range of things such as:
Approving estimates.
Communicating with field staff.
Making transactions for invoices.
Scheduling jobs and meetings.
Method:CRM overview
Method:CRM is the best solution for small businesses looking to automate workflows and integrate their everyday tools. Its native two-way sync with QuickBooks and Xero means that your data is updated and centralized in a single, secure platform.
One of the ways Method:CRM increases your business' capacity is through workflow automation.
Because Method:CRM is fully customizable, there is no shortage of processes that you can simplify to deliver the very best customer experience and accomplish the most.
How Method:CRM works
The secret to Method:CRM's magic lies in its two-way syncing abilities with QuickBooks and Xero.
By retrieving the information in your accounting software, Method:CRM connects your sales and accounting data to give you a deep understanding of your customers and operations. It securely centralizes this data so your key employees have access to it at all times.
Method:CRM also eliminates the manual work and problems associated with double data entry with its powerful sync.
Another one of Method's superpowers is its ability to automate your workflows and save you hours of manual work. And thanks to its many integrations (including Gmail, Zapier, and Outlook), communicating internally and with customers is easier.
The best part is that the customization possibilities are endless in this no-code platform. If you require additional support, you can enlist expert help at any time from the Method team.
Comparing Zoho, Jobber and Method:CRM
In this next section, you will compare Zoho, Jobber, and Method:CRM in more detail to help you figure out which is best for your business.
Looking to compare other software competitors in the CRM category? Check out the following resources for more in-depth content on CRM alternatives:
Key features
AI-powered analytics engine and virtual assistant — ZIA.
Drag-and-drop interface editor — Canvas.
Real-time customer interaction notifications.
Third-party integrations with Slack, Shopify, and more.
User-friendly mobile app.
Detailed views of your performance through reports and analytics.
Primary benefits
Customer communication channels.
Extensive customization capabilities.
Online portals have personalized landing pages.
Free tutorials to get you started.
Personalized customer journeys.
Tailored reports that provide growth insights.
Limitations
If Zoho's primary benefit is its extensive customization capability, its biggest limitation is the steep learning curve that comes with it. As a result, it can be difficult to customize the tool, and Zoho doesn't offer any specialized support for that.
Key features
Automatic customer appointment reminders.
Cloud-based software.
Real-time team tracking capabilities.
User-friendly mobile app.
Primary benefits
Easy access to scheduling, notes, and other information.
Intuitive, easy-to-use interface.
Quick PayPal integration.
Third-party integrations with Zapier, Mailchimp, and more.
Limitations
According to Jobber users, one of its biggest issues is its QuickBooks sync.
Some have reported unrecoverable data deletion, incorrect sales tax calculations, and the need for double data entry.
Jobber also has limited automation capabilities, job-costing tools, and project management solutions.
Key features
Two-way native QuickBooks and Xero sync.
End-to-end automation in every stage of the sales funnel to close deals faster.
Online self-serve customer portal.
Third-party integrations with Gmail, Zapier, Mailchimp, and more.
Email Campaigns app.
User-friendly mobile app that's optimized for all devices including Android and iPhone.
Primary benefits
Accurate and secure data with the automatic QuickBooks or Xero sync.
Custom reporting and analytics.
Easily convert quotes or estimates into invoices.
Help from experts to answer questions and customize solutions.
Free trial with unlimited features and users.
Reusable email, report, and transaction templates.
Limitations
To get the most out of Method:CRM, you should be a QuickBooks or Xero user. Furthermore, this CRM solution is currently only available in English.
Zoho pricing
Zoho currently offers a 15-day free trial and has four subscription plans:
Standard: $14 per user per month.
Professional: $23 per user per month.
Enterprise: $40 per user per month.
Ultimate: $52 per user per month.
Jobber pricing
Jobber offers a 14-day free trial, and has three pricing plans available:
Core : $49 per month up to 1 user.
Connect : $149 per month up to 7 users.
Grow : $299 per month up to 30 users.
Additional users are $19 per month each.
Method:CRM pricing
Method:CRM offers a free trial with unlimited access to features and users — no credit card required. There are three plans:
Contact Management: $25 per user per month.
CRM Pro: $44 per user per month.
CRM Enterprise: $74 per user per month.
You can also mix and match plans, so you only make payments for the features you need.
Who should use Zoho?
Zoho is best suited for larger companies that benefit from its extensive list of features.
Due to the steep learning curve, in-depth customization is not easily achieved without expert help.
But as far as customer relationship management goes, Zoho is able to track customer records and provide visibility and insights without much difficulty.
Who should use Jobber?
Jobber is especially useful to small businesses in the field service industry. Those who work in cleaning, HVAC, gardening, plumbing, and landscaping can benefit from Jobber's scheduling, job tracking, and invoicing capabilities.
Who should use Method:CRM?
Method:CRM is ideal for QuickBooks or Xero users looking to automate their marketing and sales processes. While the solution's flexibility meets the needs of a variety of industries, those in manufacturing, wholesale, distribution, and construction find the most value from the tool.
If you want to spend less time on operations and fuel your growth through automation, Method:CRM is your #1 choice.
Bottom line
As far as CRM solutions for small businesses go, software giant Zoho might not be the best choice.
If you're not in the field service space, then Jobber probably isn't your ideal tool either.
If a fully customized solution that's tailored to your business workflows is what you want, Method:CRM is the solution for you.
Although both Zoho and Jobber have good solutions that may interest specific types of businesses, your best bet is to choose a CRM that grows with you.
Method:CRM helps boost productivity and deliver top-notch customer service with its unrivaled QuickBooks and Xero sync capabilities.
Automate your workflows with your free trial of Method:CRM!