Compare Nutshell vs. Jobber vs. Method:CRM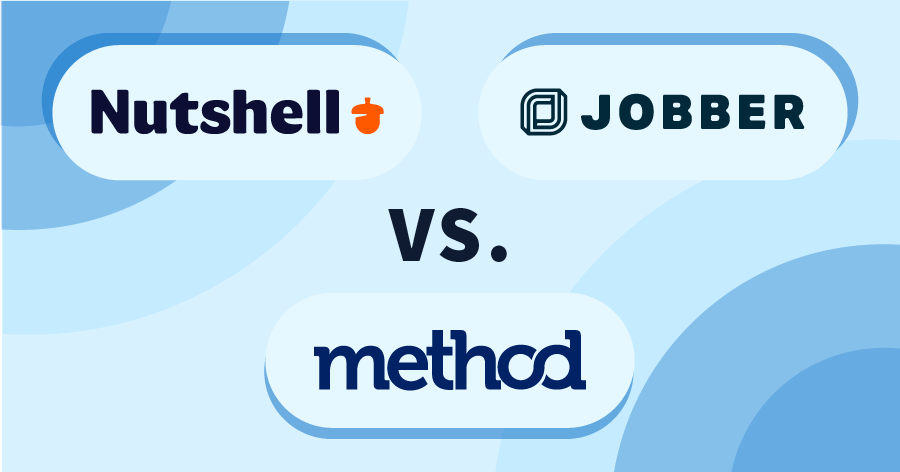 By the end of this guide, you'll know which solutions will put your business ahead of the game.
You're a step behind your competition if you aren't using a CRM to run your business. However, if you find the right CRM, it's easy to surpass your competition with a few enhancements to your workflow.
Whether you're looking for your first CRM or just a better one, there are three options that you should consider:
Nutshell.
Jobber.
Method:CRM.
By the end of this guide, you'll know which solutions will put your business ahead of the game.
Nutshell vs. Jobber vs. Method:CRM
The main difference between Nutshell, Jobber, and Method:CRM is the different industries they work best for.
Although all three are made for small businesses, depending on your field, one might make more sense for your everyday operations than the others.
To illustrate, let's check out what each of these CRMs is about.
Nutshell overview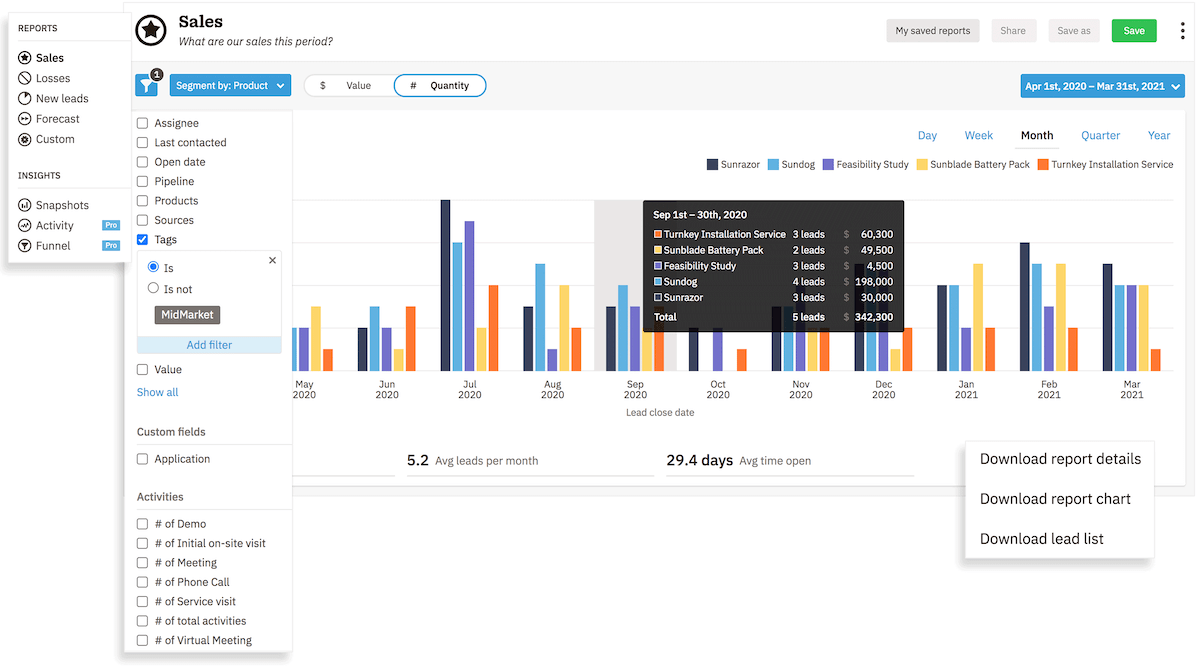 Nutshell optimizes your sales and marketing processes by combining them into a single system. As a result, you end up with less to keep track of and work more efficiently.
To drive efficiency further, Nutshell has a simple user interface that makes it easy to learn without disrupting your workflow.
How Nutshell works
Nutshell's number one feature is email marketing automation.
Their email sequence tool allows you to create and schedule personal sales drips to better capture each lead's attention.
Nutshell also lets you create email lists to ensure every email reaches the right person. You can use their templates and integrations to further simplify your email marketing.
Then, use their email analytics tools to measure how effective your messaging is.
What's more, Nutshell integrates with email marketing tools such as MailChimp and Constant Contact for an even more powerful workflow.
Beyond that, Nutshell offers the CRM features you expect, such as:
Lead management tools.
Detailed dashboards.
Custom reports.
Jobber overview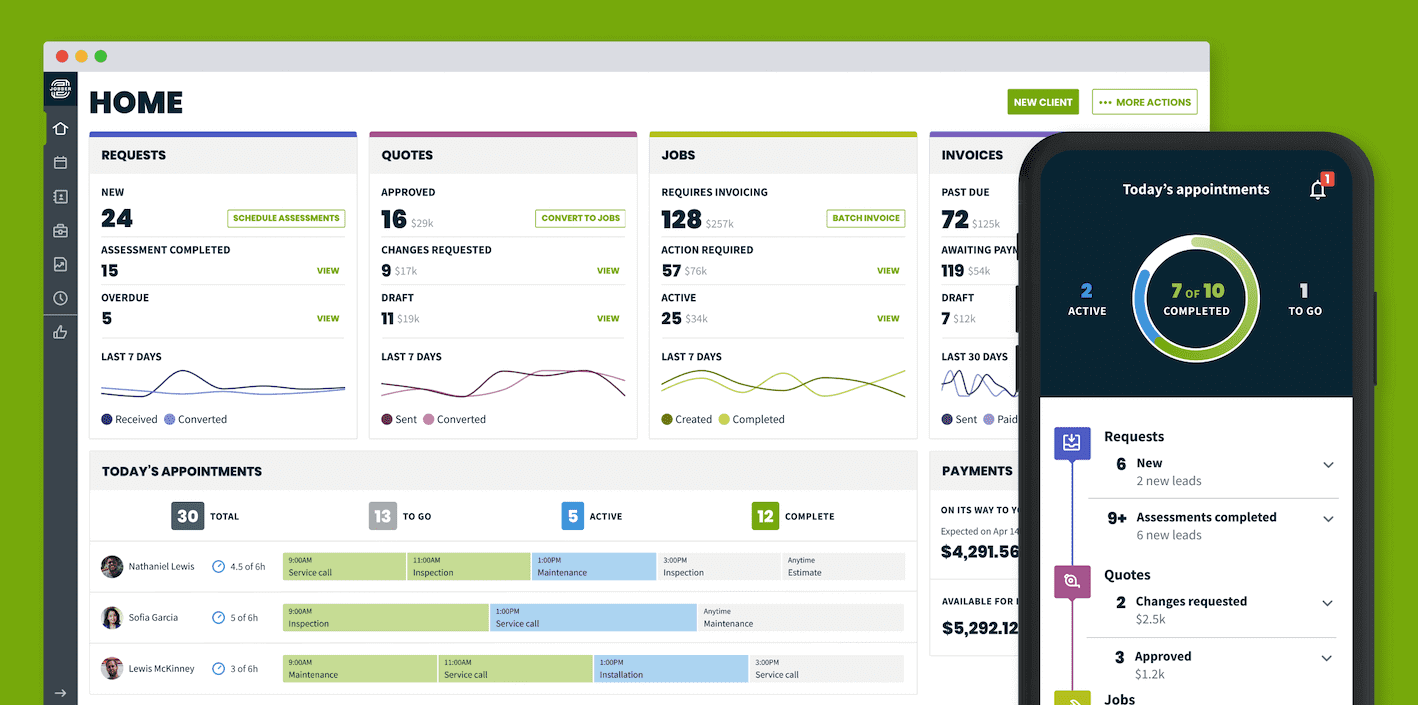 Jobber is a cloud-based solution made specifically for field service industries.
Jobber's goal is to connect your office team to your field technicians to ensure that everyone stays in the loop. The result is a cohesive business process where nothing falls through the cracks.
How Jobber works
Jobber supports several service industries with features like:
Real-time scheduling and dispatching.
Reports.
A self-service client hub.
One of their best features is invoice creation and billing. Make your invoices look more professional using Jobber's custom templates. Once created, send your invoices to your customers using platforms such as Stripe and Paypal.
What's more, Jobber allows you to create custom fields, tags, attach files, and more to truly personalize your invoicing.
Beyond that, empower your customers with Jobber's self-service portal. This portal allows you to:
Approve estimates.
Schedule work.
Pay invoices.
Contact field staff.
Lastly, you can use Jobber's time tracking capabilities to empower your employees and simplify payroll.
Method:CRM overview
As the #1 QuickBooks CRM, Method:CRM improves how you work in your accounting software to strengthen your overall workflow.
Method:CRM automates your processes, organizes your workflows, and helps you deliver top-notch customer service.
How Method:CRM works
The main way that Method:CRM enhances your business is through its two-way QuickBooks and Xero sync, which turns your accounting software and CRM into one cohesive system.
When you update information in QuickBooks or Xero, it automatically updates in Method. The same works in reverse, giving your team the most up-to-date information.
For email marketing, use Method's Email Campaigns app for custom email templates and performance analytics. For additional ways to connect with your prospects on a personal level, you can leverage Method's Mailchimp integration.
In addition, Method's customization capabilities make your dream solution a reality. You have everything you need to personalize Method at your fingertips, but you can also call on one of Method's customization experts to help you.
Beyond that, Method:CRM allows you to automate your repetitive and tedious tasks, such as:
Lead gen and collection.
Estimates and invoicing.
Follow-ups.
Payment collection.
Comparing Nutshell, Jobber, and Method:CRM
Now that you're up to speed on what each of these solutions offers, let's compare them to highlight the features that would work the best for your business.
Still not convinced? Check out these other articles to compare more CRMs:
Key features
Automatic lead assignment and tracking.
Advanced email marketing analytics.
A news feed with real-time updates from team members.
Bulk edit feature to modify multiple records at once.
Email sequence tool to create personal sales drips.
Mobile app for on-the-go updates.
Primary benefits
Simple interface that's quick to learn.
No user limits, storage caps, or restrictions on records.
Detailed dashboards for an at-a-glance view.
Custom reporting.
Wide range of third-party integrations.
Limitations
Unlike Jobber and Method:CRM, Nutshell doesn't have the same level of customization. This makes it a less desirable tool for long-term growth.
Key Features
Built-in maps to track your team's progress.
Time tracking capabilities.
Automatic appointment reminder notifications to customers.
Customer self-service portal.
Mobile app for field technicians.
Primary Benefits
Intuitive interface.
PayPal integration is simple and fast.
Access to schedules, notes, and other information.
Easy time tracking that syncs with QuickBooks Online.
Integrations with Zapier, MailChimp, Stripe, and other useful apps.
Limitations
While Jobber improves many of your workflows, their overall automation does not compare to other CRMs.
What's more, their pricing for their most popular package is per seven users instead of one, which may be inconvenient to some businesses.
Key features
QuickBooks and Xero two-way sync so your data is always up to date.
Online customer portal for an improved customer experience.
Time tracking capabilities to empower your employees.
Unlimited customization to tailor your perfect solution.
Native integrations with Gmail, Outlook, Mailchimp, Zapier, and more.
Mobile app so that you're always in the loop.
Primary benefits
Automatically sync your data between Method:CRM and your QuickBooks or Xero account for maximum accuracy.
Personalized templates to reuse for emails, reports, and transaction documents.
Customize your every workflow from reporting to online payments.
Convert estimates into invoices with a few clicks.
Limitations
For now, you must be a QuickBooks or Xero user to use Method:CRM, and the solution is only available in English.
Nutshell pricing
Nutshell offers two pricing plans:
Starter: $20 per user per month.
Pro: $42 per user per month.
They also offer a 14-day free trial with no credit card required.
Jobber pricing
Jobber has three pricing plans which include:
Core: $49 per month for 1 user.
Connect: $149 per month for up to 7 users.
Grow: $299 per month for up to 30 users.
Jobber also offers a 14-day free trial with no credit card required.
Method:CRM pricing
Method:CRM offers three subscription options:
Contact Management: $25 per user per month.
CRM Pro: $44 per user per month.
CRM Enterprise: $74 per user per month.
Method:CRM offers a free trial with no credit card required.
Who should use Nutshell?
Nutshell works for various industries, such as retail and advertising, but may not be the best choice for field service businesses that are always on the go.
Instead, small businesses looking for strong email marketing features should consider Nutshell.
Who should use Jobber?
As service software, Jobber is best for businesses that require flexible scheduling and recurring jobs, such as:
Cleaning.
Lawn care.
Gardening.
Plumbing.
General contracting
Who should use Method:CRM?
Method:CRM is a solution for businesses in all industries, from accounting to construction and everything in between.
It's the best choice for QuickBooks and Xero users looking for a solution to automate their workflow end-to-end.
Bottom line
Finding the best CRM solution isn't easy, but the right one will take your business further than you ever thought possible.
But reading articles on CRMs isn't enough to get the full picture. Take advantage of free trials and test different solutions out for yourself.
Start your search with a free trial of Method:CRM.