Compare Insightly vs. Jobber vs. Method:CRM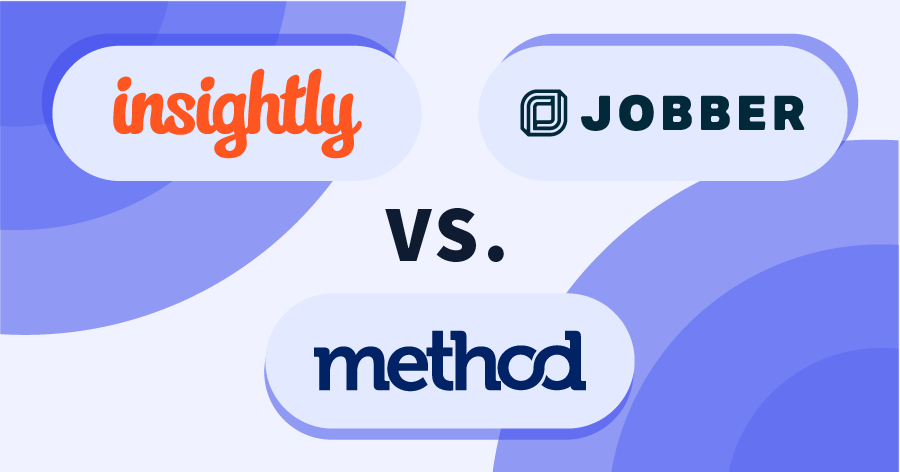 Determine the right tool for your business.
A CRM saves you time and increases your revenue-generating power. But which CRM does the best for your business?
Insightly, Jobber, and Method:CRM are top choices in today's market, and each has the features you need to operate your business efficiently.
This guide compares Insightly, Jobber, and Method:CRM to determine the right tool for your business.
Insightly vs. Jobber vs. Method:CRM
The main difference between Insightly, Jobber, and Method:CRM is the different industries they service.
Insightly is a great tool for project management-based businesses, while Jobber best works for the service industry.
In contrast, Method:CRM's customizable platform makes it suitable for almost any industry. However, those in the construction, manufacturing, wholesale, and distribution industries often find the most value in the platform.
Let's take a closer look at what each CRM has to offer.
Insightly overview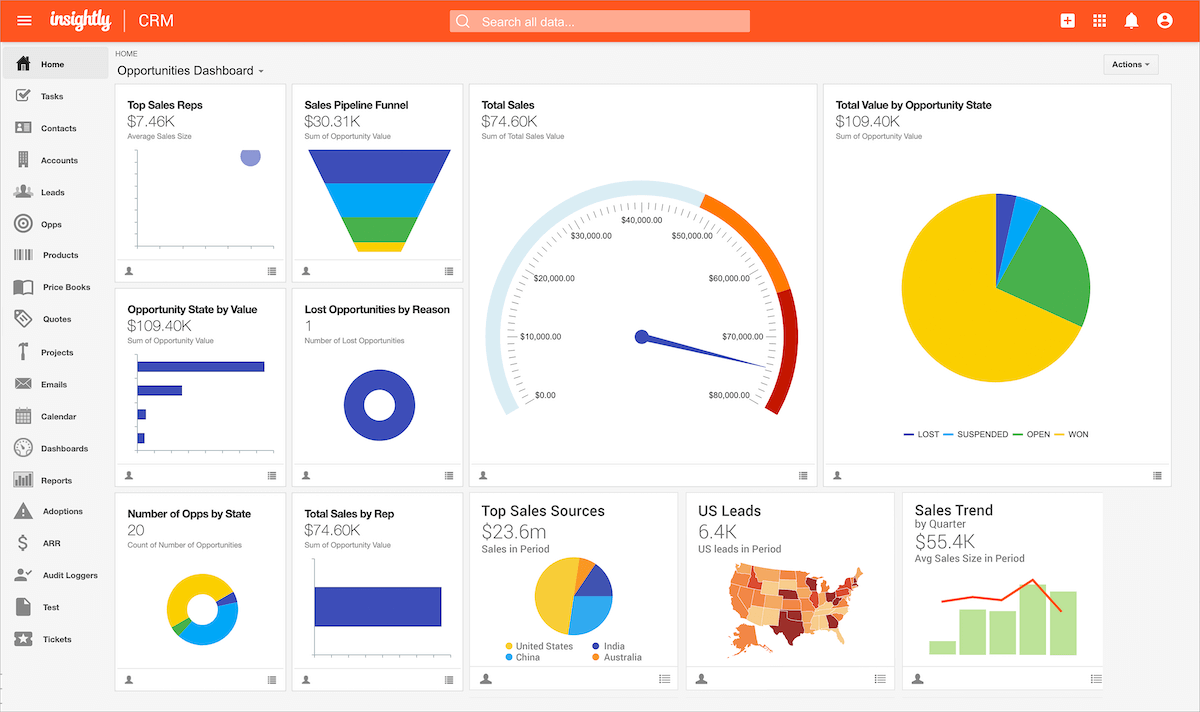 Insightly is a no-fuss, easy-to-use CRM.
Ideal for small and medium-sized businesses, Insightly lets you better manage your leads and strengthen your customer relationships.
How Insightly works
Google and Office 365 users find value in Insightly thanks to the CRM's native integration with these popular tools.
This translates to one of Insightly's notable features — how easy it is to import your data from a variety of sources, including:
Excel spreadsheet.
Google Workspace.
Microsoft Outlook.
From there, Insightly takes over the job of lead tracking by automatically routing your prospects to the correct sales rep to ensure they get the best service possible.
Once an opportunity is won, it automatically converts to a project, giving you access to Insightly's integrated project management tools.
Jobber overview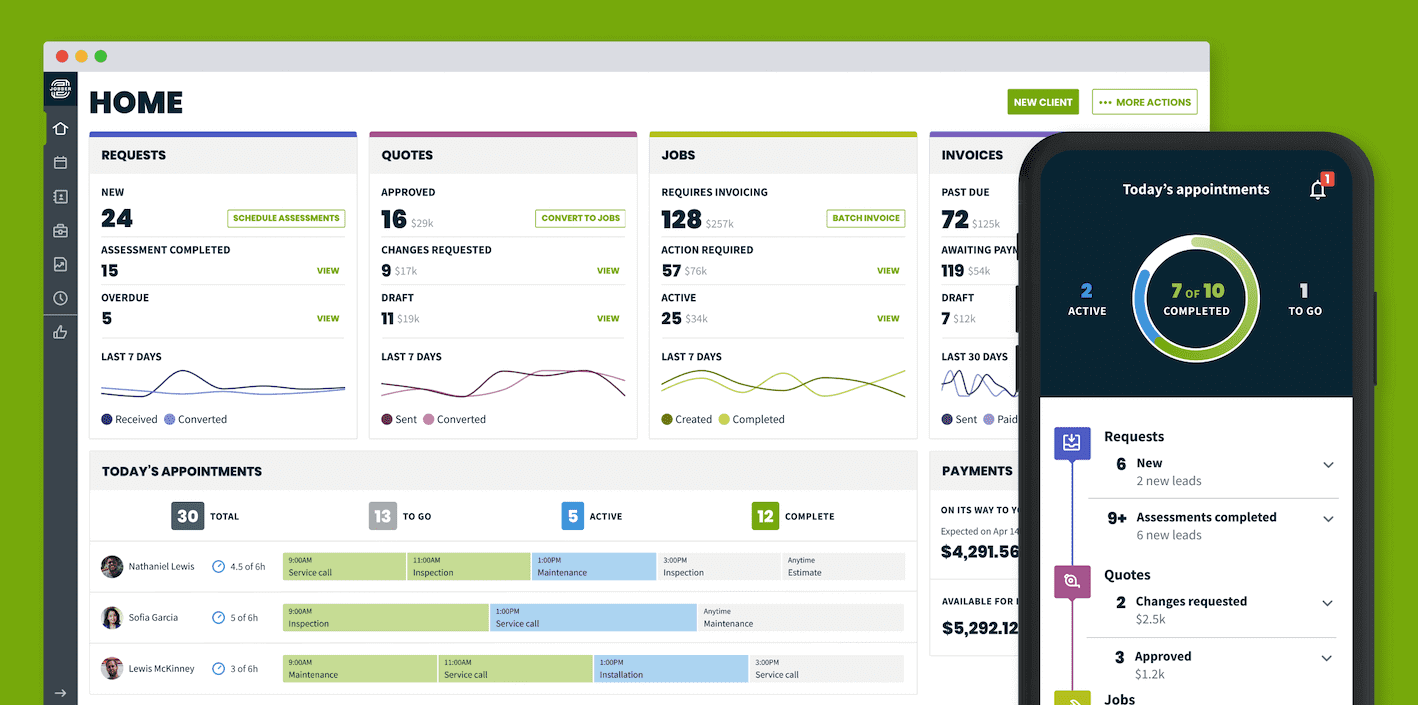 Made specifically for field service businesses, Jobber is a great option if you need a solution that connects your office team with your field technicians.
As a result, it's easier for your team to access the information they need to better serve your customers.
How Jobber works
Jobber understands the unique nature of the service industry and carries features that facilitate everyday repetitive tasks. Some key features include:
Real-time scheduling and dispatching.
Detailed reports.
A self-service client hub.
Jobber has custom templates that let you personalize your invoices for your business. You can also add custom fields, tags, file attachments, and more.
From there, you can send your invoices directly to your customer using payment platforms such as Stripe and Paypal.
What's more, Jobber allows you to provide your customers with additional flexibility thanks to the self-service portals. From the portal, your customers can carry out several tasks, including approving estimates and paying invoices.
Method:CRM overview
Method:CRM is the best CRM for QuickBooks and Xero users who want to foolproof business operations.
Method:CRM lets you automate your processes and enhance your customer service capabilities. As a result, you increase your revenue and gain more time to grow your business.
How Method:CRM works
When you update information in your accounting software, it automatically updates in Method — and vice versa. That way, everyone always has the most up-to-date information to serve your customers better.
Method:CRM also allows you to provide your customers with a self-service option through a custom portal — from which they can:
Access transaction documents.
Approve quotes and proposals.
Pay invoices.
What's more, Method:CRM automates several tasks such as:
Lead collection.
Document conversion.
Payment processing.
Method's extensive customization capabilities mean no limit to how much the solution can support your business.
You can personalize the platform or take advantage of Method's customization experts to create your dream CRM.
Comparing Insightly, Jobber, and Method:CRM
Now that you're caught up on what Insightly, Jobber, and Method:CRM have to offer, let's dive deep into their features.
Want to expand your search for the perfect CRM? Check out these other articles:
Key features
Google and Office 365 integrations.
Integrated project management tools.
Automatic lead routing to the appropriate sales rep.
Import data from Excel spreadsheet.
Integrations with hundreds of apps.
Primary benefits
Automatic conversion of won opportunities into projects.
Custom fields and tags to personalize your contact data.
The ability to schedule recurring reports.
Limitations
Insightly's customization is limited, specifically in terms of reports and dashboards.
Key Features
Intuitive interface.
Time tracking capabilities.
The ability to track job progress.
Self-service portal for customers.
Mobile app for field technicians.
Primary Benefits
Notifications for customers to never forget their appointments.
Quick and simple Paypal integration.
Integrations with apps such as Zapier, Mailchimp, Stripe, and more.
Limitations
Jobber's automation capabilities don't compare to CRMs at a similar price point.
Plus, there is a steep learning curve. So if you don't have an in-house IT specialist to help you set up, you might incur additional implementation expenses.
Jobber users have also reported recurring issues syncing with QuickBooks. More specifically, there have been cases in which data is lost and unrecoverable.
Others have detailed that the sales tax calculations are often incorrect, leading to manual data entry on QuickBooks to correct amounts.
Key features
Powerful QuickBooks and Xero two-way sync for up-to-date data.
Lead gen forms to capture demand.
Online portal for customer convenience.
Unlimited customization to extend the power of your CRM.
Native integrations with Gmail, Outlook, Mailchimp, Zapier, and more.
Primary benefits
Custom reusable templates to personalize documents for your business.
Full customization capabilities for every aspect of your business.
Quickly convert estimates into invoices.
Payment gateways to simplify payments.
Self-service portal for an excellent customer experience.
Limitations
You must be a QuickBooks or Xero user to use Method:CRM. What's more, the solution is only available in English.
Insightly pricing
Insightly offers three subscription plans:
Plus: $29 per user per month.
Professional: $49 per user per month.
Enterprise: $99 per user per month.
Insightly offers a free plan but only allows two users and has limited features.
Jobber pricing
Jobber has three pricing plans which include:
Core: $49 per month for 1 user.
Connect: $149 per month for up to 7 users.
Grow: $299 per month for up to 30 users.
Jobber also offers a 14-day free trial with no credit card required.
Method:CRM pricing
Method:CRM offers three subscription options:
Contact Management: $25 per user per month.
CRM Pro: $44 per user per month.
CRM Enterprise: $74 per user per month.
Method:CRM offers a free free trial with no credit card required to get started.
Who should use Insightly?
Insightly is the best option for businesses that have a strong focus on projects, as they can take advantage of Inisghtly's project management tools.
Insightly's simple interface also makes it suitable as a first CRM for small businesses.
Who should use Jobber?
Jobber is best for service businesses that require flexible scheduling and recurring jobs. Businesses in the following industries could benefit best from Jobber:
Lawn care and landscaping.
Cleaning.
General contracting.
Plumbing.
Electrical work.
Who should use Method:CRM?
Method:CRM is the best choice for QuickBooks and Xero users looking for an out-of-the-box solution with the flexibility to add personalized automation.
This allows Method:CRM to scale with your business, pushing the limits of your growth.
Bottom line
Insightly, Jobber, and Method:CRM improve the way you operate your business. They allow your team to work more efficiently and increase your customer satisfaction.
But don't take it from us — try them out for yourself.
Start your free trial of Method:CRM.