Your guide to business process automation

In today's fast-paced business landscape, efficiency is key to staying ahead of the competition.
One effective way to achieve this is through business process automation (BPA).
Business process automation automates your routine tasks to:
Free up time for high-value activities.
Reduce errors.
Increase accuracy.
But what exactly is business process automation? In this guide, you will explore:
How BPA increases operational efficiency.
Which processes to automate first.
What automation tools provide the most value.
Let's dive into the world of business process automation and uncover how it sets your business up for growth.
What is business process automation?
Business process automation is the use of technology to streamline repetitive tasks and optimize resource allocation.
By automating your business processes, you can achieve:
Significant cost savings.
Improved productivity.
Enhanced decision-making.
Depending on your industry, there are many benefits to process automation. Let's take a look at which you can count on, regardless of the industry you operate in.
What are the benefits of automating business processes?
When you automate your business processes, you can get ahead of the competition by transforming the way your business operates.
Below are the six main benefits of process automation.
Improved transparency
Business process automation provides greater visibility into your operations by letting you monitor and track operations in real-time.
This enhanced transparency helps you identify bottlenecks, make informed decisions, and improve efficiency.
Better compliance
Automation ensures that tasks are performed consistently and in accordance with established guidelines.
This leads to better compliance with industry standards, reducing the risk of non-compliance penalties and enhancing your business' reputation.
Increased productivity
By automating repetitive and time-consuming tasks, you win back time to focus on more critical and value-adding activities.
This shift in focus results in increased productivity, as your team can contribute more effectively to your business' success.
Efficient use of resources
Business process automation optimizes the allocation of resources by streamlining processes, eliminating redundancies, and minimizing manual intervention.
This efficient use of resources lets you achieve more with less, leading to a more agile and competitive business.
Reduced costs
Implementing automation results in significant cost savings, as automated systems reduce labor expenses and help you identify areas for cost optimization.
Fewer human errors
By automating business processes, you minimize the potential for human error, ensuring data accuracy and reliability.
This leads to improved decision-making, enhanced customer satisfaction, and better overall performance.
How to implement business process automation
Starting with business process automation can be both exciting and daunting. With a strategic approach, you can reap the numerous benefits it offers.
Below is a roadmap to help you implement business process automation.
1. Identify processes to automate
The first step in implementing business process automation is to identify the processes that are best suited for automation.
Focus on repetitive, time-consuming tasks with clear input-output relationships and rules, such as converting estimates to invoices.
Tasks that require minimal human intervention or tasks with high error rates are prime candidates for automation.
2. Define your goals
Before diving into automation, it is crucial to define your objectives clearly. Ask: What are the improvements you want to achieve through automation?
Set measurable goals to track your progress and evaluate the success of your automation efforts.
3. Find the best tools for your business
With countless automation tools available in the market, it is essential to pick the ones that best fit your unique business needs.
Research and compare various tools, paying attention to their:
Features.
Scalability.
Ease of use.
Compatibility with your existing systems.
4. Continuously monitor and adapt
Automation is not a one-time effort but a continuous process of improvement. Monitor the performance of your automated processes closely, using key performance indicators (KPIs) aligned with your goals.
Then, analyze the results, identify areas for improvement, and refine your automation strategies accordingly. Be prepared to adapt and evolve as your business grows and changes, to ensure that your automation efforts deliver excellent results in the long run.
Where to start: Process automation examples
Understanding where to begin with business process automation can be challenging.
Here are process automation examples to kick-start your automation journey.
Document approvals
One of the most common processes to automate is document approvals. This can include purchase orders, contracts, or expense reports.
By automating this process, you can simplify communication, reduce manual effort, and expedite approvals.
Automation tools can handle routing, notifications, and tracking to make your entire process more efficient and error-free. Some solutions even capture digital signatures as part of the approval workflow as pictured below.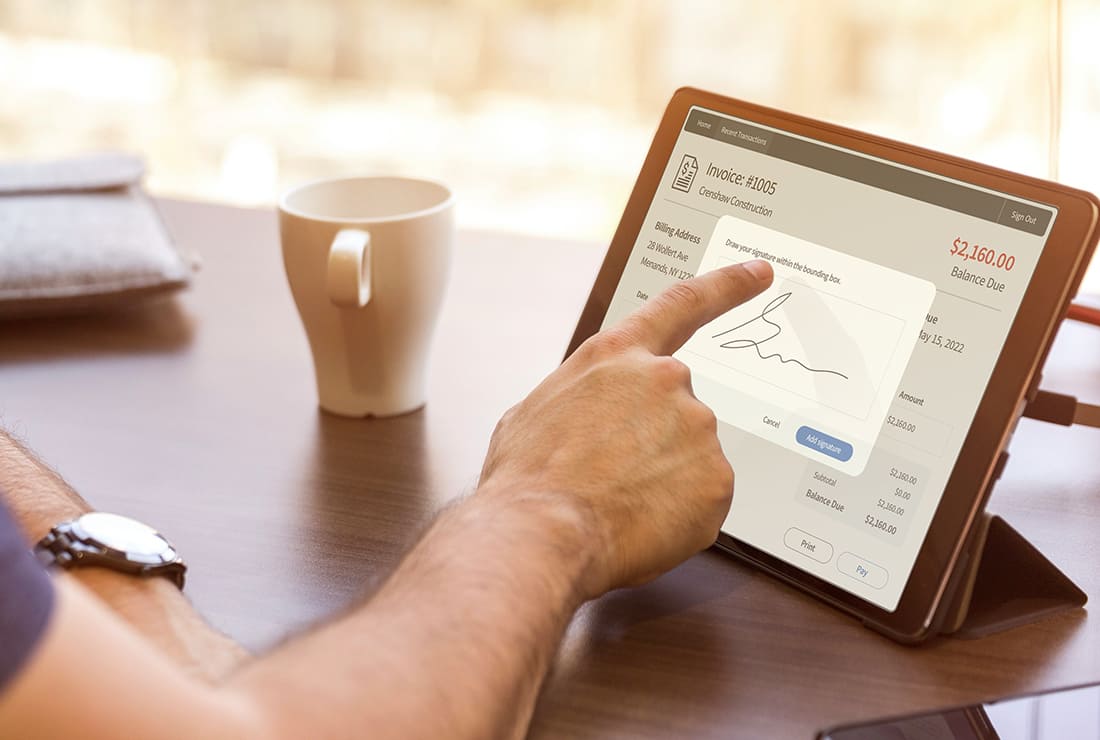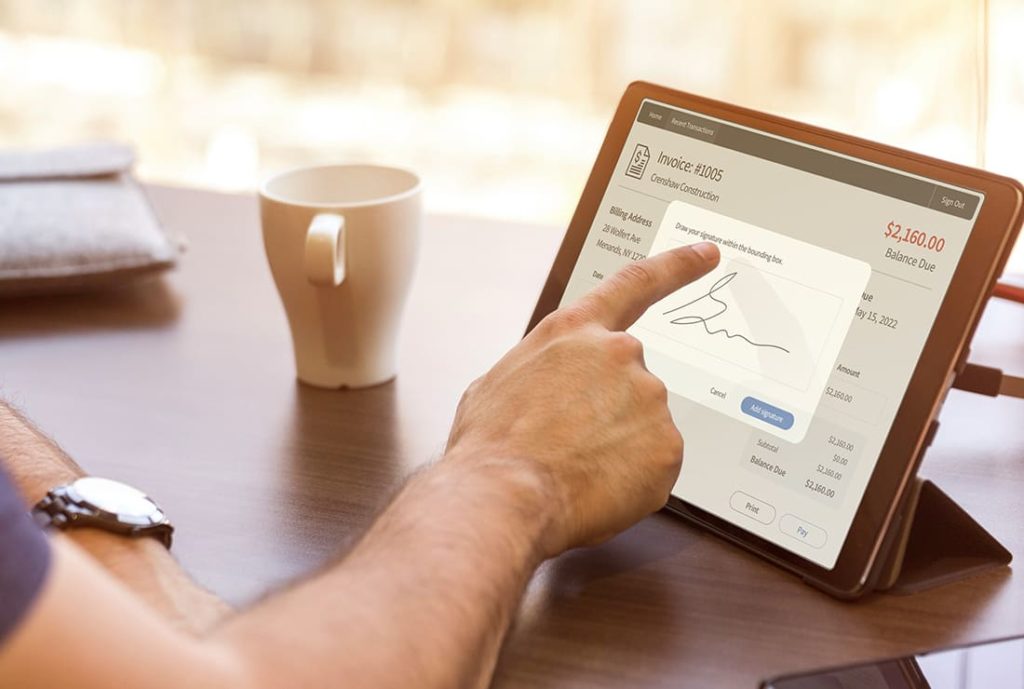 Estimates and invoicing
Creating estimates and invoices is a time-consuming process prone to errors. But automation can:
Standardize your transaction documents.
Eliminating manual data entry.
Reduce mistakes.
Automated systems generate your estimates, invoices, and reminders based on predefined templates and rules. The result? A seamless and professional experience for your team and customers.
Payment collection
Payment collection is another area automation can strongly benefit. Automating payment reminders and processing helps you manage cash flow and reduces the risk of late or missed payments.
Integration with accounting software can further simplify the process while keeping your financial records up-to-date and accurate.
Email campaigns
Email marketing is an essential tool for most businesses, but managing campaigns manually is tedious and time-consuming.
Thankfully, automation can handle various aspects of email campaigns, such as:
Contact list management.
Audience segmentation.
Scheduling and delivery.
Email personalization.
Automated analytics and reporting provide insights into campaign performance, allowing you to fine-tune your strategy for better results. Below is an example of what campaign analytics look like in Method — the #1 automation tool for QuickBooks and Xero users.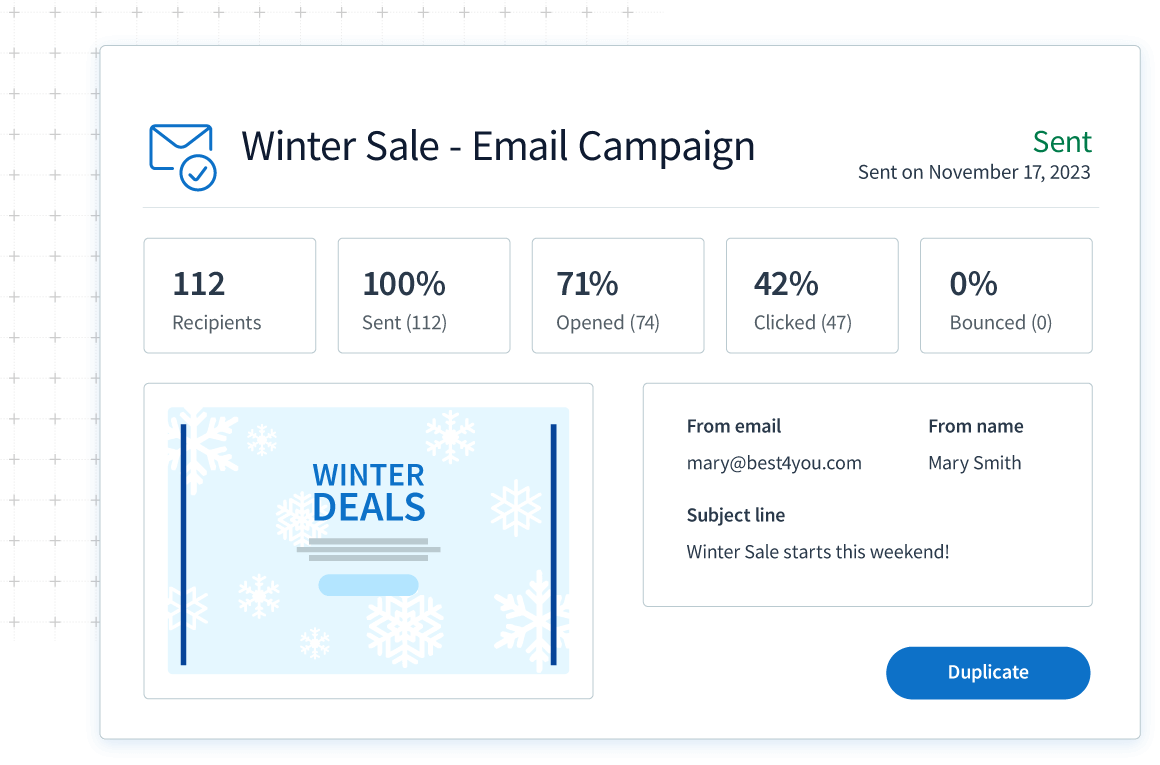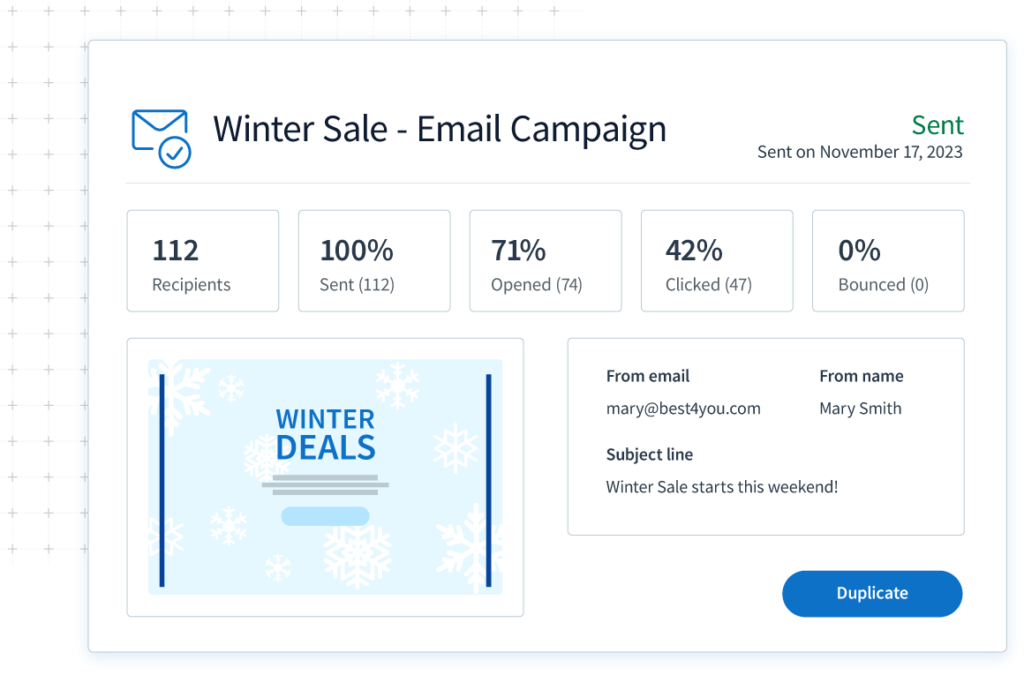 Reporting and forecasting
You need accurate data and reports to make informed decisions. Automating reporting and forecasting processes can save considerable time and ensure that your team always has access to up-to-date, reliable information.
Automated systems can collect, analyze, and visualize data from multiple sources, to let you monitor trends and make data-driven decisions.
Choosing the best process automation tool for your business
Selecting the ideal process automation tool is crucial for maximizing the effectiveness of your operations.
Consider factors such as:
Functionality.
Ease of use.
Scalability.
Flexibility.
Support.
Pricing.
Pick a tool that offers the specific features you need, integrates seamlessly with your existing systems, and is user-friendly.
Also, ensure the solution can scale and adapt as your business grows.
Top 5 business process automation tools
Made with small businesses in mind, Method automates your operations and customer experience to propel business growth.
At the heart of Method's automation power is its two-way, real-time sync with QuickBooks and Xero. Whenever you update information in your accounting software, it's automatically reflected in Method and vice versa to give your team access to the most current data.
Better yet, you can build your perfect solution and continuously personalize it as your business evolves thanks to Method's no-code platform.
Key features
Seamless two-way sync with QuickBooks or Xero.
Automated lead capture and email campaigns.
Online portals for your customers to self-serve.
Integrations with Gmail, Outlook, Mailchimp, Zapier, and more.
Pros
Automatically syncs your data between Method and your accounting software.
Personalize your solution with no-code, drag-and-drop tools.
Estimate to invoice conversion with a click of a button.
Custom templates for email campaigns, reports, and transaction documents.
Cons
To get the most out of Method, you should be a QuickBooks or Xero user. Also, the solution is currently only available in English.
Pricing
Method offers three subscription options:
Contact Management: $25 per user per month.
CRM Pro: $44 per user per month.
CRM Enterprise: $74 per user per month.
You can try Method for free, no credit card required.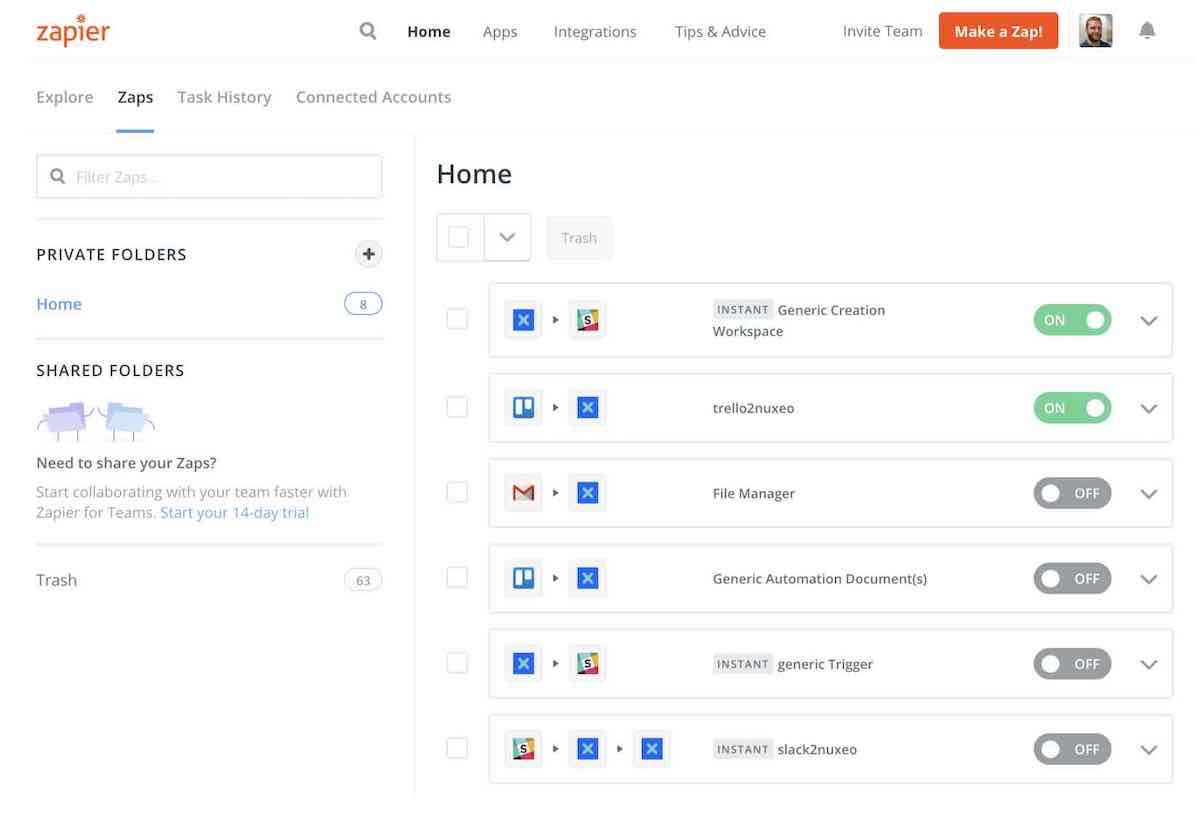 Image credit: Zapier
Zapier is a powerful tool for automating tasks and workflows by connecting your favorite applications. It helps you streamline your processes to bemore productive.
Key features
Supports over 5,000 app integrations, including Gmail, Slack, and Stripe.
Complex workflow automation through actions and triggers.
Task history for easy tracking and debugging of automated workflows.
Pros
Intuitive interface makes it easy to create and manage workflows.
Unlimited and customizable Zaps through URLs, no code required.
Keeps your data secure with app restrictions, single sign-on, and custom retention.
Cons
While Zapier supports many apps, some integrations don't provide access to all features. Moreover, the free plan is too limited for users with complex automation requirements.
Pricing
Zapier offers five subscription options:
Free: Up to 100 tasks each month.
Starter: $19.99 per month.
Professional: $49 per month.
Team: $399 per month.
Company: $799 per month.
Zapier offers a free 14-day trial for all plans.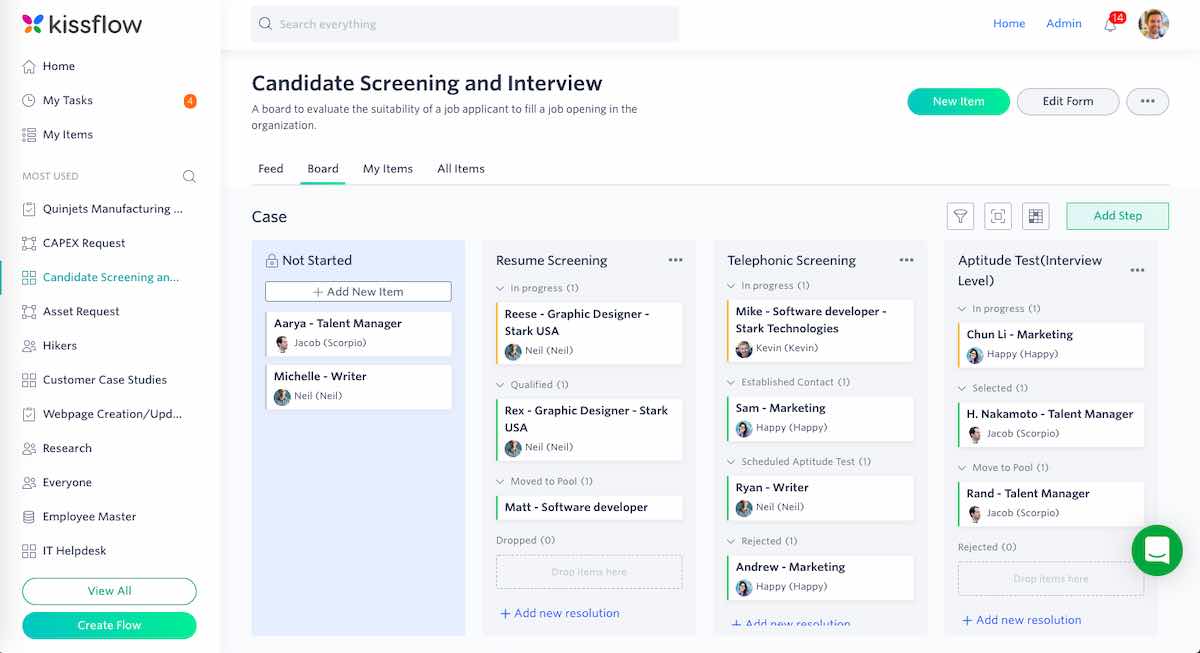 Image credit: Kissflow Documentation
Kissflow is a user-friendly workflow automation platform designed to streamline business processes. It combines the power of automation with a simple, no-code interface, making it an ideal choice for companies of all sizes.
Key features
Drag-and-drop interface for easy workflow creation and management.
Wide range of customizable templates.
Integrations with apps such as Slack and G Suite.
Collaboration tools to simplify communication among team members.
Pros
No-code interface makes it easy for users of all skills to manage workflows.
Gain insights into your processes with detailed analytics and reporting features.
Highly customizable project management tools.
Cons
Kissflow does not offer as many integration options as other platforms like Zapier.
Pricing may also be too steep for smaller businesses or those with limited budgets given the minimum user count each plan requires. What's more, is that Kissflow does not offer a free trial.
Pricing
Kissflow offers three subscription options:
Small Business: $15 per user per month, with a minimum of 50 users.
Corporate: $20 per user per month, with a minimum of 100 users.
Enterprise: custom pricing for over 500 users.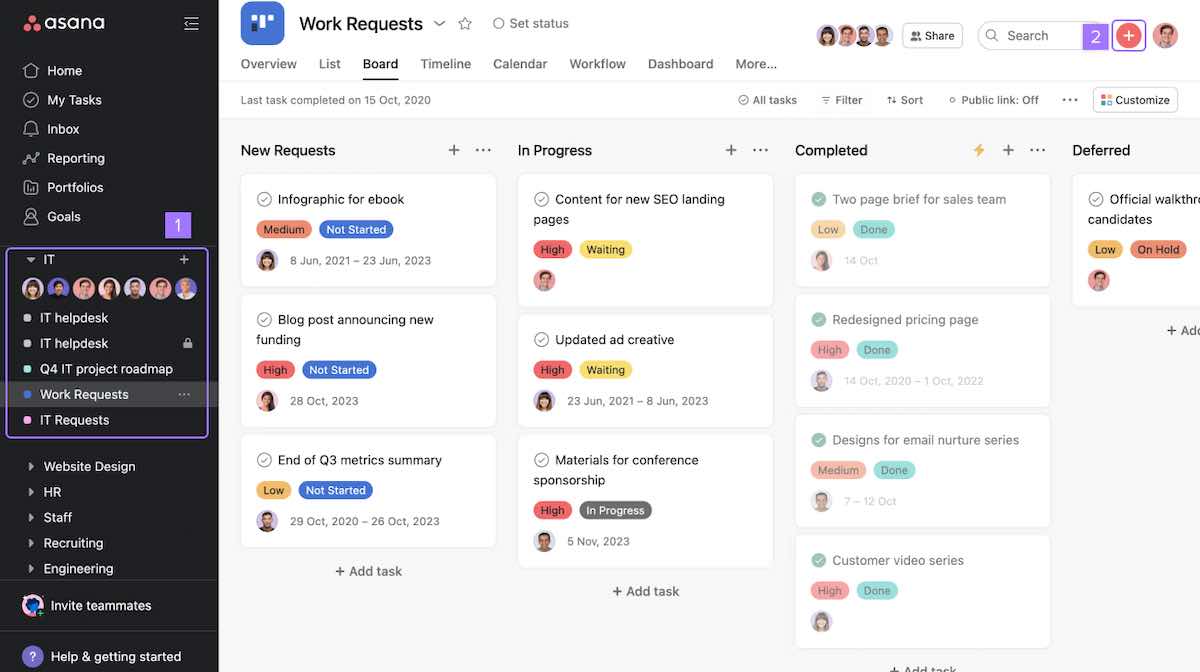 Image credit: Asana
Asana is a versatile work management platform designed to help teams plan, organize, and track projects. It combines powerful project management tools with workflow automation features.
Key features
Simplified task and project management.
Built-in automation features, such as rules and custom templates.
Integrations with popular apps, like Slack, Google Drive, and Zapier.
Advanced performance reporting.
Pros
Easy to manage projects due to its intuitive interface.
Effective communication among teams through file-sharing features.
Customizable workflows to suit your team's unique needs.
Cons
Asana's free plan offers basic functionality but lacks many advanced features, making it less suitable for larger teams or complex projects.
Although the platform is user-friendly for the most part, there's a steep learning curve for some of the more advanced features.
Pricing
Asana offers three subscription options:
Basic: Free for up to 15 users.
Premium: $10.99 per user per month.
Business: $24.99 per user per month.
Asana also offers a free 30-day trial for their paid plans.
Image credit: ProcessMaker
ProcessMaker is an open-source business process automation platform that helps you design, manage, and optimize your processes. It offers powerful features and scalability, making it a good choice for businesses of all sizes.
Key features
Visual process designer with a drag-and-drop interface.
Integrates with a wide range of apps, such as SAP and Microsoft Dynamics.
Mobile app for remote access.
Advanced reporting and real-time analytics.
Pros
Extensive customization options as it's an open-source solution.
Designed to accommodate growing businesses' ever-changing automation needs.
Comprehensive functionality for businesses across various industries.
Cons
ProcessMaker's extensive feature set may be overwhelming for users new to business process automation, leading to a steeper learning curve. Also, pricing is too expensive for most small businesses, and no free trial is available.
Pricing
ProcessMaker offers two subscription options:
Standard: $1495 per user per month.
Enterprise: $2479 per user per month.
Recap: Why you need business process automation
Staying competitive and efficient is crucial to the success of small businesses. The best way to optimize your operations, reduce costs, and enhance productivity is through business process automation.
From document approvals, payment collection, email campaigns, and reporting, there's no shortage of ways you can add efficiency to your operations.
Selecting the right process automation tools from the start is key to beating your competitors and achieving sustainable growth.
To make an informed decision, try the most promising business process automation tools before you commit to one.
Start automating with your free trial of Method!
Image credit: Freepik