Best small business automation software for 2024

In the rapidly evolving digital landscape, small business automation software has become a game-changing tool for growth and efficiency.
Removing the burden of repetitive tasks allows you to:
Focus on innovative strategies.
Make data-driven decisions.
Enhance collaboration.
Therefore, finding the right automation software is a must for any small business looking to streamline operations and accelerate growth.
This guide will help you explore the best small business automation software options for 2024.
How does automation help small businesses?
Small business automation software is an essential growth tool in today's digital age. But how exactly does it enhance small business operations?
Increase productivity
Small business automation software liberates your team from repetitive tasks, freeing up time for innovation and strategy.
Reduce errors
By taking on routine tasks, small business process automation significantly reduces human error. It ensures accuracy and consistency, preventing costly mistakes and reinforcing customer trust.
Enhance team collaboration
Automation isn't just about performing tasks — it's also about enhancing collaboration. Integrating platforms and automating workflows enable seamless information sharing, improving teamwork and accelerating project completion.
Make data-driven decisions
Small business automation software is a powerhouse for data processing and analysis.
It delivers real-time metrics and reports, from trend forecasting to identifying sales opportunities, enabling your business to make data-driven decisions.
How to automate small business processes
Harness the power of small business automation tools to streamline operations and drive growth.
Follow these five steps to effectively automate your small business processes.
Step 1: Determine your business goals
Begin by defining your business goals and desired outcomes. This will help you identify the processes that, when automated, will significantly impact your efficiency, productivity, and overall success.
Step 2: Identify opportunities for automation
Analyze your existing processes to pinpoint the areas where automation will be most beneficial.
Focus on the repetitive, time-consuming tasks that small business process automation tackles best, so you free up your team's resources.
Step 3: Implement automation software
Select suitable small business automation tools to address your specific business needs. Look for customizable solutions that integrate with your existing systems and can keep up as your business scales.
Step 4: Train your team
Training your team on your chosen small business automation software ensures a smooth integration. It will help them understand the software's features, benefits, and how it can optimize their daily tasks.
Step 5: Monitor, measure, modify
Regularly monitor the performance of all your automations. Measure their effectiveness in achieving your goals, and make modifications to ensure continuous improvement and optimization.
Must-have small business automation software tools
Small businesses need a range of automation tools to optimize efficiency and growth.
Here are some examples of small business process automation tools that enhance your operations.
Accounting software
Accounting software automates financial tasks, simplifying:
Budgeting.
Payroll.
Invoicing.
Tax preparation.
It's a must-have for small business automation as it ensures financial accuracy.
Virtual phone system
A virtual phone system allows businesses to manage communication services in an integrated and cost-effective way. It improves customer interaction, boosts team collaboration, and is vital to any small business automation software toolkit.
Project management platform
Project management platforms simplify:
Task allocation.
Timeline tracking.
Resource management.
They also improve team collaboration, ensure timely project completion, and are a cornerstone in effective small business process automation.
Job scheduling software
Job scheduling software optimizes workforce management and eliminates manual scheduling. As a result, you reduce errors and improve productivity.
Reporting and analytics tool
Reporting and analytics tools automate data collection and analysis, providing insights for making data-driven decisions.
A crucial part of small business automation software, these tools help businesses understand performance metrics and identify growth opportunities.
Customer relationship management (CRM)
CRM systems automate sales and customer service tasks, improving client relationships and boosting sales. A good CRM enhances customer satisfaction and drives business growth.
Top 7 best small business automation software
By now, you should understand the benefits of small business process automation and which steps to take in order to ensure success in your automation journey.
Let's look at your best small business automation software options for 2024.
Designed specifically for small businesses, Method streamlines your operations and enhances customer experience to help you scale sustainably.
The cornerstone of Method's automation capabilities is its real-time, two-way sync with QuickBooks and Xero. Any changes in your accounting system instantly mirror in Method, and vice versa, ensuring your team always has access to the most up-to-date data.
Moreover, Method's no-code platform lets you build the ideal solution for your small business needs. You can consistently tailor it as your business changes and grows, ensuring optimal performance at every stage of your evolution.
Key features
Seamless two-way sync with QuickBooks or Xero.
Automated lead capture and email marketing campaigns.
Online self-service portals for your customers.
Integrations with Gmail, Outlook, Mailchimp, Zapier, and more.
Limitations
To get the most out of Method, you should be a QuickBooks or Xero user. Also, the solution is currently only available in English.
Pricing
Method offers three subscription options:
Contact Management: $25 per user per month.
CRM Pro: $44 per user per month.
CRM Enterprise: $74 per user per month.
You can try Method for free, no credit card required.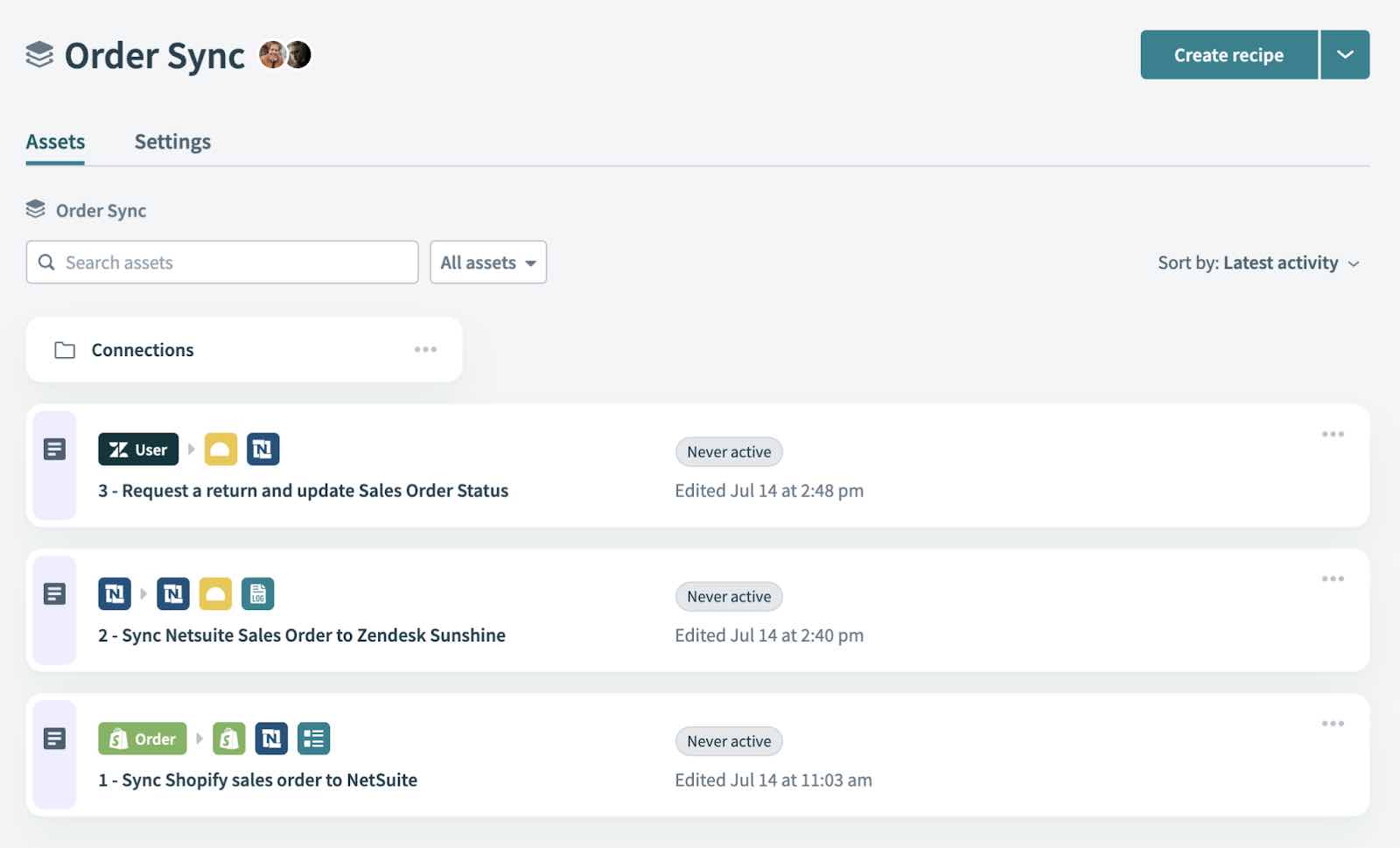 Image credit: Workato
Workato is an iPaaS-based (integration platform as a service) business intelligence platform designed for organizations of all sizes.
Leveraging artificial intelligence and machine learning technology, Workato helps IT teams and businesses carry out sophisticated integrations and process automations.
Key features
Pre-built connectors for 1000+ apps, such as SAP, Workday, and Jira.
Complex workflow automation through "recipe" templates.
Build custom automations with the Workato Workbot.
Limitations
While Workato is powerful, it requires some technical expertise to get the most out of, especially concerning intricate workflows. It's also costly for small businesses with straightforward automation needs.
Pricing
Workato has no set pricing plans, so you must reach out for a quote.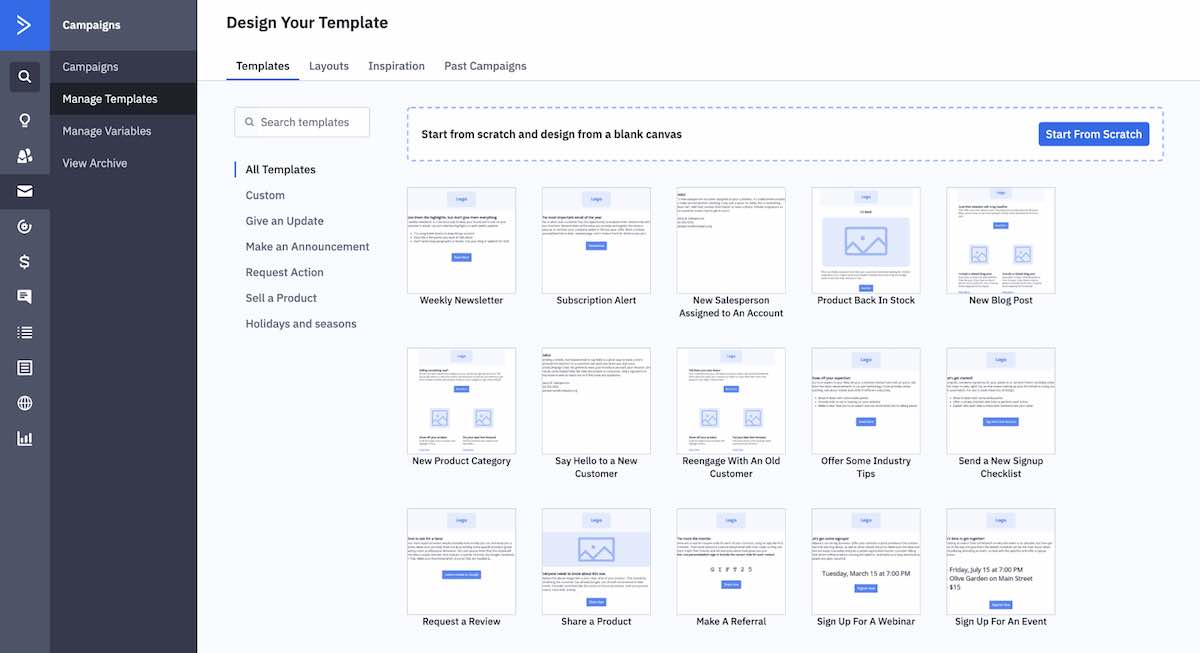 Image credit: ActiveCampaign
ActiveCampaign is a marketing automation platform that provides various tools to simplify business operations. Catering to businesses of all sizes, it offers email marketing, sales automation, and customer relationship management features in a single system.
Key features
Email marketing campaigns and multi-channel marketing automation.
Personalized messaging and chatbots for customer service.
Data segmentation for customized campaigns.
Reporting and analytics for insights into customer behavior.
Limitations
There's a bit of a learning curve for users who aren't proficient with marketing automation tools. Also, the most economical pricing plans do not support as many integrations, which can be a deal-breaker for small businesses on a budget.
Pricing
ActiveCampaign offers:
Four pricing plans for their Marketing tools, starting at $39 per month for one user.
Three plans for their Sales tools, starting at $26 per month.
Marketing + Sales bundles, starting at $125 per month for up to 5 users.
They also offer a 14-day free trial for each of their plans.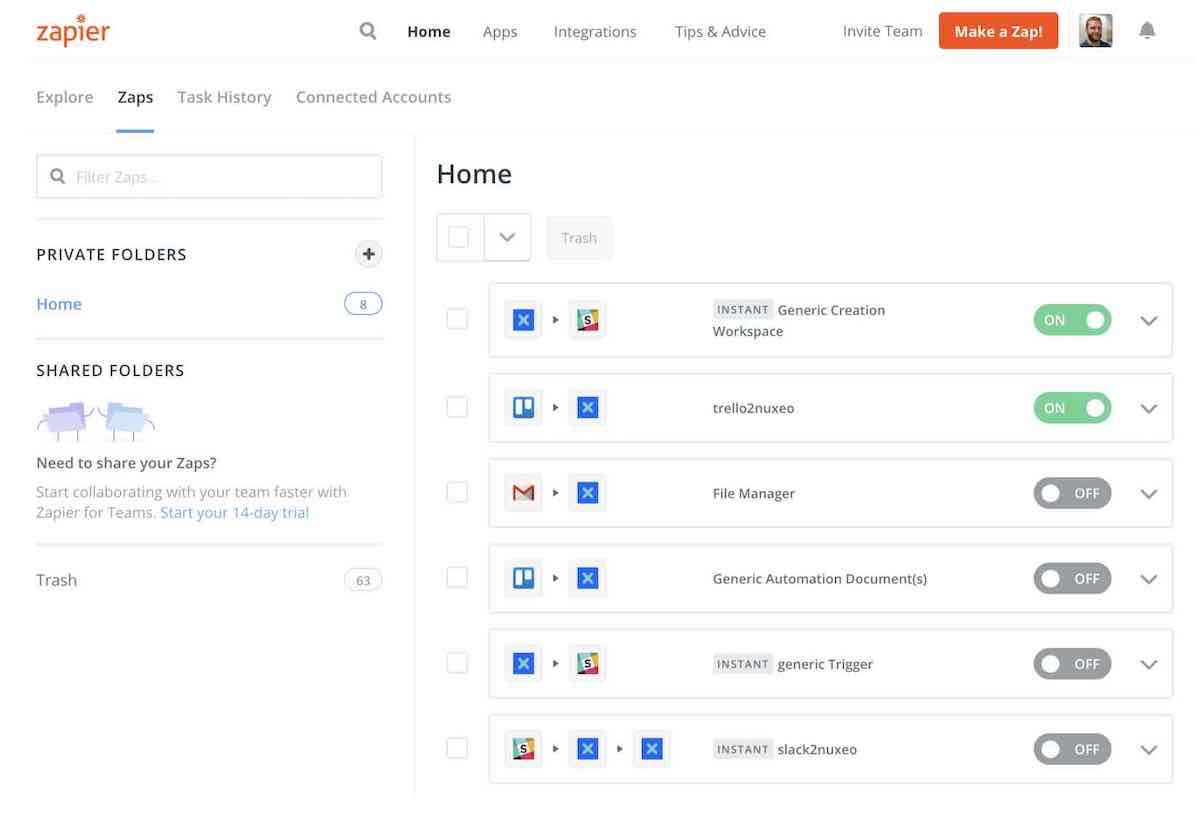 Image credit: Zapier
Zapier is a popular online automation tool that connects your favorite apps, so you can automate repetitive tasks without coding or relying on developers to build the integration.
Key features
Integrates with over 3000+ apps, such as Gmail, Slack, and Mailchimp.
Multi-step "Zaps" automate entire workflows.
Tracks all tasks and triggers actions across apps.
Limitations
Despite its no-code interface, some users may struggle to create complex workflow automation. Also, some popular applications are only partially integrated, so you don't get access to all their features.
Pricing
Zapier offers five subscription options:
Free: Up to 100 tasks each month.
Starter: $19.99 per month.
Professional: $49 per month.
Team: $399 per month.
Company: $799 per month.
Zapier offers a free 14-day trial for all plans.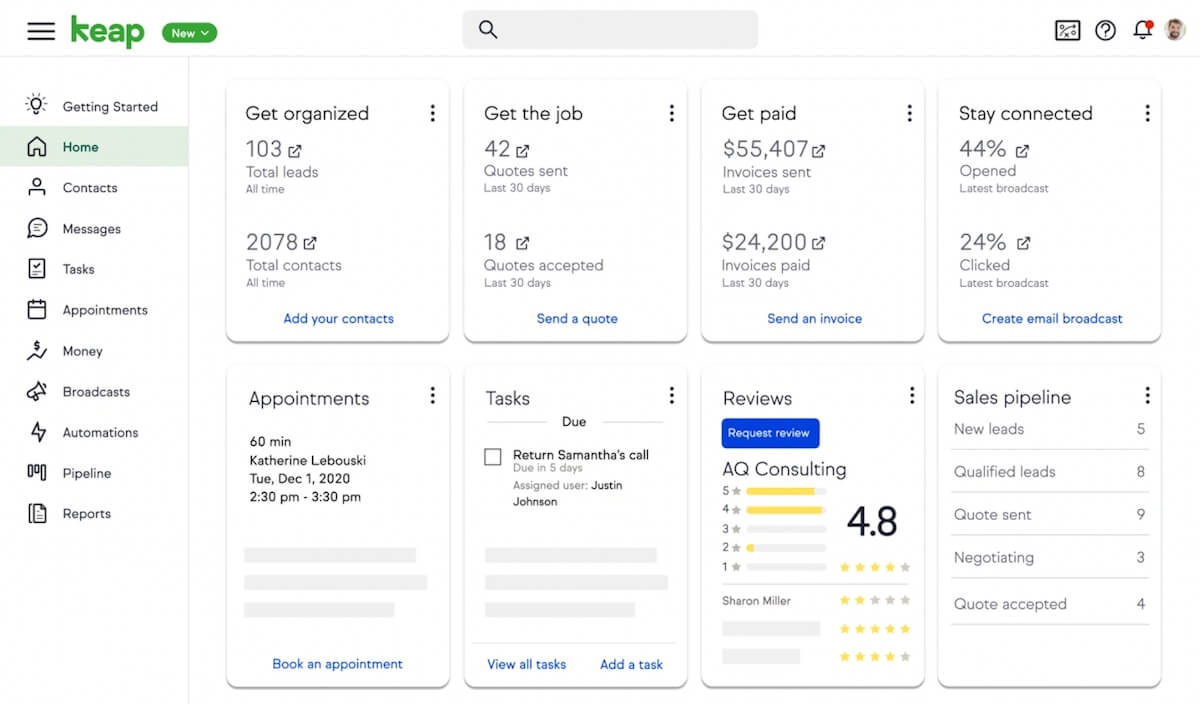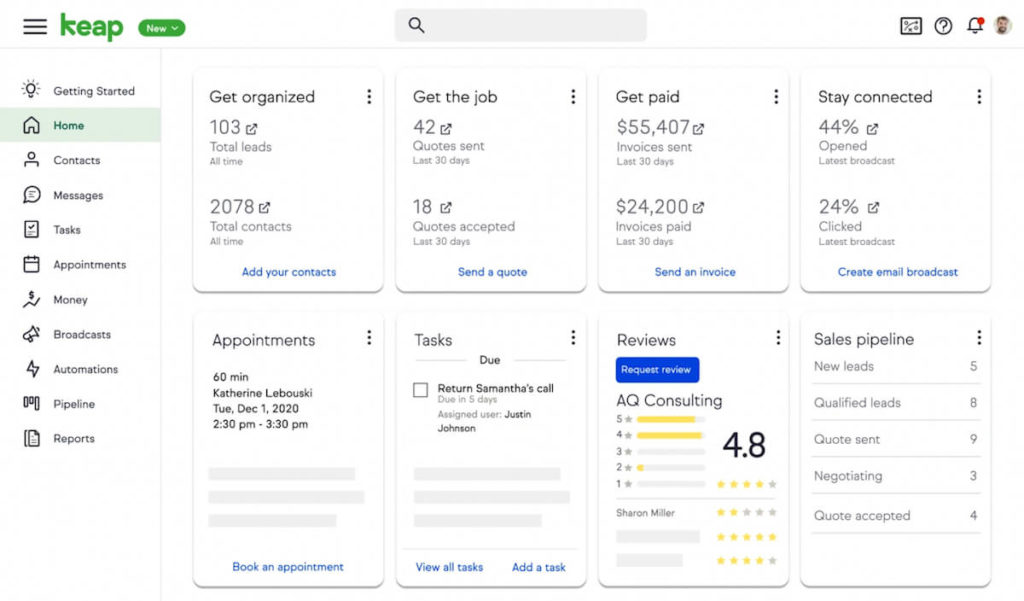 Image credit: Keap
Keap is a comprehensive sales and marketing automation platform designed for small businesses. It combines CRM, email marketing, and e-commerce functionalities to help businesses simplify operations, improve customer interactions, and drive sales growth.
Key features
Personalized follow-ups to new leads.
Collect payments using apps like PayPal, WePay, or Stripe.
Sales and email marketing automation.
Analytics and reporting tailored to your business needs.
Limitations
Keap is pricier than similar CRMs, and its contact-based pricing means your subscription cost increases with your contact list.
Pricing
Keap has two pricing plans:
Pro: $149 per month for 2 users (additional users are $29 each).
Max: $199 per month for 3 users (additional users are $29 each).
They also offer a 14-day free trial.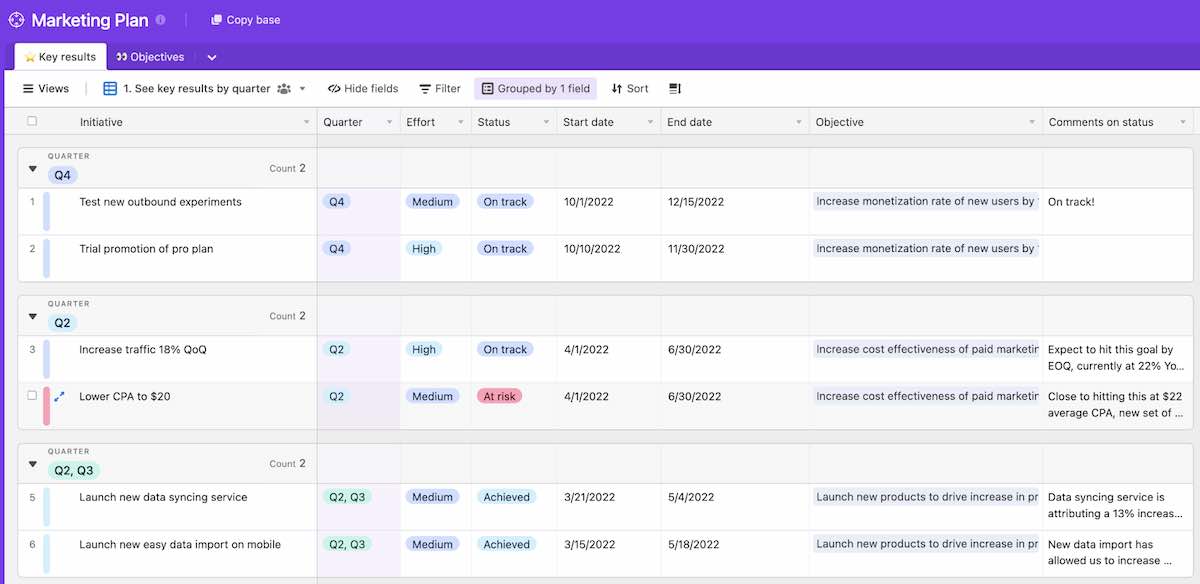 Image credit: Airtable
Airtable is a flexible, cloud-based platform that combines the simplicity of a spreadsheet with the power of a database, allowing businesses to organize work, create dynamic projects, and collaborate in real time.
Key features
Spreadsheet-database hybrid for ease of use.
Customizable views, including grid, calendar, gallery, and Kanban.
Rich field types, supporting text, numbers, checkboxes, and attachments.
Limitations
While Airtable can be powerful, its flexibility makes it challenging, especially for those unfamiliar with database concepts.
Also, advanced features like higher record limits and longer revision history are only available in the more costly plans.
Pricing
Airtable offers four pricing plans:
Free: Basic features for up to 5 users.
Plus: $10 per user per month.
Pro: $20 per user per month
Enterprise: Custom pricing.
There is a free 14-day trial for the Plus and Pro plans.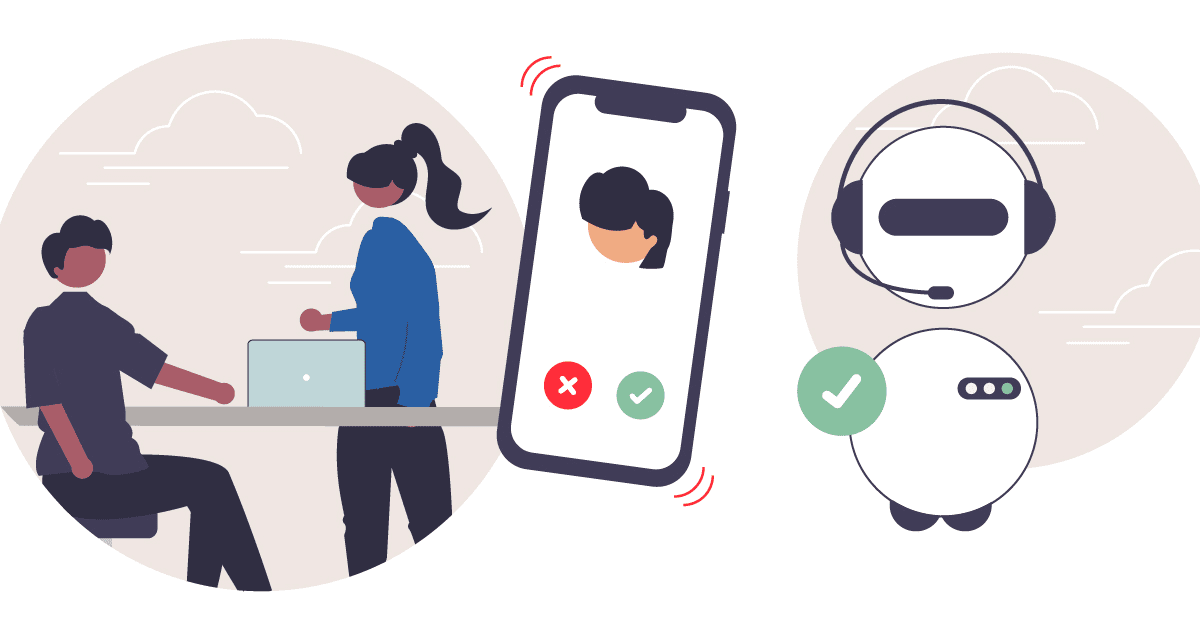 Image credit: Cloudphone
Cloudphone is a virtual phone system designed for small businesses, providing a range of telecommunication features to enhance professional communication, simplify call management, and improve customer interactions.
Key features
Local, toll-free, or vanity virtual numbers for your business.
Call forwarding to any device or location.
Auto-attendant menu to guide callers to the appropriate extension.
Convert voicemail messages to email attachments.
Limitations
Cloudphone's focus on simplicity makes it an excellent choice for small businesses, but its limited feature set may not satisfy the needs of those with more complex communication requirements. Additionally, international calling rates are more costly than with other providers.
Pricing
Cloudphone offers three pricing plans:
Solo: $39 per month for 2 users.
Partner: $99 per month for 5 users.
Small Business: $149 per month for 10 users.
Get started: Overcome small business growing pains with Method
As your business grows, so do the complexities of managing your operations, customer relations, and finances. Without the right tools, these growing pains slow your momentum and impede success.
That's where Method steps in, a small business automation software solution for small businesses looking to automate their processes.
With Method, you can automate and enhance every facet of your business. Whether it's accounting, customer relationship management, or project management, Method empowers you to take control and stay ahead.
So, why wait?
Start your free trial of Method today, and turn your growing pains into growth gains.
Image credit: Drazen Zigic via freepik