Your guide to accounting task automation: Top 6 examples

The need for efficiency and accuracy has never been greater, particularly when it comes to accounting processes. This is where task automation comes into play.
From expense management to bank reconciliation, there's no shortage of manual task automation examples that save you valuable time.
In this guide, you'll dive into:
The benefits and drawbacks of manual and automatic processes.
Accounting tasks that can be automated for the most impact.
Automation tools that integrate with your accounting software.
Whether you're a small business owner or an accounting professional, this guide will provide plenty of accounting task automation examples to transform your financial operations.
What is task automation?
Task automation is the use of technology to perform routine, repetitive tasks with minimal human intervention — or without any at all. When you employ automation, you:
Increase efficiency.
Reduce manual errors.
Free up human resources.
Automation is fit for several fields, including business operations, manufacturing, accounting, customer service, and marketing.
But before going over the many benefits of automation, let's review some task automation examples to give you an idea of where to start.
Which task is suitable for an automated process?
Tasks that are repetitive, rule-based, and prone to human error are ideal candidates for automation. These include:
Data entry.
Generating reports.
Sending routine communication.
Automation minimizes the possibility of mistakes and frees up time for more strategic and creative tasks.
Manual vs. automatic processes in accounting teams
Before diving into accounting task automation examples, let's go over the advantages and disadvantages of manual and automated accounting processes.
Advantages and disadvantages of manual processes
Manual processes involve human input at each step, providing the benefit of personal oversight and the potential for customization.
They benefit small businesses where the volume of transactions is low and each transaction requires individual attention.
The advantages of manual processes include:
Adaptability to changing circumstances.
A personal touch, be it through human discretion or decision-making.
But the cons often outweigh the pros, especially as your business grows:
Manual processes are often slow and labor-intensive.
Humans are prone to making mistakes, especially with repetitive tasks.
As your volume of data increases, manual processes become less efficient.
Advantages and disadvantages of automatic processes
Automatic processes or task automation in accounting involve using software or systems to perform routine tasks. Accounting tasks that can be automated include data entry, invoicing, and payroll calculations.
Some advantages of automatic accounting processes are:
Improved efficiency in handling large data.
Reduced human error.
Saved time that you can dedicate to higher-value tasks.
But there are also some disadvantages:
Automated systems can be expensive to implement and maintain.
They lack the flexibility of manual processes, especially when handling unique situations.
By balancing manual and automatic processes, accounting teams optimize their everyday operations and better serve the needs of the business.
Examples of accounting tasks that can be automated
Today's modern accounting software offers various features designed to automate routine tasks. Below are the most popular accounting task automation examples.
1. Expense management
Expense management involves tracking, analyzing, and reporting business expenses. Expense management software automatically captures receipt images, categorizes expenses, and integrates with your accounting systems for seamless data transfer and reporting.
2. Payroll management
Some payroll task automation examples include:
Calculating salaries, deductions, and bonuses.
Generating payslips.
Ensuring timely payments.
3. Bank reconciliation
You can automate bank reconciliation using software that matches transactions recorded in your accounting system with transactions on your bank statement. This also helps you highlight any discrepancies for review.
4. Accounts receivable
One of the most popular accounts receivable task automation examples is invoicing. You can invoice customers automatically based on certain triggers (like after completing a service).
You can also track payments and automate reminders for overdue payments or transaction confirmation emails.
5. Accounts payable
Accounts payable automation involves systems that handle invoice capture, approval workflows, and payment processing. These systems reduce manual entry, speed up the payment process, and ensure accurate record-keeping.
6. Tax compliance and financial reporting
Automated accounting systems can calculate tax obligations, fill out forms, and ensure timely submissions. You can also use them to generate real-time financial reports that better inform decision-making.
5 best automation apps that integrate with accounting software
Method is the top-rated CRM for QuickBooks and Xero users. It's designed to simplify small business operations by enhancing customer management, boosting deal conversions, and maximizing profits.
This no-code system optimizes many areas of your business, from lead and sales process management to customer service. And its customization functionality lets you personalize your solution through drag-and-drop tools.
At Method's heart is its seamless two-way sync with QuickBooks and Xero.
It lets you automate your accounting processes and empower your team with the information they need to do their best work while keeping your books secure.
Key features
Real-time, two-way sync with QuickBooks and Xero.
Full history of customer interactions and transactions.
Customizable online portals for self-service.
Estimate-to-invoice or purchase order conversion.
Native integrations with Gmail, Outlook, Mailchimp, Zapier, and more.
Limitations
You should be a QuickBooks or Xero user to get the most out of Method, and it's currently only available in English.
Pricing
Method offers three pricing plans:
Contact Management: $25 per user per month.
CRM Pro: $44 per user per month.
CRM Enterprise: $74 per user per month.
You can try Method for free, no credit card required.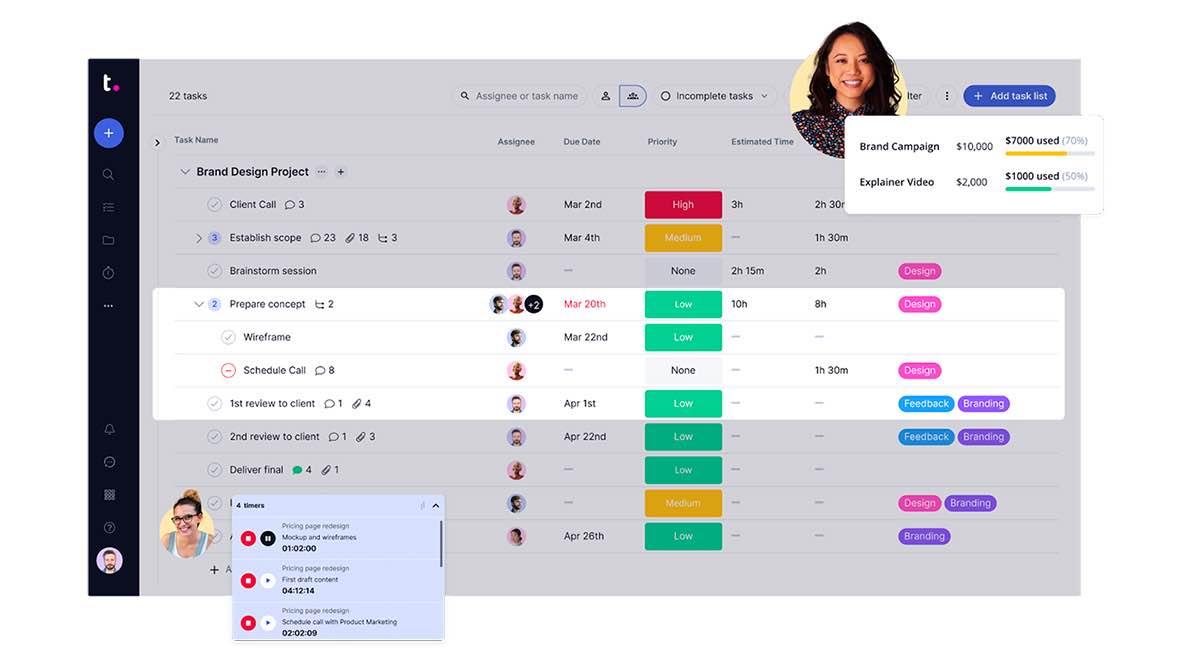 Image credit: Teamwork
Teamwork.com is a comprehensive project management software designed to foster collaboration, simplify workflows, and improve project delivery.
Key features
Project management tools such as Gantt charts, templates, and milestone tracking.
Real-time messaging and file sharing for easy team collaboration.
Detailed, customizable reports on project progress and performance.
Integrations with Google Drive, Dropbox, Slack, and more.
Limitations
Some users reported a steep learning curve, especially for those unfamiliar with project management software. The customization options are also fairly limited when compared to similar solutions.
Pricing
Teamwork has four pricing plans:
Free: project management essential features for up to 5 users.
Starter: starts at $8.99 per user per month, with a 3-user minimum.
Deliver: starts at $13.99 per user per month, with a 3-user minimum.
Grow: starts at $25.99 per user per month, with a 5-user minimum.
The platform also offers a 30-day free trial for all paid plans.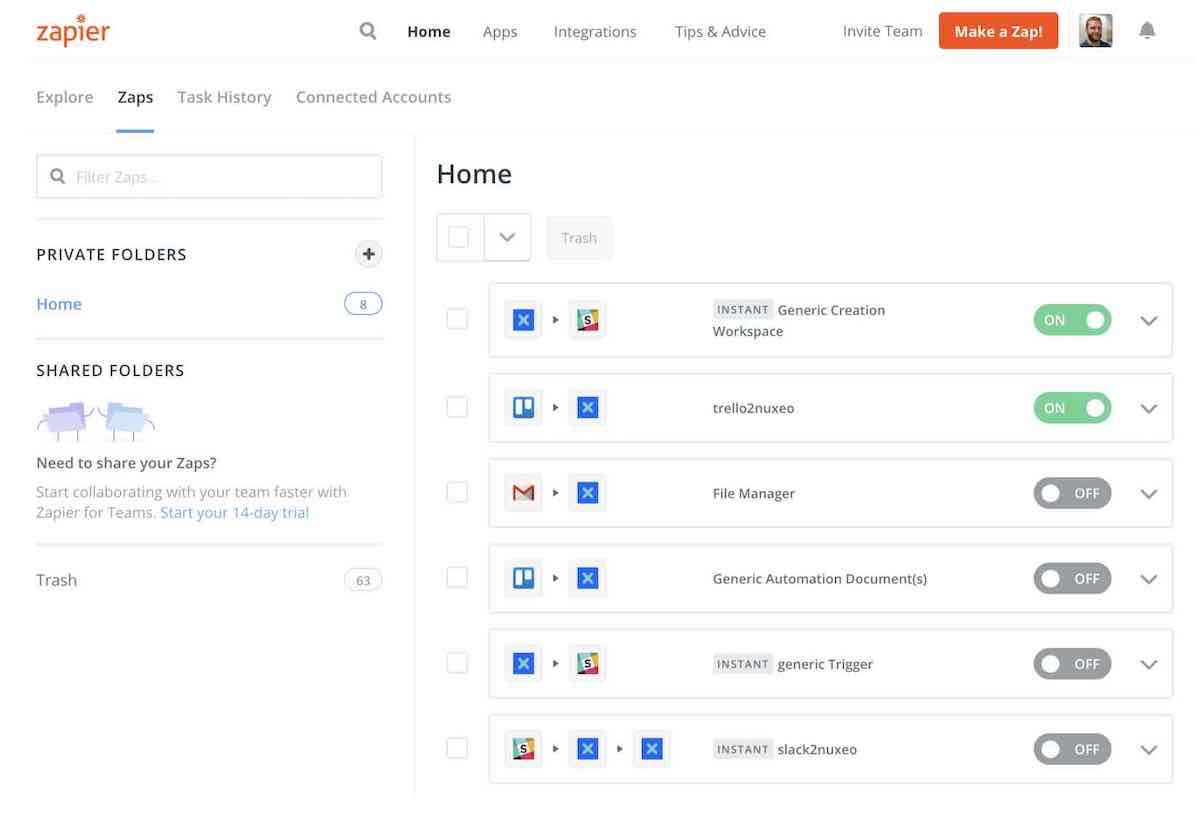 Image credit: Zapier
Zapier is a popular online automation tool that connects your favorite apps and services, enabling them to interact without any external code.
Key features
Integrates with 3000+ apps, including Gmail, Slack, and Dropbox.
"Zaps" that automate tasks across different apps.
Detailed task automation history logs.
Limitations
While Zapier supports multi-step zaps, creating complex workflows gets confusing and time-consuming for less tech-savvy users.
Pricing
Zapier has five pricing plans:
Free: up to 100 tasks per month.
Starter: starts at $29.99 per month.
Professional: starts at $73.50 per month.
Team: starts at $598.50 per month.
Company: starts at $1198.50 per month.
The platform also offers a 14-day free trial of its Professional plan.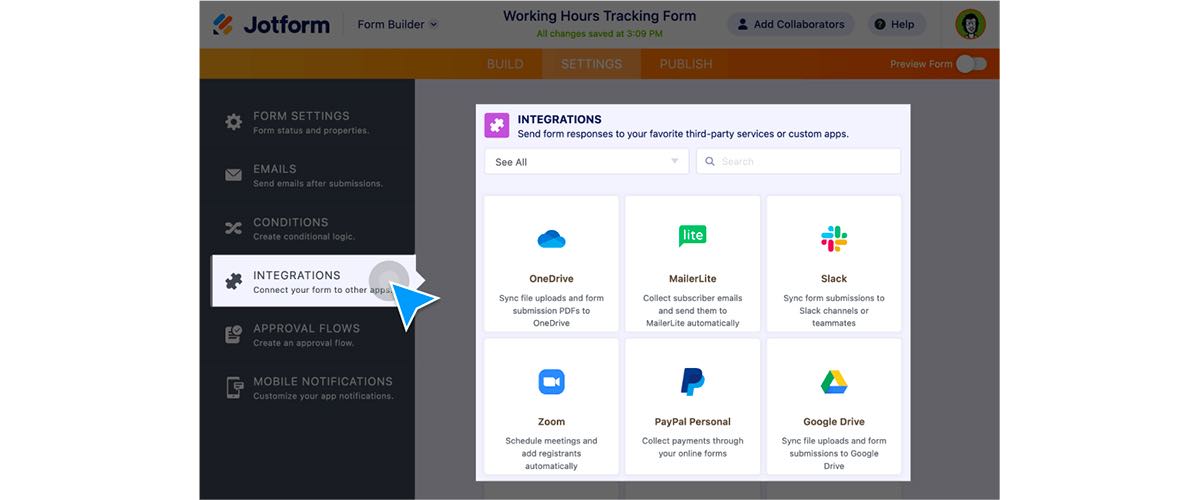 Image credit: Jotform
Jotform is an online form builder and survey tool that allows you to collect data with ease. Its intuitive interface makes it a favorite for creating diverse forms — from contact forms to payment forms, and everything in between.
Key features
Drag-and-drop online form builder with over 10,000 free templates.
Advanced form fields, such as CAPTCHA, file uploads, and e-signature.
Integrations with third-party apps like PayPal, Google Sheets, and Mailchimp.
Limitations
Some users report a lack of customization for form design. Others claim that the interface is confusing, especially for complex forms.
Pricing
Jotform has five pricing plans:
Free: up to 5 forms with 100MB available space.
Bronze: starts at $34 per month.
Silver: starts at $39 per month.
Gold: starts at $99 per month.
Enterprise: custom pricing (contact their team).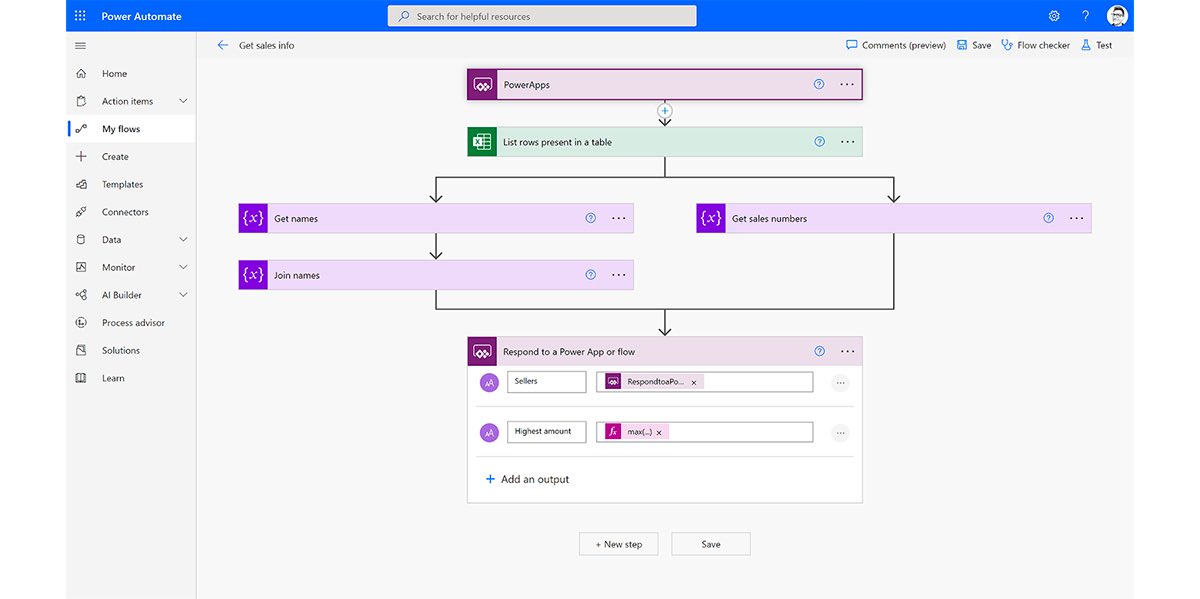 Image credit: Microsoft
Microsoft Power Automate, formerly known as Microsoft Flow, is a versatile tool designed to automate workflows across a wide range of applications and services.
Key features
Automates routine tasks and complex business processes.
Employs AI capabilities that enhance efficiency and outcomes.
Integrates with most Microsoft apps and popular third-party platforms like Slack.
Pre-built templates to simplify workflow creation and automation.
Limitations
Some users report that the system has a complex interface and that troubleshooting or debugging flows gets quite challenging.
Pricing
Microsoft Power Automate offers pay-as-you-go and subscription-based plans, starting at $15 per user per month.
Recap: How to get started with accounting tasks that can be automated
Throughout this guide, you explored multiple accounting task automation examples, as well as some integrated apps that will help you kickstart your automation journey.
However, it's crucial to strike a balance between manual and automatic processes.
While automation offers many advantages, manual processes still have a role to play in handling unique situations that require a more personalized touch.
Remember, the goal of automation is not to eliminate human intervention completely but to enhance the workflow to allow your team to focus on more complex, value-adding tasks.
Do what you do best, let Method handle the rest. Start your free trial today!
Image credits: pressfoto via freepik