Best task automation software in 2023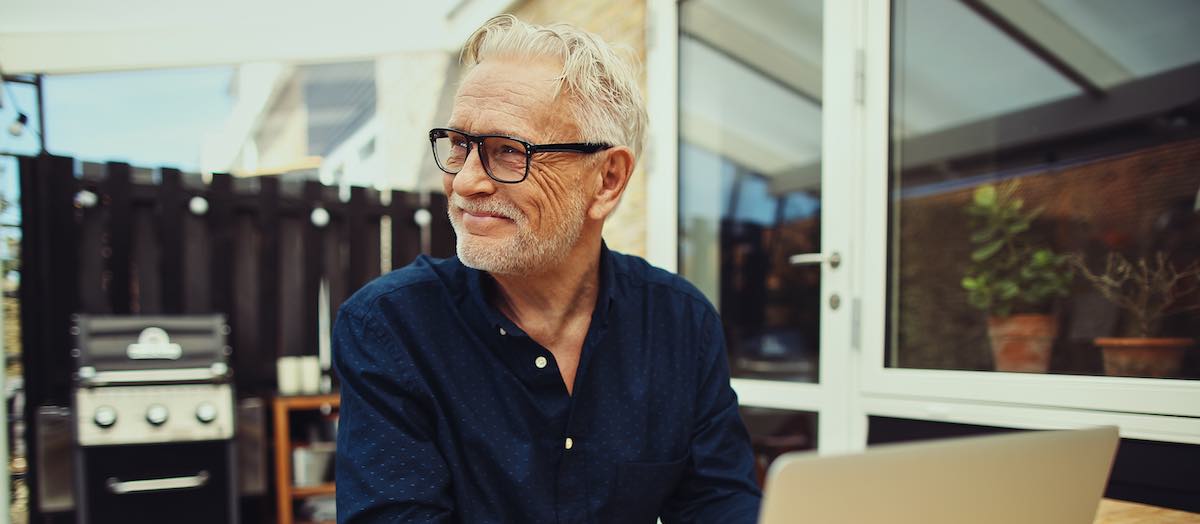 Are you tired of never-ending manual tasks? Task automation is your go-to solution to propel your business productivity.
In this guide, you'll go over:
What task automation is and its benefits.
How to choose the best task automation software
The top ten best task automation software.
This will help you make an informed decision about which automated task software to adopt.
What is task automation software?
Task automation software is a tool that creates efficient workflows to simplify mundane daily tasks. You can use it in almost any aspect of work, from managing accounting tasks to streamlining marketing efforts.
Automation eliminates manual work in routine tasks, and frees up time for higher-value activities.
You can set up automated processes that take care of repetitive tasks in the background while you direct your time and energy elsewhere.
How to choose the best task automation software?
With so many options, choosing the best task automation software for your business is no easy feat. There are some things to consider first.
What tasks do you need to automate? Whether it's automating emails, social media posts, or complex business processes, defining your needs will narrow down the list of the best task automation software.
Next, look at the key features each automated task software offers. Do they meet your needs?
Your chosen software to automate tasks should also seamlessly integrate with the other systems you currently use for smooth data flow.
The best task automation software should also be easy to use and have an intuitive interface. You don't want to spend more time learning to use the software than on the tasks you want to automate.
Good customer support is invaluable, especially during setup or when you run into issues. Look for companies that offer prompt and personalized service.
Another important factor is cost. Consider your budget against the pricing structure of each software. The most expensive task automation tools may not always be your best fit.
Lastly, your task automation tools should be able to grow with your business, so look for software that can handle scale as your processes evolve.
Overall, the best task automation software depends on your specific needs. Considering different options and taking advantage of free trials before deciding is your best course of action.
10 best task automation software solutions
Now that you know what to look for, let's look at some of your best task automation software options.
Method is at the top of your list of the best task automation software to streamline workflows. With its powerful two-way sync with QuickBooks and Xero, your data syncs seamlessly across all platforms.
Key features
Automated lead collection with web-to-lead forms.
Drag-and-drop customization for workflow automation.
Automated follow-ups, reminders, and customer service ticketing.
Instantly syncs financial transaction data to QuickBooks or Xero.
Online portals to serve your customers beyond business hours.
Limitations
To get the most out of Method, you should be a QuickBooks or Xero user.
The platform is currently only available in English.
Pricing
Method has three pricing plans:Contact Management: $25 per user per month.
CRM Pro: $44 per user per month.
CRM Enterprise: $74 per user per month.
Method offers a free trial with no credit card required.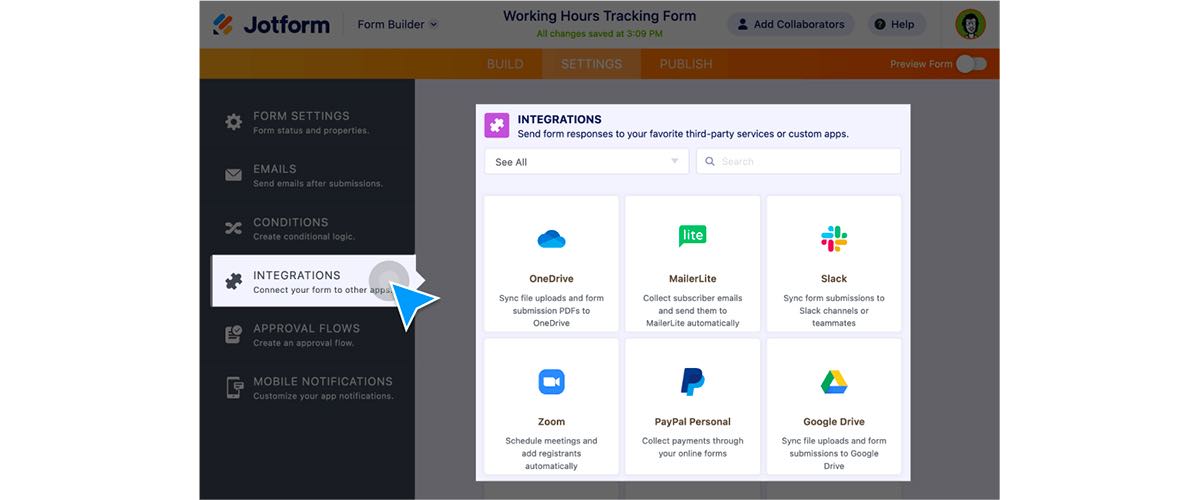 Image credit: Jotform
Next on the list is Jotform, known for its powerful form-creation and integration capabilities.
Key features
Intuitive drag-and-drop form builder.
Ability to automate action triggers based on form responses.
Integrates with Google Sheets, Mailchimp, Dropbox, and more.
Limitations
Limited customization options for complex or highly-specific forms.
Learning curve for setting up complex automation rules and conditional logic.
Free version limits submissions and storage, which isn't ideal for larger businesses.
Pricing
Jotform offers the following subscription options:
Bronze: $24 per month (or $19 per month when billed annually).
Silver: $39 per month (or $29 per month when billed annually).
Gold: $99 per month (or $79 per month when billed annually).
Jotform also offers a free plan with limited features.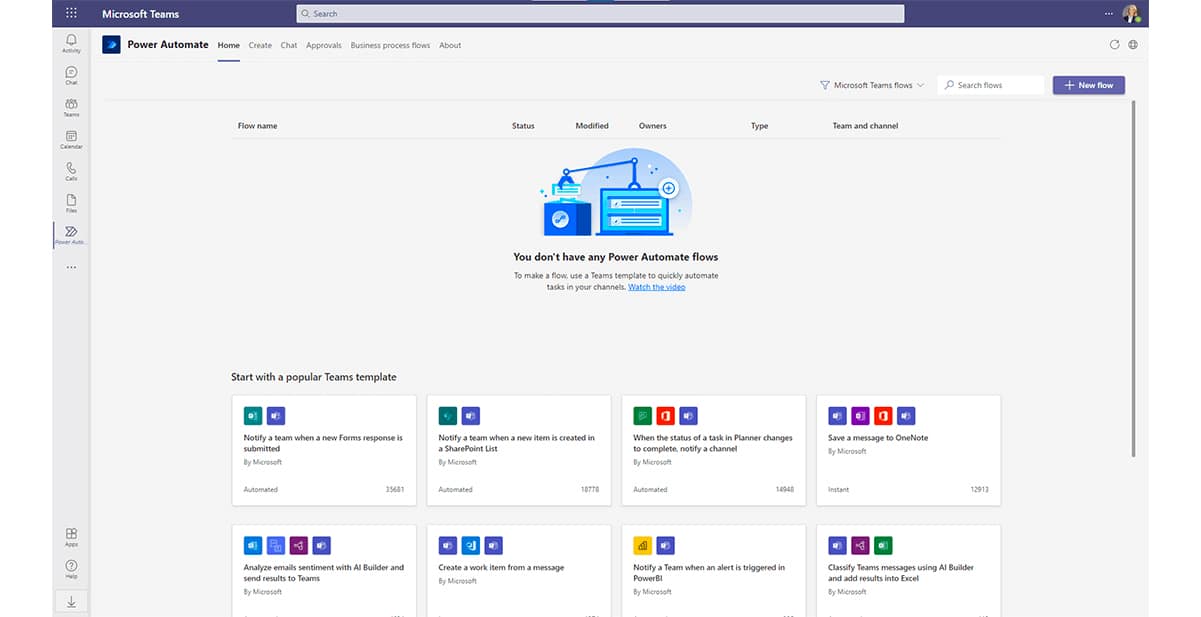 Image credit: BrightWork
Microsoft Power Automate, formerly Microsoft Flow, creates automated workflows between your favorite apps and services to sync files, get notifications, collect data, and more.
Key features
Process advisor that visualizes end-to-end processes and recommends automations.
Advanced low-code AI Builder with generative capabilities.
Integrates with Microsoft's product suite and other third-party tools.
Limitations
While Power Automate integrates seamlessly with other Microsoft, that's not the case with some third-party applications.
Building complex workflows can be challenging for users without a technical background.
Pricing
Microsoft Power Automate offers the following subscription plans:
Per-user: $15 per user per month.
Per-user plan with attended RPA: $40 per user per month.
Per-flow: per flow per month with a minimum of 5 flows.
Pay-as-you-go plans are also available, starting at $0.60 per flow run.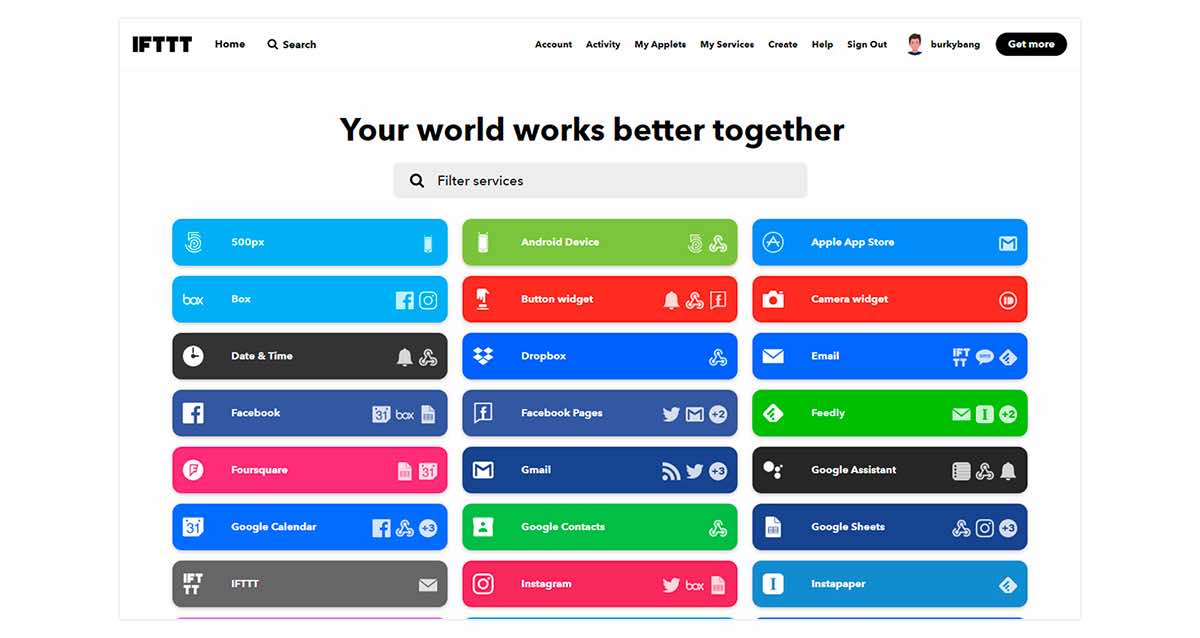 Image credit: We Love No Code
IFTTT, short for If This Then That, is a powerful software to automate tasks. Its intuitive interface makes it easy for users to set up and manage "applets."
Key features
Ability to create chains of simple conditional statements called "applets".
Filter JavaScript code to give you control over applet logic.
Applets can add up to five of the same action or unlimited other actions from other services.
Compatibility with over 600 services, including Alexa, Gmail, and others.
Limitations
Applets are versatile but might not offer the same level of customization as more advanced automation tools.
Pricing
IFTTT offers different plans to add applets to meet your business needs:
Pro: $2.5 per month.
Pro+: $5 per month.
A free plan is also available with limited applets and standard speed.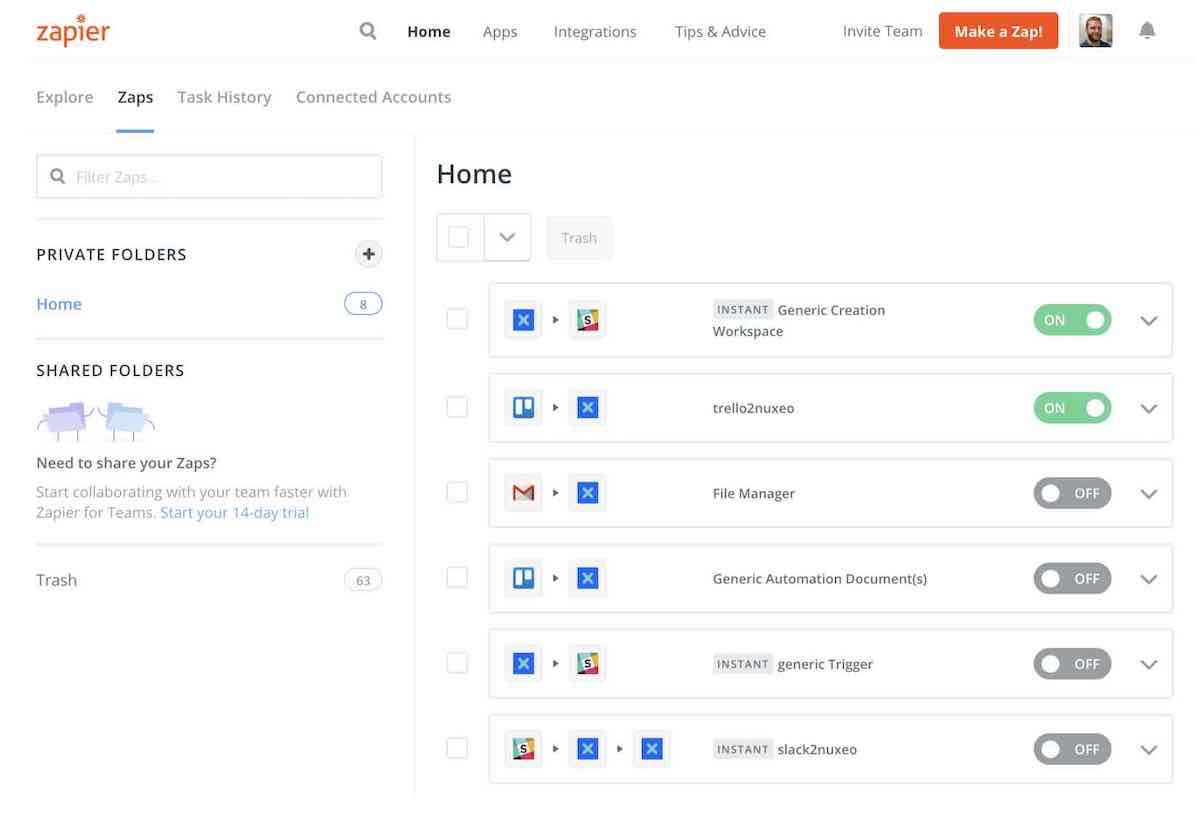 Image credit: Nuxeo Documentation
Zapier is one of the best task automation software that connects your favorite apps like Gmail, Slack, and more, making it easy to automate repetitive tasks.
Key features
Task History to monitor the workflows and fix issues quickly.
Zaps to create multi-step workflows for comprehensive automation.
Over 2,000 app integrations, from project management to social media platforms.
Limitations
Setup can be time-consuming, depending on the complexity of the automation. Some users also reported delays in triggering zaps for some apps.
Pricing
The following pricing structures are available:
Starter: $19.99 per month.
Professional: $49 per month.
Team: $399 per month.
Company: $799 per month.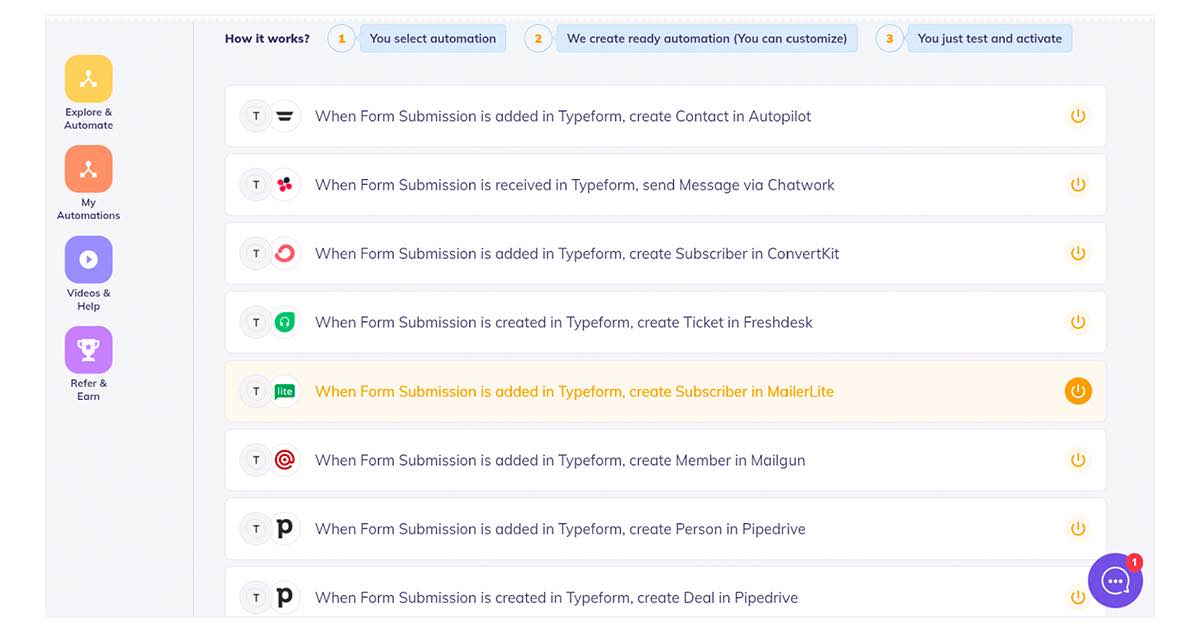 Image credit: Integrately
Another top software to automate tasks is Integrately. This software integrates applications and services to automate tasks otherwise done twice separately.
Key features
Automation Library with pre-built, ready-to-use automations.
Flow Designer with drag-and-drop functionality.
Limitations
Integrately's list of integrations is not as extensive as some competitors.
Users also find some limitations with advanced customization for integrations.
Pricing
The software offers the following pricing options:
Starter: $29 per month.
Professional: $49 per month.
Growth: $124 per month.
Business: 299 per month.
Integrately also offers pay-as-you-go plans with custom pricing based on your business needs.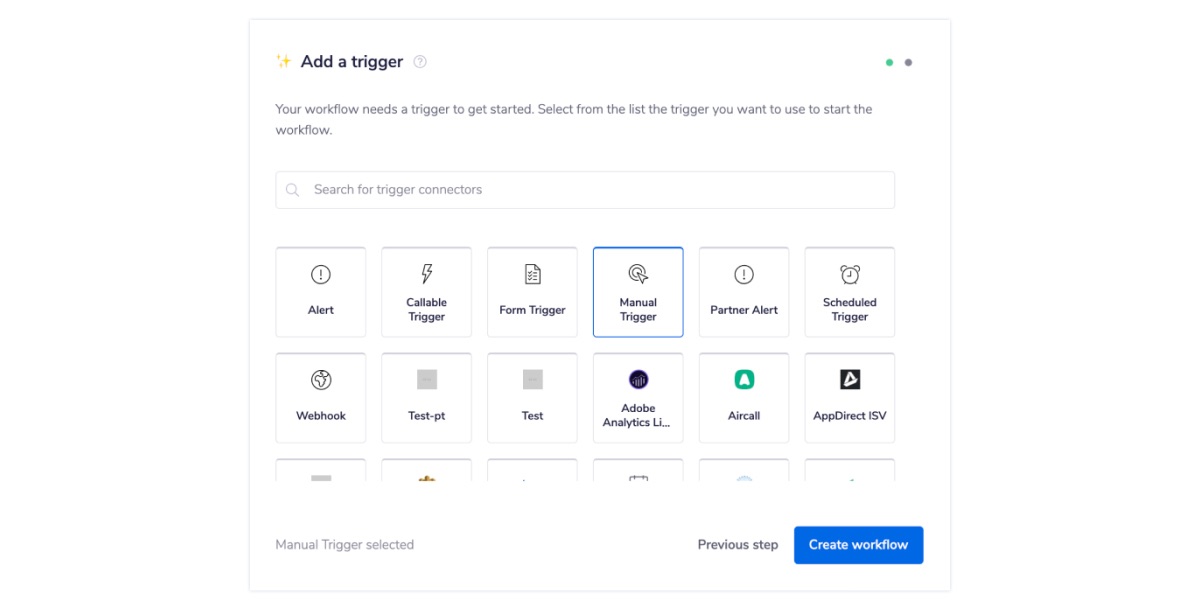 Image credit: Tray.io
Tray.io empowers you to automate complex processes and easily integrate your entire software stack.
Key features
User-friendly, drag-and-drop interface for customizing automated workflows.
Connects with hundreds of applications for seamless workflows.
Data mapping and transformation to format and manipulate data for your needs.
Limitations
Although intuitive, Tray requires some technical know-how to use its features fully.
Some users report delays and difficulties in getting support for issues.
Pricing
Tray.io offers custom pricing so you need to contact their sales team directly for a quote.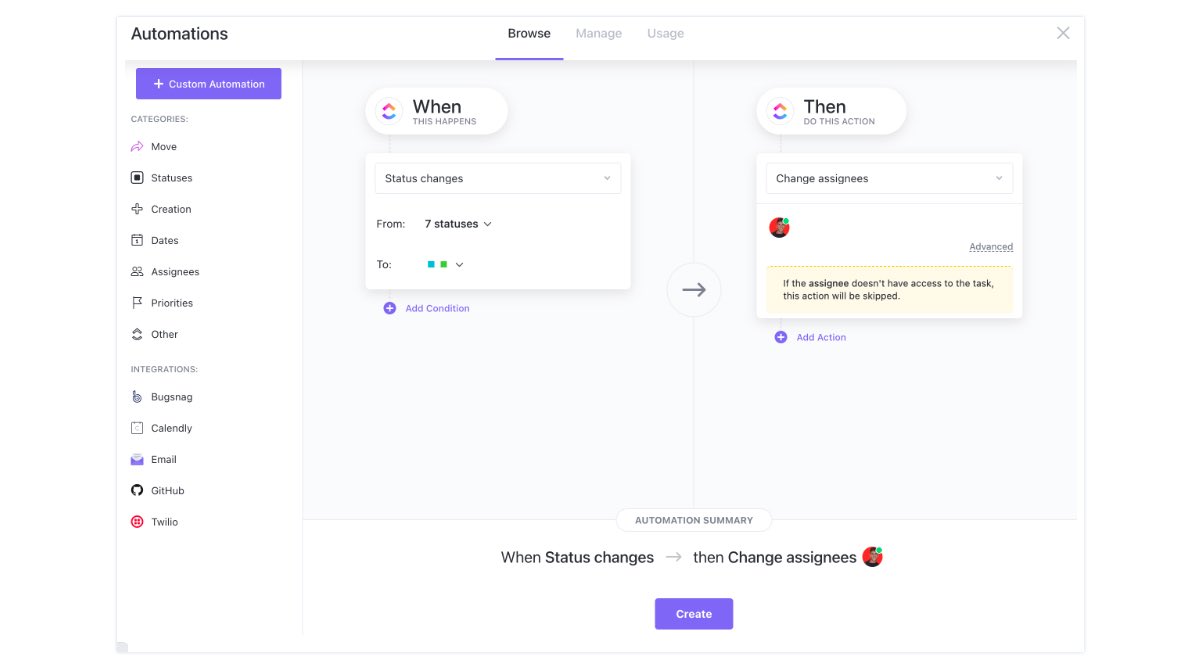 Image credit: ClickUp
ClickUp is rich in task automation tools that make efficient teamwork possible through intuitive project management.
Key features
Instantly imports your work from other tools.
Integrates with platforms like GitHub, Slack, and Google Drive.
Flexible workspaces that allow customization to fit your team's needs.
Limitations
Some users report that the interface is overwhelming due to its extensive features.
There's also a steep learning curve for non tech-savvy users.
Pricing
Unlimited: $5 per user per month.
Business: $12 per user per month.
Business Plus: $19 per user per month.
For large teams, you need to contact sales to get a custom price for the Enterprise plan.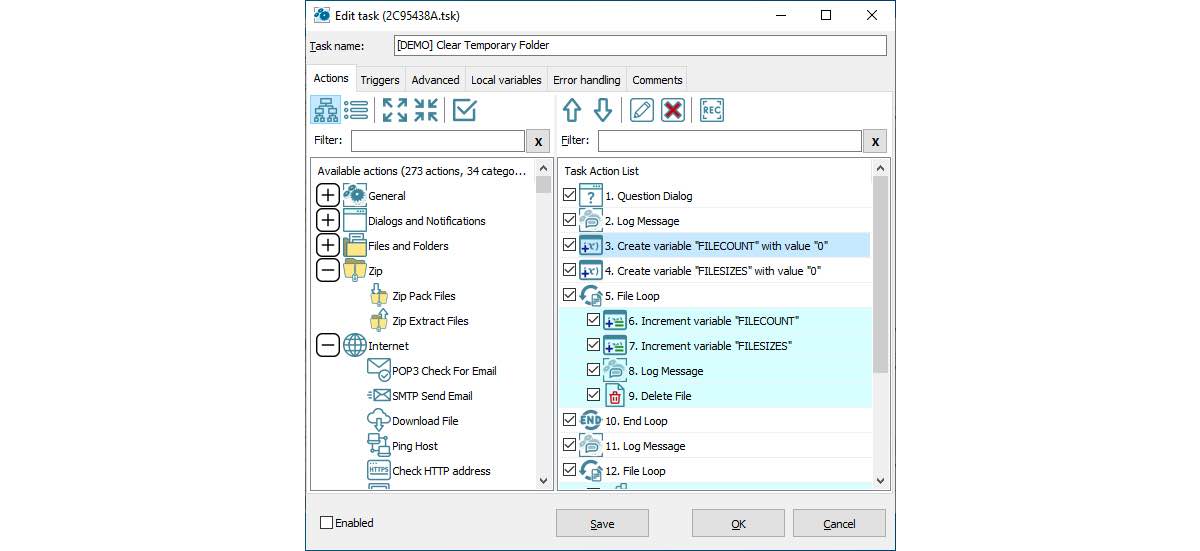 Image credit: RoboTask
RoboTask is one of the unique task automation tools known for its ability to perform routine tasks without any programming.
Key features
Advanced automation for any task from your computer, from simply launching applications to checking email and more.
Intuitive task creation to create tasks using simple commands without programming knowledge.
Automated scripting for more advanced capabilities without any additional code writing.
Limitations
The user interface, including the number of options and settings overwhelms beginners.
Native mobile app versions are currently unavailable.
Limitations make it less practical for highly complex or industry-specific automation requirements.
Pricing
RoboTask offers a personal license at $150.
A Business license is $225 for one license, with additional charges to update your subscription.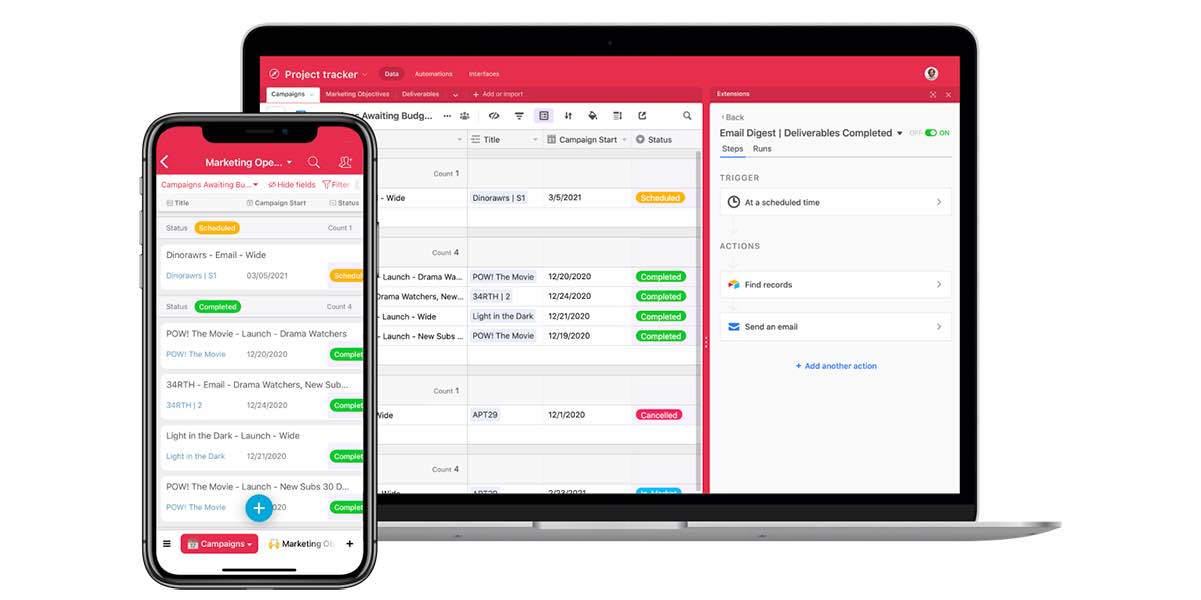 Image credit: Airtable
Key features
Automations that move work seamlessly across multiple teams or workflows.
Actionable interfaces that you can personalize for different workflows and audiences.
Multiple displays of your data, including grid view, kanban view, and calendar view.
Limitations
Airtable might not be as powerful as traditional databases for complex data management.
Some users need help with its more sophisticated features and the amount of customization options can be overwhelming.
Pricing
Plus: $10 per user per month.
Pro: $20 per user per month.
For a custom price on the Enterprise plan, you need to contact Airtable's sales team.
Airtable also offers a free plan for individuals or small teams getting started with the software.
Bottom line: Do what you do best, let Method handle the rest
Method:CRM is the leading choice of software to automate tasks. QuickBooks users rate it #1 due to its powerful two-way sync that ensures up-to-date data across all platforms.
Method also offers:
Customizable workflows that cater to your unique business needs.
Web-to-lead forms to quickly capture and qualify leads.
Online portals to serve your customers anytime, even after hours.
Grow your business, not your stress. Start your free trial with Method today.
Image credit: Flamingo images via Adobe Stock