Free roofing estimate template

Learn how to prepare a roofing quote properly, how long a job should take, and for a free roofing estimate template.
Like many who work in the trades, you may be tempted to give a roof cost estimate based on a price that will get you the contract.
Our findings show that 90% of roofing contractors underbid jobs.
The problem? Based on our observations, most estimate roofing costs at a price per square foot they felt was fair instead of considering the time needed and their overhead costs.
If you want to guarantee your roofing company's profits and stand out from the competition, account for all your costs and put them into a roofing estimate template. As per our expertise, you should do this to save time, look professional, and ensure that you give customers accurate roofing estimates.
Keep reading to learn how to prepare a roofing quote properly, how long a job should take, and for a free roofing estimate template.
What is a roofing estimate?
Like most construction estimates, a roofing quote shows potential customers the estimated price to complete their roofing job.
This means totaling the labor and material costs needed for job completion. The more specific your estimated roofing costs are, the better. A detailed roofing cost estimate:
Assures customers that you don't cut corners and know what you're doing.
Helps you keep track of all the potential costs involved in a roofing project.
Drawing from our experience, including a line-by-line description of the work to be completed and the materials needed is best practice because it establishes trust with your customer and improves estimate accuracy.
Not to mention that an estimate price that matches what your customer pays in the end means more referrals and guaranteed profits for your business.
In contrast, our research indicates that estimates that are way off lead to unhappy customers, losses, and possibly even lawsuits. So having the right roofing estimate template not only streamlines your workflow but it also keeps your business in the black!
Your customers must understand, however, that an estimate is not a roofing contract. So make sure that this is stated clearly on all your roofing estimate templates.
What should be covered in a roofing estimate template?
Through our practical knowledge, this is what should to include in an estimate for a roofing job:
Total roof cost with detailed sections outlining labor and material costs.
Instructions from the customers and a description of all the work to be done.
Warranty information on the work done and the materials used.
How long the estimate is good for.
And drawing from our experience, it's a good idea to go over every estimate item with potential customers to confirm they understand exactly what's being done and any conditions on that work.
If you bid on commercial roofing projects, the general contract owner may require specific information not mentioned here. Generally speaking, a list of what to include in your roofing bid is provided during the bidding process.
How do I estimate the cost of a new roof?

Image credit: Capri23auto via Pixabay
To estimate the cost of installing a new roof, one of the first things you need to know is the size of the roof. Our findings show that the average roofing company uses the term "squares" when referring to the size of a roof. A square is a 100-square foot area.
Next, you need to multiply the number of squares by the cost of materials. Based on our observations, it's crucial to have up-to-date information and price lists as prices can change at any given moment based on supply chain issues.
You also need to know the:
Amount of time it will take to complete the job.
Number of people needed on the job.
Hourly wage of each employee.
Finally, you will have to add other costs like transportation and special equipment.
The information above is an overview of what you need to estimate the cost of a roof and create a roofing estimate template. Keep reading to learn how to calculate these costs and create an estimate that matches your customer's price in the end.
How long does a roofing estimate take?
Our research indicates that a roofing estimate can take anywhere from 1 to 3 days. When you first meet a customer, you will likely:
Discuss what needs to be done, the type of roofing material options, and the pros and cons of each.
Ask the customer about the age of the roof and if they've noticed any leaks.
Agree on a timeline for the job.
Inspect the roof to get its exact measurements, pitch, and locations of unusual roof features like solar panels, skylights, or satellite dishes.
When you have the specifics of a roofing job, you may need a day or two to source material prices, special equipment, and check the availability of your roofing team.
As per our expertise, by contrast, using software drastically reduces the amount of time it takes to do estimates, scheduling, administrative tasks, and other areas of your roofing business.
What do I need in my roofing estimate template?
A roofing estimate template makes it faster and easier for you to give estimates to customers. By creating a document or spreadsheet with standard fields, all you have to do is enter the specific information of a job.
Your roofing estimate template should then calculate an accurate price for your roofing bid.
Besides costs, timelines, and a description of the work to be done, your roofing estimate template should include:
Your company logo.
An estimate number.
Date of the estimate and an expiry date in case prices change.
Contact information such as your business address, phone number, email address, as well as your customer's details.
Payment information including details about deposits, the payment schedule, and accepted forms of payment.
Some roofers also provide a warranty to their customers. If your business does this, it's best to include a roofing guarantee template in your estimates or invoices.
Now let's take a closer look at three of the major factors that affect the cost of installing a new roof and, therefore, are an essential part of a roofing estimate template.
Size of the roof
Based on our observations, common practice is calculating the size of a roof based on the structure's footprint, roof pitch multiplier, number of peaks and valleys, dormers, HVAC vents, etc.
But even roofers with extensive field experience inspect the roof for more precise measurements, including:
The lengths of eaves, valleys, hips, and ridges.
Sizes of chimneys and ventilation pipes.
The number of shingles and layers to remove if applicable.
Drawing from our experience, it's also a good idea to inspect a roof for damage and any safety issues before completing roofing estimate forms and taking the job.
The size of the roof should be expressed in square feet or squares and is essential information in any roofing estimate template.
Roofing material

Image credit: Gafisher via Pixabay
Another critical section of your roofing estimates templates are the material used for the roof.
Our findings show that a few of the more popular roofing materials include:
Fiberglass, composite, and asphalt shingles — affordable, low-maintenance, and easy to install, especially three-tab shingles.
Architectural asphalt shingles — thicker and more durable than standard shingles.
Metal roofing — lasts a lifetime and looks great, but requires soundproofing and will warp if installed improperly.
Wood shake — this natural material can add curb appeal to a home but is pricier, and wood is vulnerable to water damage, mold, mildew, and rot.
Clay tiles and slate roofing — while on the expensive end, both are ideal for southern states because of their resistance to fires and extreme temperatures. They are also some of the more stylish roofing options available.
Keep in mind, the type of roofing material your customer chooses may require you to have an electrical power source on-site for saws or other tools.
Your roofing estimate template must include a section that states the roofing material to be used and the current price of that material. Since prices change based on availability and the vendor, as per our expertise, it's smart to give yourself wiggle room when pricing a job.
Type of roof
The type of roof installed and its shape significantly impact the price of a roof and should be included in your roofing estimate template.
Since each roof style has a different pitch or steepness, the rise needs to be factored into your roofing estimate because it impacts the number of shingles you have to buy. Details on this in the next section.
The standard roof shapes are:
Flat roof.
Single slope.
Double slope.
4-slope.
While there are homes with different geometric roof shapes and dozens of different roof styles, our research indicates that most homes in the U.S. have at least some variation of the above shapes.
Including a section on the type of roof being installed on your roofing estimate template helps account for the size of the roof. Through our practical knowledge, it's also a good reminder for yourself if you have several roofing jobs on the go.
4 tips on how to properly estimate a roofing job
Follow the tips below for how to estimate roofing cost as accurately and effectively as possible.
#1: Make sure to consider the surface area
Knowing the square footage of the roof and the number of squares it equates to is just the first step. To calculate the surface area and your material costs, you have to include the roof's pitch.
There are several ways to measure or calculate the pitch of a roof. One way is to:
Hold a framing square against the roofline so that the long end points toward the center of the roof and the short end points toward the ground.
Then position the framing square so that the long end meets the roof's edge at the 12″ mark.
Make sure the long end of the square is level.
Read the measurement on the short end that is vertical to the roof.
That number is the rise of the roof.
Roof pitch is expressed as rise over run, with the run being 12 inches. So if your vertical measurement was 6 inches, the roof pitch is 6:12.
A roof's pitch adds surface area to your calculations. Below are basic roof pitch multipliers to calculate your surface area.
Pro-tip: Add these ratios to your roofing estimate spreadsheet for quick and easy calculations.
| | |
| --- | --- |
| Roof pitch | Multiplier |
| 3:12 | 1.15 |
| 4:12 | 1.20 |
| 5:12 | 1.24 |
| 6:12 | 1.24 |
| 7:12 | 1.30 |
| 8:12 | 1.35 |
| 8:12 | 1.35 |
| 9:12 | 1.40 |
| 10:12 | 1.40 |
| 11:12 | 1.55 |
| 12:12 | 1.70 |
So if a roof is 1,500 square feet (15 squares) and the pitch is 6:12, the surface area is:
1,500 x 1.24 = 1860 sq. ft. (18.6 squares)
You round up to account for wastage when buying materials, so your total number of squares is 19 in this roofing estimate example.
#2: Consider all the roofing materials needed
Once you have the surface area of the roof, you multiply it by the roofing material costs. Many vendors of roofing materials sell them by the square, so this is a good measurement to use when ordering materials.
These are common materials used:
Shingles — the most common shingles come packaged as three bundles per square.
Vents and flashing/boots for plumbing and other ventilation pipes.
Nails — like drywallers, roofers go through a lot of nails and/or screws. Shingle manufacturers generally recommend using 4-5 nails per shingle, depending on the row and how windy it is in your climate. This comes up to about 320-480 nails per square.
Underlayment and ice and water shield — underlayment packages usually tell you how many squares the package will cover. Ice and water shield is used on a roof's valleys and other vulnerable areas.
Decking for when you notice damage while inspecting the roof.
Protective tarps — much like painters, roofers tarp the lawn and items in the attic while they work. You also need to tarp the roof when it starts raining in the middle of a job, and other times you leave the jobsite before the roof is finished.
Regardless of the type of material, you want to add 10-15% to the amount you need, so you don't foot the bill for any supplies that become scrap.
#3: Don't forget to include transportation and rented equipment
Transportation costs for you and your crew need to be factored into your overall costs. You can make them a part of your labor costs if you don't want to include this section in your roofing estimate template.
Transportation costs represent gas as well as wear and tear on work vehicles. On top of this, your estimate should also include material delivery fees and rented equipment costs.
Rented equipment can include:
Dumpster or dump truck rental.
Boom truck.
Other tools and equipment needed to complete a job that you don't own.
#4: Add your overhead and labor costs
Your operating expenses need to be accounted for so that your roofing company stays in business. Overhead will include costs like:
Your lease/rent.
Work vehicles and maintenance.
Your tools and equipment.
Office supplies, computers, printers, phones, etc.
Licensing fees, taxes, and insurance.
Like transportation costs, you can factor your overhead into the rate you charge customers for labor. Whether you have a crew or subcontract roofers and handymen, your labor cost isn't just their wages. Remember that you may also be paying:
Worker's compensation.
Payroll taxes.
Insurance and benefits.
To figure out your labor costs per job, total up your monthly labor expenses besides salary. Then divide this number by the number of working days in a month (approx. 22). Then multiply that number by the number of days it takes to finish a roofing job.
Your total is something you need to factor into your hourly rate markup or add as a fixed expense on your roofing estimate template.
For example, let's say you add up all of your operating expenses, transportation costs, employee wages, and your salary, and the total is $10,000 per month. If a job takes 2 days to finish, your labor costs will be:
$10,000 / 22 = $454.55 per day x 2 days = $908.44
So the labor costs in this roofing estimate example are $908.44 for a two-day job.
So far, we've only discussed covering your costs in your roofing estimate. But if you want to grow your business, you need to make a profit. Check roofing prices in your area and add an appropriate markup that doesn't price you out of the market.
Free! Roofing estimate template
Here's a roofing estimate template you can use to:
Win more jobs.
Get back to your potential customers faster.
More accurately cost jobs.
Work more productively.
If you don't see the download form, download template here.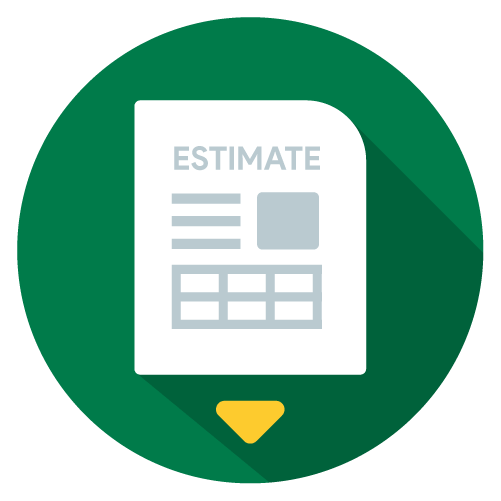 Top roofing estimate template FAQs
How long should a roofing estimate take?
A roofing estimate can take anywhere from 1 to 3 days. Of course, using software with a roofing estimate template:
Dramatically reduces the time needed to give estimates to potential customers.
Minimizes the amount of work that goes into estimate creation.
Cuts down on the possibility of calculation errors.
Increases your job profitability.
Is there a roofing estimate checklist?
Here's what your roofing estimate should include:
Your company's logo and contact information.
Customer details and notes.
A full description of the work to be done.
The materials to be used and their costs.
Labor fees and a total of all costs.
Warranties, job timeline, and expiration date of the roofing estimate.
You may want to add more information to a roofing estimate template, but these are the basics.
Image credit: Deviddo via AdobeStocks