Free construction estimate template

Learn the importance of a strong pricing strategy, having a construction estimate template, and how to make an estimate for construction.
If you're the owner of a construction company, then you know the excitement that comes with helping a new customer bring their vision to life.
But before starting a new construction project, you have to create an estimate for your client. If you have a construction estimate template ready to go, you'll be set every time a prospective customer comes your way.
Keep reading to learn the importance of a strong pricing strategy, having a construction estimate template, and how to make an estimate for construction.
To get you started, we've included a simple construction estimate template you can tailor to your business.
What is a construction estimate?
Construction estimation involves calculating the approximate cost of a construction project. Pricing is a crucial step in the complete construction process.
A basic construction estimate should include the following:
Labor costs.
Costs of materials.
Cost of equipment (if applicable).
If you don't see the download form, download template here.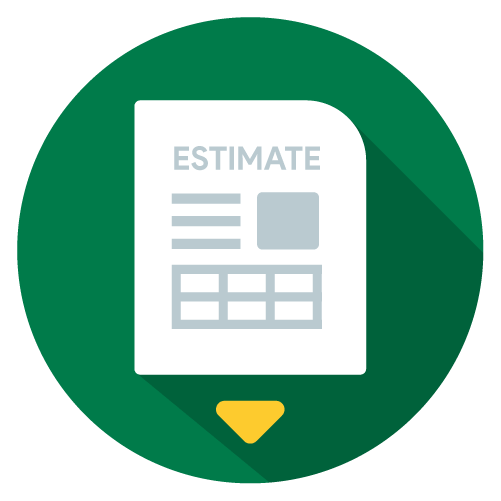 An estimate is not a contract. Make sure that you clearly communicate this to your customer when you provide your estimate.
If you're participating in a bidding process, your estimate may be part of a bigger bid proposal to a potential customer.
Although you may still use a construction estimate template in this scenario, make sure to closely follow the instructions set out by the customer to ensure that your entire proposal is compliant.
What a good estimate will do
A good job estimate template is key to your construction business's success. If you create a basic estimate template, it will benefit both your customer and your business.
Your work estimate template will outline every expense you anticipate for your customer's project, from planning to final waste removal. That way, your customers have a copy of the agreed-upon rates throughout the process, and there are no surprises when you complete the job.
How to estimate construction costs
The most important part of creating a construction estimate is knowing how to price general contracting work.
There's no single way to price all the job components that may be required to complete a project, so estimating requires a little learning to get it right.
Why learn how to estimate construction jobs
Knowing how to estimate construction project costs is a key component of running your own construction business. In fact, a construction estimate can make or break your construction business.
There is no standard price for a construction job, and you have to break down each component of the job in your contractor estimate template. For example, for a large job that requires building a house, you will need to estimate:
Paint costs.
Drywall costs.
Breaking down the pricing of these components will ensure that you create an accurate estimate. You want your estimate to be as precise as possible for any construction job that you complete. Here's why.
Having the actual cost of a job differ from the estimated cost can negatively impact your business.
While an accurate estimate enables you to increase your revenue, an inaccurate estimate may lead to problems such as:
Payment disputes and delays.
Litigation.
Low customer satisfaction.
Even if your inaccurate estimate is an honest mistake, your potential customers may see it as dishonesty and question the credibility of your business.
An accurate cost estimate will demonstrate that you are knowledgeable in your field and signal to your customer that they can trust you.
The process of estimating the cost of a construction job doesn't have to be complicated. In fact, it can be broken down into two simple steps:
Determine the job costs.
Apply a markup for profit and overhead.
It really is that simple! However, that's not to say that it's easy, especially if you don't have a streamlined process in place.
Let's take a closer look at the two components that will make up the majority of your estimate: material and labor.
Calculate supply and labor costs

Image credit: Jeshoots.com via Pexels
Supply, material, and labor will be the main component making up your construction estimate, and it's the part that your customer cares the most about.
You want to create a detailed estimate that lists each of the materials required to complete the job.
The materials you list will depend on the type of job you are being contracted to complete.
For example, if you are contracted for a drywall repair job, you will need to calculate the cost of the following materials in your drywall bid template:
Drywall sheets.
Drywall mud.
Nails.
Tape.
This list could turn into an extensive time and material template for construction spreadsheet for more complex jobs, such as building a house.
Labor costs can be less complicated to calculate, but there are still several factors you must consider, like whether you will be using construction subcontractors or employees.
If you have employees, you have to factor the labor burden costs (taxes, benefits, insurance) for each employee to the total cost of labor of the job.
Factor in your overhead and profit
Once you calculate supply and labor costs, add your markup for profit and overhead.
Overhead includes the soft costs of your business that are not associated with any specific job, such as marketing and accounting.
Profit, of course, is what is left over for your business after you pay all of the costs and the overhead for the job.
The construction industry standard is the 10-10 rule, meaning you want to markup 10% for profit and 10% for overhead. However, it is up to you to determine the markup percentage for fair profits for your business.
As you can see, with so much information to include, having to create a construction estimate from scratch for every potential customer will take a lot of time, manual work, and data entry.
This is where a construction estimate template comes in.
How to create a construction estimate template
A construction estimate template is a spreadsheet or worksheet that you use to create the estimates that you share with your customer.
There are a number of ways that you can create a construction estimate template, such as:
Using Excel or Google Sheets.
Modifying a free construction estimate worksheet you find online.
With a construction management software.
All of these methods have their benefits and disadvantages, so it's up to you to figure out which works best for your business.
No matter which method you choose, a good Excel construction estimate template should provide a comprehensive breakdown of most, if not all, major components of a project. This will largely depend on what type of handy work you're being contracted for.
We've already emphasized how your estimate should detail the labor cost and cost of materials for a job, so let's look at the other information that your construction estimate template should include.
Business address and customer's address
This is the easiest information to fill in, so it should be the standard on your construction estimate template.
Make sure the following information is outlined at the top of your estimating template:
Business name, including contact names.
Business address.
Business email address.
You also want to include your customer's information in your estimate. This allows your customer to verify their own information, such as confirming their correct address, to avoid delays later.
This is also an easy way to stay organized and know which estimate is associated with each customer.
Showcase your business logo
You want your business to stand out and instantly be recognizable, and a logo is the best way to do that.
If your construction company already has a logo, make sure that you include it in your estimate. If you don't already have a company logo, you're missing a key component towards effectively branding your business.
Include your estimate number
To keep track of all of the estimates you create for potential customers, make sure that you give each of them a number. This makes it easy to find and refer back to them when you need them.
Stay organized with estimate dates

Image credit: Eric Rothermel via Unsplash
The date is another important element when it comes to keeping track of your estimates. Adding the date to the estimate you give to a potential customer ensure that you:
Follow up with them in a timely manner.
See how much business is coming in at different points of the year.
Have an idea of the timelines for ongoing projects.
Customer discounts and promotions
If you're currently running a promotion or previously agreed to give your customer a discount, make sure that this is reflected in your project estimate template.
You also want to make sure that your customer knows that you already included the discount when you deliver the estimate to them. This will ensure that everyone is on the same page from the beginning and avoid any surprises.
Add material and labor costs
As outlined earlier, make sure that you outline the cost of all of the material you require to complete the job, as well as your labor rate.
Additional notes
Include any additional notes relevant to the estimate and construction project you are undertaking for this particular customer. These notes may include other expenses, such as:
Transportation costs.
Project supervision.
Permit fees.
Insurance.
Now that you know how to create a construction estimate template let's talk about how to use it.
How to use a construction estimate template
Using a construction estimate template makes creating your estimates and sharing them with your customers a simple process.
Here are some guidelines on how to use a construction estimate template.
List all the line items you need: You should have compiled a list of all your materials.
Attach a unit cost to each line item.
Total your numbers.
Have a second party review your estimate to make sure all costs are accounted for and correct. If you want, they can also make sure that the numbers add up.
Apply your markup to get a final estimate quote.
By using software such as Excel or Google Sheets to make a template, you can have some common form fields ready to go so that all you have to do is plug in the right numbers for every new estimate.
Since no two construction jobs are identical, you may have to modify your template for every new job. Nonetheless, modifying a bid estimate template is a lot less work than creating a new estimate from scratch.
If you make staple materials such as nails and screws, adding these items as defaults on your estimates speeds up your process.
Tips and best practices for construction estimates
To help you further with creating a construction estimate template, here are some best practices and additional tips.
Understand material costs
You want to do your research and stay up to date with the current costs of materials to help you create your estimate quicker and more accurately.
When calculating material costs, make sure that you add an additional 10-15% to the total cost of each material to account for waste and scrap.
Streamline your invoice process
This is where using a construction estimate template comes in handy. With the right software, you'll be able to turn your construction estimate template into an invoice instantly with a few modifications.
Be honest and transparent
Your main goal is to deliver an accurate and honest estimate to your customer. Creating a quote is not the time to lowball to convince a potential customer to go with your services.
The quote is the main factor your customer will consider when choosing a contractor, but most people also value honesty and transparency. If you aren't transparent from the beginning, this can create major problems as you complete the job and request payment.
Always ensure the best quality
Your number one priority should be to provide the best quality for your customers. You have to keep this in mind when creating your estimates.
If you're not going into a construction project with the goal of providing your customer with the best quality results for their money, you will end up running into problems as the project goes on.
You may face issues such as hidden costs arising and payment disputes, which may lead to losing a customer and missing out on potential revenue.
Work with your customer's budget and go over your estimate in detail to ensure that you are both on the same page and satisfied with the quality they will get.
Provide high quality customer service
One of the key ways to ensure the best quality of your services is by providing high-quality customer service.
Streamlining your estimating process is one of the best ways to demonstrate great customer service.
With proper processes in place, you don't have to keep your potential customers waiting as you create their estimates. Plus, when it comes time to provide them with an invoice, you'll be able to convert your estimate with just a few edits.
Construction estimate FAQ
What should a construction estimate include?
A construction estimate should include the following costs:
Labor.
Materials.
Equipment (if applicable).
You will want to go into detail about each of these elements, breaking down the cost of each material as well as the labor rate.
Having a construction estimate template with these fields ready to fill in cuts down on time and makes creating an estimate much easier.

How to create a formula for construction estimates
There are various ways that you can create formulas for construction estimates.
For example, if you're calculating the number of drywall sheets you need for a drywall project, your calculation may look like this:
Total square footage / Perimeter of drywall sheet = Number of sheets required.
Every formula will look different, and chances are you already have formulas that you use to calculate different materials.
Make a list of common formulas that you use most often, and add them to your construction estimate template to save you time with each estimate.
Creating a construction estimate template
Creating a construction estimate template will save you time and streamline your estimating process to ensure consistency and reduce errors.
The three main components of your estimate will be labor and material costs, but since no two jobs are the same, you'll most likely need to modify your template for most jobs, which is more ideal than creating a new estimate from scratch each time.
Whether a potential customer is coming to you or you're responding to a request for proposals, having a clear construction estimate will be the first step towards acquiring more revenue for your business.
Image credit: Justocker via AdobeStock