Ultimate HVAC estimating spreadsheet

Estimating for HVAC (heating, cooling, air-conditioning) jobs is much different from estimating other trades jobs, making it difficult to find a balance between setting competitive rates and making a profit. Luckily, an HVAC estimating spreadsheet can help with that.
An HVAC estimating spreadsheet will help you create detailed cost estimates for your potential customers so that you can both agree on a fair price a lot more efficiently.
Several field service software solutions can help you make detailed estimates, but you can also use tools such as Excel to make custom project estimates that suit your business.
Don't know where to start? Well, you're in the right place!
Today, you'll learn what should be included in an HVAC estimating spreadsheet and how creating accurate estimates can help bring more revenue to your business.
HVAC estimating spreadsheet: What to include
There's so much to consider when pricing your HVAC services. This is why many homeowners prefer going with the services of an HVAC company or construction contractors who have HVAC as part of their offerings.
As per our expertise, whether you're dealing with HVAC installation estimate of a new build or being contracted for HVAC replacement and repair, creating accurate estimates is the best way to drive profit for your business.
As an HVAC professional, you have to consider four main costs in your estimate:
Material.
Labor.
Overhead.
Equipment rental.
At a glance, this seems simple enough. However, like most contractor jobs, these categories can be broken down further.
Depending on the job, you may even sometimes need to consider other miscellaneous costs, such as storage and waste removal.
Let's take a closer look at the costs that you need to include in your HVAC estimating spreadsheet.
Labor and materials
Drawing from our experience, the majority of your estimate spreadsheet will be used to cover your labor and material costs.
And based on our observations, the type of material you use and the quantity will depend on surrounding factors, such as the location of the current HVAC system and the quality of the electrical work.
Materials will most likely be in the form of replacement units and parts. Materials that you may need to complete HVAC services include:
A new thermostat.
New drainpipe.
A fuse.
Once you clearly understand what you need for the job, make a list of all the materials and their associated costs.
Now labor costs can be less complicated to calculate but still a challenge to determine. Through our practical knowledge, the cost of labor largely depends on how much you pay your employees, subcontractors, or yourself.
For HVAC services, you can price labor as either an hourly rate or the cost per job. Based on our observations, cost per job will be easier to add to your HVAC estimating spreadsheet but doesn't leave a lot of room for unexpected costs.
If you have employees, you have to factor the labor burden costs (taxes, benefits, insurance) for each employee into the total labor cost for the job. If you use subcontractors, the process is a little simpler.
Subcontractor fees
You need a subcontractor if tasks outside your business's scope, such as plumbing, roofing, or removing drywall, are necessary to complete a job.
If you decide to subcontract a job, you need to calculate different aspects separately, especially if you use several subcontractors. Through our practical knowledge, this makes it easier to add subcontracting costs to your HVAC estimating spreadsheet.
Agree on an hourly rate with your subcontractors that is in line with your estimate and leaves room for you to apply a fair markup for profit.
Based on our observations, you should expect your subcontractors to negotiate and know how much you can afford to pay them based on the job's total price. Don't forget to have them sign a contract to protect your business and your customer's property.
Equipment rentals
Your HVAC project may require you to rent additional equipment that you may not already have, so be sure to factor in the cost of these rentals in your estimate.
Rental equipment required to complete an HVAC job includes:
Forklift.
Scissor lift.
Crane.
As per our expertise, we recommend that you put the most common equipment that you rent and their costs in your HVAC estimating spreadsheet template to save time and help you avoid having to figure out rates for every new job.
Engineers and designs
Our research indicates that some HVAC jobs require engineering work that may be beyond your scope.
If this is the case, make sure that you factor in the cost of an engineer, whether they be your own personnel or you hire a third party. Our investigation demonstrates that you should schedule some time with them to ensure that their design is within your cost parameters, which your HVAC estimating spreadsheet can help you determine.
General conditions and miscellaneous costs
General conditions refers to the items and resources required for the job that will not be part of delivering the finished product to the customer. This may include:
Waste removal.
The cost to acquire HVAC customers.
A jobsite trailer.
Onsite management.
Administrative resources.
HVAC service estimating software.
These costs should be calculated and included as a line item in your HVAC estimating spreadsheet.
What affects HVAC replacement costs?

Image credit: Sigmund via Unsplash
As you've probably already recognized, the cost of HVAC installation and replacement depends on many factors. That being said, installation in a new build is the easiest to calculate. HVAC replacement costs, on the other hand, are more challenging to figure out.
Our findings show that the following factors will greatly influence your total HVAC estimate cost:
House size.
The brand of the new HVAC unit.
The efficiency of the new HVAC unit.
Ductwork length.
The extent of labor required.
The HVAC unit that you will be installing will be a defining factor in creating your estimate as it will determine the labor, materials, and equipment needed to install it.
Each HVAC unit has different components, with their own price range and additional costs to consider. Our research indicates that today's industry standard includes three types of HVAC units:
Economy.
Mid-range.
High efficiency.
Let's check out the cost to replace different types of HVAC units.
Central air conditioner
Based on our observations, a central air conditioner typically costs between $4,800 – 10,000 to install, depending on the type of unit you choose.
At the lower end are economy models. Based on our firsthand experience, these models provide reliable comfort, but be sure to warn your customer that they may end up paying the price in the long term as economy models use up more energy.
Both mid-range and high-efficiency models can cost your customer more upfront but offer greater efficiency and savings on energy bills.
Air handler
Our findings show that air handlers cost between $500 – 3,500, and installation can cost anywhere from $200 – 2,100. The total cost typically depends on the size of the air handler.
Air handlers connect to either an air conditioner or a heat pump to provide cooled or heated air for an indoor space.
They treat the air by using one of three options:
Refrigerant.
Chilled water.
Hot water.
Heat pump installation cost
A new heat pump can cost between $4,600 – 10,000.
Drawing from our experience, heat pumps are designed to both heat and cool a home and are known for their energy efficiency.
The more efficient units are pricier but could save your customer up to 60% on your energy costs.
Keep in mind that heat pumps are best suited for milder climates and not suited for areas with harsh winters, as they use a lot of electricity to heat a home. If you're in an area with extremely cold winters, you should always recommend a gas furnace.
Gas furnace
On average, gas furnaces cost around $3,800 – 10,000 to install, but based on our observations, sometimes they can be as much as $12,000.
Remember, high-efficiency models can cost 50 – 100% more than standard models, but they are worth it. In fact, they're the most commonly used, especially in areas with harsh winters.
On average, labor alone starts at about $1,600 for gas furnace installation.
Electric furnace
Electric furnace installation usually starts at $2,000.
These furnaces usually come in the form of heat pumps and are less common than gas furnaces as they're unsuitable for extreme cold.
Electric furnaces are more efficient, but depending on where your customer lives, they may cost more to run since they use more electricity to heat a home.
As per our expertise, depending on where you operate your business, you should have the cost of either a heat pump or gas furnace as a standard field in your HVAC estimating spreadsheet.
Oil furnace
Oil furnaces are generally more expensive than gas furnaces, costing anywhere from $6,750 – 10,000 or more to install.
These are the types of furnaces that have been used the longest, especially in regions with a lot of oil. However, due to the increasing price of oil, they are no longer common.
Complete split system
A complete split system involves combining two HVAC components. The two most popular combinations are:
A gas furnace and central air conditioning.
A heat pump and air handler.
The combination that is best for your customer depends on the climate they live in.
The cost of installing a complete split system typically starts at $6000 but can cost upwards of $10,000 for a large system with accessories.
Mini-split system
Mini-split systems are increasingly popular, thanks to their excellent efficiency and convenient installation.
Installation involves installing an outside and an indoor unit and running refrigerant, power, and drain lines.
Mini-split systems are great additions for locations that are not adequately heated by the central system, but they are starting to become more popular for entire home use.
There are so many variables involved with this system, so it can be difficult to calculate an accurate estimate. Expect a mini-split system to cost anywhere from $2000 – 9000, depending on the size of the system.
HVAC air quality add-ons
There are three main systems types that you can offer as add-ons if your customer expresses that air quality is an issue for them:
Air purifiers: There are plenty of different types of air purifiers, so the price of installation can range from $500 – 3000.
Heat recovery ventilators (HRV) and Energy recovery ventilators(ERV): These ventilators exchange air that has become stale and polluted in homes that applied house wrap to seal air gaps.
Humidifiers/dehumidifiers: Humidifier installation for an entire house can cost $350 – 800, while dehumidifier units typically cost $1,250 – 2,000 on their own. Before installing a humidifier, make sure that you warn your customer that the excess moisture may damage the drywall and paint.
Remember to apply a markup for overhead and profit no matter what unit you install to replace your customer's existing HVAC unit.
With so many options when it comes to HVAC services and several variables to consider, it can be time-consuming to have to create an estimate from scratch for every new job. That's where an HVAC estimating spreadsheet can come in handy.
Why use an HVAC estimating spreadsheet?
An HVAC estimating spreadsheet can streamline your estimating process so that you and your customer can come to a pricing agreement quicker.
With an HVAC cost estimate template in place, you can:
Keep all your expenses organized as line items.
Have the prices of your regular vendors already plugged in.
Integrate formulas so that you end up doing fewer calculations.
You have several options when it comes to finding an HVAC estimating spreadsheet:
Find a free HVAC estimate template (like this one).
Use construction estimating software.
Make one yourself.
If you don't see the download form, download template here.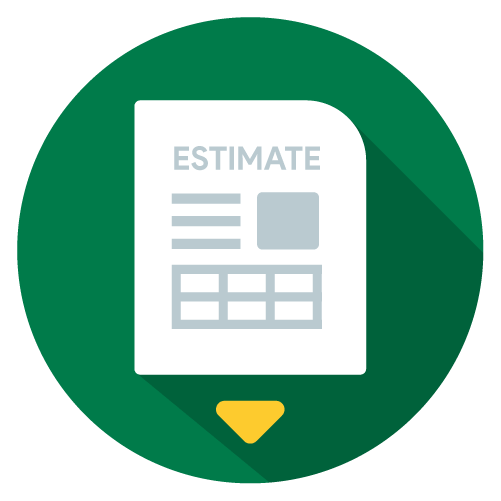 A functional HVAC estimating spreadsheet Excel file can be as simple as creating a template. This may take more upfront work, but you'll be able to customize it any way you wish.
As another option, there are several, simple HVAC estimating software that make creating trades estimate templates easy thanks to open-source software.
HVAC estimate FAQ
What is the cost of refrigerant piping per foot?
The cost of refrigerant piping depends on the type of piping you use, but copper pipes are the most commonly used for refrigerant lines in HVAC.
For HVAC services, you will usually use Type K or Type L copper piping. Type K is thicker, but they are both available in rigid or flexible forms.
Copper piping costs anywhere from $2 – 8. You can add the price to your HVAC cost estimate template for easy calculations.
What is the turnaround time for an HVAC estimate?
If you have an HVAC estimating spreadsheet ready, creating an estimate could take you as little as an hour.
Once you've created the estimate for your customer, you want to have a second pair of eyes look over it to ensure that you haven't missed anything and that the calculations are correct.
You should aim to have a complete estimate delivered to your customer within two to five days.

Why good HVAC cost estimates will bring you revenue
HVAC services require the skill of a specialized handyman, which is what your business provides.
Creating accurate cost estimates for your HVAC services will not only win you bids but will also win you the trust of your customers. Using an HVAC estimating spreadsheet will help you achieve that accuracy.
An HVAC estimating spreadsheet will save you time and ensure that all costs are accounted for, keeping your customers happy and your business booming.
Image credit: Sutipond Stock via AdobeStock