How to estimate residential electrical work

Electrical work is one home maintenance task homeowners should never DIY.
Not only is obtaining necessary permits and approvals a difficult, but electrical work is also dangerous if you don't know what you're doing.
Most homeowners recognize this risk, which is why they seek the help of a professional electrician to do the job right.
As an electrical contractor, a critical part of your business's success is estimating costs. Based on our observations, accurate residential estimates help with job management, allowing you to seamlessly execute any electrical project.
Similar to any trades pricing guide, this post will teach you how to estimate residential electrical work in a way that ensures you're offering competitive pricing and grows your business.
Here's a sneak peek of what you'll learn estimate electrical costs:
Why estimates are so important
Estimates are a vital part of any trade work from auto repair to construction. Residential electrical work, of course, is no exception. And since an electrical work residential estimate is often a customer's first impression of your business, you never want to mess up your first impression. You may need to provide an estimate for electrical work to:
A homeowner.
An organization for a bidding process.
As per our expertise, some of the benefits of knowing how to estimate residential electrical work include:
A better understanding of the project scope.
Knowledge of the materials and labor needed to complete residential electrical work.
The ability to create a realistic budget.
Turning a profit on every job.
Although the prices you outline in your estimate can be subject to change, it reflects badly on your business if the project's final cost is a lot more than your original estimate. As a result, it's essential to present your customer with an estimate and not a quote.
The difference between a quote and an estimate
Based on our observations, two terms that people often mix up are quotes and estimates. While the terms are related, they do refer to two different concepts. The one you use depends on how you want to operate your electrical business. A quote is an exact price that your customer will pay for your services. When you give your customer a quote, you're contractually obligated to fulfill the services at that given price. Quotes give customers peace of mind, and if you estimate the costs right, you shouldn't worry either.
However, based on our firsthand experience, the exact science of how to quote electrical work is more difficult than providing an estimate. On the other hand, estimates are not contractually binding and offer room for variation once the project is underway. However, once again, you don't want the final price to deviate too far from the estimate. Make sure that your customer has a clear understanding of whether you're giving them a quote or estimate before you start any of the work. Let's talk about how you go about determining estimates and how to price residential electrical work.
Estimate electrical wiring for a house: The basics


Image credit: Xin via Unsplash
Whether you're providing an estimate to a homeowner or you're participating as part of a bidding process to wire a set of new builds, chances are residential electrical work will be the bulk of your sales. Therefore, knowing how to estimate residential electrical work is an essential part of your business.
Knowing how to estimate electrical wiring for a house can be a long process, but it's important to spend time ensuring assessing before starting any electrical work. Making an error in the middle of the job can end up costing you more time and money.
Here are some steps to follow to accurately estimate electrical work for your customers.
Step 1: Choose the right jobs
Drawing from our experience, even though your goal is to bring as much revenue to your business as possible, you should not say yes to every electrical job that comes your way. Instead, you should be honest with yourself and your customers and not take any jobs in which you have limited experience or would be unable to estimate the costs accurately. Stick to jobs within your scope and that you're confident in until you acquire more expertise. Spend time evaluating the needs of each job, and if you're unable to complete it in good faith, let your customer know.
Step 2: Confirm the specifications
As per our expertise, if you're participating in a bidding process, be sure to review the specifications in the request for proposal (RFP). RFPs often use complicated language that can be difficult to break down, but analyzing the specifications of the RFP can make the difference between moving on to the next round of the process and instant disqualification. To ensure the success of your RFP, make sure to fully understand the current electrical wiring of the house that you'll be working on. If you notice anything out of the ordinary or a potential oversight, it's key to highlight this in your proposal. It's also important that to ensure that you'll be complying with local building codes and regulations when undertaking this project.
Step 3: Review the drawings
There will often be drawings, blueprints, and graphics that come with the RFP in a bidding process. These visual representations are important as they give you the full scope of the job. If you're dealing with a homeowner, ask if they still have the blueprint of their home. If not, conducting a site visit to assess the electrical needs is beneficial. Even though you're doing electrical work, you should still make sure you're inspecting all of the architectural drawings you're given. There are many other components of a house that may become obstacles to your work, such as the:
General layout of the home.
Reviewing these drawings is necessary to complete a material takeoff.
Step 4: Perform a material takeoff
Material takeoffs are an important part of the estimating process for many construction projects and serve as a sort of electrical material pricing guide. By using the blueprints for the house, you can build a list of materials necessary to complete the job. This list is referred to as a material takeoff list and helps you in providing a detailed breakdown of costs. Typical materials in your materials takeoff list include:
Circuit breakers.
The number of switches and outlets.
Your list also helps in calculating material costs, which should be broken down in your estimate.
Step 5: Calculate labor costs
Once you know what kind of work will be involved, it's time to calculate your labor costs. The simplest way to charge for residential electrical work is by the hour, making it easy to calculate labor costs. Our research indicates that the median pay of an electrician is $27.36 per hour, so you will likely pay your employees a wage similar to this amount. To get your overall hourly rate, figure out how many workers it takes to complete a job, then add up each of their hourly pay rates to get your total hourly labor rate. Next, multiply your hourly labor rate by the number of hours you estimate the job will take.
Hourly labor rate x number of hours = total labor rate
The above formula will give you an accurate view of labor costs for your estimate and can serve as the basis for your electrical work pricing guide.
Step 6: Create your estimate
Now that you understand the scope of the job and know how much material and labor you will need to complete it, you have everything you need to create your electrical estimate for residential. As using high quality materials is essential, make sure you include each of your materials as a line item in your electrical job estimate template. Based on our firsthand experience, estimating using a template for gives you a standard process, which lets you complete your estimates faster for each new customer.
Step 7: Add overhead and profit
When you calculate your labor and materials costs, you only calculate how much the job will cost you. With these numbers alone, you are not making any profit from the job. In fact, you'll be losing money because you aren't covering your overall expenses, such as transportation and insurance requirements. This is why you have to factor overhead costs into your estimate — to cover all the costs to operate your business. Our findings show that overhead is usually 13 – 20% of your total sales cost, depending on your business expenses. The last element to add to your estimate is a markup for profit. And based on our observations, this markup depends on the average prices for electrical work in your area, as well as how much profit you want to make off of each job.
Step 8: Build your proposal
Through our practical knowledge, you'll most likely have to present your estimate as part of an overall proposal for a bidding process. Before submitting your final proposal, review all of the requirements one more time to ensure that you're complying with all of them.
Step 9: Double-check your numbers
Before handing over the estimate to your customer, make sure that you double-check that all of the information is correct and that nothing has changed since you started the process. Review the following information:
Customer's name and address.
List of materials and costs.
Labor hours and costs.
Final total.
If necessary, you can redo some of the calculations to ensure that the final total you present to your customer is correct. Providing a warranty or guarantee is also useful in reassuring your customer about your service. Lastly, creating a timeline for approval gives both parties ensures you have an answer within a reasonable timeframe.
How should I create an estimate or quote?
Knowing how to estimate residential electrical work is only the first step of the job. Once you know how to estimate, you need to understand how to present it to your customer in a clear and easy-to-understand way.
Whether you decide to present an estimate or a quote, the process is similar, and you want to ensure accuracy. That being said, you want to create an estimate to in case of disagreements or unforeseen changes.
When it comes to creating your estimate, you have several options:
Use Google Sheets or Excel to create an estimate.
Download an estimate template online.
Use electrical estimate software like Method.
If you don't see the download form, download template here.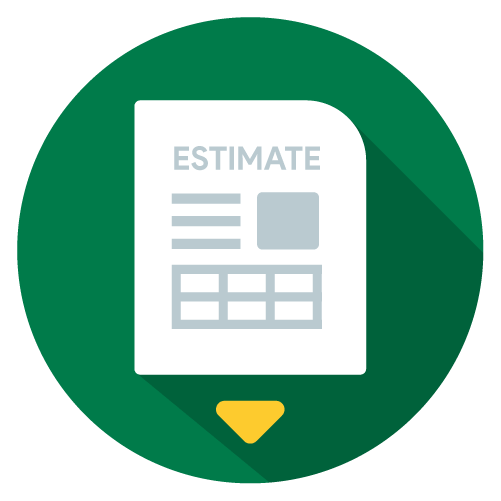 No matter what method you choose, you shouldn't create an estimate from scratch for each new job. With this approach, you end up doing a lot of manual and time-consuming work and waste time that could be used to bring in more revenue.
As per our expertise, a better method is to have an estimate template on hand to save you time and ensure that your estimates stay consistent.
How much detail does an electrical estimate need?
Through our practical knowledge, as a rule of thumb, you should include as much detail in your residential electrical work estimates as possible. Here's what customers expect to see on an electrical estimate:
Their name and address.
Description of the work.
The name of your business and contact information.
A detailed breakdown of the work.
The total price.
The breakdown of the work should involve labor, materials, and any additional costs so that your customer can better understand the final price.
Make sure you specify whether the total price includes taxes or not.
Electrician estimate FAQ
Here are some additional questions that people have on residential electrical work.
How do you calculate your electrical installation cost?

You can't know how to estimate residential electrical work without understanding how to calculate the overall cost of electrical work.
To calculate the price of electrical work, you should multiply your hourly labor rate by the number of hours the job will take to complete. If any extra materials are required for the job, be sure to add that to the total cost.
Our research indicates that you should charge for electrical work by the hour based on the following elements:
The amount of labor necessary.
The materials required.
Any additional costs associated with the job.
Drawing from experience, it's important to keep in mind the scope and complexity of the job when recommending the costs and deciding how to estimate electrical work.
Take, for example, the task of installing a light fixture. Assessing this type of work will be wildly different in terms of costs and labor when compared to evaluating existing wiring and electrical systems, for example.
And always, don't forget to include overhead and markup for profit in your final estimate.

How do you estimate electrical wiring for a house?
Review electrical wiring specifications and drawings for the house.
Confirm if the house is a new build or if you're rewiring an older home.
Perform a material take off.
Calculate your labor costs.
Add in your overhead costs.
Add your profit margin on top of your materials, labor, and overhead costs.
Create your electrical estimate with this figure in mind.

Image credit: La Miko via Pexels
Remember that electrical wiring for a new build is considerably easier than rewiring an older home. Here's why.
The wiring goes in before the walls, requiring less time and labor. For these jobs, you only have to estimate the labor needed to install the wiring.
For an older home, you must first remove the current electrical wires to replace them with new wires, which requires more labor and tools.
You might have to deal with several other additional factors while rewiring a home.
You may sometimes have to deal with difficult-to-reach spots or even remove drywall in some areas, which means you also have to charge your customer the cost of drywall installation and maybe even paint costs. Both of which you should include in your estimate.
Recap: How to estimate electrical work
Our findings show that estimates are an essential part of the success of any handyman business, from home repairs and upgrading to auto repairs. This is why it's important to know how to estimate residential electrical work before starting any new job.
Whether you're wiring a basement or recommending upgrades or repairs, our research indicates that you need to create an estimate so that both you and your customer are on the same page.
Electrical services require a high level of skill, and one error can not only put the entire job at risk but can also be dangerous. Through our practical knowledge, spending the time to make sure your estimate is thorough will prevent any such problem from arising.
Having an estimate template ready saves you time and ensures consistency with every estimate while decreasing errors.
Get your free residential electrical work estimate template to create great estimates every time.
Image credit: Phat1978 via Adobe Stock