Selecting a customer relationship management (CRM) system is a big business decision that impacts your organization for years to come. But different businesses have different needs for a CRM.
You may be looking for a system that's user-friendly, automates tasks, and can be accessed on multiple devices — or perhaps all of the above. Ultimately, the ideal CRM helps you build stronger relationships with your customers.
With all the options out there, choosing a CRM can be challenging. Especially, when it comes down to whether the Insightly QuickBooks integration is the way to go, or if Method:CRM reigns supreme.
But you don't need a degree in technology to make the right decision! The process is as simple as establishing your priorities, then evaluating how well the available systems meet them.
This is where side-by-side comparisons come in handy.
Today, you'll compare Method:CRM with the Insightly QuickBooks integration to see which is best for your business.
You'll look at the:
Method vs. Insightly QuickBooks integration.
Key features for each tool.
Pricing models.
TLDR; The main difference between Method:CRM and the Insightly QuickBooks integration is how frequently and deeply they sync with QuickBooks. Spoiler alert: Method:CRM comes out on top!
Keep reading to learn which of these online CRM systems are best for you.(Looking for more CRM comparisons? Check out our posts on Method:CRM vs. Zoho and Method:CRM vs. Salesforce Small Business Solutions!)
Jump to:
Why the right CRM is important to a growing business
Not all CRM software systems are made equal. And even if they were, there's no one-size-fits-all solution when it comes to choosing the right CRM for your growing business.
Every business is different, so you need to consider what unique combination of CRM features will best help yours in particular. Finding the perfect fit matters because a CRM serves as your new foundation to build and improve your workflows.
So, if you don't pick a CRM with the right suite of tools for your specific needs, your business will suffer where it could otherwise flourish. Even the so-called "best" CRM system might have features that are irrelevant to you.
That being said, for any growing business, a CRM system is a no-brainer.
No matter what, as you grow your operations, it gets harder to stay organized. Managing employees, customers, and finances becomes more and more difficult.
What's worked for you in the past might not work anymore — and you risk doing serious damage to your business by trying to stay on top of it all yourself.
So the solution is to implement a CRM that takes a huge chunk of the work (and stress) off your plate.
With a CRM, you stay organized by keeping your accounting information and contact details separate, yet centralized. Plus, you improve efficiency and productivity through workflow automation.
What to look for in CRM
While the best CRM for your business depends on your particular needs, there are a few things you want to look out for no matter what. This includes:
A complete view of all your customer details, including interaction and transaction history.
Automation of your daily workflows.
Customer support and communication tools.
Self-serve options for customers, such as web-based portals, help resources, and invoice/order management.
Reporting tools to gather valuable insights on your customers and business operations.
Key features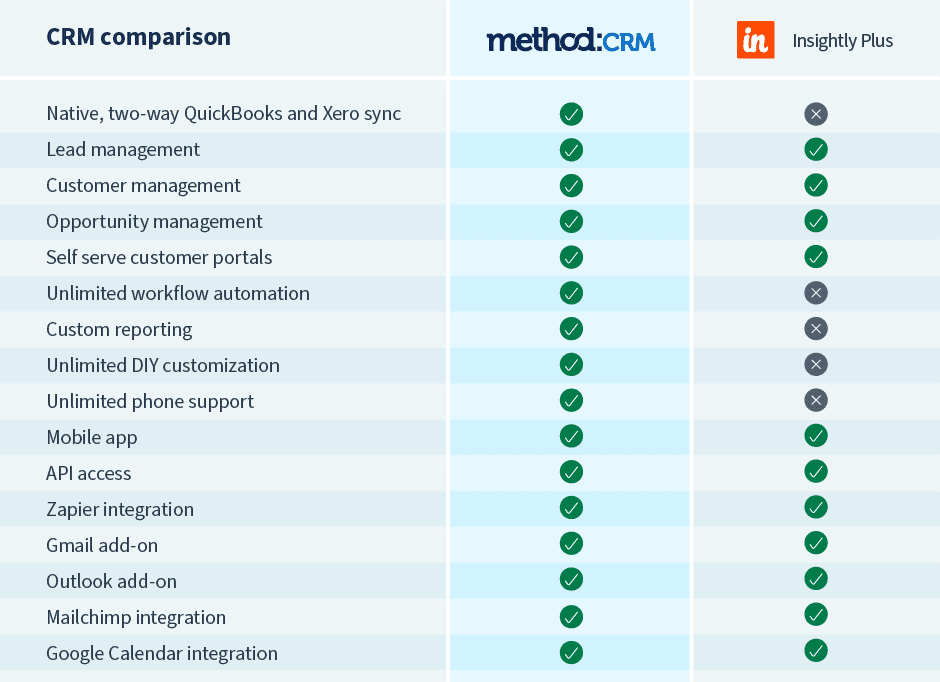 Taking a quick look at a CRM's website should give you some quick insight into what the product can do for you. Here at Method, we're proud to be "The CRM designed for QuickBooks." Meanwhile, Insightly encourages users to "Know your customers. Grow your business." Of course, a simple tagline can't tell you everything! A closer look at each CRM reveals its key features.
Method:CRM
Built for QuickBooks and Xero users: the patented two-way integration between Method:CRM and your accounting software automatically syncs customer and transaction data. No more worrying about double data entry!
Extensive functionality for lead and customer relationship management: automate lead collection, schedule activities, send emails, manage sales opportunities, and more.
Reduce manual administrative work and streamline operations by using Method:CRM's built-in customer portals.
Service customers efficiently and drive repeat business with a 360-degree view of each customer.
100% customizable, no-code solution: create a CRM that's perfect for your business.
Accessible whenever and wherever you need it: Method:CRM is optimized for all devices, with iOS and Android apps included in your subscription.
Insightly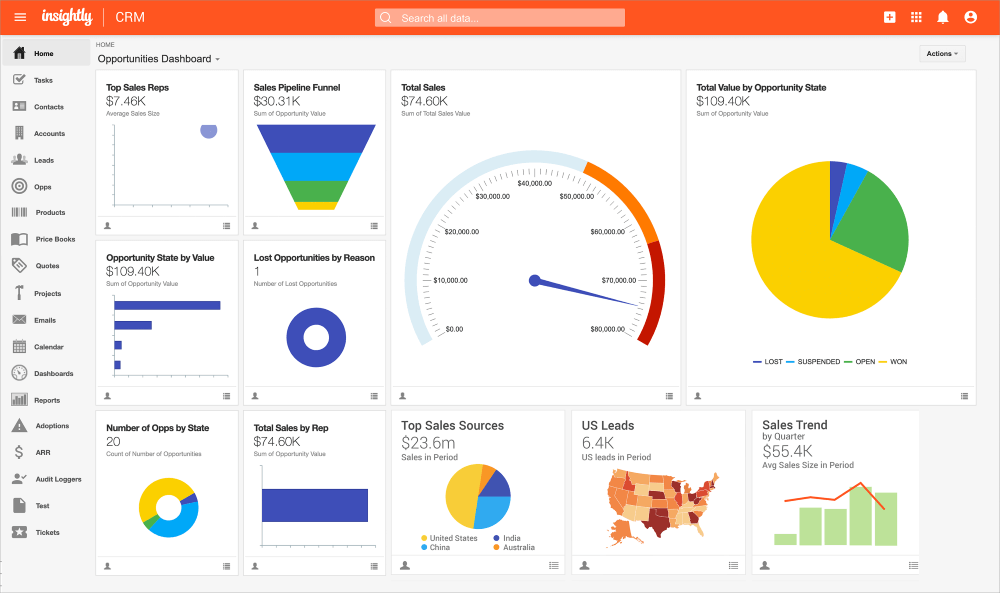 Accelerate sales through sales pipeline management and workflow automation tools. Manage leads and opportunities in a pipeline view. Send tracked emails automatically.
Deliver projects faster by automating repeat assignments with pipelines. Manage milestones and use workflow automation to ensure on-time delivery.
Connect to apps and tools you already use. Capture data and take action from your email inbox. Keep your contacts, calendar, and documents on hand. Track accounting and email marketing from your CRM.
Use built-in relationship intelligence to discover connections between your contacts and plan your sales approach.
Targeted industries
While a CRM's key features may work for a wide range of businesses, it's helpful to know if the CRM you're considering is well-suited for yours. Both Method:CRM and Insightly work well for small to mid-sized businesses, and each one can be used successfully by a variety of business types.
Method
Method:CRM serves customers across many different industries, but it's particularly helpful for these industries:
Manufacturing.
Wholesale.
Distribution.
Construction.
Accounting.
Method strengthens your Transaction Creation, Sales Enablement, and Payment Collection workflows.
With Method:CRM, you can create important documents like estimates and invoices, then easily manage them.
You also get features that boost your sales, like web-to-lead forms, opportunity and activity tracking, and email campaign functionality.
Finally, through Method:CRM's custom web portals, customers can easily pay their bills. By automating your payment collection process, all you have to do is watch the funds enter your account.
Insightly
Insightly is also used across many industries, but it serves these best:
Manufacturing.
Finance.
Agencies.
E-commerce.
Professional services.
Insightly puts your customers first and keeps them coming back. Naturally, it's best used for customer-centric industries.
QuickBooks integration
Of course, in this context, your biggest question when comparing CRM systems lies in their QuickBooks functionality and potential for integration. Does Insightly integrate with QuickBooks? Does Method:CRM? And which CRM QuickBooks integration will help your business the most?
Method
Unlike Insightly QuickBooks integration, Method offers a native two-way sync with your accounting software. This means that any change you make in either end automatically updates in the other.
With this, you completely eliminate issues of double data entry. Particularly for your accounting data, double entries are a problem that, if unchecked, has a detrimental impact on your business.
Method:CRM's powerful sync with QuickBooks is patented, so it does the trick better than any other CRM on the market.
With Method QuickBooks integration, you can:
View and edit all your information in either platform, which automatically updates in the other.
Keep your accounting and contact details distinct, yet consolidated.
Customize and automate accounting workflows.
Insightly
On the other hand, Insightly QuickBooks integration is possible, but you need additional tools to make it work. If you're looking for Insightly QuickBooks compatibility, you have two options to integrate, but neither of these offer a sync between the two software.
Option 1: Integrate natively
An administrator with an Intuit login can connect Insightly to your QuickBooks Online account within Insightly's System Settings. The process is relatively straightforward, but requires an administrator to learn and execute all the steps.
Option 2: Use AppConnect
AppConnect is a third-party tool that helps you integrate popular apps that don't have strong native integration capabilities.
AppConnect's drag and drop interface and automated error-handling make integration easier than in Option 1. Because of QuickBooks' popularity, there's already a pre-built app connector for linking your Insightly and QuickBooks accounts.
While there is no Insightly QuickBooks sync available, integration between the two software results in improved efficiency across your business. With Insightly QuickBooks integration, you can:
View your QuickBooks information in Insightly.
Copy data in one system and link it in the other.
Create new QuickBooks customer profiles in Insightly.
Software integrations
One of the challenges of adopting a new CRM is figuring out how it fits in with your existing tools. That's why selecting a CRM that integrates with the software you already use is a smart choice.
Here are some of the software integrations offered by Method:CRM and Insightly.
Method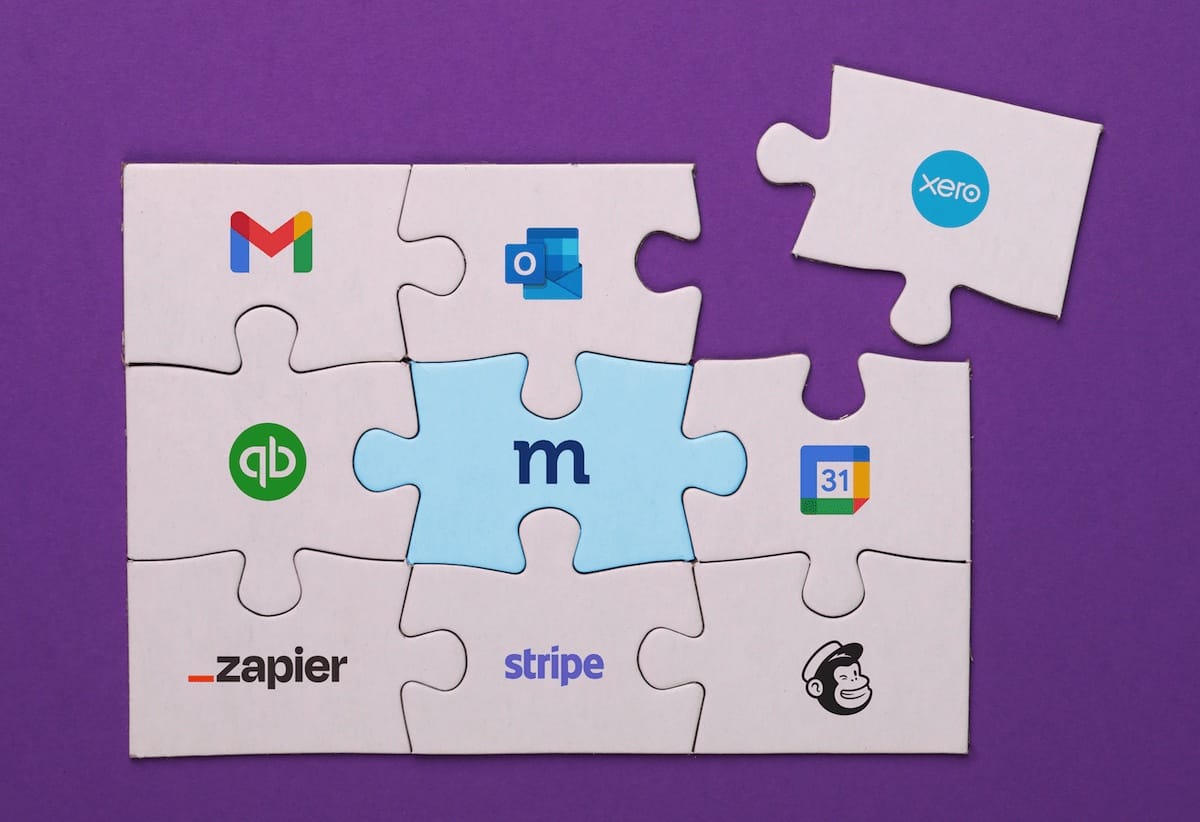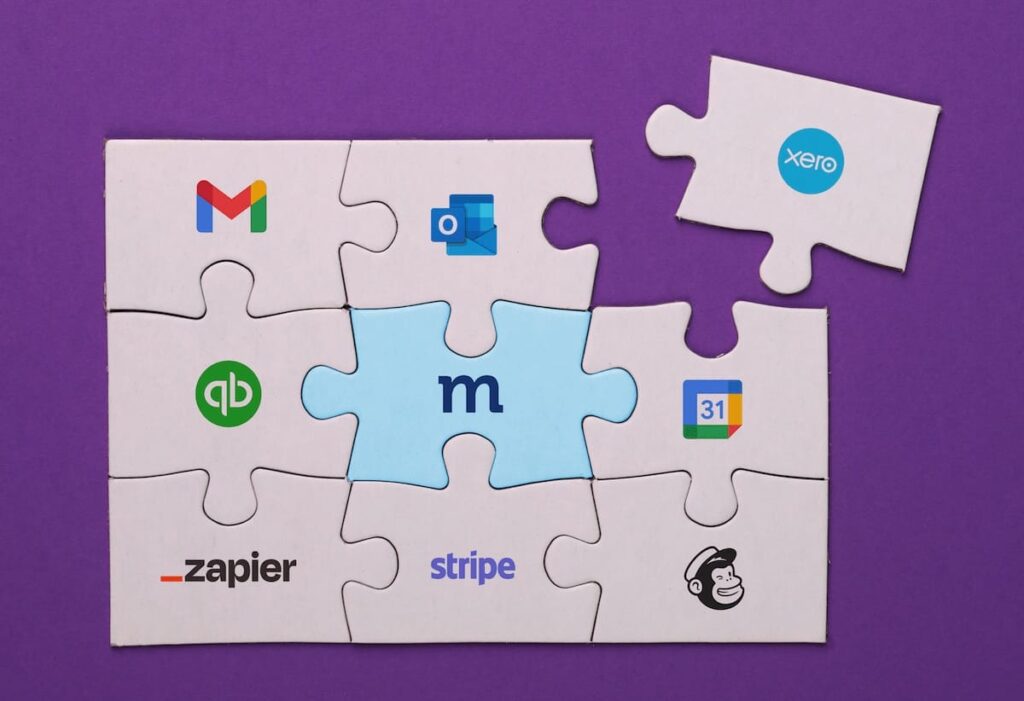 Insightly
Insightly's full suite of app integrations can be viewed here. Some examples include:
Other noteworthy features
Most CRMs can do a lot more than just manage customer relationships! These are the features that add value to the platforms and set them apart from their competitors.
Here are some of the noteworthy features for Method:CRM and Insightly.
Method
Method:CRM is built on a 100% customizable, no-code platform. This means you and your team can adapt it to better suit your needs — no need to hire a developer.
The customization possibilities are endless, from adding simple fields to automating processes and building entire custom apps. And when combined with the deep QuickBooks integration, Method has the power to become much more than a CRM.
Method also offers robust integrations with QuickBooks and Xero accounting software. So, you don't have to worry about inconsistent information across your various business software.
Other perks of using Method include:
Day-to-day workflow automation.
Self-serve customer portals that streamline customer support tasks.
E-signature functionality.
Email and invoice templates.
Here's an example of what a Method portal looks like: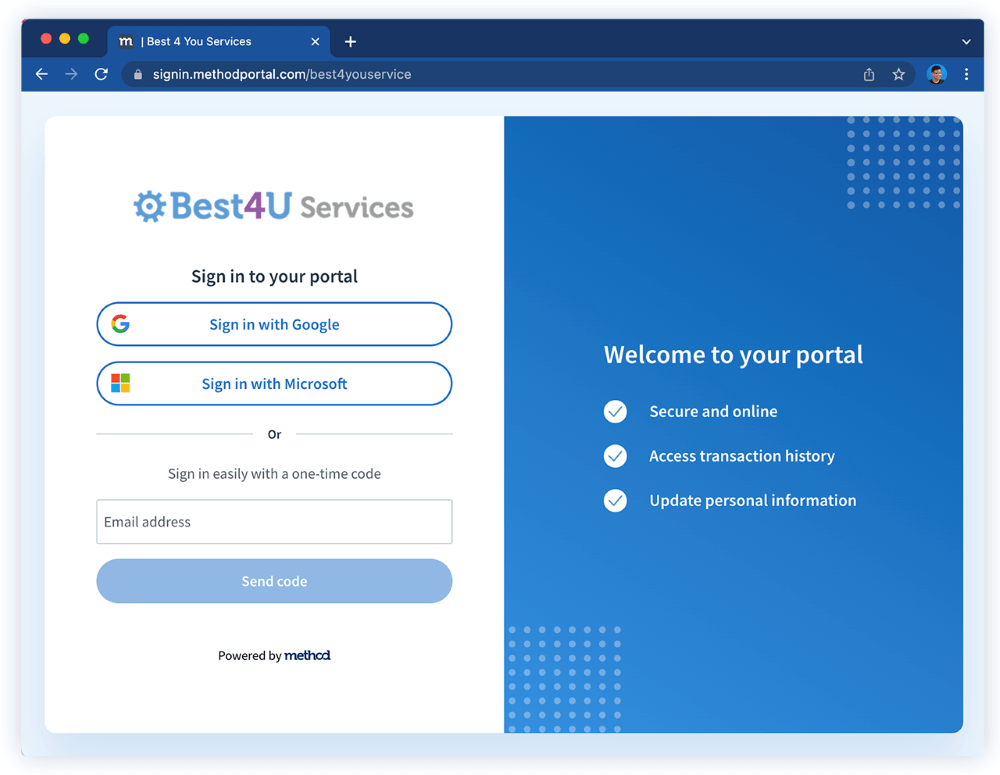 Insightly
Insightly places an emphasis on easy-to-use graphics and visualizations.
It also offers a number of features related to project management, including activity sets for repeatable processes, milestone tracking, workflow automation, file sharing, and versioning.
Pricing
Price will usually play a key role in your decision to purchase a CRM. Many CRMs offer multiple pricing and subscription options for different numbers of users and features.
Here's what's available for Method:CRM and Insightly.
Method
Method:CRM offers three subscription plans:
Contact Management.
CRM Pro.
CRM Enterprise.
All plans can be purchased on an annual or monthly basis, with no contract required for the monthly basis.
The Contact Management plan is $25/user/month when billed annually or $28/user/month when billed monthly. This plan includes everything businesses need to get started with customer relationship management, including QuickBooks sync, contact management, customer self-service portals, and unlimited customization potential.
The CRM Pro plan is $44/user/month when billed annually or $49/user/month when billed monthly. This plan includes all of the features of the Contact Management plan, plus QuickBooks sales transactions, online payment portals, sales pipeline management, and web-to-lead forms.
The CRM Enterprise plan is $74/user/month when billed annually or $85/user/month when billed monthly. The plan includes all the features listed in the first two packages. Plus, CRM Enterprise offers powerful automation tools that save your time and money as your business grows.
This plan is designed for growing businesses that need help staying on top of things. If you don't want to use every feature, you can mix and match elements of the CRM Enterprise plan with Method:CRM's more affordable options to create your own custom plan — just talk to the customer support team!
Insightly
In addition to the free CRM described above, Insightly offers three paid CRM subscription plans. All plans include the custom Kanban sales pipeline, custom task and project management, custom reports and charts, the mobile CRM app and standard dashboards.
The Plus plan ($29/user/month billed annually) allows for 100,000 records, 2,500 daily emails, and 50 custom fields. It also includes scheduled emails, custom email templates, and Mailchimp auto-import.
The Professional plan ($49/user/month billed annually) allows for 250,000 records, 5,000 daily emails, and 100 custom fields. It also includes role-based permissions, workflow automation, and priority email support.
The Enterprise plan ($99/user/month billed annually) allows for unlimited records, 10,000 daily emails, and 200 custom fields. It also includes unlimited storage and a dedicated support specialist.
Customer support
Customer support is critical for small to mid-sized businesses purchasing their first CRM.
Whether you have a technical issue or just want some guidance on using the product, you need reassurance that you can get answers when required.
Method
Method:CRM offers a variety of support services including free 24/7 access to its online help center, webinars, and customization resources.
Live support is available to all paid and trial CRM customers; support reps can be reached over phone, live chat and email Monday through Friday from 9 am to 6 pm EST.
Insightly
Insightly offers 24/7 access to their online help center, which includes articles, video tutorials, and recorded webinars.
Email support is available during free trials and for paid plans during business hours. Phone support is also available during business hours for those who purchase a "Success Plan".
These optional training programs are available for $1,500 to $10,000+ annually.
Free trial
Before adopting a new CRM, it's best to test it out and make sure it works for your business. For this reason, most CRMs offer a no-commitment free trial of their platform.
Method
Method:CRM offers a 14-day free trial of its CRM Pro plan that lets users fully explore the functionality of the system. No credit card is required to sign up.
The free trial includes a free hour of customization services with an in-house expert, so you can see the true potential of customizing Method:CRM for your business.
Here's what one Method:CRM trialler who switched from Insightly had to say about the product:
"Is there anything Method can't do? I'm looking at systems that are way more expensive than this and I'm not sure they can address all my needs like this."

– Founder at a wholesale company
Insightly
Insightly offers a 14-day free trial offer with no credit card required to sign up. After the two weeks are up, users can choose to upgrade or downgrade their plan selection.
Insightly also offers a free CRM for up to two users; this no-frills plan allows for basic management of contacts, sales, and projects.
Bottom line: Which CRM is the best fit for your business
For those in search of a cloud-based CRM system, both Insightly and Method:CRM are well-suited for small to mid-sized businesses.
Each CRM offers modestly priced entry-level plans in addition to more robust plans for teams with greater needs.
Insightly is a great option for customers looking for pre-built sales and project management features, while Method:CRM's deep QuickBooks sync and no-code platform allow users to build customized, scalable workflows for all aspects of their business.
Access to free telephone support with Method:CRM is another benefit for users who are new to CRM systems.
Ultimately, the most important consideration when choosing a CRM is to make sure it suits your business needs.
Method vs. Insightly FAQs
What does a good CRM look like?
A good CRM includes:
A centralized view of contact details, including interaction and transaction history.
Customer support and communication tools.
Invoice and order management.
Self-serve options for customers (i.e. web-based portals, help resources, etc.)
What questions should I ask before choosing a CRM?
The questions you should ask before choosing a CRM are:
What are my specific business needs and goals?
How do I want to organize my customers?
Where do I need to improve productivity?
How to use QuickBooks as a CRM?
Using QuickBooks as a CRM is technically an option, but it's not a very good one. A CRM is designed to make your sales process more efficient and your business more organized.
Using QuickBooks for contact management has the adverse effect. You risk easily jumbling up your accounting information, which causes confusion among your employees.
As a result, you actually slow down sales operations, which is of course counterproductive to the reason you establish a CRM system in the first place.
Ready for a QuickBooks-integrated CRM? Give Method:CRM a try for free.