Your manufacturing business has many moving parts that must be in sync to keep your business structured and organized. Luckily, manufacturing business management software has the tools to create a system that manages all aspects of your business.
In this article, you'll learn everything there is to know about manufacturing software and how it improves your business.
You'll also discover the best manufacturing business management software to strengthen your business processes and drive results.
What is manufacturing business management software?
Manufacturing business management software is a tool that simplifies your manufacturing operations management.
Aspects of your business that manufacturing software improves include:
Inventory.
Shipping and receiving.
Supply chain management.
Material usage.
Accounting.
Let's take a closer look at how this unique software works.
How business management software for manufacturing works
No two software solutions work the same way. Manufacturing business software comes in various forms.
For example, manufacturing and sales software equips your sales team with tools to nurture leads and manage customer relationships. In contrast, manufacturing order software focuses on inventory management and organizing sales orders.
Specific types of software you might consider include an ERP (enterprise resource planning) system or a CRM (customer relationship management) solution.
A manufacturing CRM focuses more on the customer and sales side of your business, while an ERP takes on a larger scope in managing your entire business cycle.
No matter what you choose, all manufacturing software solutions have the same goal: to simplify your processes.
Why is manufacturing business management software important?
It's important to keep your business organized, and the only way to do so is through a system. Manufacturing business management software provides that system to keep everything on track.
Business management software brings your manufacturing business to life and gives you a central place from which to operate your business. It strengthens your processes which results in several benefits for your business.
Let's explore what those benefits are.
Benefits of management software for your manufacturing business
In deciding whether manufacturing business management software is right for you, you have to understand the benefits of software on your business.
The most significant benefit of business management software for manufacturers is the time you save on manual processes.
Since software simplifies and automates repetitive tasks such as work order creation and billing, your team spends less time on admin and wins more time for revenue-generating tasks.
Here are some other top benefits of manufacturing business software:
Increased visibility of the end-to-end manufacturing process.
Integrate all of your tools into one core system.
Keep track of customer information and history.
Reduce costs through more efficient scheduling.
Present your business as more professional to your customers.
You can reap these benefits through several key features of manufacturing business management software.
Key features of manufacturing business management software
While not all software solutions are the same, there are a few features that you must consider when picking the best solution for your business.
Here are some of the key features of manufacturing business management software.
Financial management
Finance is most likely one of your top priorities for your manufacturing business, so it's important to choose software with accounting features such as:
Estimates and quotes.
Invoice creation.
Customer and vendor billing.
Revenue reports.
Some manufacturing business solutions come with integrated accounting software. This is especially true for ERP systems.
However, it's more practical if your manufacturing business software integrates with your current accounting software, as then there's no need to migrate your data and learn a new system.
For instance, if you use QuickBooks for manufacturing, ensure your chosen solution integrates with Quickbooks.
Track your customers better
Customers keep your business afloat, so it's key that your manufacturing business management software has features that elevate your customer service.
CRM software typically delivers the best insights into your customers, including their information and history.
Dashboards can provide an at-a-glance view of your customers so that your sales reps are always ready to take a call. You can even schedule automated follow-ups to ensure that each customer gets the attention they deserve.
Automated order management
The best manufacturing business software eliminates the need for spreadsheet inventory and order management.
A solution with automation optimizes your processes and simplifies your supply chain workflows to reduce paperwork and increase results.
For the best inventory management options, you should choose customizable software that allows you to upload your current spreadsheets and add fields to your inventory list.
Now that you're an expert on manufacturing business software, it's time to choose the best one for your business.
The best management software for manufacturing companies
The best manufacturing business management software for your business depends on your business needs.
For example, simple manufacturing software will do if you only want to organize your sales orders. But if you want to integrate all of your tools and automate your workflows, you need a solution with robust features.
Still not sure which manufacturing software is best for you? Let's take a look at a few options.
Best manufacturing business management software for 2022
Without further ado, here are the top 10 manufacturing business management software to enhance your business efficiency.
To kick off the list of the best manufacturing business management software, you have Method:CRM.
Method:CRM is the perfect manufacturing business management and accounting software thanks to its two-way QuickBooks and Xero sync.
This keeps your data flowing and your entire team on the same page, whether on the shop floor or the sales office.
Method:CRM lets you view detailed customer history so you can deliver top-notch service on the fly. You can also generate custom reports to guide your future strategies.
What's more, creating work orders is a breeze when you leverage the power of automation. Keep track of important details through accurate work orders, and when the time comes, convert them into error-free invoices with just a few clicks.
Features
Full customization for a unique solution.
Time tracking for easy payroll.
Native integrations with Google Calendar, PayPal, Zapier, and more.
Customizable report builder for valuable business insights.
A mobile app for busy shop floor managers.
Pros
Two-way sync with accounting software for smooth data flow.
No-code platform to cater the solution to your business needs.
Easily convert your work orders into invoices.
Several ways to leverage automation for efficient workflows.
Cons
For now, you must be either a QuickBooks or Xero user to use Method.
Pricing
Method offers the following pricing plans:
Contact Management: $25 per user per month.
CRM Pro: $44 per user per month.
CRM Enterprise: $74 per user per month.
They also offer a free trial. No credit card required.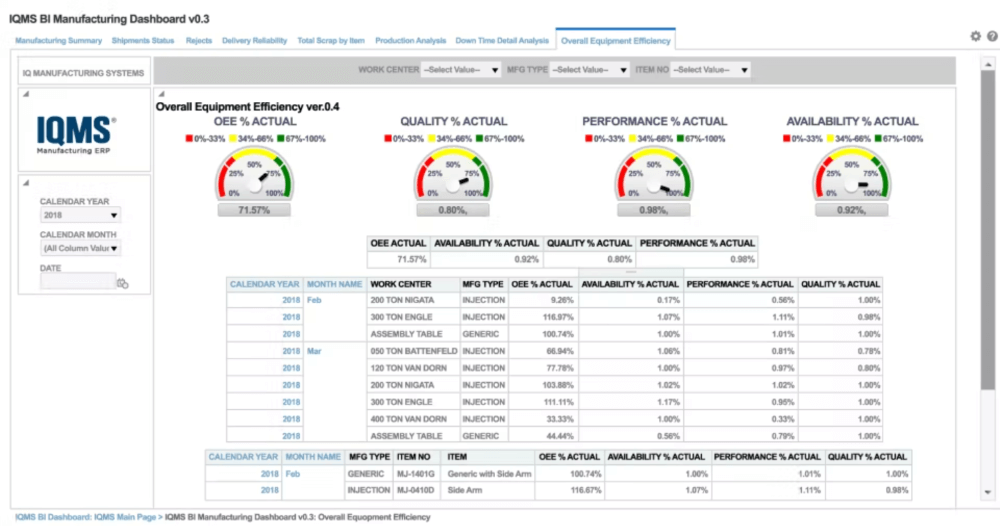 Formerly known as IQMS, DELMIAworks is an enterprise resource planning solution made for manufacturing businesses.
This ERP system supports the growth of your business from end to end.
While they primarily market to midsize companies, DELMIAworks is a scalable solution that works for companies of any size.
Features
Order processing and procurement automation.
Simple, user-friendly interface.
Easy ways to monitor production.
Pros
Perfect for midsize businesses.
End-to-end visibility and control.
Strong reporting capabilities.
Cons
Some users say that this manufacturing solution has a steep learning curve and that DELMIAworks needs a stronger support team.
"There is so much to learn from this software that I don't think we will ever learn how to use it efficiently."

MARLENE via Capterra
Pricing
DELMIAworks is a SOLIDWORKS product, so you must contact SOLIDWORKS to request a quote.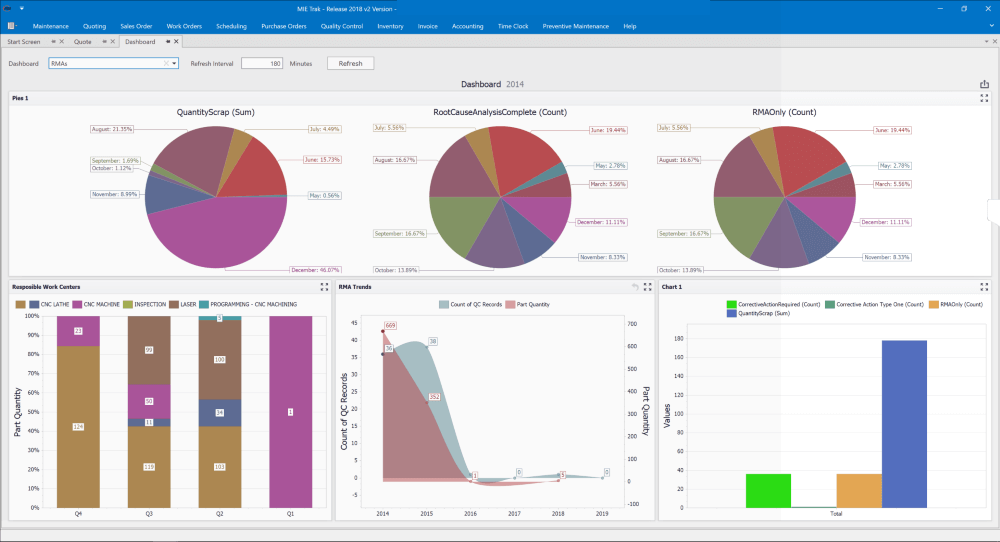 MIE Trak Pro is made to support manufacturers with all modes of production.
With MIE Trak Pro, you can create sales orders from an RFQ or a PDF in just a few clicks. You have even more options, such as creating work orders through automated triggers.
With features that simplify tasks from inventory to invoicing, MIE Trak Pro minimizes your workload to maximize results.
Features
Personalized formulas for quotes.
Drag-and-drop whiteboard scheduling.
KIOSK mode to track real-time job progress.
Pros
Several options to create sales orders.
Serialization to organize raw materials and finished goods.
An integrated accounting system.
Cons
Because they have their own integrated accounting system, MIE Trak Pro's QuickBooks integration isn't as robust as other business management software.
Users who want to continue using QuickBooks may want to skip this solution.
Pricing
MIE Trak Pro has three pricing plans:
Essential.
Plus.
Enterprise.
You must contact them to request a quote.
Next on the list of top manufacturing business management software is REALTRAC.
REALTRAC is a shop management software that helps your team keep the shop running smoothly throughout the day.
This solution allows you to schedule and organize work electronically while tracking progress. As a result, you save machine and labor time while maximizing productivity.
Features
Automatically schedule jobs backward from the due date.
Team management capabilities.
Convert estimates into job orders.
Pros
Ideal for small and mid-sized manufacturers.
Tracks tasks associated with complex jobs and assemblies.
Control who has access to your company data with specific employee permissions.
Cons
While REALTRAC offers a free demo, they don't offer a free trial of their software.
Pricing
REALTRAC does not have preset pricing plans. You must contact them to request a quote.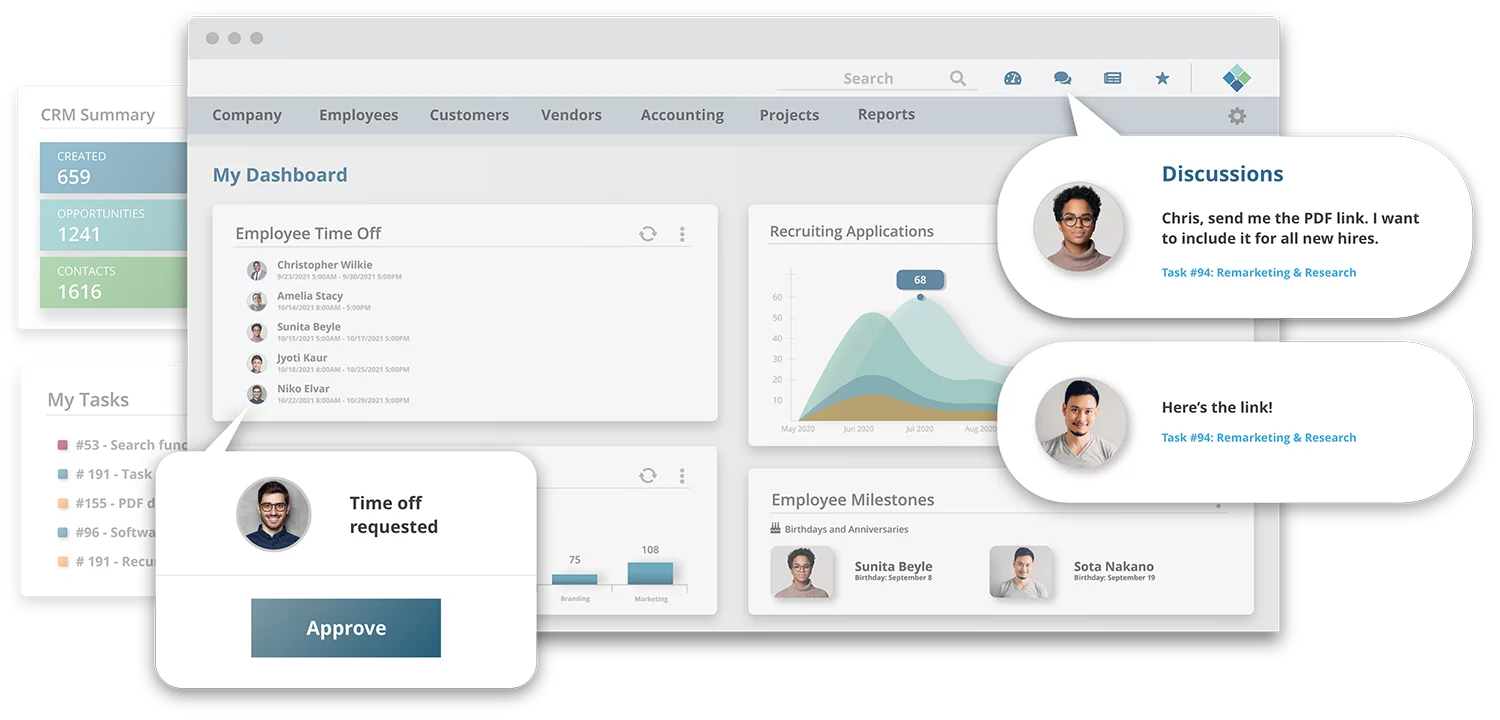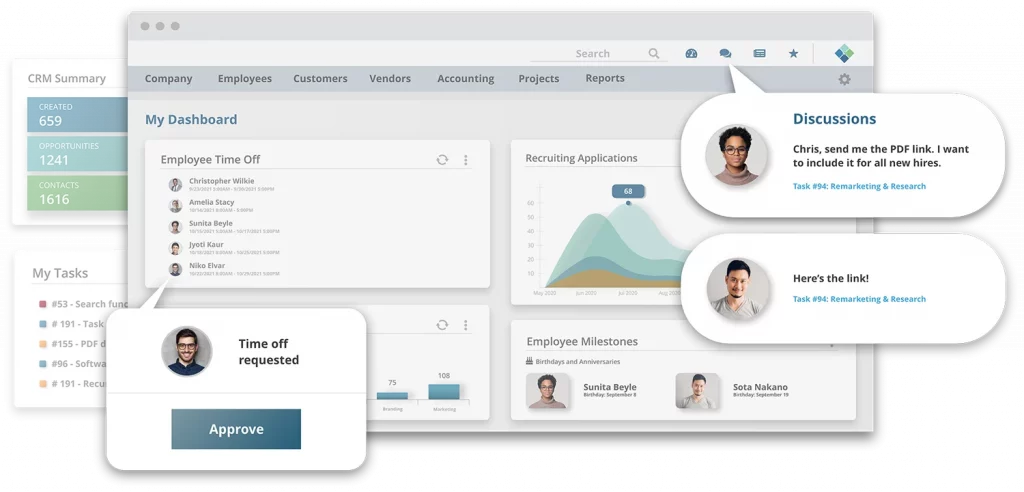 Striven is an all-in-one business management system that combines your workflows into one process.
Primarily meant for small businesses, Striven has solutions for several businesses, including the manufacturing industry.
This software has features that simplify everything from quoting to inventory control to ensure that you get your daily tasks done in no time.
Features
Customer, vendor, and career portals to organize your business.
Create marketing initiatives based on order history.
Production reports to measure progress.
Pros
Real-time data on job and employee activity.
Implementation plan for a quick start.
Integrated accounting software.
Cons
Striven has limited integrations and does not integrate with popular accounting software, such as QuickBooks.
Pricing
Striven has three pricing plans:
$20 per user per month for up to 20 users + $99 monthly hosting.
$15 per user per month for up to 50 users + $299 monthly hosting.
$10 per user per month for unlimited users + $499 monthly hosting.
You can also choose to subscribe to individual portals for different monthly prices.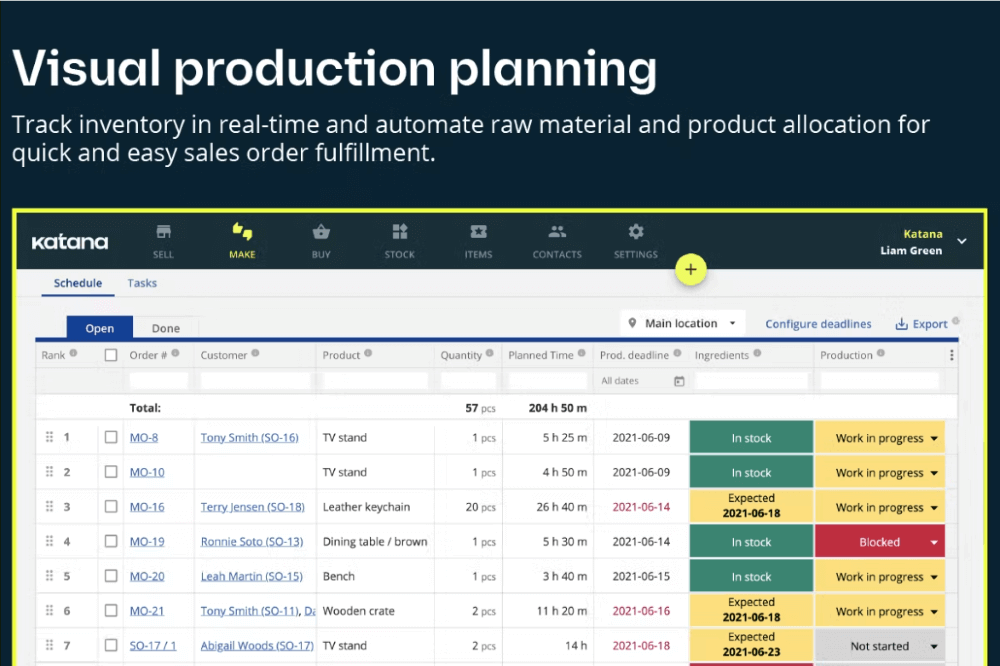 The next manufacturing business management software is Katana Manufacturing ERP.
Katana is manufacturing software built for any industry. With features such as video production planning and real-time inventory control, Katana strengthens your business's processes so that everything is accounted for.
As an enterprise resource planning system, Katana automates resource allocation based on sales order priority. What's more, Katana offers several integrations to extend the power of this ERP.
Features
Live inventory management.
Drag-and-drop order priorities according to material availability and delivery deadlines.
Create custom workflows via Katana API.
Pros
Several third-party and native integrations, such as Shopify and Amazon.
Visual interface for easy progress-tracking.
Track manufacturing costs based on your bill of materials and production operations.
Cons
Katana is one of the pricier software on this list, and may be out of budget for some small businesses.
Pricing
Katana has three pricing plans:
Essential: $99 per user per month.
Advanced: $299 per user per month. Includes 3 shop floor operators.
Professional: $799 per user per month. Includes 3 shop floor operators.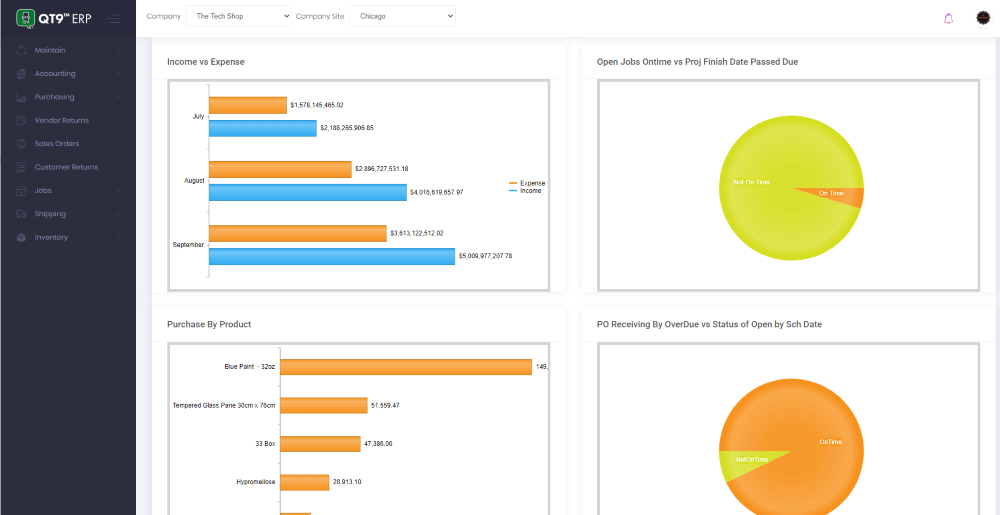 Next, you have QT9 ERP. This solution is made primarily for medical device manufacturers but is valuable to anyone in the manufacturing industry.
It integrates all of your business processes into one ERP system.
QT9's top features include linking all jobs to their correct bills of materials for accuracy and forecasting based on sales, inventory, and future potential.
It allows you to monitor manufacturing from end to end, ensuring that nothing slips through the cracks.
Features
Automatically create jobs from processed sales orders.
Gantt chart scheduling.
Auto-generates serial numbers and lot numbers.
Pros
Gain a 360-degree view of your business with real-time reports.
Visual tools to quickly identify bottlenecks.
Inventory barcoding for easy shop floor management.
Cons
QT9 does not have native integrations with popular apps in the manufacturing space.
Pricing
There are no preset pricing plans so you must contact QT9 for a quote.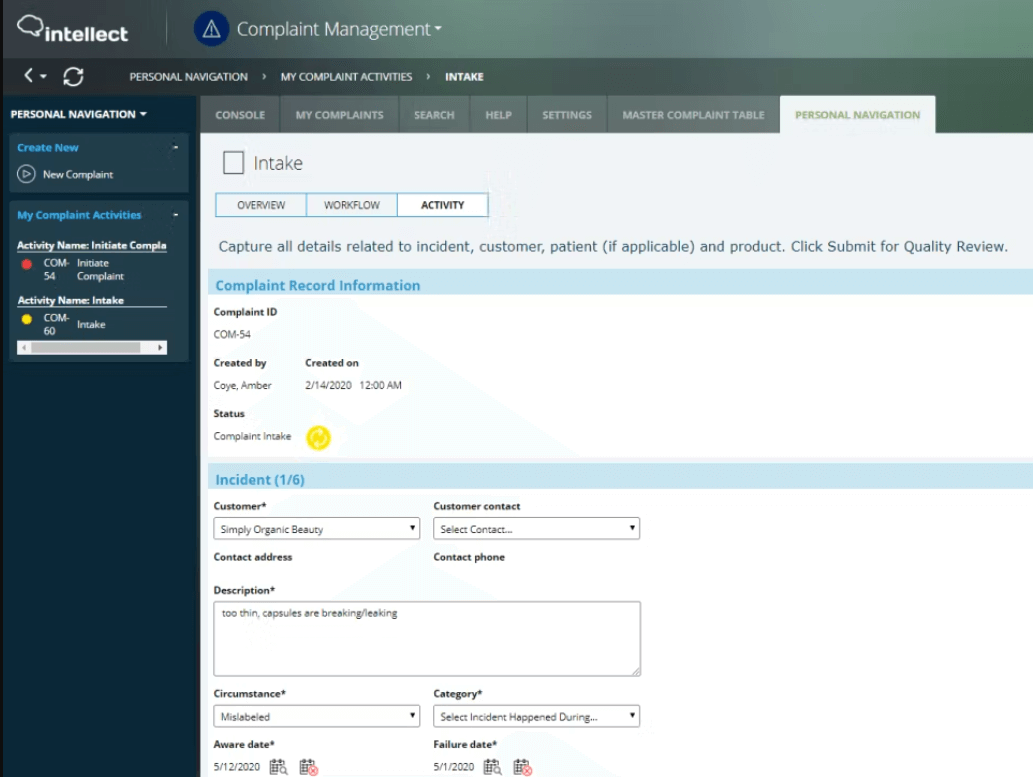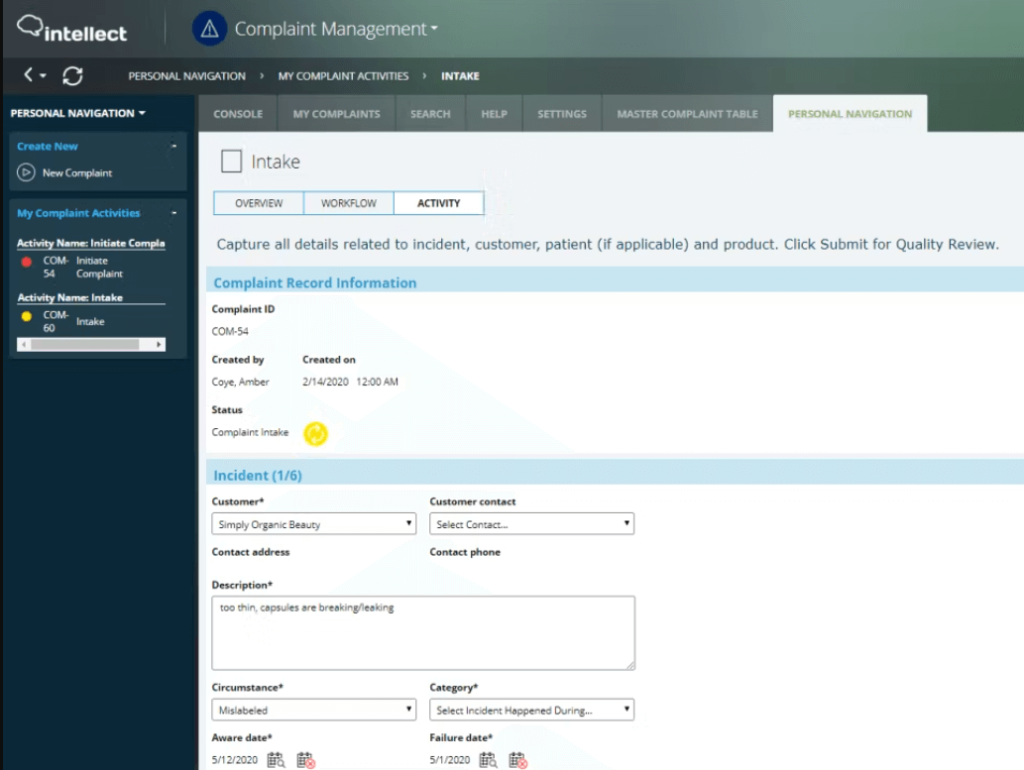 If you're looking for manufacturing business management software for compliance purposes, Intellect may be the solution for you.
Intellect is a quality management software (QMS) meant to help you reach regulatory compliance requirements. In addition to fast implementation and audit management features, Intellect is also customizable.
Thanks to their no-code platform, you can build new apps that best match your manufacturing operations management and make this solution uniquely yours.
Features
Dashboard with real-time metrics.
Automated email reminders for accountability.
Track uptime and downtime across weeks, months, quarters, or years.
Pros
Customizable no-code platform.
Step-by-step guided instruction for system admins.
Various tools to prepare for both internal and external audits.
Cons
Intellect's platform relies heavily on customization, making it a less ideal software for those looking for an out-of-the-box solution.
Pricing
There are no preset pricing plans, so you must contact Intellect to request pricing.
Next on the list is M1.
M1 is a cloud-based ERP that gives visibility into your entire operation. Designed for small and midsize businesses, this solution is great for manufacturers concerned with repetitive tasks and project management.
M1's top features are material ordering and scheduling. Use their manufacturer resource planner to track your supply chain in just a few clicks.
You can also schedule and manage multiple projects from one place.
Features
Inventory management with real-time data across business functions.
Automated scheduling and shipping processes.
Design Studio to personalize the platform.
Pros
Integrations with QuickBooks, CADLink, and more.
Sync multiple facilities into the same platform.
Personalized dashboards for each role in your organization.
Cons
Some users say that M1's customer support could be improved.
"At times customer service response is a bit longer than we would like though once they are working on an issue, they are great at resolving it."
Pricing
You must contact M1 ERP to request a demo and quote.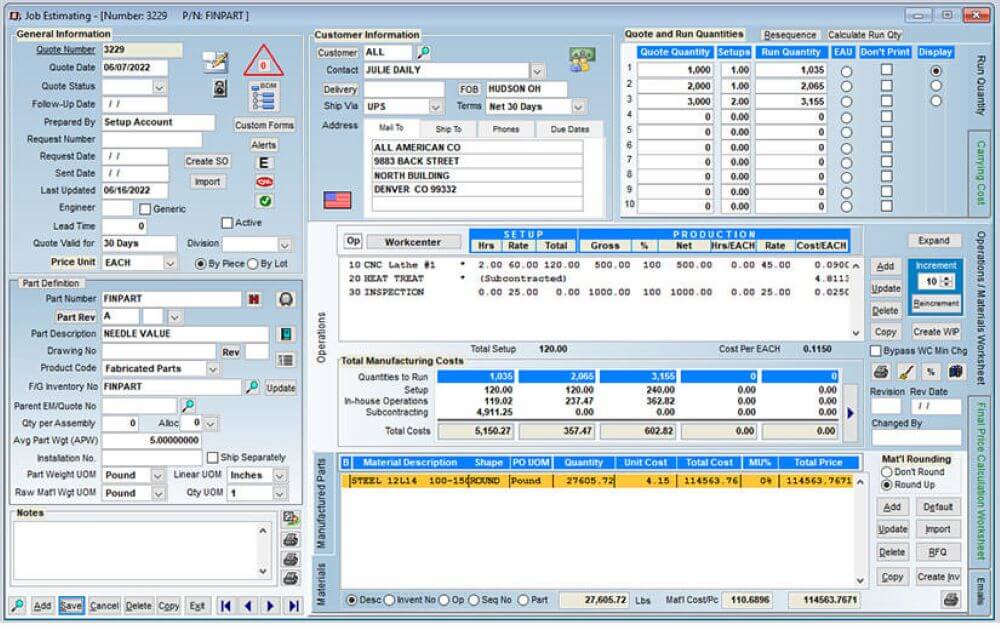 Last on the list of the best manufacturing business management software is Visual EstiTrack.
As the name suggests, this manufacturing business software makes it easier to track your processes. Visual EstiTrack manages your everyday tasks, from creating estimates to processing sales orders.
For example, Visual EstiTrack's Orders and Releases system lets you define and track sales and shop orders. You can create these orders from existing quotes or from scratch.
Features
Visual scheduling for more efficiency.
Option for VisualBooks integrated accounting system add-on.
Automated quote calculations.
Pros
The visual interface makes it easy to navigate.
Customizable to suit your business needs.
Attentive and prompt customer support.
Cons
Visual EstiTrack has limited integrations to centralize your processes.
Pricing
You must contact Visual EstiTrack for a quote.
Manufacturing business management software FAQs
What is small business manufacturing software?
Small business manufacturing software is a tool that simplifies how you manage your business processes.
Small businesses, in particular, need manufacturing software to drive efficiency and keep up with larger enterprises.
Why do you need manufacturing business management software?
You need manufacturing business management software because business success is all about organization. Manufacturing business software keeps your data in one place, making it easy to find when needed.
As a result, manufacturing management software saves you time and money that you could put towards revenue-generating endeavors.
How can an ERP improve my manufacturing business?
An ERP can improve your manufacturing business by centralizing your data and giving you one source of truth.
Some of the top benefits of enterprise resource management for manufacturers include:
Better access to customer information.
Improved order accuracy.
Custom reports for stronger business insights.
Conclusion: Which manufacturing business management software is best for you?
Hopefully, your search for the perfect manufacturing solution is all done, and you're ready to skyrocket your business success with one of our listed solutions.
The right manufacturing business management software transforms your business by boosting productivity and strengthening your workflows.
But you won't know which is the best for your business until you try them out for yourself.
See what manufacturing operations software can do with a free trial of Method!
Image credit: Chokniti via Adobe Stock