QuickBooks invoice automation: Everything you need to know
Do you spend too much time managing invoices in QuickBooks? If so, you're not alone.
Many businesses struggle with having to manually enter and track all their invoices. After all, it involves performing tedious tasks that take up valuable time and resources, no matter how efficient your team is.
Fortunately, there's a better way: QuickBooks invoice automation. You can streamline your entire process of creating, sending, and tracking invoices without needing any manual effort.
In this blog post, we'll cover everything you need to know about QuickBooks invoice automation. This includes the benefits of automation, setting it up, and using it effectively for your business.
What is automated invoice processing?
Automated invoice processing is when you implement technology to carry out each step of your invoicing process without the need for human intervention. The only two things that a real person needs to do are set up your automation software and feed it the right parameters.
From there, the computer system does all the work for you. It can:
Create invoices.
Read the information on existing invoices.
Send invoices to the right people.
Plus, powerful automated invoice processing tracks your complete invoicing history with your customers, so you always stay on top of your business.
Benefits of automated invoicing in QuickBooks
You get a lot of benefits when you automate invoices in QuickBooks. For example, you can set up automatic reminders and payment tracking to ensure that customers know their invoice due dates and pay them on time.
Our analysis has shown that the two biggest ways QuickBooks invoice automation saves your business time and money are by:
Preventing human error.
Accelerating turnaround time.
More on this below.
Reduced human error
With QuickBooks invoice automation, you don't just take a huge workload off your employees. You also ensure accuracy in your workflows — particularly those that are prone to human error.
Everyone makes mistakes, so it's best to leave your repetitive tasks to automation. This way, you avoid costly errors and keep your employees happy by reducing stress and eliminating monotony in their work.
Here are some key ways that QuickBooks invoice automation reduces human error:
Automated data entry: Import data from external sources, such as estimates and sales orders, and create invoices automatically.
Consistent formatting: Use predefined templates to create invoices, ensuring that all invoices are consistent in format and content.
Accurate calculations: Perform calculations automatically, such as adding up line items and calculating taxes.
Real-time validation: Check invoice data in real time, ensuring that all required fields are filled out correctly and that the invoice complies with relevant regulations and policies.
Catch errors: Identify any mistakes that have been made on an invoice and alert the right people quickly so they can fix them.
Quicker turnarounds
Based on our firsthand experience, QuickBooks invoice automation ensures that you close deals much faster.
With QuickBooks Online automated invoicing, you move between each step of the process seamlessly, with little to no delay. As a result, you get paid faster and more reliably.
Some of the ways QuickBooks invoice automation speeds up turnaround are:
Faster invoice creation: Generate invoices automatically based on predefined templates and existing transaction data.
Automated invoice delivery: Send invoices to customers automatically through email or other electronic data interchange (EDI) channels. This eliminates the time between creating invoices and sending them out altogether.
Automatic payment processing: Process online payments instantly when customers pay their invoices.
Real-time tracking: Monitor the progress of invoices and payments in real time and catch any problems immediately.
How to automate invoices in QuickBooks Online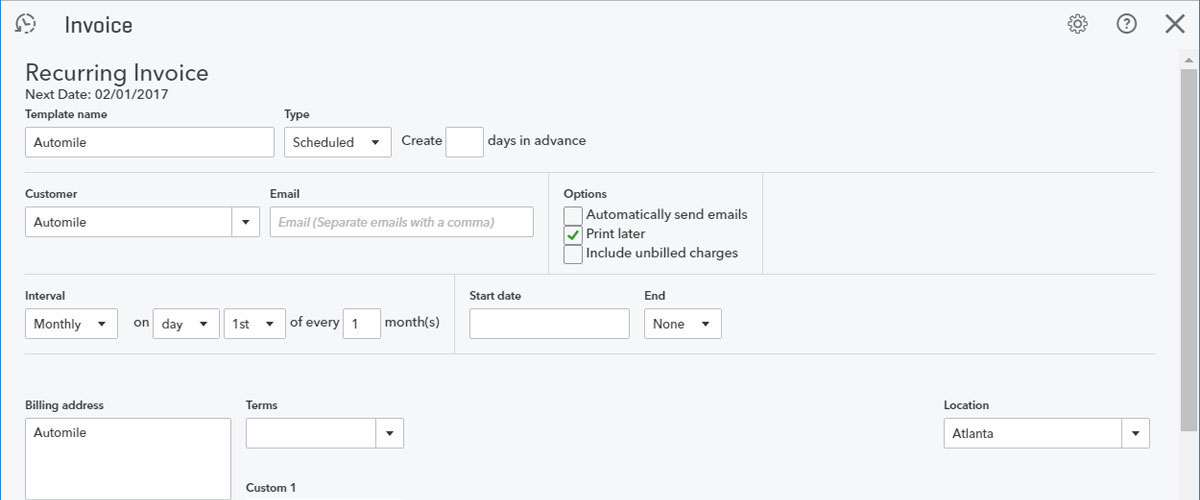 Image credit: Recur360
After putting it to the test, the primary way to automate invoices in QuickBooks Online is by setting them up as recurring transactions. Here are the steps to do so:
Select the gear icon.
Under the 'Recurring Transactions' drop-down menu, click 'New'.
Under 'Transaction Type', choose 'Invoice', and then click 'OK'.
For 'Type', select 'Scheduled'.
Select 'Automatically send emails'.
Fill out any remaining fields that are relevant, then click 'Save template'.
Repeat the steps above for each customer you'd like to create a recurring invoice for.
To set up automatic payments in QuickBooks Online, you have to enable Autopay on your recurring invoices. This is done through QuickBooks Payments and is an additional charge.
So, if you don't already have one, you'll have to sign up for a QuickBooks Payments account. The fees for Autopay are consistent with QuickBooks Payments' pricing model.
Can you automate invoices in QuickBooks Desktop?
We determined through our tests that QuickBooks Desktop allows you to set up recurring invoices. However, it's done a bit differently on QuickBooks Desktop than in QuickBooks Online.
You begin by creating an invoice just as you typically would. The next steps are as follows:
In the top-left corner of your invoice screen, click the button labeled 'Memorize' (or press Ctrl+M).
Select 'Automate Transaction Entry' (pictured below). 
Change the 'How Often' drop-down menu to 'Monthly' and the 'Next Date' drop-down to your desired date.
In the 'Number Remaining' field, enter how many invoices you want to send.
Click 'OK', then 'Save & Close'.

Image credit: Fourlane
QuickBooks Online automated invoicing limitations
QuickBooks Online automated invoicing is certainly better than an entirely manual process, but it comes with its setbacks.
Drawing from our experience on when your invoicing process grows and becomes more complicated, QuickBooks can't keep up on its own.
Our analysis of this product revealed that these are the main areas where QuickBooks invoice automation struggles:
Customization: While QuickBooks provides invoice templates, your customization options are limited to their designs. This is unfortunate, because personalizing your invoices and tailoring them to your specific business is crucial to getting paid reliably.
Complexity: QuickBooks invoice automation has difficulty handling more complex elements like incorporating multiple due dates, proration, or complicated pricing structures.
Integrations: While QuickBooks integrates with countless popular tools, its automated invoicing in particular does not. Using QuickBooks as your main invoicing solution limits your options to expand.
Organization: The way QuickBooks organizes automated invoices is not the most intuitive, which leads to confusion. Paid and unpaid invoices are completely separate. Recurring transactions are included with all transactions, and invoices are recorded as sales receipts.
While automation improves your productivity, thanks to these limitations, the automated invoicing QuickBooks allows for will likely hinder your business in other ways.
Strengthen your QuickBooks workflows with Method
With Method, improved invoice automation is just the tip of the iceberg. Along with all the basic automation features you'd expect, Method:CRM has advanced automation capabilities that make large tasks like marketing campaigns a breeze. 
Here's a preview of why QuickBooks users love Method.
Having extensively used the product ourselves, the benefits of using Method include:
Centralized customer data: Method stores data from all your contacts in a centralized location, making it easy to access and manage customer information.
Streamlined invoicing: Automatically generate invoices based on customer data stored in QuickBooks, ensuring that invoices are accurate and up-to-date.
Two-way sync with QuickBooks: Instantly sync information between Method and QuickBooks to eliminate double data entry.
Automated payment processing: Method:CRM processes payments automatically and updates QuickBooks through an online customer portal.
Improved reporting: Generate reports based on your data stored in QuickBooks to gain insights into customer data, sales, and financial performance.
Third-party integration: Method integrates with popular software systems, like Google Workspace apps, Zapier, project management software, and more.
The bottom line is that with Method, you improve efficiency, customer satisfaction, and profitability. Demand Method, not madness.
See Method's invoice automation in action with your free trial.
Image credit: Kampus Production via Pexels