Compare HubSpot CRM vs. Keap vs. Method:CRM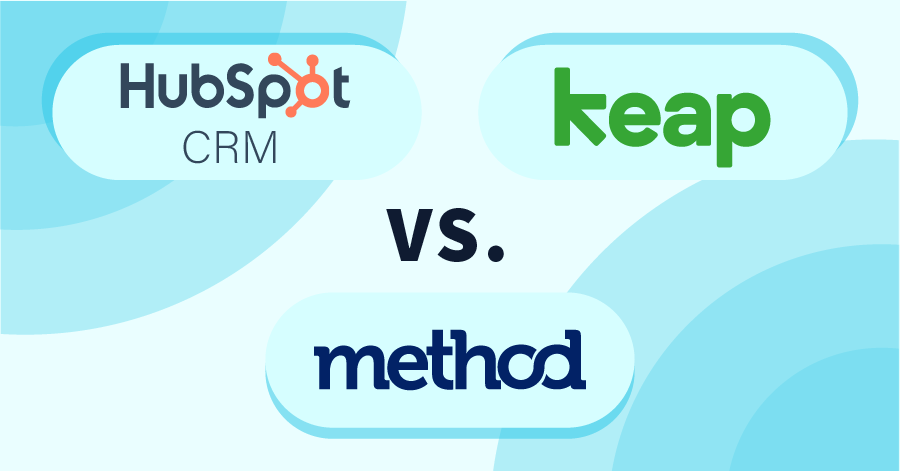 We compare HubSpot, Keap, and Method:CRM to help you decide which CRM best suits your business needs.
A CRM solution is one of the best investments you can make for your small business. This one-stop-shop for all of your contact information helps you to:
Create more authentic relationships with your client base.
Automate team workflows.
Work more efficiently.
Improve sales operations.
But which option is the best one for you? In this guide, we compare HubSpot, Keap, and Method:CRM to help you decide which CRM best suits your business needs.
HubSpot CRM vs. Keap vs. Method:CRM
The main difference between HubSpot, Keap, and Method:CRM is how they allow you to customize your workflows.
There is no doubt that you can maximize your time with these CRM solutions, but which one is most suitable for you is another story.
HubSpot CRM overview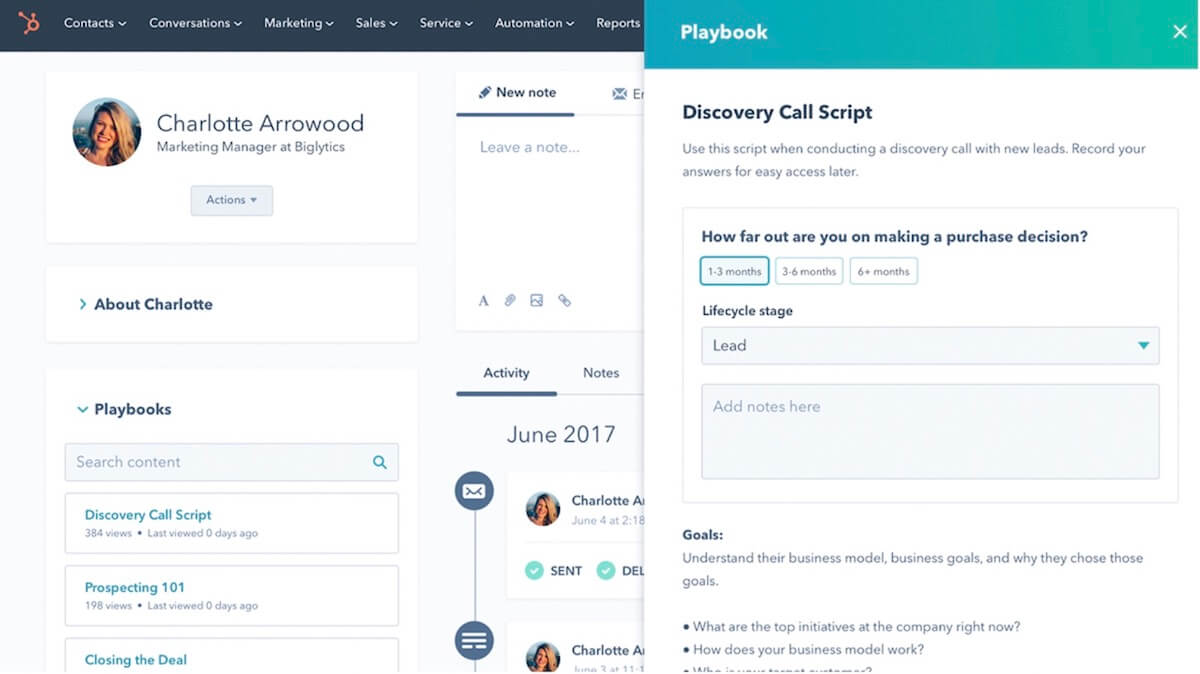 HubSpot CRM helps you manage your customers, sales pipeline, and content marketing efforts.
The most basic version of the solution is free to use and includes features such as live chat, dynamic lists, forms for lead capture, and email marketing.
How HubSpot CRM works
Users can integrate HubSpot with popular platforms like Microsoft Outlook and Google Workspace to create a centralized location for business communication.
You can organize your activities into categories in the app using different hubs. These hubs include:
Marketing.
Sales.
Service.
Content Management.
Operations.
HubSpot offers a custom SalesHub to help sales teams nurture leads more effectively.
Its features include pipeline management, sales analytics, reporting, account-based marketing, and personalized email communication.
Keap overview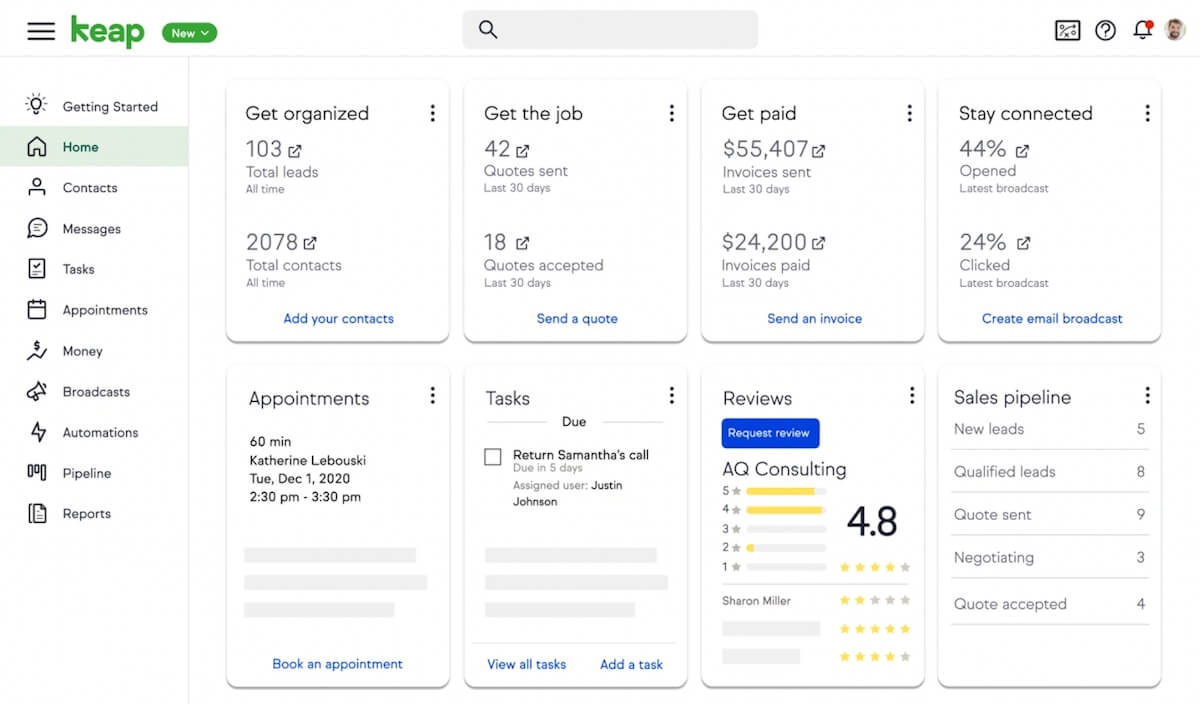 Keap, previously known as Infusionsoft, is a CRM solution that helps small businesses:
Expand sales opportunities.
Automate marketing campaigns.
Manage their payments through a single platform.
How Keap works
Some highlights of this small business CRM include:
A campaign builder to visualize campaigns and tailor customer journeys.
Tags help you organize and search for information about your contacts.
A lead scoring system to segment contacts effectively.
Sales dashboard to manage all your info in one place.
These features ensure that your customers "Keap" on coming back!
Method:CRM overview
Method:CRM is the #1 CRM for small businesses using QuickBooks and Xero that want to combine data from their accounting software with operational business workflows.
The sync of your accounting information with your CRM can save you time on data entry and avoid errors that could be detrimental to your business. It also allows real-time sales tracking to have a full 24/7 scope of your business operations.
Method:CRM allows you to:
Create more positive customer experiences.
Increase team productivity.
Manage workflows with ease.
Track sales operations in real-time.
Create custom document templates for invoices, quotes, purchase orders, etc.
How Method:CRM works
Method:CRM is unique for its pipeline management features, including:
Two-way sync with QuickBooks and Xero.
Unlimited customization.
Workflow automation.
Users enjoy the platform's seamless two-way QuickBooks and Xero sync, but its unique features go well beyond that. Method's CRM solution lets you:
Easily customize your dashboard to exactly how you want to manage your sales pipeline.
Track sales opportunities with lead management, document sales forecasting, sales pipeline management, and customer segmentation features.
Keep leads in Method until they become paying customers to prevent disorganizing your QuickBooks or Xero account with pre-revenue contacts.
Integrate with third-party apps like Gmail, Zapier, and Outlook to increase efficiency.
Use web-to-lead forms on your website to increase sales inquiries.
Comparing HubSpot CRM, Keap, and Method:CRM
All of these CRM solutions have unique approaches to the ways they optimize your business. To have a further look into which option is best for you, check out these resources:
Key features
HubSpot CRM provides contact behavior tracking information to users through the platform's different hubs. Key features include:
Lead capture and customer segmentation through SalesHub.
Reporting, dashboards, and visualizations of analytics.
Customer support through live chat.
Automatic data capture and synchronization.
Primary benefits
HubSpot Academy for how-to courses.
Its free starter plan is cost-effective.
A good first CRM for basic needs.
Limitations
HubSpot CRM is as basic as it gets and could be just what you're looking for at the moment.
To give your business the best opportunity for growth, you will likely want to purchase a more comprehensive CRM system.
Switching CRMs in the future will be a hassle, so keep that in mind when considering HubSpot CRM.
Key features
Text message and SMS marketing.
A/B testing campaign builder.
Customizable dashboard for analytics and reporting.
Drip campaigns.
Primary benefits
Automation of marketing and sales.
Personalized communication with customers.
Intuitive dashboards and visualization reports.
Easy scheduling for marketing communications.
Limitations
Every Keap plan accommodates one user with 500 contacts, regardless of the pricing tier.
As a result, you need to pay more for additional contacts, which may be an issue depending on the needs of your sales team.
Key features
Seamless two-way sync with QuickBooks and Xero.
Automated lead capture.
Multiple self-service payment portals for customers.
Custom reporting and visualizations.
Zapier, Outlook, Gmail, and Google Calendar integrations are available.
Tracking of pipeline and sales.
Primary benefits
Platform with no code and unlimited customizations.
Custom web-to-lead forms.
Personalized templates for emails and financial documents, including invoices, quotes, and bills.
Estimate invoice conversion to optimize time and minimize errors in data entry.
Easy payments through customer self-serve portal feature.
Limitations
You must be a QuickBooks or Xero user to experience the full power of Method:CRM.
Method is also only available in the English language, which may be a problem depending on the needs of your team.
HubSpot CRM pricing
As mentioned above, HubSpot CRM's basic plan is completely free.
However, depending on your business needs and the number of users, prices can get steep quickly. Here's a breakdown of HubSpot's pricing.
Starter Plan at $45 per month with two paid users. This includes live chat, meeting scheduling, documents, and 1-to-1 email communication.
Professional Plan at $450 dollars a month, including five paid users. This includes advanced features like sales analytics, teams, sales automation, record customization, custom reporting, and sales forecasting.
Enterprise Plan at $1200 dollars per month with ten paid users. This includes some customizations like custom objects, hierarchical teams, and sandboxes.
Keap pricing
Keap offers a free 14-day trial option. After that, it remains a more affordable CRM solution, with two pricing options.
The Pro plan at $129 per month. This plan includes 1500 contacts and two users. Additional features are a dedicated phone line and mobile app, in-app support, automated lead capture, email marketing, payments and invoicing, success manager, and text marketing communications.
Max plan at $199 per month. This plan includes 2500 contacts and three users. Additional features include marketing analytics reporting, promo codes, upsells, and all other features listed in the Pro Plan.
Method:CRM pricing
Method:CRM has three pricing options. Each with a free trial, so you can rest assured it's the perfect option before you commit!
Contact Management at $25 dollars per user per month. This plan includes simple lead and customer management to help close deals and drive repeat business.
CRM Pro at 44 dollars per user per month. This version is a powerful QuickBooks CRM to help you simplify your sales process and get paid faster.
CRM Enterprise at $74 dollars per user per month. This option is best suited for growing businesses that want to automate every workflow from sales management to customer service.
See a full feature comparison here.
Who should use HubSpot CRM?
A CRM solution like HubSpot is an excellent option for small businesses looking to start their CRM journey.
As your business grows, HubSpot cannot scale with you while remaining affordable. Consider this when choosing the best option for you.
Who should use Keap?
Are you a small business, entrepreneur, or start-up company? If you answered yes, Keap might be a good fit for you!
Suited for growing businesses, Keap is your all-in-one platform for expanding your customer base and optimizing your sales workflows.
Who should use Method:CRM?
QuickBooks and Xero users looking to automate their operations and customer experience workflows.
To fit perfectly into all your business needs, Method:CRM's DIY unlimited customizations allow you to build the platform in a way that evolves with you as your business grows.
Method's customization capabilities extend beyond a traditional CRM, including sales commission tracking, estimate approvals, purchase history, signature generation, and more!
Bottom line
The three CRM solutions on this list are all excellent options, but depending on your business needs, one option may be better for you than the other. The key is determining what you need from your CRM solution based on your individual business needs.
Kickstart your CRM journey with a free trial of Method:CRM!