Compare Hubspot CRM vs. Jobber. vs. Method:CRM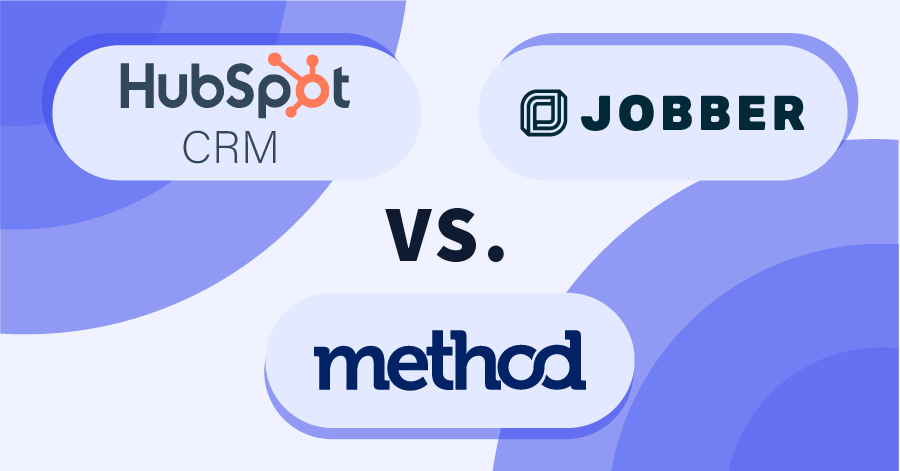 There are many CRMs available, but the most important thing is to choose the one that best compliments your team's needs.
You have a new opportunity for growth when you implement a CRM into your business.
These customer-centric software solutions assist you in recognizing opportunities to build stronger relationships with your customers to increase loyalty and customer retention.
But did you know that CRMs also help with all these aspects of your business?
Managing your sales pipeline.
Automating your workflows.
Storing and organizing customer data.
Increasing team productivity.
Optimizing conversion rates.
A robust CRM solution is the jack of all trades for helping all ends of your business run smoothly.
There are many CRMs available, from HubSpot CRM to Jobber to Method:CRM. But the most important thing is to choose the one that best compliments your team's needs.
HubSpot CRM vs. Jobber vs. Method:CRM
The main difference between HubSpot CRM, Jobber, and Method:CRM is how they simplify your workflows. HubSpot is great for marketing automation, while Jobber specializes in field service management.
On the other hand, Method:CRM is best known for its powerful workflow automation for businesses that use QuickBooks and Xero.
HubSpot CRM overview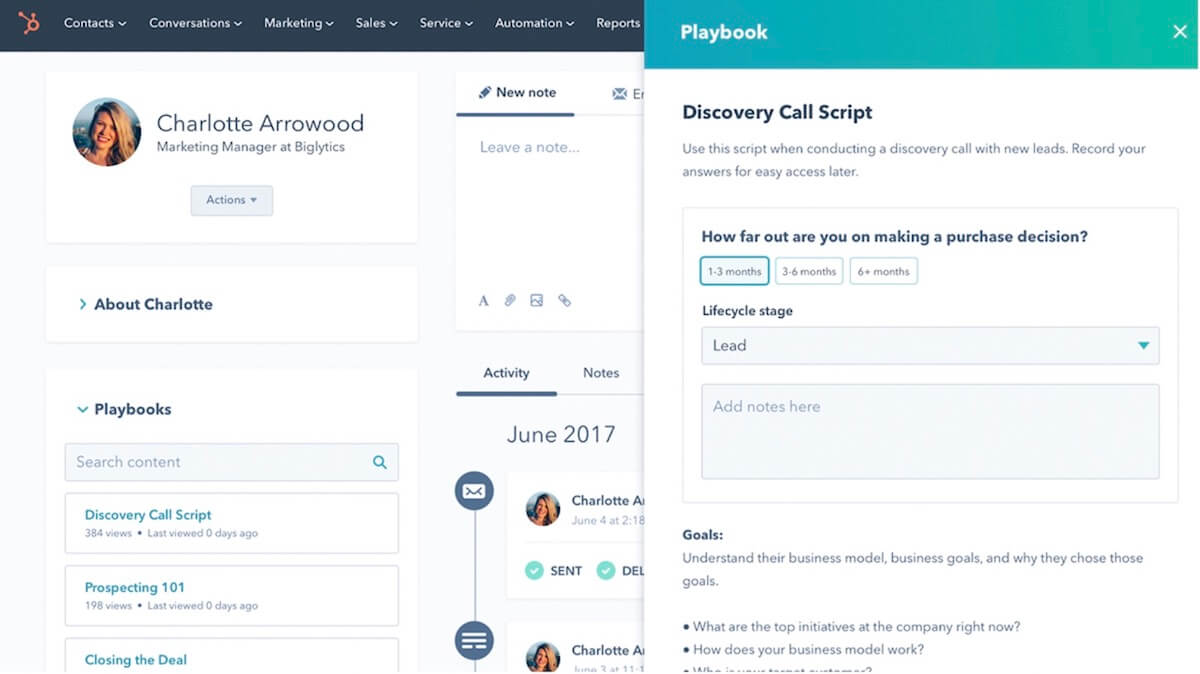 HubSpot CRM is a popular CRM solution, but popularity doesn't mean it's the best fit for your small business.
A free CRM is at the heart of HubSpot's offering.. When used together, these marketing, sales, and customer service hubs give you a cross-functional scope of your business efforts.
By simplifying repetitive tasks, HubSpot CRM frees up time to focus on the essential things, like nurturing customer relationships and improving your customer experience.
How HubSpot CRM works
HubSpot's three main categories, better known as "hubs", include:
Marketing.
Sales.
Service.
Other popular hubs include:
Content Management (CMS Hub).
Operations Hub.
The marketing, sales, and service hubs pair together to create a full-service solution for your team.
The Sales Hub gives your team the tools they need to connect with leads meaningfully.
The Marketing Hub helps you manage your content efforts through an automated content management system (CMS).
The Service Hub contains the tools your customer service team needs to create a more positive client experience.
Jobber overview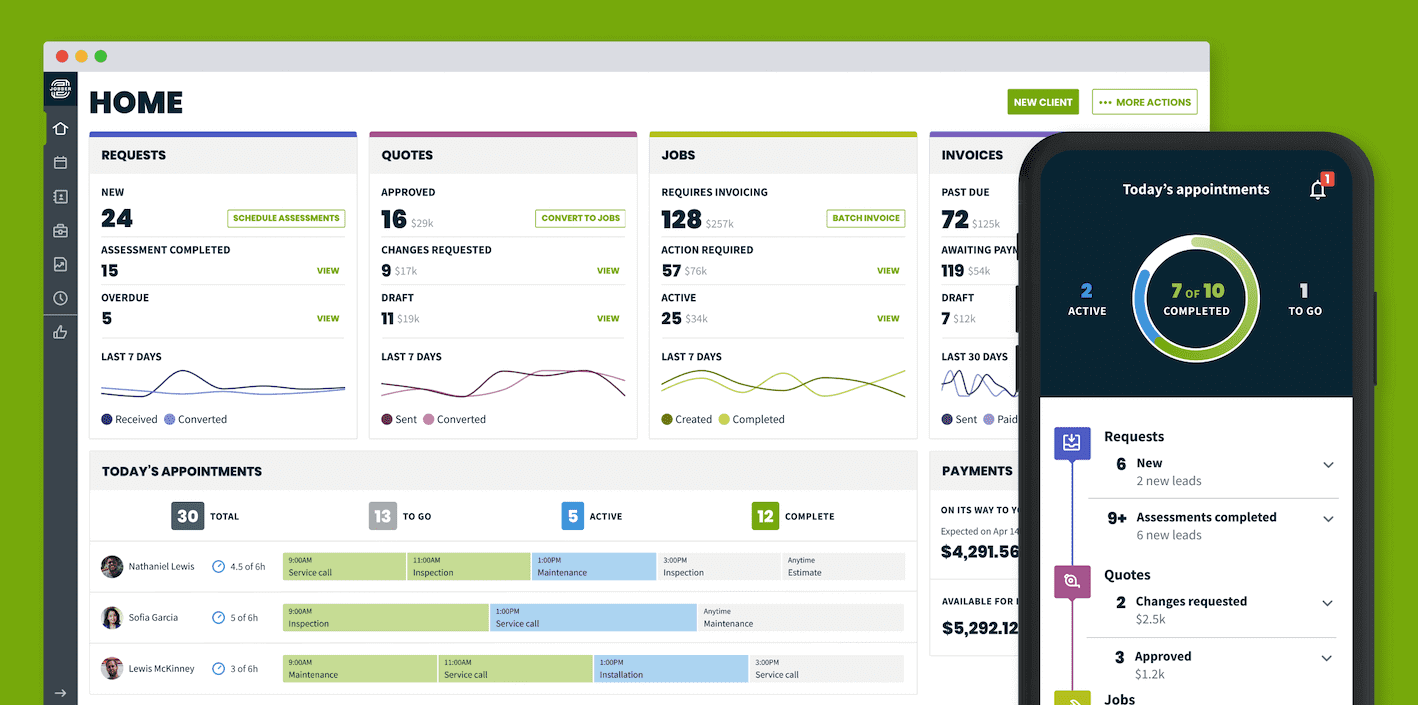 The most significant advantage of Jobber is that it saves time on repetitive tasks such as data entry and logging customer information into your database.
Something that may take up to an hour only takes a couple of minutes in Jobber.
Your client history stays clean with this CRM software so that you can resolve issues faster and keep your clients happy.
Jobber is a relatively affordable small business CRM suited for small to medium-sized field service businesses.
How Jobber works
In one convenient app, Jobber lets your small business manage work orders, invoicing, payments, and staff.
Its Client Manager keeps track of your customer journeys, payment history, and work orders. Plus, it attaches anything from photographs to team reports to your invoices.
Customers can place new orders through Jobber's Client Hub, look over invoices, receive automated assistance, and pay from a single point of access.
Using the user-friendly interface, you can simplify all business processes to make money more quickly and easily.
Method:CRM overview
Adding data from your accounting software to other workflows is easy with Method:CRM, the #1 CRM for small businesses that use QuickBooks and Xero.
But why sync your accounting data into your CRM? By doing this, you reduce the chance of errors when entering data and save time that you would otherwise spend retyping the same information into different platforms.
Additionally, you can track real-time sales, recognize opportunities as they come, and stay informed about your business operations.
Create more impactful customer experiences, increase your team's productivity, automate workflows, and build custom document templates with Method:CRM!
How Method:CRM works
Method:CRM's main advantage is that you can create personalized workflow automation for your team.
Firstly, Method:CRM automates workflows with a two-way sync between QuickBooks and Xero.
As soon as you update data in your accounting software, it automatically updates across Method:CRM and your accounting platform.
This sync ensures the accuracy of your data and eliminates manual entry for your team!
Using Method:CRM, you can log customer details, create estimates, collect payments, and send invoices to your customers.
Comparing HubSpot CRM, Jobber, and Method:CRM
Do you want to see how these CRM solutions match up compared to other options? Check out these other CRM articles:
Key features
Contact management.
Sales dashboard.
Automated data capture.
Team management.
Third-party integrations with Zapier and Microsoft Outlook.
Primary benefits
Email and meeting scheduling.
Mobile optimized campaigns.
HubSpot learning academy.
Cost-effective with a free version!
Easy to use interface.
Limitations
HubSpot falls short of other CRM systems in managing your sales workflows.
Its origin is a marketing-focused tool, so its CRM tools are pretty limited compared to other solutions.
You'll likely outgrow the free version t as your business expands, but it's always a good starting point.
Key features
Automated payments.
Robust scheduling.
Customer relationship management.
Invoicing and follow-ups.
integrations with QuickBooks and Outlook.
Primary benefits
All in one platform.
Automatic follow-ups.
Client hub.
Routing, quoting, and invoicing.
14-day free trial.
Limitations
Jobber can be overwhelming for a first-time user, so you'll need to invest in the proper amount of training for your team.
Key features
Sales team and opportunity management.
Contact management.
Web-to-lead forms.
Custom templates for invoices, quotes, and emails.
Self-service payment portal for customers.
Integrations with QuickBooks, Outlook, Zapier, Google Calendar, etc.
Primary benefits
Unlimited DIY customizations.
No code platform.
Estimate to invoice conversion.
Easy payments through client self-serve portal.
End-to-end workflow automation.
Individual account manager to help satisfy your unique business needs.
Limitations
Method:CRM is only available in the English language. Users also can't experience the full benefits of it without being a QuickBooks or Xero user.
HubSpot CRM pricing
HubSpot CRM starts free with its Starter Plan, but you may outgrow this basic version sooner than you think.
As a result, you'll likely want to consider a suite bundle rather than just the basic CRM version.
HubSpot's Starter Plan CRM Suite bundle starts at $45 per month and includes the:
Marketing Hub.
Sales Hub.
Service Hub.
Content Management System (CMS) Hub.
Operations Hub.
The Professional Plan costs $1600 monthly and includes 2000 marketing contacts and two paid users.
Moreover, the Enterprise Plan will cost $5000 per month with 10,000 marketing contacts and ten paid users.
Jobber pricing
Jobber offers a 14-day free trial. After that, the monthly prices are as follows:
Core Plan at $49 dollars per month for one user. This basic plan allows you to organize your operations all in one place.
Connect Plan: The most popular plan, this version includes seven paid users and allows you to build automated workflows that help your team operate more efficiently. Grow Plan at $299 a month with up to 30 users. This plan includes advanced sales and marketing automation tools to power your business.
Method:CRM pricing
Method:CRM has three pricing options, all with a free trial. Its prices are as follows:
Contact management: $25 per user per month.
CRM Pro: $44 per user per month.
CRM Enterprise: $74 per user per month.
See a full features comparison here.
Who should use HubSpot CRM?
HubSpot CRM is a good option if you're a first-time CRM user with few customers.
However, as you grow, you'll need to upgrade from the Starter Plan at some point so this is something to keep in mind. HubSpot's pricing does get expensive quickly, so it may not be the best fit for you if you're a small business owner.
HubSpot is suited for medium to large businesses with a good amount of money to spend on a CRM solution.
Who should use Jobber?
Jobber is suited for small businesses looking to optimize their workflows and save time on repetitive tasks.
However, its interface can be overwhelming for a first-time user and the price can rack up as there are charges when you exceed a certain number of contacts. Depending on the needs of your business, this may or may not be a fit for you!
Who should use Method:CRM?
For those looking to connect data and workflows across the business, this is the right CRM option for you! Method:CRM has helped thousands of businesses grow, but especially those in the following industries:
Manufacturing.
Wholesale.
Distribution.
Construction.
Field services.
Bottom line
No CRM solution is perfect. But finding a CRM for your business is all about considering what you want out of your solution from the start — only you can decide for yourself.
See if Method:CRM is right for you with your free free trial!