Moving company estimate template: Ultimate guide for businesses

Learn how to create a moving company estimate template that keeps you organized and helps you deliver the best service to your customers.
Whether you're buying a new home or moving into your first apartment, moving is time-consuming and expensive. Because of how pricey moving expenses can get, customers want a detailed and accurate estimate before they commit to your services.
Creating accurate cost estimates benefits your small business as seeing all the costs broken down reveals whether you make a profit or earn less revenue than expected.
You can ensure that you always price the job right and create the best estimate every time by using a moving company estimate template.
Today, you'll learn how to create a moving company estimate template that keeps you organized and helps you deliver the best service to your customers.
How to estimate moving jobs
Estimating the cost of a moving job makes the process of moving simpler for you and your customer. And drawing from our experience, using a moving company estimate template makes creating a template even easier.
But before you deliver the best estimate you can, you must collect all of the relevant information to ensure that your estimate covers all of your bases.
As per our expertise, here are the steps to take to create an accurate moving estimate.
Step 1: Pay your customer a visit
Based on our firsthand experience, simply giving a quote over the phone or online sets you up for the unexpected.
If you rely on your customer to describe their home and amount of belongings, you may show up and see that their description was missing some key points.
For example, your customer may describe their home as being clean and rid of junk. Then, you show up to learn that it is in fact not clear and that there are plenty of obstacles to get by.
You need to visit every potential customer's house so that you know exactly what you're dealing with. Otherwise, you may end up estimating too little, and frustrate your customer later with additional charges.
Step 2: Make an inventory list
When you visit the home, make an inventory list of everything you will be moving.At the very least, your inventory list should include:
Furniture.
Appliances.
Electronic items.
Other large items (e.g., carpets).
Fragile items.
An approximate number of boxes.
Include an inventory sheet with the estimate you give your client. To make things even simpler, you can include an inventory sheet in your moving company estimate template.
Step 3: Decide on a type of estimate
Our research indicates that typically, there are three types of moving estimates:
Binding moving estimate: The price you provide in the estimate must be honored. If anything major changes that are not in the original estimate, such as moving additional items, you can adjust the price.
Non-binding moving estimate: With this option, you can bill up to 110% of the estimated price at the time of delivery, and bill additional charges later. This number is your best guess and your final number is determined by shipment weight and services provided.
Binding-not-to-exceed moving estimate: This is the same as the binding estimate, except if the customer's item weighs less than you estimated, you charge less.
Choose the type of estimate that works best with your business processes and make sure the terms of the estimate are clear.
What to do when movers charge more than estimated
If movers charge more than the initial estimate, customers must pay the remaining balance before any furniture can be released. However, our findings show that there is an upper limit to how much more a moving company can ask for, which is 110% of the original estimate.
Furthermore, based on our observations, most additional charges must be stated before any furniture is loaded onto the vehicle to avoid wasted time, effort, and money. Through our practical knowledge, some of the most common reasons a customer may be charged more than expected are:
Undeclared specialty/fragile items.
Living on a street that can't accommodate a truck.
Force majeure such as rising fuel prices and understaffing on the holidays.
Step 4: Ask about moving dates
Based on our observations, an industry standard is to charge more during busy seasons, which are typically the summer months and holidays. During these times, you can charge twice the average rate.
You should also set a time limit on the quote you give your customer to make sure that the estimate still applies during the right season. To be safe, set the time limit to a maximum of 30 days.
If after 30 days your customer does not make a decision, draw up a new one if they're still interested and make sure to add extra charges to your estimate if applicable.
Step 5: Calculate the weight
Our findings show that most moving companies charge based on the weight of the contents being shipped for long-term moves, and by the hour for local moves.
Charging by volume (cubic feet) is not only illegal in most states, but it's easy to overcharge that way, making it unfair for your customers
Our findings show that the average rate is 50 cents per pound, while the average hourly rate is $25 – 50 per mover.
To give you a better idea of how much a move should cost, here are some average times for local moves.
Studio apartment: 3-5 hours with two movers.
Two-bedroom apartment: 5-7 hours with three movers.
Three-bedroom house: 7-10 hours with four movers.
Depending on the items being moved, homes that are over 5,000 square feet can cost as much as $2,000.
Step 6: Factor in distance
As you can guess, long-distance moves cost more. Here are some average starting costs for moves that are over 1,000 miles.
Studio apartment: $1,500.
One or two-bedroom apartment: $1,800-2,500.
Two-bedroom home: $3,500-4,200.
These are minimums to get you started. When creating your estimate, you should factor in distance and any other additional costs to get to a fair price.
Step 7: Factor in additional costs
You should have an idea of additional costs after you visit your customer's home, but there are other optional costs that you may need to talk to your customer about.
Make sure you detail every additional cost in your estimate so that your customer has the entire picture.
Based on our observations, some typical additional costs for professional moving services include:
Stairs.
Packing services.
Large and heavy items.
Delicate items.
Insurance options.
You can add these costs as line items in your moving company estimate template to avoid forgetting any extra costs.
Moving estimate terms you need to know

Image credit: RODNAE Productions via Pexels
Drawing from our experience, keeping up to date with the newest terms is key to success in any industry, and moving services is no exception.
There are so many options when it comes to the services you can offer as a moving company, and knowing the important terms of the trade will help you navigate the industry and choose the offerings that are best for your business.
Through our practical knowledge, here are some industry terms that every professional mover needs to know.
Bill of lading (BOL)
A bill of lading (BOL) is a legally binding document that outlines all of the important details of the move, from the shipping date to the list of items loaded onto the moving truck.
It is crucial that all parties involved have a copy of this document, as it serves as a receipt of a customer's agreement with you
Carrier packed (CP)

Image credit: RODNAE Productions via Pexels
"CP" stands for carrier packed. This term is only relevant if your moving business offers packing services as well.
When you pack a box for the customer, it will be noted as "CP" on an inventory sheet.
Cash on delivery (COD)
Cash on delivery (COD) is a form of payment where the customer must pay you for your services at the time of delivery to their new location.
Cube sheet
A cube sheet, also known as an estimated inventory, is a list of household goods and the amount of space (in cubic feet) they occupy in a truck. But remember, you shouldn't charge by cubic feet.
Once you figure out the cubic feet, you then convert it into weight and use that number to determine the moving estimate.
Flight charge
Based on our observations, stairs can be a mover's worst nightmare. Not only is carrying heavy items up and down stairs physically demanding and strategic, but it can also be dangerous.
A flight charge is an additional fee for you to carry items up or down one or more flights of stairs. Make sure you discuss with your client early on whether or not a flight charge will apply to their estimate.
Inventory
As discussed earlier, inventory is a detailed list of the items you will be moving for your customer.
You should not only list the items in your inventory list, but you should also describe their condition. This avoids you from getting blamed for pre-existing damage on items after the move.
Packed by owner (PBO)

Image credit: RODNAE Productions via Pexels
"PBO" stands for packed by owner.
If your customer chooses to pack some of their own boxes, be sure to differentiate them from the ones you packed (CP).
Preferred arrival date (PAD)
The preferred arrival date is simply the date a customer requests for delivery.
It is important that you discuss this date early on and both agree that it works for the delivery of the items. You don't want to show up for delivery only to learn that your customer is having carpet installed in their new home at the same time.
So instead, include this date in your estimate.
Standard coverage
Our investigation demonstrated that as a professional mover, you must legally include a free minimum amount of insurance for your customer's goods. Standard coverage is usually no more than 60 cents per pound of damaged goods.
This isn't the best insurance coverage for your customer, as weight generally doesn't describe how expensive an item is.
Discuss insurance options with your customer beforehand and consider offering additional insurance to cover higher-value items.
Estimating moving costs for short distances (Intrastate)
Local moves, which is typically any move within 50 miles, cost an average total of $1,250 for a two or three-bedroom home with approximately 7,500 pounds of items.
Our research indicates that a local move can be charged by weight or based on a standard hourly rate based on the number of workers required to complete the move.
Another option is to charge a flat rate based on the estimated number of moving hours multiplied by an hourly labor rate. However, this method may not give you the most accurate estimate, requiring you to consider additional expenses later.
Drawing from our experience, using a moving company estimate template allows you to easily plug in your hourly rate and estimated number of hours to get a quick estimate every time.
Estimating moving costs for long distances (Interstate)
Long distance moves are usually described as moves from one state to another, but if you live in a large state, you may want to charge higher rates for a move that is beyond 50 miles.
Our findings show that the average cost for a 1,000 mile long distance move is $4,890 for a two or three-bedroom house with 7,500 pounds of item weight.
Unlike local moves, you should always determine the price of long-distance moves by weight. Be sure to factor in any other applicable costs to your estimate, such as:
Distance traveled.
Labor costs.
Packing services.
Insurance.
Junk removal (if offered).
You can list these factors off in your estimate, or have their costs already factored into your rate per pound. As per our expertise, with a moving company estimate template, you can plug in this rate to get a final estimate.
Most expensive moving companies
Based on our observations, many expensive moving companies currently operate in the United States, and they're often some of the best you can find.
Some movers are full-service, meaning they pack and move, while others offer comprehensive insurance plans for safety and peace of mind.
Our research indicates that are some of the most expensive moving companies out there right now:
Allied Van Lines: This service offers generous insurance plans, lenient cancellation terms, and in-house storage and containers.
International Van Lines: This option has one of the most flexible cancellation policies on the market, although customers need to make a deposit before any services are rendered.
Mayflower Transit: This unique service usually handles military equipment, so they can easily transport specialty goods and weapon safes.
Bekins Van Lines: Bekins does everything from managing your move to getting furniture from point A to point B. However, their insurance policies are very limited.
American Van Lines: This is the commercial mover's best option. American Van Lines also specializes in moving valuables like jewelry, statues, and other large precious items.
Colonial Van Lines: This option is one of the best in the business for long-distance moves. However, they don't accept moving jobs under a specific distance requirement.
Moving company inventory sheet
Through our practical knowledge, moving company inventory sheets are essential because they ensure that everything is accounted for. These premade lists contain everyday household items and furnishings but also have some space for additional articles and quantities.
Here's a sample inventory sheet (without quantity columns) to give you an idea of what needs to be included:
Room
Bedrooms
Bathrooms
Kitchen/Dining
Hallways
Laundry
Items
Mattress
Bed Frame
Dresser
Lamps
Closets
Cabinets
Mirrors
Wall shelving
Kitchen tables
Dining tables
Appliances
Cabinets
Benches
Chests
Hallway tables
Dryers
Hampers
Ironing boards
Washing machines
Moving company estimate FAQ
What is a moving estimate?
An accurate moving estimate benefits both you and your customer. A moving estimate provides transparency and helps you determine several factors related to a job, including:
How many workers you need.
The necessary equipment .
Possible challenges.
Ensuring that you are bringing profits with every job.
For your customer, a moving estimate gives them a breakdown of all costs and helps them better understand the process of their move. Having a moving company estimate template helps you avoid creating a new estimate from scratch for each new customer. What's great is that with a moving company estimate template, you can spend time doing more meaningful work and growing your business.
If you don't see the download form, download template here.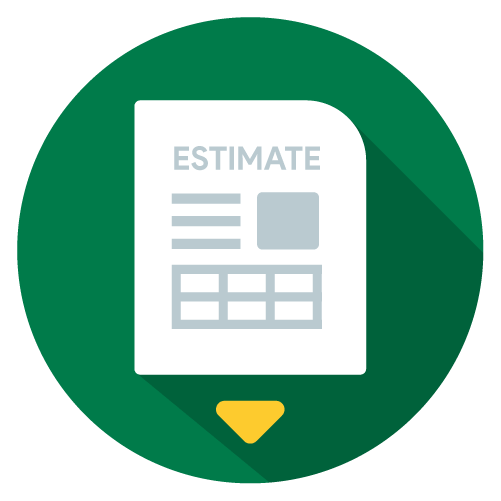 How long does it take to create a moving estimate?
The time it takes you to create a moving estimate for your customer depends on the size of their home and the amount of stuff they have to move.
Before you attempt to create an estimate, you must visit the home you will be gathering the items from to assess the circumstances of the move.
If you use a moving company estimate template, you avoid having to do a lot of the repetitive work and just need to fill it in. With a template, you can create an estimate in as little as 45 minutes.
Our findings show regardless of how you create your estimate, you should deliver it to your customer within a few days of your initial visit.
Are interstate moves based on cubic feet illegal?
No, interstate moves with estimates based on a moving truck or living area's cubic footage are not necessarily illegal, despite them being the less popular option for many companies.
A move's legality depends on the information listed on its tariff or tax. For example, if your selected moving company's tax information allows for weight-based charging but not size-based, then it would be illegal for them to bill you for cubic footage. The opposite is also true.
That said, the proper provisions in a service provider's tariff are not the only requirements. Instead, here are some of the factors customers need to watch out for:
Moving estimates based on cubic footage must be binding.
The moving company must explicitly state within the binding estimate that they're charging based on cubic feet.
These estimates must be supported by accurate measurements of the actual space. That means movers must physically measure a space before giving an estimate.
On top of charging a customer based on cubic footage, moving companies may also ask for additional payments for accurate estimates.
So, if you find a moving company offering "free and accurate estimates" without coming to see your house, you may be dealing with false advertising.
How to quote a moving job?
To quote a moving job, service providers must consider all the factors of their work contract. Here's how to draw up an accurate estimate, in chronological order:
Visit the customer's house: Examine the customer's home to build a more accurate picture of what you'll need to work with. This will avoid any confusion about fees and keep customers from feeling overcharged.
Make an inventory list: Make a list of all furniture, including the smaller ones. This way, you'll have an itemized matrix for accountability and insurance while providing accurate quotes.
Choose the estimate type: Decide whether you will provide binding moving estimates, non-binding moving estimates, or binding (not to exceed) estimates.
Plot the moving date: Consider charging more if the customer's desired moving date is during the holidays or other busy times of the year.
Charge based on weight or size: Charge the customer for the total weight of their furniture or the property size based on the provisions in your tariff.
Consider the move's distance: Charge more money for further moving distances.
How do you evaluate moving companies?
Evaluating moving companies is reasonably straightforward once you understand what you should be looking for.
Here are a few things customers look into before signing a contract or putting any money on the table.
Check reviews: Reviews are an excellent resource when vetting moving companies for the first time. They usually represent the happiest and unhappiest customers, so you'll have a fairly balanced idea of what to expect.
Ask people you know: If you know anyone who's used a specific moving company, it's best to ask them directly. After all, they may have insights people don't normally write about online.
Confirm the moving company's license: Many moving companies may seem legitimate, but some lack the proper legal documentation to operate. Be sure to check with the Department of Transportation for inter-state movers, and local government arms for in-state movers.
Inquire about insurance policies: If a moving company can offer reliable insurance policies that are easy to make claims on, then they're likely well-established and in good standing with local governing bodies.
Look for rate transparency: If a moving company has no issues giving you "accurate quotes" on the phone or through email, that's a red flag. Instead, opt to work with moving companies that only provide quotes after seeing your home or apartment.
Wrap up: The point of estimates in the moving industry
For some, hiring a moving company seems like the most expensive way to move.
What these people don't realize is that you save time, effort, and stress when using professional movers. And the value of your work is best demonstrated to your customer by providing a detailed moving company estimate.
An estimate outlines all the costs of the move so that you can thoroughly plan your expenses while keeping your customer in the loop.
Using a moving company estimate template makes this process easy and saves you time so that you can find more opportunities to bring revenue to your business.
Image credit: Dragonimages via AdobeStock