Free landscaping estimate template

Using a landscaping estimate template improves the accuracy of your customer quotes and results in happier clients.
A job well done and a landscape estimate price that matches the final bill are both keys to getting repeat customers. Using a landscaping estimate template improves the accuracy of your customer quotes and results in happier clients.
A landscaping estimate cost that accounts not just for materials and labor but for your overhead expenses and markup ensures that you run a profitable landscaping business.
So, a landscaping estimate template helps you consistently deliver accurate invoices — a win for you and your customers.
How to estimate landscaping jobs
Correctly estimating a landscaping project can be a lot harder than it sounds.
According to Total Landscape Care, landscaping businesses only make a profit on approximately 60% of the jobs they take. On the remaining 40% of work, about half break-even and the other half are losses.
Green Industry Pros estimates that at least 20% of a landscaper's sales are needed for overhead. So, before you create a landscaping estimate template or even start pricing landscaping jobs, you need to know the average landscaping price and how much it costs to run your business.
To do this, add up all of your monthly business expenses like your:
Rent/lease/mortgage.
Vehicle expenses — gas, insurance, maintenance costs, etc.
Cell phones and office supplies.
Advertising, utilities, and administrative expenses.
Landscape quoting software.
Personal salary and time that goes into sharing free landscaping estimates.
You then divide the total by the number of weeks in a month (4) and the number of hours you work in a week. So if, for example, your overhead expenses are $5,000 per month and you work 50 hours in a week, your hourly overhead costs are:
$5,000 / 4 weeks = $1,250 per week / 50 hours = $25 / hour
Using this example, your average landscaping cost per hour would have to be at least $25/hour to cover your operating costs. But don't forget you still need to factor in your materials and labor costs on top of this rate. More on that below.
To run a profitable business, however, you also need to add a markup. Lawn and Landscape, a leading industry publication, recommends that landscapers aim for 10 – 20% profit margins. Ultimately, your ceiling is what the market will pay for landscaping work in your area.
The reason for breaking down overhead into an hourly cost is that you can add this amount to your hourly average labor cost for landscaping.
There are other methods and factors landscapers use to estimate labor costs, such as those for tree trimming work, so let's take a closer look at them.
By the size of the landscape
Quoting landscaping jobs by size is common among landscapers — making "How much does landscaping cost per square foot?" a common question in the industry.
This is typically done by the acre or by square footage and the total area is usually included in the landscaping estimate template.
Some landscapers may give customers a cost-per-square-foot or cost-per-acre discount for larger properties.
With bigger landscaping projects, your overhead costs decrease slightly as you spend less on gas and do not lose time traveling to another job site. However, it's important to always keep an eye on your operating costs and not get caught up in making the sale.
On the other hand, smaller landscaping areas not only mean smaller jobs but may also mean a smaller and harder-to-access workspace. For example, if you don't have the space to drive a Bobcat into the backyard, you'll have to excavate by hand, resulting in more time and work.
Landscaping costs per acre
You can usually charge between $2,000 and $4,000 per acre for basic lawn mowing and maintenance because larger landscaping work generally requires less detail.
You can even set discounts for multiple acres to keep the client coming back and encourage larger projects.
That said, some clients may require more detailed work even for large yards. Perhaps they need you to maintain their gardens and walkways, or their yards have obstacles like fountains and trees. In these cases, you can charge up to $10,000 per acre for the extra work.
To set a per acre rate for your landscaping work, consider these things:
Job complexity: You can charge less for simple work like lawn mowing and general maintenance.
Property size: Naturally, you should charge more for larger yards and lawns.
Terrain and layout: Hilly yards with lots of trees and decorative elements tend to be harder to landscape, so you can charge more for projects that involve these.
By the type of landscape job

Image credit: Karolina Grabowska via Pexels
This factor has the biggest influence on the final price and, therefore, how you estimate a landscaping job. Landscaping work generally falls into one of four categories:
Maintenance landscaping — examples include lawn aeration, pest control, fertilization, and tree stump removal.
Softscaping — this usually refers to landscaping by planting or maintaining plants, trees, shrubs, grass, etc.
Hardscaping — refers to landscaping that doesn't involve plant life, such as building decks, patios, walkways, and retaining walls.
Xeriscaping — is a landscaping project that aims to reduce water usage. This can be done by installing water-efficient irrigation systems, artificial turf, or landscaping stones.
The type of landscaping work being done will determine the:
Amount of time it takes to finish the job.
Material costs.
Degree of difficulty and whether specialists and equipment are needed.
Landscaping cost per hour.
The more complicated the work and the more expertise needed, the higher your average cost of landscaping per hour will be.
For example, your lawn mowing price will not equal the cost to install a lawn irrigation system regardless of whether you charge by the hour, the square foot, or the job.
Determine your labor costs
Whether you do landscaping work yourself or not, you may also be paying office staff and a landscaping team. While your office team's wages won't be included in a landscaping estimate template, they should be considered part of your overhead.
Landscaping workers and subcontractors, on the other hand, are usually paid by the hour based on an individual's skill level. Their rates and hours are included in landscaping estimate templates to ensure transparency and build customer trust.
To create a helpful labor estimate template, you need to know how much time and how many workers are required to complete each type of job.
Remember to add payroll taxes, benefits, and insurance, if applicable, to the labor costs in your landscaping estimate template.
This U.S. Bureau of Labor Statistics page has information on how much the average American landscaper earns. The most current numbers show that the national average for landscaping and groundskeeping workers is around $16.00/hr.
However, the numbers vary depending on which state you're in, so it's worth validating your area's average.
Landscapers make more in areas with higher costs of living which usually translates to higher landscaping prices for customers in these areas as well.
Consider your material costs
Having a good wholesaler is just as important as having a skilled landscaping team.
If you can get your cost of materials down, you can balance your markup between your labor charges and what you bill for materials to get you to a 10-20% profit.
These average price of landscaping materials and supplies were found on HomeGuide.com and are what customers pay for them today:
| | |
| --- | --- |
| Landscaping material | Average cost |
| Boulders | $150/ton |
| Composting | $25 – 33/yard |
| Grass pavers | $3 – 10/sq. ft. |
| Floodlights | $200 – 500/light |
| Landscape gravel | $20 – 30/sq. ft. |
| Landscape timbers | $5 – 7/linear ft. |
| Landscaping rocks | $0.05 – 0.30/lb |
| Lawn turf | $5 – 20/sq. ft. |
| Retaining wall | $15 – 20/sq. ft. |
Pro-tip: If these figures make your head-spin, it's probably best to automate your calculation process with estimating software for landscapers.
Don't forget about the value of your equipment
Image credit: Gary Barnes via Pexels
Your landscaping estimate template will include costs for any equipment that needs to be rented. But what about the equipment you do own?
A good rule of thumb is to charge about what it would cost you per day to rent your tools and equipment. This way, you're not paying out-of-pocket to repair or replace them.
If you're leasing or financing heavy landscaping equipment, any interest you pay should also be factored into this cost.
How much do landscapers charge per hour?
According to fixr.com, the national average for landscaping work is between $50 – 100/hr. These prices per hour are strictly the labor cost and the price range reflects the wide range of services that landscapers provide.
With job pricing affected by region, it's smart to look at what competitors in your local area charge for landscaping labor rates and adjust your landscaping estimates as needed.
How much is landscaping cost per square foot?
Here are some common landscaping jobs and the national average cost of landscaping per square foot according to Thumbtack.com:
| | |
| --- | --- |
| Artificial grass installation | $7 – 15/sq. ft. |
| Concrete patio build | $6 – 17/sq. ft. |
| Deck construction | $12 – 40/sq. ft. |
| Driveway paving | $1.25 – 15/sq. ft. |
| Fencing | $13 – 50/sq. ft. |
| Sodding | $0.30 – 0.80/sq. ft. |
Depending on the scope of the job, you may want to determine your landscaping cost per acre vs. square foot.
How much does a landscaper cost per month?
On average, landscapers cost around $700 per month. However, you can charge some customers up to $7,000 monthly.
Some factors that influence monthly landscaper costs include:
Material costs: If the job involves materials like boulders, rocks, and gravel, then costs may sharply increase.
Lawn size: Larger lawns require more work, which means the job will cost more.
Landscaping project type: Simpler projects like lawn mowing and tree trimming tend to be cheaper compared to larger undertakings like water fountain installations.
How much do landscaping projects cost by the job?
Here are some sample price ranges for popular landscaping jobs:
Lawn fertilization: $40 – 140.
Stump removal: $200 – 700.
Tree planting: $150 – 300.
Sod installation: $2,000 – 5,000.
Mulching: $150 – 400.
Landscape curbing; $1,200 – 2,000.
How to price landscaping jobs
If you underprice your work, then you may not even cover the costs of doing them. Conversely, if you overprice your work, people may not come to you in the first place. Learning how to price landscaping jobs is an integral part of the business.
Pricing landscaping jobs is a balancing act. You need to set a price that doesn't turn away clients but also gives you a large enough profit margin to survive and thrive.
Here is a quick guide on how to set the best landscaping prices:
Understand the entire scope of work: Before starting, ask questions about where the site is, yard size, existing assets, time constraints, and other details about the job.
Calculate labor costs: Once you have a good idea of how complex the job is, estimate the labor hours and multiply it by your labor costs.
Estimate material expenses: Create a list of materials needed. Then, add all of them to come up with the total material costs.
Take overhead fees into account: Factor in operating costs like building rent, utilities, and other bills in your calculations.
Add them up to your total cost: Add the figures from all of the above elements to get your total cost.
Incorporate a profit margin: Finally, set a desired profit margin and mark up your total cost accordingly. This final number is the amount you'll give to the client.
Tips for creating an accurate landscape estimate and template
While price breakdowns for materials and labor costs are the areas of landscaping estimates that your potential client will focus on, other information is important to include.
The basic sections that should be on your landscaping estimate template include:
Your company name, logo, and contact information.
An estimate date and number.
The customer's address and phone number.
Projected timeline for job completion.
Keep reading for a deep dive into the:
Crucial sections for a stellar landscaping estimate template.
Answer to "How much should I charge for landscaping work?".
Tips on how to get automated estimates for commercial landscaping.
Outline the exact services being completed
When you arrive at a potential customer's property for the first time, it's important to ask plenty of questions while you inspect their current landscaping together.
Finding out why they want to get a project done can uncover which services may be better suited to meet their goals. It's also crucial to know their expectations before making recommendations and agreeing on the work to be done.
Finally, during the inspection, you can let the potential customer know of any critical issues you feel are a priority.
When you've agreed on the scope of the landscaping project, you should also be on the same page about how and when it will be completed.
For example, if a potential customer wants an estimate for snow removal, your service's start and end dates need to be on the estimate.
All the information in your estimate must also be included in the contract if you're asked to do extra work or there is a disagreement on another aspect of the job.
Discuss and include terms and conditions of the estimate
Add this section to your template to clarify that what you are providing is only an estimate and not a contract for services.
You may want to include a disclaimer about material and labor costs or an expiry date on the prices in your estimate. This protects you if prices change between when you provided the estimate and when the customer contracts your services.
Identify and factor in your project risks
You may decide to include this information in the terms and conditions of the estimate.
Identifying risks that could delay the landscaping project and increase the costs can help protect you from unforeseen circumstances.
Possible delays can include bad weather, injuries, and conditions beneath the soil that wasn't visible during the site inspection.
Now that you have an overview of how to accurately price jobs and become a profitable landscaping business, it's time to put it to use in a landscape estimate template.
How to create a landscaping estimate template
It is possible to create a landscape estimate template using a customizable spreadsheet that automatically calculates all of the estimate costs. But one of the best ways to create a template is to use landscaping estimate software.
By creating a template in a program designed for field services businesses like landscapers, you streamline your office and landscaping operations by eliminating double data entry and the mistakes it can cause.
The best landscape estimate software takes the information you enter in the estimate template fields and imports it into a contract for services for a quick turnaround.
Better yet, field service software makes billing easy by converting your estimates to invoices in just a few clicks.
On top of this, the right tool will highlight:
How to get automated material estimates for landscaping.
How to get automated time estimates for landscaping.
How to get commercial landscaping estimates automatically.
Free! Landscape pricing sheet and estimate template
Here is an easy-to-customize spreadsheet that you can use as a landscaping estimate template.
Pro-tip: To take your template to the next level, import it into your landscaping quoting software!
If you don't see the download form, download template here.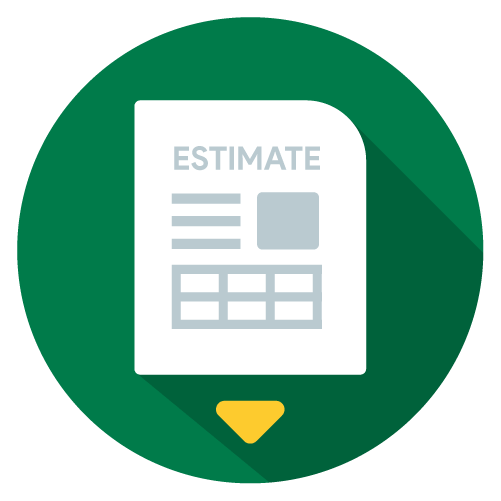 Landscaping maintenance estimating software
Estimating prices for landscaping maintenance isn't easy, many software options do the heavy lifting for you.
Field service software like Method:Field Services allows you to quickly create job estimates and share them with clients instantly for approval.
Moreover, your landscaping maintenance estimating software may even have mobile apps, so your landscaping technicians can make estimates while they're still with the client.
These estimates can then be instantly converted into invoices, allowing your team to get paid quicker.
Top landscaping estimate FAQs
Click on the links below for the answers to these top landscaping FAQs:
Is there a landscape cost estimate sheet?
This is the basic information that should be included in your landscaping cost estimates and your template:
Your company's logo and contact information.
Customer details.
Instructions and a detailed description of the work to be done.
The materials to be used and their costs.
Labor fees, how they are being billed, and a total of all costs.
Warranties, job timeline, terms and conditions, and expiration date of the landscaping estimate.
How do you format a landscaping estimate template?
How you format a landscape estimate will depend on the services you offer and personal preferences.
Say, for example, you offer pricing by the hour, by the square foot, and by the job. You may want to use a drop-down menu that has all three options in the labor cost field of your template.

How much does landscaping cost per square foot?
On average, landscaping services cost $4 to $12 per square foot. However, this figure is only for basic landscaping services. More advanced lawn makeovers may cost up to $40 per square foot.
When totaled, a landscaping job can cost clients anywhere from $50 for basic lawn mowing and care jobs to $7,000 for advanced, labor-intensive complex jobs.
Several factors influence landscaping costs:
Client location: Where the clients want landscaping services can affect the total cost. Backyard landscaping is usually more expensive because clients usually want more work, while front yards tend to be cheaper because the work is simpler.
Project type: Naturally, what you're expected to do will affect what you should charge. Simple lawn mowing and maintenance will cost less, while elaborate landscaping like installing water features and gazebos will cost more.
Client yard size: Depending on the yard size, you can charge by the square foot or by the acre. You can profit from large yards by charging by the acre because it's cheaper to stay and service one place, especially when you compare it to the time, effort, and expense of servicing multiple, smaller clients.
Yard layout and terrain: Some yards may have hilly terrain or obstacles and objects (e.g. trees or structures) that make them more challenging to work on. More complicated yards will need more labor hours and thus cost more to work on.
How much do landscapers make per hour?
American landscapers make $15 per hour on average. That said, a landscaper's hourly wages can range from $8 per hour to $22 per hour, based on their area, skill level, and experience in landscaping.
Landscapers in Washington, D.C. are the most well-paid in the country, with an average hourly wage of $18.50.
This means they bring home an annual salary of $38,490. Meanwhile, Puerto Rican landscapers are among the lowest-paid, with an hourly average wage of $9.84 for a total annual salary of $20,470.
If you're looking for the best places to become a landscaper, you may want to consider areas like Martha's Vineyard and Nantucket Island, where landscapers can earn up to $52,000 a year. You can earn up to $44,000 annually in other high-value areas like Southeast Alaska and San Francisco.
However, keep in mind that high-paying metropolitan areas tend to have stiff competition among landscapers.
California boasts almost 107,000 landscaping businesses, with 32,000 in the Los Angeles area alone. Conversely, areas like Alaska and Washington D.C. have less than 1,000 landscaping businesses.

Why do landscape contractors use automated estimating?
Landscape contractors use automated estimating to save time and money. By creating estimates faster, they can get jobs approved, get to work, and get paid quicker.
Here are more reasons why landscapers like using automated estimating software:
Automated estimating software saves time: Automated estimating software eliminates the inefficiencies of using manual tools to calculate a job estimate. This way, you can reliably create estimates within minutes instead of hours.
Estimating software prevents errors: We're all prone to human error. Automated estimating software allows you to create accurate and professional-looking estimates in a few clicks. This prevents conflict and confusion with the client while ensuring you get paid what you deserve.
Automated estimating makes them more competitive: You're likely not the only landscaping business in town. Coming up with faster estimates means you stand a better chance of gaining a client's business. You can get your estimate approved before another company even has a chance to send theirs!
Image credit: Tomasz Zajda via AdobeStock