How to give a house cleaning estimate: House cleaning estimate form

House cleaning is a valuable service that is, unfortunately, often underappreciated.
As a cleaning professional, your customers recognize that the way you clean their house cannot be replicated. You have tools, products, and methods that have your customers thinking you work miracles (and sometimes you do!).
If you operate your own house cleaning business, you know that before you can schedule a cleaning for a new customer, you need to provide them with an estimate. Based on our firsthand experience, having a house cleaning estimate form ready to go will make creating each new estimate a smooth process.
In this pricing guide, you'll learn how to create your own customized house cleaning estimate form, as well as how to estimate all of your house cleaning jobs to continue the growth of your business.
Consider creating a house cleaning price list
Having a house cleaning estimate form will help you figure out how much a particular job will cost. However, before creating one, you should have an idea of how much you should be charging for your services and give your customers an idea of your prices.
Our research indicates that the average cost of house cleaning ranges from $90 – $150, with the national hourly rate being $25 to $90 per cleaner.
As a house cleaning business, the type of residence you most commonly encounter is single-family homes. Our investigation demonstrated that you should expect a 2,000 square foot single-family home to take a minimum of two hours to clean, and that you should charge about $140 – $190 in total for that job.
Remember that these prices are averages, so you may find that they don't work for your business. The prices you set will depend on the going rate for cleaning services in your area, so check out your competition's prices to get a better idea of the local average.
By creating a house cleaning price list that your customers can view on your website, they'll already have an idea of how much you charge. Just be sure to specify that prices may vary based on other factors such as market demand and supply costs.
Once you've figured out your general prices, you can start thinking about creating your house cleaning estimate form.
What is a cleaning business estimate form?
A house cleaning estimate is a form you give to a potential customer with a quote and breakdown of the services you'll provide.
If you have a house cleaning estimate form, you can easily fill it in whenever you have a new customer, or you can put it on your website for a potential customer to fill out themselves to get an idea of how much your services will cost.
Through our practical knowledge, having a template to create your estimates saves you time and gives you a process to get the most accurate estimate every time.
Be aware that a house cleaning estimate form on your landing page will serve more as a marketing tool than a way to present an accurate estimate.
As per our expertise, you should always follow up with a potential customer who fills out the form on your website to give them a more detailed estimate.
Let's talk about how to create a house cleaning estimate form to give your customers the most accurate estimate possible.
How to create a house cleaning estimate form
Creating a house cleaning estimate form allows you to present accurate estimates to each new customer.
Drawing from our experience, there are a number of ways that you can go about creating estimates, and it can be hard to know where to start. We've outlined some steps to guide you through the initial process.
Select a template format
You have several options when it comes to creating your estimate templates, including the format in which you make them.
You can create a house clean estimate form using:
A free spreadsheet template in Excel or Google Sheets.
Estimating software such as Method.
Pen and paper.
These options all have their benefits, so what you choose depends on how you want your template to look.
No matter what format you choose to have your house cleaning estimate in, make sure that it is customizable.
Customize the form with your details
If you make your house cleaning estimate template from scratch using Excel or any other software, you'll be able to tailor it to your business needs from the beginning.
If you download a free house cleaning estimate form, your first step should be to customize it for your business and your prices.
Add your business information
Make sure to add the following information to your template:
Business name.
Business address (if applicable).
Phone number and email address.
Any other relevant information.
Brand your estimate with your business logo
If you have a business logo, add it to all of your estimates.
If you don't have a business logo, you should consider creating one. As indicated by our tests, logos give you a brand identity that gets your business more recognition in the market. A logo draws potential customers in and helps differentiate you from your competition.
Description of service
Make sure that you add the estimate number and describe the services you are providing to your customer in your house cleaning estimate form.
Having this information in your estimate ensures that you and your customer are on the same page from the beginning.
Detailed costs list
A pro-tip when it comes to creating house cleaning estimates forms is to avoid only presenting the total cost of the job in your estimate. Here's why.
Let's say, for example, that you perform multiple cleaning services in one visit. In this scenario, you should include a detailed list of how much each service will cost. Doing this demonstrates transparency and allows your customer to understand why they are being charged the amount you quote them. The same applies to jobs that require multiple house cleaning visits.
Now that you're familiar with this best practice, let's talk about how to actually estimate the cost of a job.
How to estimate house cleaning jobs
Estimating house cleaning jobs is the best way to ensure that you make a profit at each job. However, this is only true if you're creating accurate estimates.
An inaccurate estimate may upset your customer when you end up telling them they have to pay more than initially outlined. Based on our firsthand experience, this can result in you losing a customer and your business losing revenue. What's worse is that your business' reputation can suffer as a result too.
To avoid the above, it's best to create estimates that are precise and close to the price your customer ends up paying.
Estimate prices, of course, depend on the type of job, the way you complete the work, and your customer's circumstances. For example, cleaning a home that is currently lived in will require different tasks than a house that has been recently vacated.
Follow these steps to get your estimate right every time.
Step 1: Visit your customer's home
We determined through our tests that it's possible to give a home cleaning estimate over the phone, but it definitely won't be as accurate as it would be if you saw the home first.
Your customer may not have enough knowledge about house cleaning to give you an accurate description of what needs to be done. Drawing from our experience, you'll also have those customers who purposely leave out details of the work in hopes of lowballing your services.
Before you give your new customer a quote, it's best to visit their home to ensure that you know what the house looks like, exactly what you'll be cleaning, and to start developing your game plan.
Here are some examples of questions to ask when walking through a customer's home that may end up being additional cleaning tasks:
Step 2: Estimate time required
Once you see the house, you should have a rough estimate of how much time it will take you to complete the job.
Our research indicates that, as a general rule of thumb, 1,000 square feet of a house should take about 1.5 hours to clean. However, this could vary based on the type of cleaning required.
If a job requires more than a standard cleaning, you need to factor in additional costs. This is especially true for jobs that require deep cleaning.
Additional cleaning costs include:
Cleaning damaged areas.
Areas requiring specialized products.
Washing and folding laundry.
Deep cleaning refrigerators.
For your first cleaning visit to a new customer's home, expect it to take more time than your regular cleaning visits. You should account for some neglect of certain areas, especially if they've never used a cleaning service before.
Over time, we found that keeping a log of how long each cleaning job takes you is crucial, as it will help you better price tasks in your house cleaning estimate form in the future.
Step 3: Calculate labor costs… even if it's just you
Once you figure out how many hours a job will take you to complete, you can determine your labor rate for the specific job.
Even if you're the only one doing a job, you should still calculate your labor costs to ensure that you are always getting paid a fair price for your work.
Our findings show that the average hourly labor rate for house cleaners depends on the state you live in but can range from $8.50 – $17.00 per hour.
To make your labor calculations easier, combine the hourly pay of each person working on the job to get your total hourly labor rate.
Then, take your total hourly labor rate and multiply it by the number of hours a job will take to complete to get your total labor rate.
Step 4: Make sure to factor in taxes
When you give your customer an estimate, don't forget to factor in taxes. Otherwise, you'll be stuck paying these out of pocket!
To avoid this, have your local tax rates pre-filled in your house cleaning estimate form.
If you have staff, you want to factor in payroll taxes to your labor rate. As indicated by our tests, you can estimate payroll taxes to be between 18 – 20%, depending on your state.
Step 5: Include the expense of supplies
Image credit: Kelly Sikkema via Unsplash
After labor, your biggest expense is cleaning products and supplies.
Some house cleaning businesses expect customers to provide the necessary cleaning products, but this can cause a great inconvenience to your customer and result in you not having the products you need to complete the job.
Therefore, it's best practice to provide the necessary cleaning supplies for every job yourself. There are many benefits to this, including:
Looking more professional and organized.
Cost-savings from purchasing supplies in bulk.
Cleaning faster and with more confidence using familiar products.
Giving you the ability to charge more.
You may encounter times when your customer prefers that you use their own products, such as if they only use green cleaning products.
If this happens, accommodate them as much as possible, but request a full list of the products they have available in advance and ask that they have them ready when you arrive.
Although you don't have to break it down in your estimate, you should add about 6% to the total cost to cover the cost of supplies.
Step 6: Don't forget to factor in overhead
To ensure that you cover all of your expenses, factor in overhead costs for all of your jobs.
Overhead includes costs that are not associated with a specific job but are required to run your business. This includes:
Equipment.
Insurance.
Travel costs.
Your overhead costs depend on your expenses, but you should be prepared to add up to 50% to your total job price to cover these costs.
Step 7: Add markup for profit
Once you've calculated your labor and overhead, it's finally time to add your markup.
An essential part of house cleaning estimates forms, adding your markup is how you make a profit on your jobs. The markup you add depends on how much you want to make from each job and the going rate for cleaning services in your area.
Based on our observations, when you first start out, you'll likely find that your markup is either too high or not high enough. Don't be afraid to adjust it to make sure that you are always making a profit.
These steps will help you create accurate quotes for your customers every time. But before providing estimates to potential customers, you need to know your expenses.
How much should you charge for cleaning per square foot?

Image credit: Karolina Grabowska via Pexels
Our investigation demonstrated that the average price of cleaning per square foot is about $0.10 – $0.17. That being said, most cleaning businesses do not charge based on square footage, as it doesn't give you as accurate of an estimate as other methods.
After putting it to the test, we found that it's best to calculate your house cleaning services per hour based on how big the residence is and how many workers it will take to complete the job. When making a house cleaning estimate form, make sure that you outline your prices per hour for the best estimate.
Ways to optimize your house cleaning estimate form
Now that you know how to price your cleaning services and create a house cleaning estimate form, why not go the extra mile to make your estimates even better?
Whether you present a final estimate to your customer or have a landing page on your website that lets your customer get a quick estimate, there are many ways to improve the estimating process. Drawing from our experience, we've included some bonus tips to enhance your customer's experience and to help your business's estimates stand out from the rest.
Use real photos
Your estimate form does not have to be a simple spreadsheet. Adding visual elements to your estimates will not only capture your customer's attention but also give them a better sense of your services. Our findings show that the best images to include are your own.
With your customers' permission, try to take before and after photos of every job you complete. You should put these photos all on your website and include them with your estimate to give your customer a better sense of why your services are the best.
Share the benefits of your cleaning services
It's easy to emphasize the features that your business offers. In fact, your customers look for and expect this. But if you want to switch it up, you should highlight the benefits of your services as well. Determine your customers' pain points to get an idea of what kind of benefits they might respond to. There are several reasons that your customers would want to hire your services:
They're too busy to keep up with home cleaning.
They want to spend more time with their family.
They are physically unable to thoroughly clean their home.
You can use these common pain points to tell your customer why your cleaning services are the solution.
Say what makes you different
You must understand that if a potential customer approaches you to inquire about your services, they are most likely approaching your competition as well. This is why it is important to stand out from the crowd early on. Let your customers know what makes your services better than the rest by highlighting your differences. Once again, these differences should highlight your customer's pain points.
Leverage and use social proof
As per our expertise, everyone looks for a credible business, and one of the best ways to prove your business's credibility is by leveraging reviews and testimonials from your current customers.
You can include any positive feedback you've gotten in your house cleaning estimate form. This could be as simple as taking quotes from your Google reviews and including them in your house cleaning estimate form. If you don't have any reviews yet, ask your current customers to provide feedback on your services.
House cleaning estimate FAQ
How do you quote a house cleaning job?
Through our practical knowledge, to create a quote for a house cleaning job, you must do the following:
Visit the home.
Figure out how much time the job will take to complete.
Calculate labor costs.
Add in taxes.
Include your in-supply expenses.
Factor in overhead.
Add your markup for profit.
Having a house cleaning estimate form will make this process much quicker and more efficient.
Is there a cleaning service excel template?
To help you get started on your journey towards creating accurate house cleaning estimates for your customers, here is a house cleaning estimate form template that you can download and customize for your business.
Downloading this template will save you time and ensure that you're presenting clear and thorough estimates to your customers with each new job.
If you don't see the download form, download template here.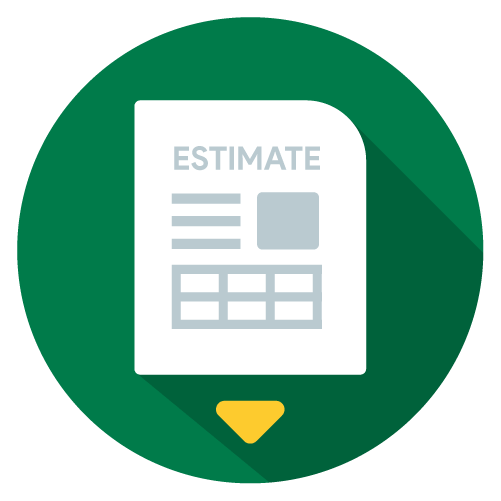 Wrap up: How much to charge for house cleaning
To recap, you should start the process of figuring out pricing for your cleaning business by first creating a house cleaning price list, then creating a house cleaning template that you can customize for each job.
Based on our observations, a house cleaning estimate form benefits both you and your customers by giving you a clear understanding of the costs of completing a job.
The importance of house cleaners cannot be emphasized enough, and you deserve to have a profitable business. Presenting accurate estimates not only ensures that your business stays successful but also helps it continue to grow.
Image credit: CDC via Unsplash