Compare Zoho vs. Salesforce vs. Method:CRM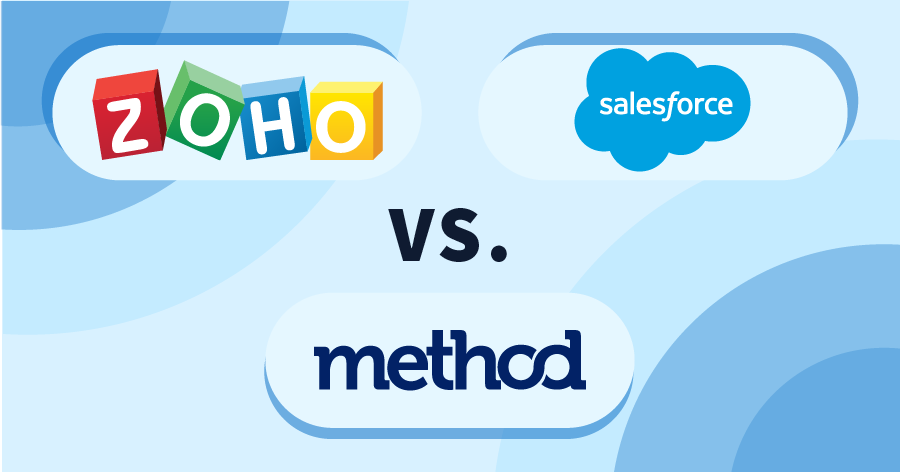 Learn the pros and cons of each solution to help you decide which is best for your business.
If you're looking for a powerful business tool to bring in more leads and build better relationships with your customers, three options should be at the top of your list:
Method:CRM.
Zoho.
Salesforce.
In this guide, you'll learn the pros and cons of each solution to help you decide which is best for your business.
Zoho vs. Salesforce vs. Method:CRM
The main difference between Zoho, Salesforce, and Method:CRM is how each betters your workflows. Zoho and Salesforce offer a suite of products you can use, whereas Method:CRM is a best-of-breed solution that you can tailor for your every need.
Let's take a look at what these three CRMs have to offer.
Zoho overview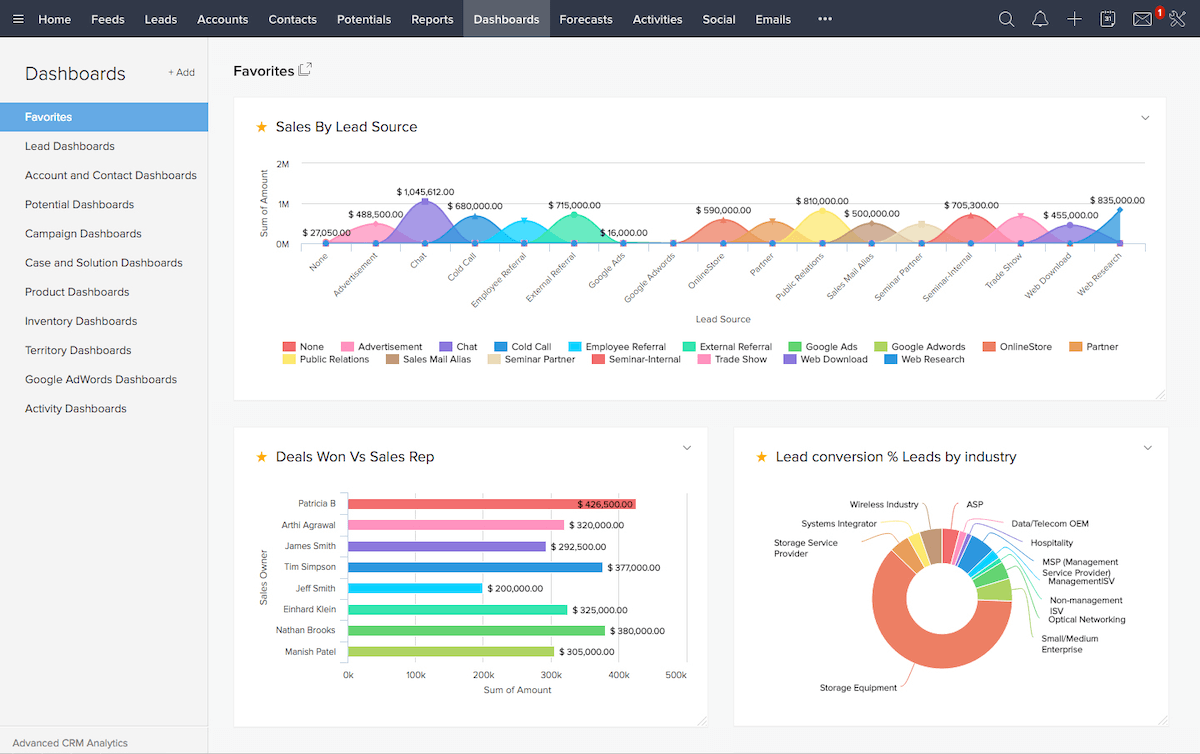 Zoho is a large technology company that offers several software products, including a CRM.
Zoho CRM improves your workflows to drive more efficiency and grow revenue.
The solution is known for its extensive features, but remember that more features doesn't always mean better results.
How Zoho works
Zoho has a variety of features you'd expect from a CRM, including:
Lead, deal, and contact management.
Client portals.
Web templates and email campaigns.
A mobile app.
You have several options when it comes to importing your contacts. You can use Zoho's Import Wizard, web forms, or the Zoho CRM API to import contacts from third-party apps.
Better yet, use their social media CRM feature to pull contact data from platforms such as Twitter and Facebook.
For reports and analytics, Zoho offers ZIA, an AI-powered analytics engine. ZIA gives you a better understanding of your sales trends and highlights opportunities for improvement.
Zoho also has Canva — a DIY customization tool with a drag-and-drop interface. Canva allows near-unlimited customization to create a personalized solution.
Beyond that, Zoho makes communicating with your customers easy. Connect with them in whatever way works best, including:
Phone (Telephony).
Live chat.
Email.
Social.
Salesforce overview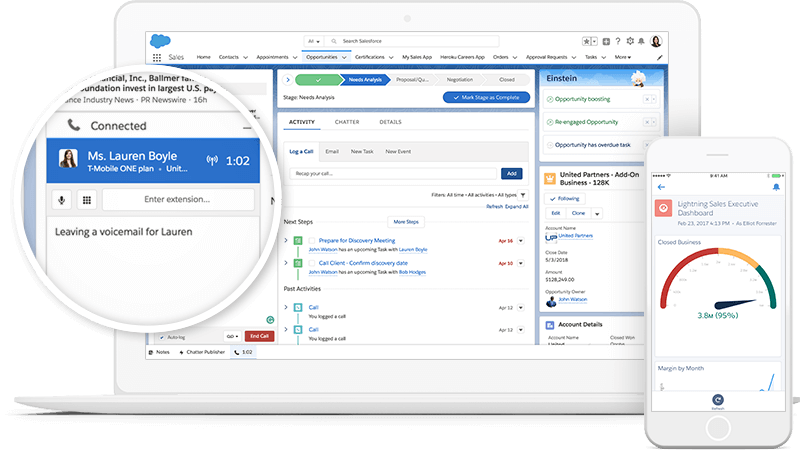 Founded in 1999, Salesforce is one of the biggest CRMs on the market.
Many corporations around the world use Salesforce — from Spotify to Toyota — for the software's ability to streamline operations.
That said, Salesforce's popularity amongst large companies doesn't make it the best option for small businesses.
How Salesforce works
Salesforce's focus is on "customer success." They use cloud technology to optimize complex sales and customer management processes.
The solution's simple point-and-click interface makes Salesforce simple to navigate. This makes it easy to automate repetitive tasks.
Salesforce offers several advanced features, such as marketing automation and commerce tools to simplify your operations. These tools allow you to perform actions such as:
Track customer activity.
View reports and analytics.
Sort potential customers.
Market to customers through automated emails.
What's more, Salesforce integrates with the tools you commonly use to create an all-in-one system for your business. Some of their third-party integrations include:
Slack (acquired in 2021).
Google Workspace.
QuickBooks.
Method:CRM overview
As the #1 QuickBooks CRM, Method:CRM enhances your accounting software to keep your business organized and improve efficiency.
Although this CRM company isn't as big as Salesforce or Zoho, Method provides small businesses with the features they need for growth.
How Method:CRM works
What sets Method:CRM apart from Salesforce and Zoho is the solution's two-way QuickBooks and Xero sync.
When you update information in your accounting software, it automatically updates in Method and vice versa. This way, your team always has the most up-to-date information.
Beyond that, Method lets you unleash the power of automation so that you can spend less time on tedious tasks and more time growing your business.
With Method, you can automate tasks such as:
Lead collection.
Customer service.
Payment processing.
What's more, use Method's unlimited customization for a solution that grows with your company as you push the limits of success.
Comparing Zoho, Salesforce, and Method:CRM
With this new knowledge on Zoho, Salesforce, and Method:CRM, you're one step closer to choosing the best CRM solution for your business.
Below, you'll compare the features, benefits, and drawbacks of all three CRMs to clarify your decision.
Want to continue your search for the perfect CRM? Check out these other articles:
Key features
ZIA — an AI-powered virtual assistant.
Canvas — a DIY customization tool.
Import Wizard and Zoho CRM API.
User-friendly mobile app.
Customer journey orchestration.
Third-party integrations with Slack, Shopify, and more.
Primary benefits
Multiple data import options.
Several communication channels to connect with customers.
The ability to create personalized customer journeys.
Near-unlimited customization.
Limitations
Zoho's customization isn't as intuitive as other CRMs and requires a bit of work to grasp fully.
In contrast, Method has a team of dedicated customization experts to simplify the process and tailor your perfect solution.
Key features
Automatic email alerts for sales opportunities.
Auto-assign tasks as deals progress.
Enhanced reporting tools.
Templates for a variety of industries.
Simple point-and-click interface.
Primary benefits
Advanced marketing and sales automation tools.
Flexible customization.
Native Slack integration.
Many options for popular third-party integration.
Limitations
While equipped with many robust features, Salesforce is one of the most expensive CRMs on the market and is out of reach for many small business budgets.
Key features
QuickBooks and Xero two-way sync.
Lead gen forms for effortless lead capture.
Unlimited customization to create your perfect solution.
Native integrations with Gmail, Outlook, Mailchimp, Zapier, and more.
Mobile app for real-time updates.
Primary benefits
Automatically sync your data between Method:CRM and your QuickBooks or Xero account for up-to-date information.
Personalized templates to reuse for emails, reports, and transaction documents.
Automate every aspect of your workflow.
Payment gateways and a self-service portal to give your customers added flexibility.
Limitations
For now, you must be a QuickBooks or Xero user to use Method:CRM, and the solution is only available in English.
Zoho pricing
Zoho has four pricing options:
Standard: $14 per user per month.
Professional: $23 per user per month.
Enterprise: $40 per user per month.
Ultimate: $52 per user per month.
Zoho also offers a 15-day free trial.
Salesforce pricing
Salesforce offers four pricing plans:
Essentials: $25 per user per month.
Sales Professional: $75 per user per month.
Service Professional: $75 per user per month.
Pardot Growth: $1250 per month up to 10,000 contacts.
Salesforce offers a free trial.
Method:CRM pricing
Method:CRM offers three subscription options:
Contact Management: $25 per user per month.
CRM Pro: $44 per user per month.
CRM Enterprise: $74 per user per month.
Method:CRM also offers a free trial and no credit card is required to start.
Who should use Zoho?
If you want a CRM with a large list of features, Zoho delivers just that.
However, it's important to ensure that Zoho's extensive features are the right features for your business. If not, you end up paying for features you don't use.
Who should use Salesforce?
Salesforce is best for large businesses with many employees and customers to manage.
Considering the price for their most popular plans, Salesforce is ideal for those with a high budget for a CRM.
For small businesses just starting off or with few employees, Salesforce may be excessive.
Who should use Method:CRM?
Method:CRM's small business-friendly price point makes it ideal for any business looking to scale up and increase productivity.
If you use QuickBooks or Xero and want to take advantage of the power of automation, then Method:CRM is the best choice.
Bottom line
Zoho, Salesforce, and Method:CRM are all quality choices to strengthen your customer relationships and gain new leads. However, the best way to find out which one is best for you is by testing them out yourself.
Get started with your free trial of Method:CRM!