Compare Zoho vs. Pipedrive vs. Method:CRM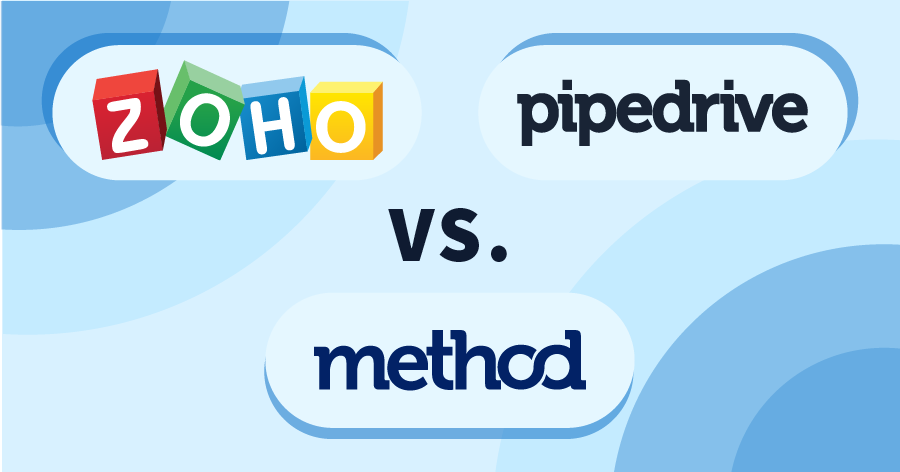 Read this guide to better understand three popular CRMs: Zoho, Pipedrive, and Method:CRM.
A CRM empowers you to optimize a buyer's journeys and nurture your customer relationships. However, this is only possible if you choose the right CRM for your business needs.
Read this guide to better understand three popular CRMs: Zoho, Pipedrive, and Method:CRM. After reading, it will become clear which solution fits your business best.
Zoho vs. Pipedrive vs. Method:CRM
The main difference between Zoho, Pipedrive, and Method:CRM is how they manage your sales pipeline. Each CRM has features that strengthen your pipeline management differently.
To illustrate, let's take a closer look at each of these CRM options.
Zoho overview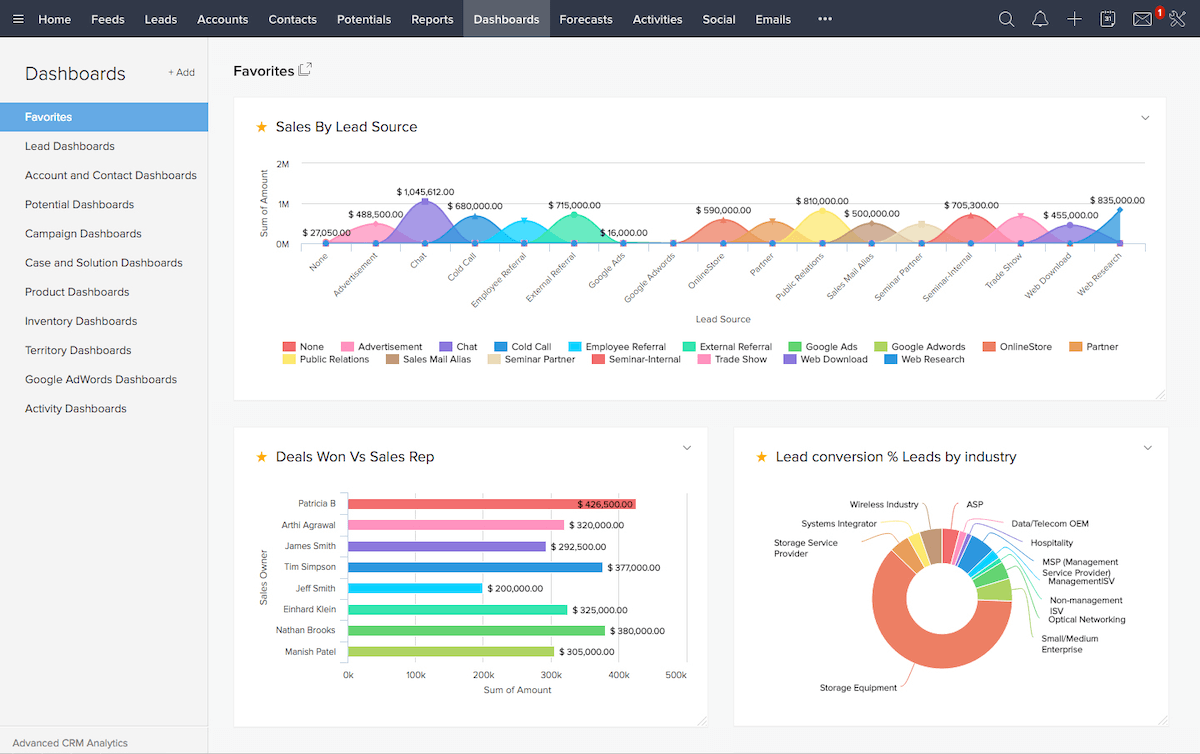 Image credit: G2
Zoho is a software company based in India, and Zoho CRM is one of its product offerings.
Zoho CRM can be integrated into all of Zoho's other software products to create an all-in-one system for your business.
How Zoho works
Zoho offers several tools that make it an ideal all-around solution for any business. This software's top features include:
Pipeline management.
Artificial intelligence.
Marketing automation.
Zoho makes it easy to evaluate your leads and determine their potential.
From there, the platform lets you assign these leads to the right salespeople and gives your sales reps tools to better serve them, such as contact and deal management features.
Zoho's marketing automation is made possible thanks to integrations with Mailchimp and Google Ads.
These integrations allow you to run ad campaigns and see which ad groups translate to higher sales.
For analytics, Zoho has ZIA — an AI-powered analytics engine that gives you a better understanding of your sales trends. Use ZIA to make data-driven decisions for your business.
Beyond that, Zoho has many of the features you expect from a CRM, including:
Customer journey orchestration.
Client portals.
Web templates.
A mobile app.
Pipedrive overview
Image credit: Pipedrive
With a name like Pipedrive, you can assume that this CRM solution enhances your pipeline management to allow your sales reps to excel.
That said, Pipedrive has additional features that make it a good tool for strengthening several areas of your business for better visibility into your success.
How Pipedrive works
Pipedrive is a sales-focused CRM that simplifies the way you identify sales opportunities and track your progress.
Pipedrive's top features include:
Pipeline management.
Email.
Sales forecasting.
Pipedrive's pipeline management system involves using Kanban boards to let you create custom stages for your sales pipeline.
The platform sets the probability of each deal moving on to the next stage, allowing you to allocate the right amount of time to each prospect.
You also gain the ability to move your deals around into different categories.
One of Pipedrive's top features is that it lets your sales reps connect their email to the CRM, no matter who their service provider is.
You can save email templates and customize your emails by adding custom fields.
Sales forecasting is another one of Pipedrive's best features. Pipedrive provides projections for monthly revenue based on the number of deals still in progress and estimates its completion time.
Beyond that, Pipedrive's other CRM features include:
Third-party integrations with over 300 tools.
The ability to create and send invoices directly from your CRM.
Email and communication tracking.
Method:CRM overview
Method:CRM is the #1 QuickBooks CRM for small businesses looking to link their trusted accounting software to other workflows.
Method:CRM simplifies your pipeline management with several features that empower your sales team and create the best customer experience.
How Method:CRM works
Method:CRM's improves your pipeline management with these top features:
Two-way sync with QuickBooks and Xero.
Unlimited customization.
Workflow automation.
At the heart of Method:CRM is the platform's two-way QuickBooks and Xero sync.
Update information in your accounting software and watch it automatically show up in Method:CRM for the right team members to view and vice-versa.
The best part is that you can keep your leads in Method:CRM — away from your accounting software until they are paying customers. This way, you don't clutter your QuickBooks or Xero account with non-customers.
Method's customization empowers you to manage your pipeline your way.
You can track every detail of a sales opportunity based on your set criteria and add custom fields to ensure you have a complete view of each lead's needs.
Automate workflows such as lead collection for a hands-off approach to gaining new prospects.
Embed one of Method's web-to-lead forms on your website and watch the new potential customers flow in.
What's more, Method's Email Campaigns app allows you to create personalized emails to nurture your needs.
To kick your emails up a notch, you can use Method's Mailchimp integration for even more features.
Better yet, connect Method with several third-party integrations such as Gmail, Zapier, and Outlook to drive efficiency.
CTA banner 3
Comparing Zoho, Pipedrive, and Method:CRM
With a better idea of what Zoho, Pipedrive, and Method:CRM have to offer, you're one step closer to picking your next business solution.
Before you choose, let's compare the benefits and drawbacks of each CRM to make your decision crystal clear.
If you're considering going in a different direction, check out these other articles:
Key features
Real-time notification when a prospect interacts with your business.
ZIA — an AI-powered virtual assistant.
User-friendly mobile app.
Mailchimp and Google Ads integration.
Communicate through phone, email, and chat.
Primary benefits
Integrates with 25+ Zoho products.
Create personalized customer journeys.
Connect with customers across every communication channel.
Near-unlimited customization.
Free online video guides to help you get started.
Limitations
Although Zoho has improved its customization capabilities, it's a steep learning curve, and they don't have dedicated customization experts to help you.
In contrast, Method has specialized customization experts available to help you personalize your solution.
Key features
Lead generation chatbot.
Live dashboards for a real-time look at your business.
Advanced pipeline management tools.
Mobile app for Android and iOS.
Primary benefits
Automated pipeline management.
Easy drag-and-drop interface.
Simple to use so that you're up and running sooner.
Third-party integrations with Gmail, Slack, and other business tools.
Option to add LeadBooster for custom chatbots.
Limitations
As with Zoho, customization is Pipedrive's weak point. Pipedrive's customization options are limited compared to other CRMs on the market with a similar price point.
Key features
QuickBooks and Xero two-way sync for up-to-date data.
Web to lead forms for your website to capture interest.
Email Campaigns app and Mailchimp integration.
Mobile app to stay connected.
Unlimited customization.
Primary benefits
Only sync customers to your accounting software to keep it organized.
Endless possibilities to automate your workflows.
Custom reporting capabilities for detailed analytics.
Reusable email, report, and transaction templates.
Easily convert estimates into invoices in a few clicks.
Access to customization experts to personalize your solution.
Limitations
Method:CRM is limited to QuickBooks and Xero users for the time being. What's more, the solution is only available in English.
Zoho pricing
Zoho has four pricing options:
Standard: $14 per user per month.
Professional: $23 per user per month.
Enterprise: $40 per user per month.
Ultimate: $52 per user per month.
Zoho also offers a 15-day free trial.
Pipedrive pricing
Pipedrive has four pricing plans:
Essential: $12.50 per user per month.
Advanced: $24.90 per user per month.
Professional: $49.90 per user per month.
Enterprise: $90.00 per user per month.
Pipedrive also offers a 14-day free trial.
What's more, Pipedrive has several add-ons for an additional price, such as LeadBooster at $32.50 per company per month.
Method:CRM pricing
Method:CRM pricing is as follows:
Contact Management: $25 per user per month.
CRM Pro: $44 per user per month.
CRM Enterprise: $74 per user per month.
Method:CRM also offers a free trial with no credit card required.
Who should use Zoho?
If you want a CRM with a variety of tools for your business and the ability to create an all-in-one system, Zoho is the best choice.
Who should use Pipedrive?
If you're a small business looking for a CRM to strengthen your sales pipeline, Pipedrive can make that happen.
That said, keep in mind that if your business experiences rapid growth, Pipedrive may be unable to keep up.
Who should use Method:CRM?
If you want to connect your sales pipeline to your other business workflows, Method:CRM is for you.
QuickBooks and Xero users can take advantage of Method's two-way sync and numerous integrations to improve efficiency and close more sales.
If you're a QuickBooks or Xero user seeking more wins for your business without more work, Method:CRM will get you there.
Bottom line
The right CRM leads to more sales and an increase in revenue for your business.
Zoho, Pipedrive, and Method:CRM are all great options when it comes to choosing the best tool for your business, but the only way to be sure is to try them for yourself.
Start your free trial of Method:CRM today!