Compare Zoho vs. Keap vs. Method:CRM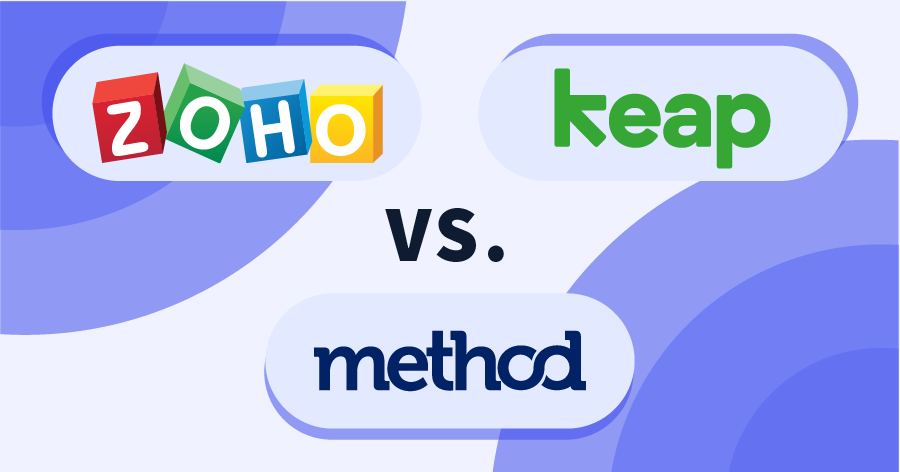 Learn the ins and outs of these CRMs to help you decide on the best tool to improve your workflows.
Zoho, Keap, and Method:CRM are three CRM solutions to have on your radar.
Each one transforms the way you operate your business and increases your efficiency.
The only question is: Which one is right for your business?
In this guide, you'll learn the ins and outs of these CRMs to help you decide on the best tool to improve your workflows.
Zoho vs. Keap vs. Method:CRM
The main difference between Zoho, Keap, and Method:CRM is how they automate your processes.
All three tools use automation to save you time and boost productivity, but each has different features that make this possible.
Let's dive into what each CRM has to offer.
Zoho overview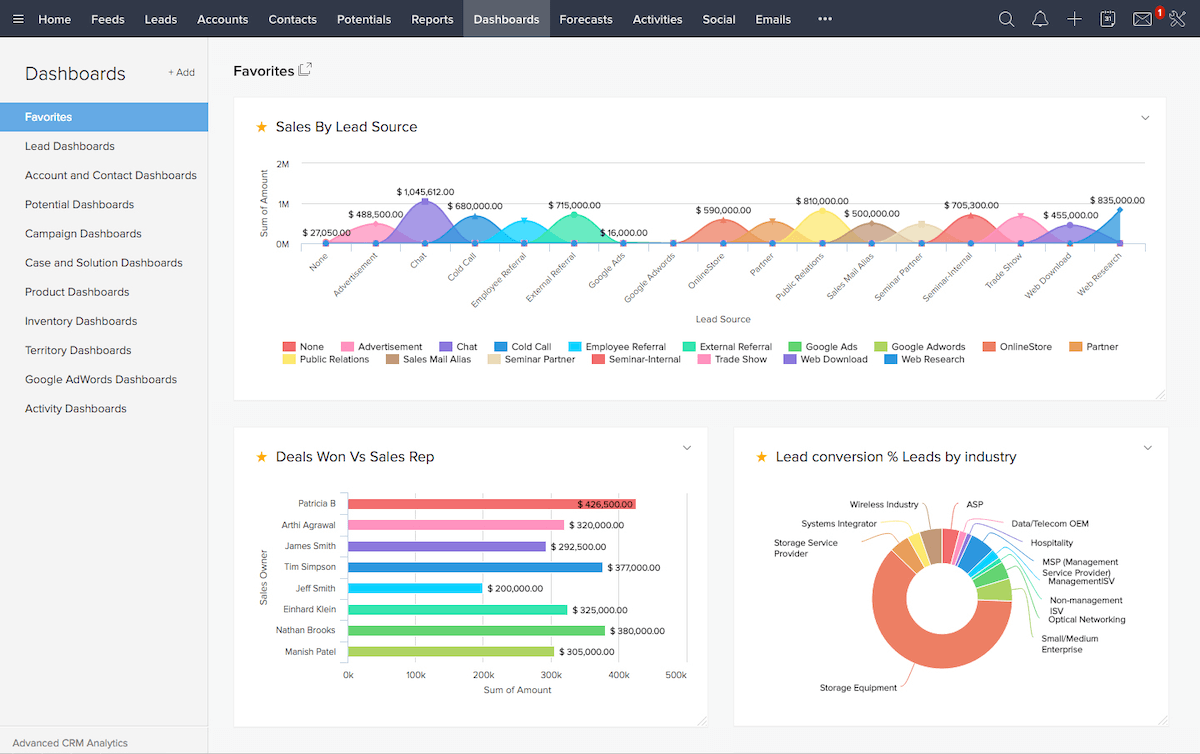 Zoho is a large technology company with many software products, one of them being a CRM.
With Zoho CRM, you'll improve your efficiency and drive better results. This is thanks to Zoho's abundance of tools and ability to connect your CRM to its other product offerings.
How Zoho works
To start, Zoho optimizes your lead, deal, and contact management by making it easy to import your contacts. You have three different options when it comes to importing your contact information:
Zoho's Import Wizard.
Web forms.
Zoho CRM API.
In addition, you pull contact data from social media platforms such as Twitter and Facebook using Zoho's social media feature. You can also schedule posts directly from your CRM, reducing the number of tools you need.
Zoho optimizes reporting and analytics with ZIA, an AI analytics engine. ZIA presents your sales trends in an easy-to-read format highlighting opportunities you may not have considered.
Another of Zoho's top tools is Canva — a DIY customization tool. The drag-and-drop interface makes it easy to turn your CRM into a tool that works best for your business.
Finally, Zoho simplifies communication with your customers by offering several options to connect, including:
Phone (Telephony).
Live chat.
Email.
Social.
Keap overview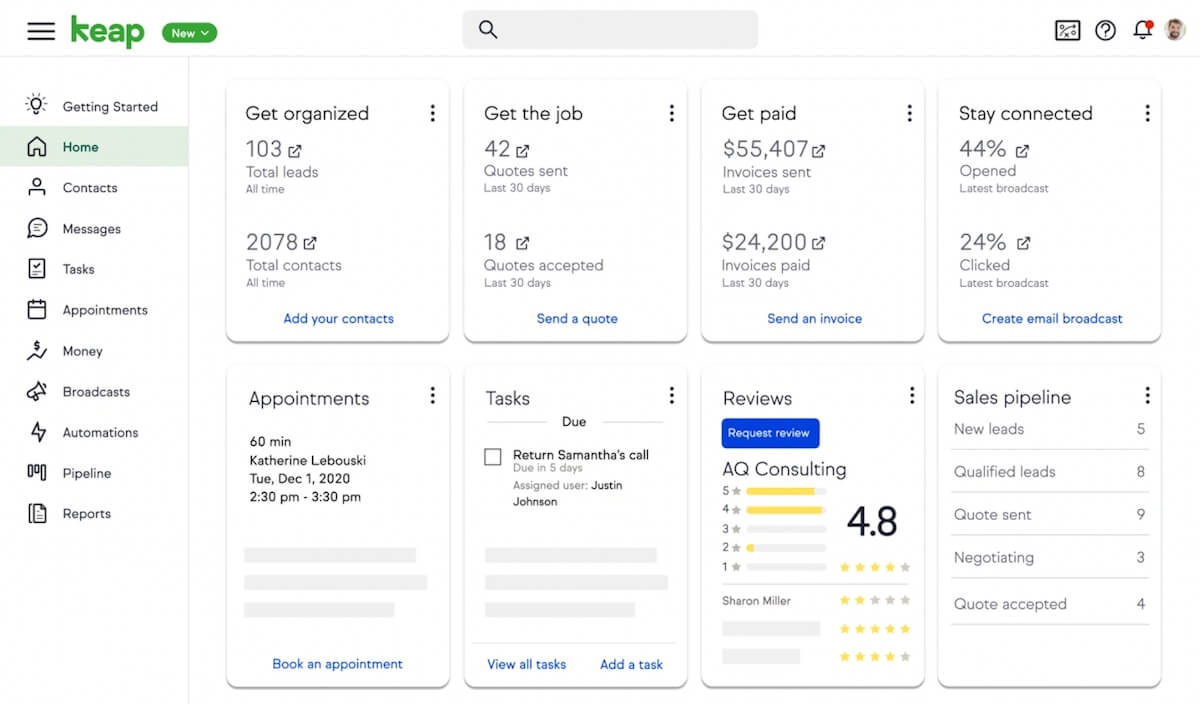 Keap is an ideal tool for small business owners who want a simple interface and intuitive design.
This solution simplifies your sales and marketing processes by providing you with an all-in-one platform from which to operate your business.
How Keap works
Keap takes the work out of managing your customers and sales pipeline thanks to several features.
The pre-built sales pipeline template gives you a starting point for lead management. Once set, you can set triggers to automate emails, tasks, and more for when a deal moves to the next stage of the pipeline.
Keap is also good at documenting your interactions with your contacts, as each interaction is automatically added to their respective accounts. These interactions are then made accessible to your sales team for instant review.
What's more, perform all your actions from one central point with Keap's contact dashboard. Use it to perform actions such as:
Call.
Text.
Email.
Book an appointment.
Process a transaction.
Lastly, Keap's analytics tools effectively measure your business success. These tools give you access to:
Analytics and reports.
Email marketing performance.
Revenue trends.
Method:CRM overview
As the #1 QuickBooks CRM, Method:CRM enhances your accounting software to automate your processes and empower your team. Better yet, the tools now offers a two-way sync with Xero too!
Method:CRM helps small businesses grow and build quality customer relationships.
How Method:CRM works
Method:CRM's powerful automation starts with the software's two-way QuickBooks and Xero sync.
Here's what that means: When you update information in your accounting software, it automatically updates in Method and vice versa.
Your entire team stays in the know so that your customers always get reliable customer service.
Method:CRM allows you to automate several everyday tasks, including:
Lead collection.
Reporting.
Customer service.
Payment processing.
This way, you spend less time on repetitive manual work and more time developing strategies for growth.
To top it off, Method's customizable platform allows you to personalize your workflows for even more powerful automation. For example, you can customize your reporting workflow to pull the most relevant data for your business.
As a bonus, take advantage of Method's multitude of integrations such as Mailchimp and Gmail to create one central solution for your business.
Comparing Zoho, Keap, and Method:CRM
With all this new information on Zoho, Keap, and Method:CRM, you're almost ready to choose the best one for your business. Let's take a look at the benefits and drawbacks of each solution.
If you don't want to stop your search here, check out these other articles:
Key features
ZIA — an AI virtual assistant for sales analytics.
Canvas — a DIY drag-and-frop customization tool.
Import Wizard and Zoho CRM API.
Customer journey orchestration.
Social media features.
Third-party integrations with Slack, Shopify, and more.
Primary benefits
Variety of options to import data.
Several communication channels to connect with customers.
Schedule social media posts directly from your CRM.
Advanced customization abilities.
Limitations
Although Zoho has impressive customization, it isn't as intuitive as other CRMs, and Zoho doesn't have a dedicated team to help with customization.
In contrast, Method provides you with two options: The DIY approach or enlisting the help of one of Method's customization experts.
Key features
Pre-built sales pipeline templates.
Lead scoring.
SMS messaging feature.
Contact dashboard with extensive features.
Collect payments automatically using apps like PayPal, Wepay, or Stripe.
Primary benefits
Sales and marketing automation in one platform.
Easily view email marketing performance and revenue trends.
SMS messaging for your customers.
Easy to document interactions with your customers and share with your team.
Limitations
Keap's main limitation is that many of their integrations require a monthly fee.
They're also one of the pricier options on the market and use contact-based pricing, meaning your subscription price increases as your contact list grows.
Key features
Automatic QuickBooks and Xero two-way sync.
Lead gen forms for hands-off lead capture.
Unlimited customization to create your perfect solution.
Native integrations with Gmail, Outlook, Mailchimp, Zapier, and more.
Mobile app for real-time updates.
Primary benefits
Personalized templates to reuse for emails, reports, and transaction documents.
The ability to personalize the platform your way.
Automate every aspect of your workflow.
Payment gateways and a self-service portal to give your customers added flexibility.
Limitations
The main drawback of Method:CRM is that you must be a QuickBooks or Xero user to use the software. What's more, the solution is only available in English.
Zoho pricing
Zoho has four pricing options:
Standard: $14 per user per month.
Professional: $23 per user per month.
Enterprise: $40 per user per month.
Ultimate: $52 per user per month.
Zoho also offers a 15-day free trial.
Keap pricing
Keap has two pricing plans:
Pro: $129 per month for 2 users (additional users are $29 each).
Max: $199 per month for 3 users (additional users are $29 each).
They also offer a 14-day free trial.
Method:CRM pricing
Method:CRM offers three subscription options:
Contact Management: $25 per user per month.
CRM Pro: $44 per user per month.
CRM Enterprise: $74 per user per month.
Method:CRM also offers a free trial, and no credit card is required to get started.
Who should use Zoho?
Zoho is best for small businesses who want access to an extensive list of features to simplify their everyday operations.
That said, Zoho isn't the strongest tool for automation, and it's important to ensure that this solution has the features you need to run your business to make the most out of this CRM.
Who should use Keap?
Keap is a great choice for those who want to leverage the power of automation in their everyday workflows.
However, keep in mind that Keap is one of the priciest CRM options, which makes it not as accessible for small businesses, especially ones just starting.
Who should use Method:CRM?
Method:CRM provides powerful automation at small business-friendly prices.
If you use QuickBooks or Xero and are looking to optimize your processes, Method:CRM is your best option.
Bottom line
Zoho, Keap, and Method:CRM allow you to strengthen your workflows and work more efficiently, saving you time to focus on growing your revenue.
The good news is that you can try out each of these CRMs without commitment to determine the best for your business.
Start with your free trial of Method:CRM!