Compare Zoho vs. HubSpot CRM vs. Method:CRM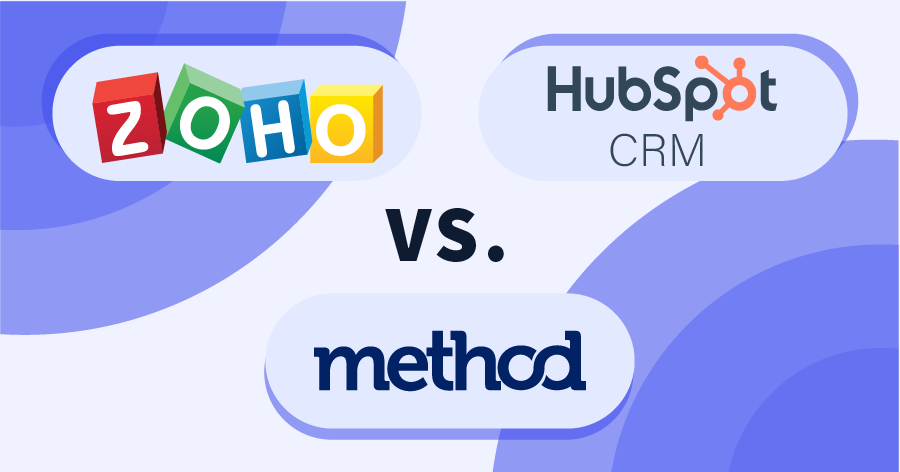 Find out which of these CRMs will boost your company's performance and improve your bottom line.
Considering using a CRM to manage your customers and bring in more leads? Three solutions are worth considering:
Zoho.
HubSpot.
Method:CRM.
Consider this your guide to finding out which of these CRMs will boost your company's performance and improve your bottom line.
Zoho vs. HubSpot CRM vs. Method:CRM
The main difference between Zoho, HubSpot, and Method:CRM is the price, ranging from free to $75 per user per month.
However, price isn't the only factor to consider. There are several other differences to highlight that may influence your final decision.
Let's dive into how each of these CRMs transforms your business.
Zoho overview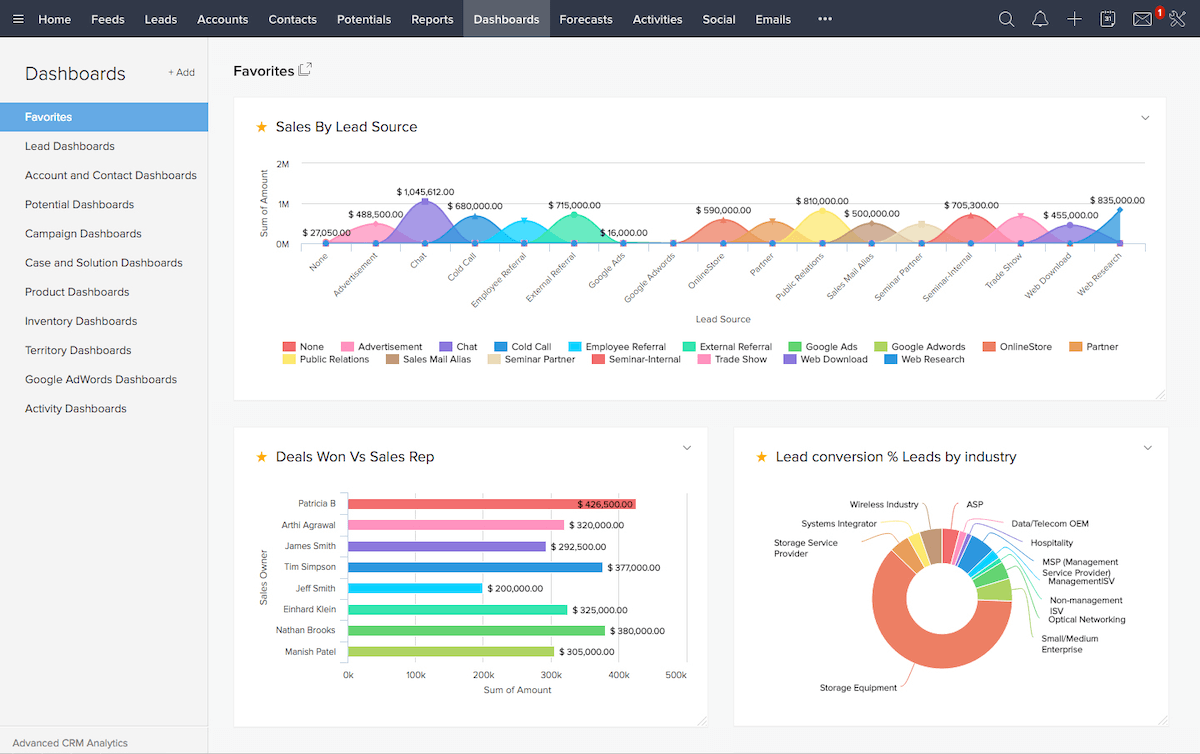 Zoho CRM has a variety of tools to convert leads, engage with customers, and grow your revenue. This is thanks to the solution's variety of features.
That said, choosing a product with more features isn't always the most valuable move for your business. Instead, prioritize the quality of those features and whether they'd be a good fit for your processes.
How Zoho works
Zoho's list offerings continue to grow, with several new features being introduced in the past few years.
Firstly, Zoho improved its analytics by introducing ZIA, an AI-powered analytics engine. ZIA provides deeper insights into your business so you can make data-driven decisions.
Most recently, Zoho introduced Canvas, a drag-and-drop interface editor for simple customization.
Canvas eliminates the need for a developer by allowing you to add custom fields or personalize the layout of templates quickly.
What's more, Zoho makes communication accessible by allowing you to connect with your customers in whatever way works best for them, including:
Phone (through Telephony).
Live chat.
Email.
Social.
Beyond that, Zoho has other common CRM features, including customer journey orchestration and a mobile app to stay connected on the go.
Plus, Zoho CRM syncs with Zoho's other products, such as Zoho Marketing.
HubSpot CRM overview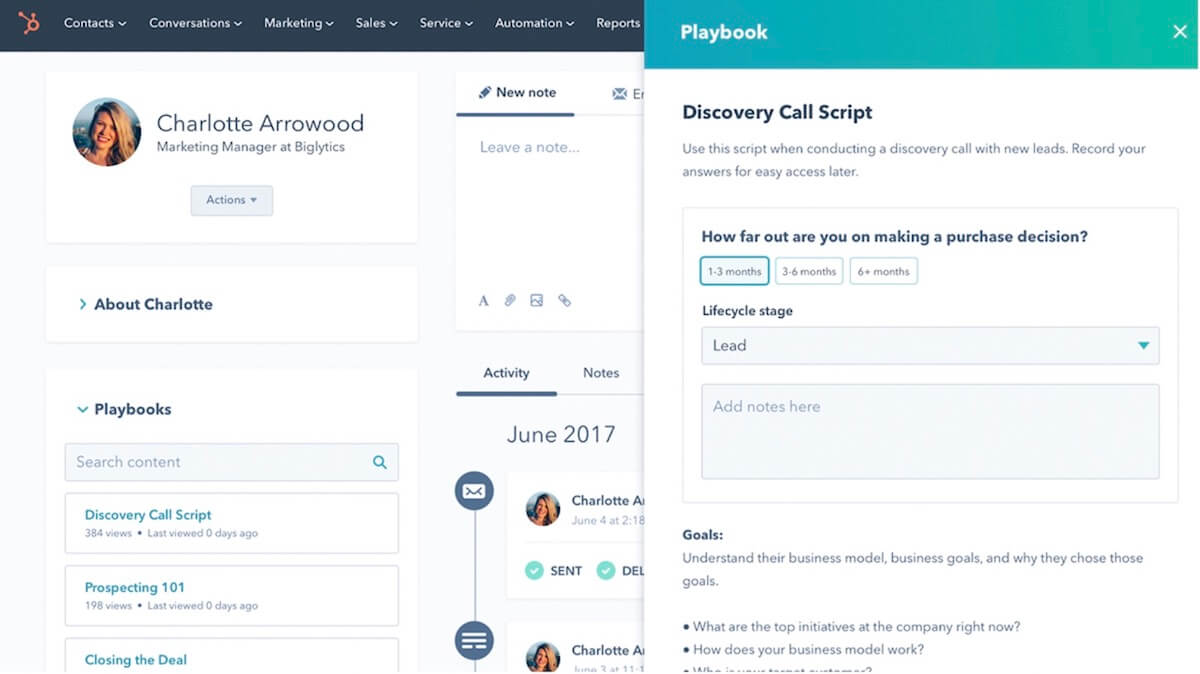 While HubSpot is best known for its marketing tools, they have a small business CRM that fulfills the basic needs of a first-time CRM user.
HubSpot strengthens your workflows and improves your customer service while giving you the flexibility to mix and match their available hubs.
How HubSpot CRM works
What makes HubSpot unique is that its features are categorized into different hubs. These hubs include:
Marketing.
Sales.
Service.
Content Management System (CMS).
Operations.
Typically, most users bundle their three main hubs: Marketing, sales, and service. The three of these combined create an all-in-one solution for your business.
As a result, you gain access to several features that simplify workflows, such as:
Dashboard reporting.
Deal tracking.
Pipeline management.
Beyond that, you get features such as ad management tools and a universal inbox for easy retrieval of all customer communications.
The best part about HubSpot is that it's free. However, the price increases quickly if you take advantage of their more advanced features.
Method:CRM overview
Method:CRM is the #1 QuickBooks CRM for small businesses looking to automate their workflows with a personalized solution.
What's more, Method empowers your sales to accomplish more and stimulates your growth in a way that works for you.
How Method:CRM works
Method:CRM's top feature is their two-way QuickBooks and Xero sync.
When you update information in your accounting software, it automatically shows up in Method for the right team members to view. This keeps information flowing, so you never have to slow down your business.
Beyond that, Method:CRM workflow automation eliminates repetitive tasks that take up your day to speed up your efficiency.
With Method, you can automate workflows such as:
Lead collection.
Reporting.
Payment processing.
Connect Method with several third-party integrations such as Gmail and Outlook to take your efficiency up a notch.
Lastly, Method goes beyond a CRM with no-code technology to personalize your perfect business solution.
Comparing Zoho, HubSpot CRM, and Method:CRM
Now that you're an expert on Zoho, HubSpot, and Method:CRM, you're almost ready to choose the right one for your business.
To ensure you have all the information you need, we've detailed the pros and cons of each solution.
Want to expand your search? Check out these other articles:
Key features
ZIA — an AI-powered virtual assistant.
Canvas — a new customization tool.
A user-friendly mobile app.
Customer journey orchestration.
Customer communication through phone, live chat, email, and social.
Primary benefits
Customers can easily contact you through several communication channels.
Extensive third-party integrations such as Google Workspace, Slack, and Shopify.
The ability to customize your perfect solution.
Sync with other Zoho products.
Limitations
Zoho continues to work on its customization features, but it's a steep learning curve with few resources available to customers for support.
If you want a CRM with additional customization support, Method has a team of dedicated customization experts to simplify the process and custom-tailor your perfect solution.
Key features
Segment and capture leads in an organized way.
Flexibility in managing your data.
Several options for support services.
Large number of third-party integrations.
Primary benefits
HubSpot Academy to guide you through the CRM.
Popular third-party app integrations such as Outlook and Google Workspace.
Access to a team inbox for easy collaboration.
Free basic CRM option.
Limitations
As with many free solutions, it's easy to outgrow HubSpot's basic CRM features. However, if you decide to upgrade to their paid plans, you're in for a dramatic price increase that isn't small business-friendly.
Key features
Automatic QuickBooks and Xero two-way sync.
Lead gen forms to embed on your website.
Mobile app for updates on-the-go.
Custom reporting tailored to your business.
Native integrations with popular business tools.
Primary benefits
Sync your data between Method:CRM and QuickBooks or Xero to keep your data flowing.
The ability to automate every workflow you can imagine.
Custom reporting capabilities for powerful business insights.
Reusable templates to personalize your emails, reports, and transaction documents such as invoices and estimates.
Unlimited customization to create your personalized solution.
Limitations
The main limitation of Method:CRM is that you must be a QuickBooks or Xero user to use this solution. Currently, Method:CRM is also only available in English.
Zoho pricing
Zoho has four pricing options:
Standard: $14 per user per month.
Professional: $23 per user per month.
Enterprise: $40 per user per month.
Ultimate: $52 per user per month.
Zoho also offers a 15-day free trial. No credit card is required.
HubSpot CRM pricing
HubSpot CRM offers a free version of its CRM, with upgrades available as your company grows.
Their Starter plan starts at $45 per month. This plan includes their marketing, sales, and service hubs with two paid users.
The next plan, the Professional plan, is $1600 per month. This plan gives you five paid users.
Beyond that, HubSpot sells its software by hub or in bundles, so prices vary based on the hubs you choose.
Method:CRM pricing
Method:CRM offers three subscription options:
Contact Management: $25 per user per month.
CRM Pro: $44 per user per month.
CRM Enterprise: $74 per user per month.
Method:CRM also offers a free free trial, and no credit card is required.
Who should use Zoho?
Zoho is the best CRM for those looking for a large list of features and a powerful AI to track business trends.
However, make sure that you can take advantage of a significant number of Zoho's features, or else you may end up paying more for a CRM than you need to.
Who should use HubSpot CRM?
HubSpot is a great first CRM for small businesses that want to improve their sales, marketing, or customer service.
However, as you grow your business, you may outgrow the free HubSpot CRM. At this point, this CRM gets pricey.
Who should use Method:CRM?
If you're a QuickBooks or Xero user looking to leverage automation, then Method:CRM is for you.
What's more, the option to customize Method lets the solution evolve as your business does.
Bottom line
If your choice for a CRM is between Zoho, HubSpot, and Method:CRM, you're on the right track. The best way to confirm which one is the best software for your business is to try them.
Start your free free trial of Method:CRM today.