Method:CRM – The best Zoho alternative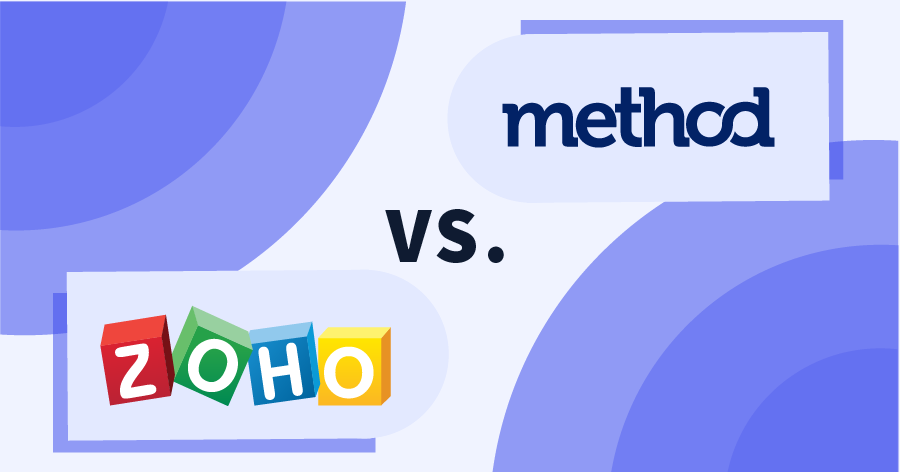 Decide which tool will drive you to your goals more efficiently.
With users in over 180 countries, Zoho needs no introduction. It's one of the most popular customer relationship management tools in the business software space.
But with large reach comes a compromise on quality. So, in comparison to its competitors, Zoho may not be the best solution for all small businesses.
Before committing to Zoho, it's worth exploring other software solutions that are better tailored to your small business — such as Method:CRM.
This guide compares everything you need to know about Zoho and Method:CRM to help you decide which business management tool will drive you to your goals more effectively.
Why consider alternatives to Zoho?
Zoho is one of the best-known brands for small business software, with solutions ranging from marketing to managing events to HR tools.
But to many people, such versatility and flexibility is more of hindrance than anything. They just want to fulfil their business' requirements without having to navigate around thousands of bells and whistles.
Plus, Zoho falls short on certain features that bring your CRM to the next level, such as customization. For other CRM alternatives such as Method:CRM, personalization comes naturally.
Method:CRM vs. Zoho
The main difference between Method:CRM and Zoho is customization capabilities.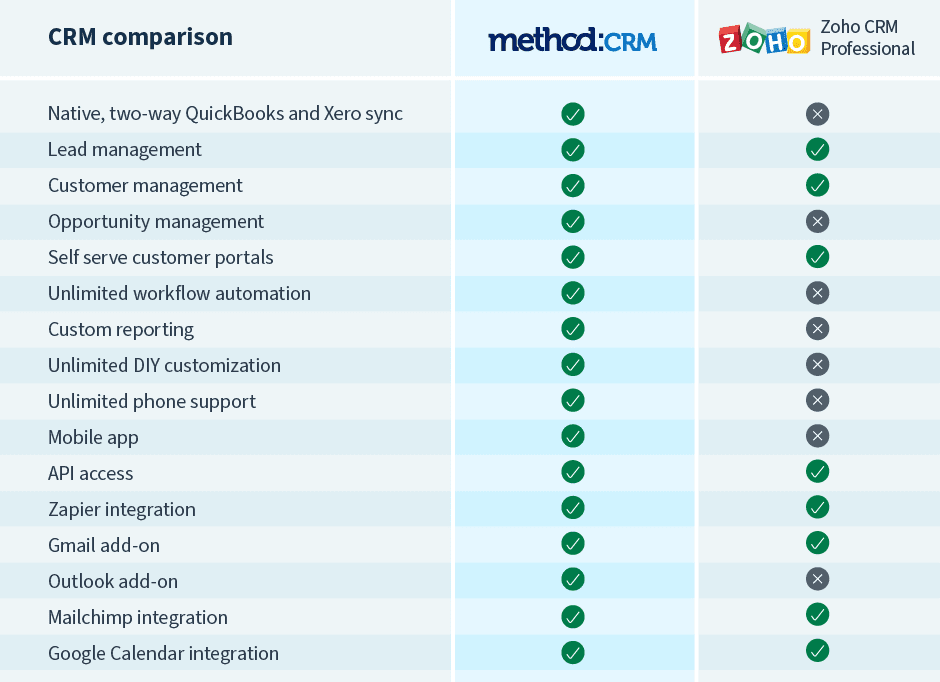 Although both solutions have robust capabilities, Zoho's offering has a steeper learning curve than Method:CRM when creating complex solutions — which is something that has a large impact on productivity. Not to mention that onboarding becomes even more of a hassle.
Plus, Zoho lacks the level of support dedicated to customization that Method has, which makes meeting deadlines even more of a challenge.
Method:CRM overview
As per our expertise, Method:CRM is the #1 QuickBooks CRM for small businesses looking to link their trusted accounting software to other workflows.
Method exceeds the scope of regular CRM functions. Along with helping you manage your contacts and clients, Method provides you with a suite of tools that:
Optimizes the workflows of you and your employees.
Empowers everyone at your company — especially your sales team.
Helps you deliver top-notch customer support and service.
How Method:CRM works
The secret to Method:CRM's leading automation is its two-way QuickBooks and Xero sync.
Update information in your accounting software and watch it automatically show up in Method:CRM for the right team members to view. The same process works in reverse — actions instantly reflect in both ends, eliminating the need for double data entry.
But the two-way sync is just the tip of the iceberg. Method:CRM allows you to put a number of tedious and repetitive tasks on auto-pilot thanks to workflow automation.
Automate activities in your sales pipeline such as lead collection, approvals, and payment processing, then sit back and watch your prospects and revenue grow. Sales automation frees up the schedule of your sales teams, so they have time to take on more assignments and generate even more profits.
Method offers marketing automation as well. You can use marketing tools to automate projects like email campaigns. And the best part is, gaining insights and monitoring your progress is easy with Method:CRM. Not to mention, it's great for internal purposes as well, like job scheduling and time tracking.
Better yet, connect Method with several third-party apps and integrations such as Gmail, Zapier, and Outlook to drive efficiency and boost performance. With integrations, you can use Method:CRM for all sorts of purposes, even as a project management software replacement.
Plus, you can access all this in one place: Method:CRM's user-friendly dashboard. A unified workspace means no more having to switch between multiple windows.
Finally, Method:CRM's customization turns this out-of-the-box CRM into a personalized solution that's tailored to your business.
This includes custom client portals, which are proven to provide a positive user experience.
In these portals, your customers can access files and information, and even make payments — saving you time and resources. You can also add branding to your portals like your company logo, which gives users a sense of security.
Overall, you have full control over how you customize Method:CRM, but you can always enlist the help of experts to accelerate the process.
Zoho overview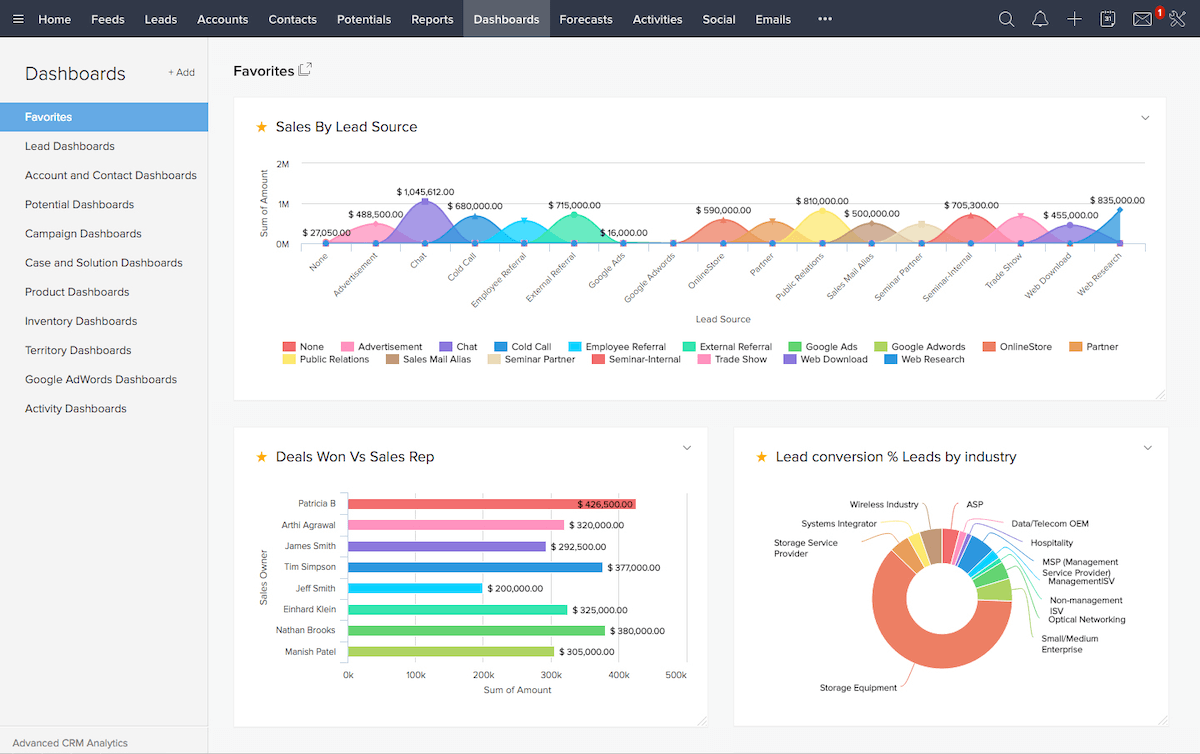 Zoho's mission is to empower businesses to convert leads, engage with customers, and grow revenue. The software includes tools to improve each of your workflows to drive more efficiency and reach each of your project plans.
Zoho is a SaaS platform known for having a robust set of features that target multiple industries. However, having more features doesn't always mean that it's the right option for you.
Instead, you should focus on whether said features solve your challenges to determine if they're the best fit for your business.
How Zoho works
Zoho has made several updates to their software in the past couple of years, including the addition of some new features.
First, Zoho improved their analytics process by introducing ZIA. Its AI-powered analytics engine gives you a better understanding of your sales trends.
Our research indicates that Zoho's newest feature is Canvas, a drag-and-drop interface editor for simpler customization without a developer. Through Canvas, you can add custom field types or personalize the layout of project templates to best reflect your business.
Its Enterprise package has also recently incorporated a portfolio management functionality.
Based on our observations, Zoho's other strengths lie in communication. This solution allows you to connect with your customers in whatever way works best for them, including:
Phone (Telephony).
Live chat.
Email.
Social media.
Text messages.
Beyond that, Zoho has many of the features you expect from a CRM, including:
Lead, deal, and contact management through Kanban or list views.
Customer journey orchestration.
Client portals with cloud-based file storage and sharing.
Web templates and email marketing campaigns.
Team calendar that strengthens timelines and team collaboration.
A mobile app.
Comparing Method:CRM and Zoho
Let's take a closer look at the main differences between Method:CRM and Zoho.
Looking to compare more CRMs, like Salesforce, ClickUp, or Hubspot? Check out these articles on the most popular CRM companies:
Key features
QuickBooks and Xero two-way sync for up-to-date data.
Lead generation forms to capture interest from your website.
Online customer portal for a self-serve customer experience.
Mobile app to stay in the know, even when you're out of office.
Custom reports to gather valuable insight.
Native integrations with Gmail, Outlook, Mailchimp, Zapier, calendaring platforms, and more.
Primary benefits
Automatically sync your data between Method:CRM and your QuickBooks or Xero account to keep your team on the same page.
Custom reporting capabilities for detailed metrics and analytics.
Reusable email, report, and transaction templates to make creating documents easy.
Accelerate your billing process by converting estimates to quotes to invoices in just a few clicks.
Pick and choose from a range of third-party integrations for an all-in-one system.
Access to customization experts to personalize your solution.
Limitations
Method:CRM is limited to QuickBooks and Xero users for the time being. What's more, the solution is only available in English.
Key features
Contact and task management.
Real-time alerts when customers interact with your business.
Zia — an AI-powered virtual assistant.
Canvas — a new customization tool.
Mobile application with a friendly user interface.
Third-party integrations with Slack, Microsoft Teams, social media profiles, ecommerce platforms like Shopify, and more.
Primary benefits
Connections with customers across every communication channel.
The ability to set reminders to ensure airtight customer service.
Personalized customer journeys with milestones.
Powerful tools make it easy to measure the effectiveness of your customer communication.
Near-unlimited customization.
Free online video guides and a community forum to make posts and read comments.
Limitations
Although Zoho has recently upped their customization game, our findings show that it's a steep learning curve, and that Zoho doesn't offer support specifically for customization. So customizing with Zoho also means racking up time and expenses.
In contrast, you can always make appointments with Method's dedicated customization professionals, whose services simplify the process and custom-tailor your perfect solution.
Method:CRM pricing
Method:CRM has three premium plans at these price points:
Contact Management: $25 per user per month.
CRM Pro: $44 per user per month.
CRM Enterprise: $74 per user per month.
Method also offers a free trial with no credit card required.
Zoho pricing
Zoho has four subscription plans at these prices:
Standard: $14 per user per month.
Professional: $23 per user per month.
Enterprise: $40 per user per month.
Ultimate: $52 per user per month.
Zoho also offers a 15-day free trial. Also, its free version offers basic CRM functionality and includes up to three users.
Who should use Method:CRM?
Automation and customization are a winning combination — and that's where Method:CRM exceeds expectations.
So if you're a QuickBooks or Xero user who wants to close more deals without doing more work, Method:CRM will get you there. Based on our firsthand experience, it's especially great for businesses of small and medium sizes, as it helps you stay organized as you grow.
Who should use Zoho?
If you're looking for a CRM with an extensive list of features, Zoho delivers exactly that. That's great to have for large enterprises, but it might not be what small to mid-sized business managers are looking for.
When consulting your notes, just make sure that Zoho has the right features for your business.
Bottom line
Whether you choose Method:CRM or Zoho, there's one thing that's certain: A CRM boosts your productivity and allows you to deliver the best customer experience possible.
Your next step should be to try both CRM software solutions out for a first-hand experience.
Start your free trial of Method:CRM today.