Compare Salesforce vs. Keap vs. Method:CRM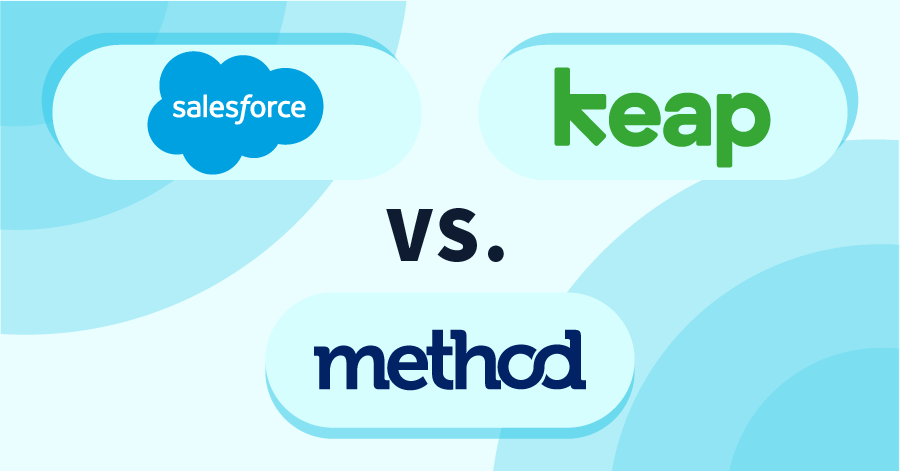 Keep reading to learn the differences between the three CRM solutions.
Building relationships with customers is essential for your success. But what's arguably more important is retaining them.
This is where customer relationship management (CRM) software comes into play. Keep reading to learn the differences between the following CRM solutions:
Salesforce.
Method:CRM.
Keap.
Salesforce vs. Keap vs. Method:CRM
The main difference between Salesforce, Keap, and Method:CRM is the level of automation and customization possible with each tool.
While custom automation is possible with Salesforce, it's expensive to implement and, therefore, accessible only to enterprises.
On the other hand, Keap is a more basic CRM tool with limited customization and automation capabilities. As a result, it's probably best for businesses just starting out.
If you're looking for the best of both worlds, Method:CRM is the standout choice for growing businesses that want a tool that scales with their changing needs.
Salesforce overview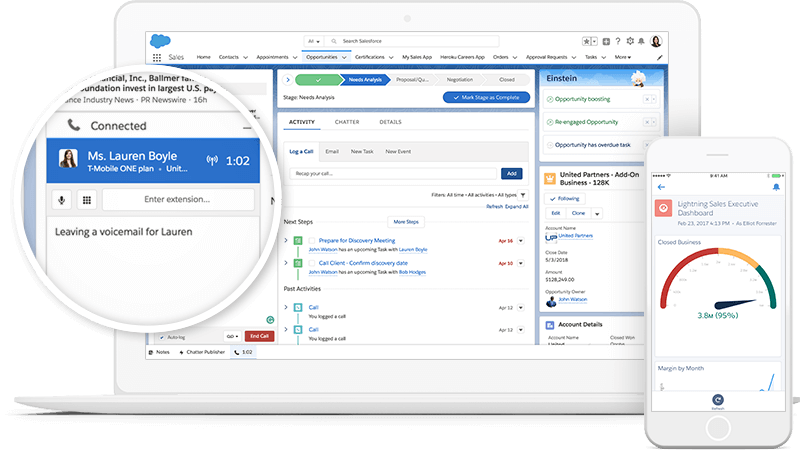 Salesforce is by far the most feature-rich solution on this list. So it makes sense it targets large and fast-growing businesses.
Salesforce's excellent list of tools allows you to optimize your:
Marketing reporting.
Leads and opportunity tracking.
Sales pipeline management.
Insights on campaign performance.
Customer communications.
And more!
However, it's crucial to note that more features don't always mean it's a better tool! Think about what you need to solve with a CRM and how each tool's features will solve these challenges.
How Salesforce works
Salesforce operates using a cloud-based interface that provides you access to all your individual "clouds" in one place.
The most popular clouds part of the Salesforce offering are:
Sales Cloud.
Marketing Cloud.
Service Cloud.
Plus, you can use drag-and-drop components to customize your system with an integrated suite of tools through the Lightning App Builder.
Keap overview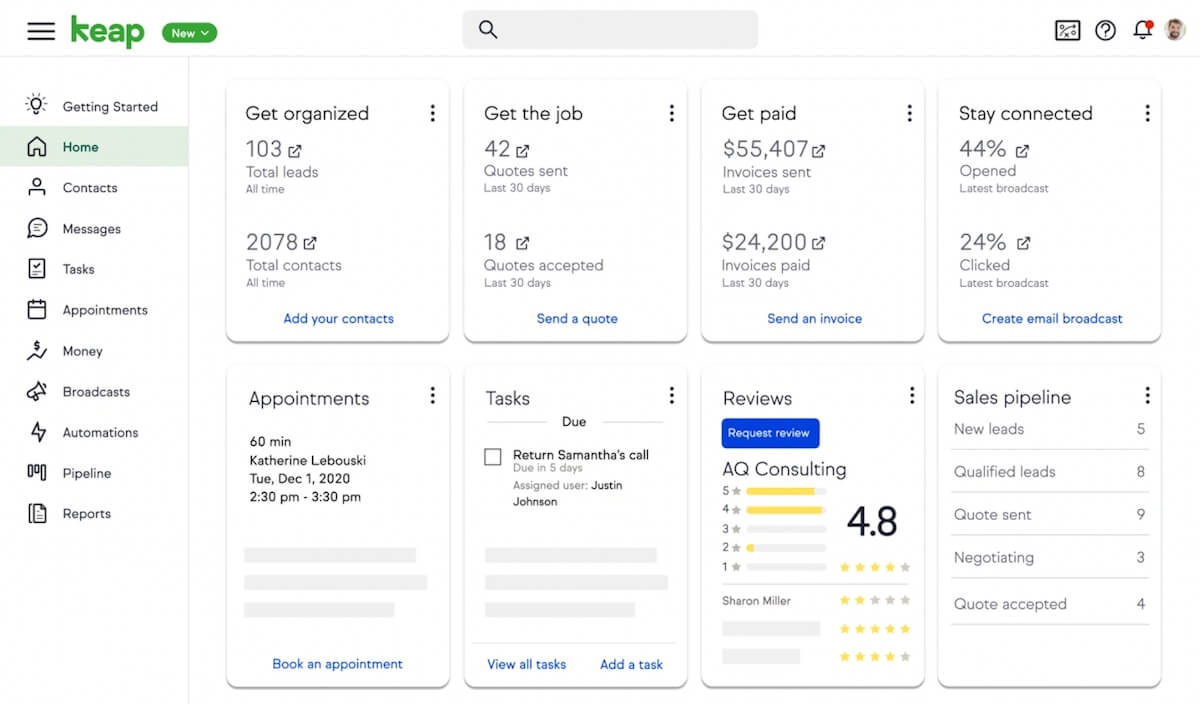 While Keap is ideal for small businesses looking for a simple, easy-to-use CRM.
Keap focuses on helping your team turn qualified sales leads into paying customers as a full-scope sales and marketing platform.
Keap's clean, simple dashboard helps you keep track of:
Website tracking.
Email marketing and reporting.
Invoices and quoting.
How Keap works
Keap offers a basic set of features through its cloud-based software. With the tool, you enjoy a clean dashboard to focus on your key metrics.
Your Keap dashboard consists of your most-used features and core insights to track the progress of your business consistently. You can also seamlessly create and monitor marketing campaigns with the drag-and-drop builder.
Keap's product suite includes:
Keap Grow — to track and organize financial information.
Keap Pro — features a landing page builder, intelligent forms, and reports.
Max Classic — What was Infusionsoft until 2019, this is Keap's more advanced sales and marketing solution.
Method:CRM overview
The most prized trait of Method:CRM is its two-way sync with QuickBooks and Xero accounting software. With it, you get a 360-degree view of your customer's history and accounting data.
Plus, your QuickBooks or Xero account stays clean and error-free due to this deep integration!
You can use flexible automation to keep track of everything in real-time and personalize Method:CRM as needed.
Through powerful integrations, Method:CRM also enriches the way you're able to use apps like Gmail, Outlook, and Mailchimp.
All the tools you need for your communications can be accessed from one place, so you don't have to keep switching between windows. Below is an example of how Method:CRM integrates seamlessly with Gmail.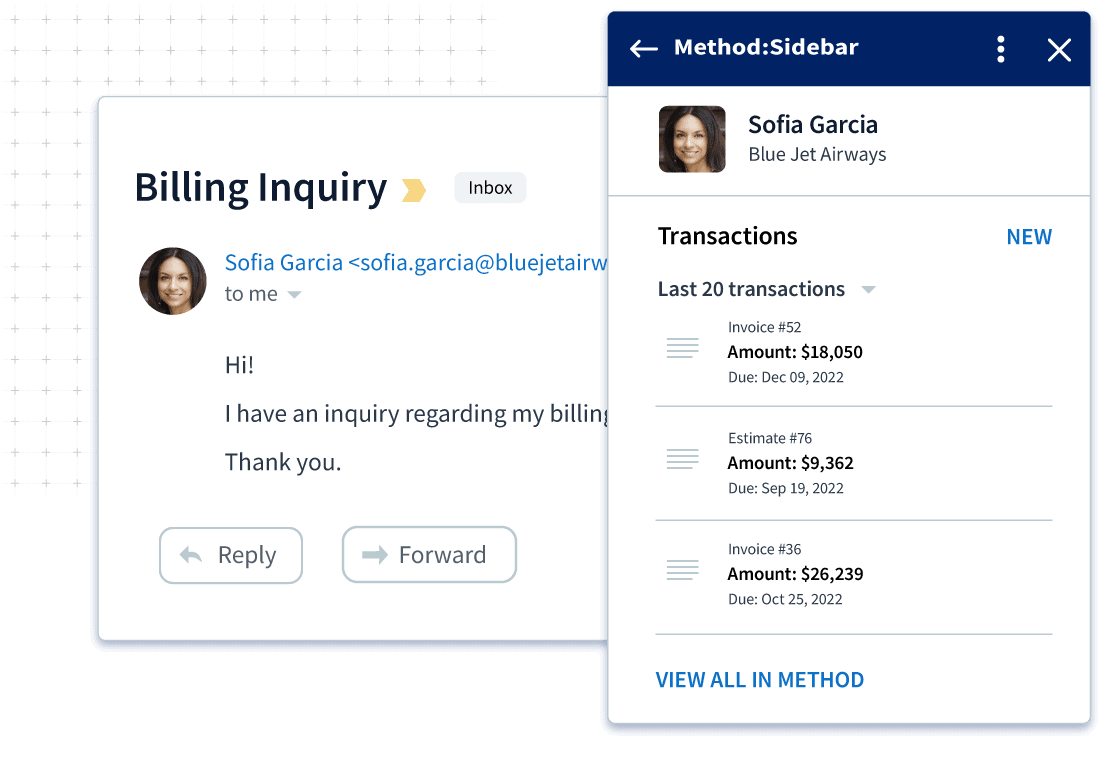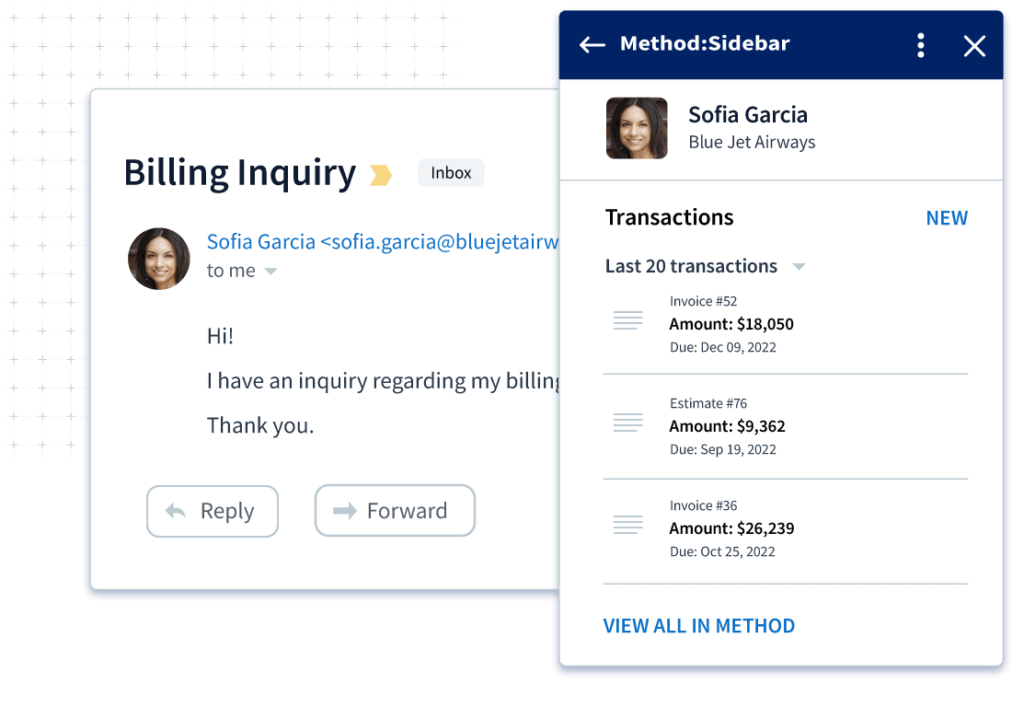 How Method:CRM works
QuickBooks and Xero users can automatically sync data from their accounting software to their CRM and vice-versa with Method.
Thanks to these platforms' constant sync, you can access more detailed customer profiles and maintain strong relationships with your customers.
With deep automation available, Method:CRM optimizes operations such as:
Marketing communications.
Invoicing and payments.
Lead and opportunity tracking.
Workflow management.
Plus, you can create custom dashboards for seamless access to all the information you need.
Comparing Salesforce, Keap, and Method:CRM
Deciding on the right CRM takes research. If you're evaluating solutions beyond Salesforce, Keap, and Method:CRM, check out these resources:
Key features
Sales reporting tools.
Custom documents for invoices, quotes, estimates, and more.
Drag and drop Lightning App builder.
Customer engagement tools.
Opportunity tracking.
Workflow creation.
Primary benefits
Advanced marketing and sales automation.
Cloud-based interface.
Intuitive, mobile-friendly dashboard.
Team collaboration and document sharing.
Limitations
Salesforce is abundant in features and designed for larger businesses with significant growth trajectories.
As a result, smaller businesses can get overwhelmed by the number of features, complexity, and end up spending more time training users.
Key features
Email marketing,
Task management.
Marketing automation.
Appointments.
Invoicing and payments.
Primary benefits
Easy to use basic CRM.
Manage interactions with customers via email and text.
Onboarding support.
Limitations
While you may initially save money with Keap, its basic version is one of the most limited CRM options available.
You'll need to invest in a more robust solution down the road as your business grows or upgrade to a more expensive Keap plan like the Max Classic.
Key features
Two-way sync with QuickBooks and Xero.
Automated lead capture.
Customizable and segmented reporting.
Get CRM on the go with a mobile app.
A self-service customer portal.
Multiple payment channels.
Integrations with Outlook, Gmail, Google Calendar, and more.
Primary benefits
​​Tailored reporting for business insights.
Customizable financial templates.
Eliminates double-entry of data.
Customer-friendly online portals.
There are no limits to how you can tailor the CRM to meet your needs.
Free trial for 30 days with unlimited features and users.
Limitations
Method:CRM is currently only available in English. In addition, it works best for QuickBooks and Xero users because of its powerful, two-way sync.
Salesforce pricing
Salesforce has four small business pricing plans:
The Essentials plan is $25 a user per month. It includes pre-figured reports, guided content for sales, and online training.
The Sales Professional plan is $75 a user per month. It includes lead scoring, duplicate blocking, mass emails, campaign management, and more.
The Service Professional plan is $75 a user per month. It includes features like customer service scripts to manage your case management.
The Pardot Growth plan is $1250 per month for up to 10,000 contacts. It includes email marketing tools, engagement programs, tracking social posts, ROI reporting, and more.
Keap pricing
Keap offers two different pricing plans:
Pro Plan — $129 per month, with features like email marketing, sales automation, appointments, lead management, and more.
Max Plan — $199 per month for all the features of the Pro Plan as well as marketing analytics, promo codes, and upsells.
Moreover, there is also the option to build a customized plan for more advanced needs with the Max Classic Plan (formerly Infusionsoft).
Method:CRM pricing
There are three pricing plans available for Method:CRM. All include the two-way QuickBooks and Xero sync, with more details below:
Contact Management: $25 per user per month. For every contact you have in your network, Method:CRM makes it easy to manage that customer information.
CRM Pro: $44 per user per month. It includes financial management, sales pipeline management, payments through self-service contact portals, and more.
CRM Enterprise: $74 per user per month. It includes advanced features like email campaigns, support case submissions through portals, the ability to view and create bills, and more.
To get started, take advantage of Method's full-access free trial.
Who should use Salesforce?
Designed for fast-growing. large companies, Salesforce offers a wide range of complex features. Keap or Method:CRM are likely better options for smaller businesses.
Who should use Keap?
Keap is an ideal solution for companies looking to optimize basic operations within their business. As your company grows, however, you may need more powerful tools.
Who should use Method:CRM?
Method:CRM is an excellent solution for small to medium businesses who want to automate their financial workflows by syncing with QuickBooks or Xero. It's great for businesses at any growth stage as it evolves with your changing business needs through customization.
Bottom line
It's best to choose a flexible CRM solution that grows with you through every stage of scaling your business. Not just the beginning.
And that's exactly what Method:CRM is made for.
Start your free trial of Method:CRM!