Compare Salesforce vs. HubSpot CRM vs. Method:CRM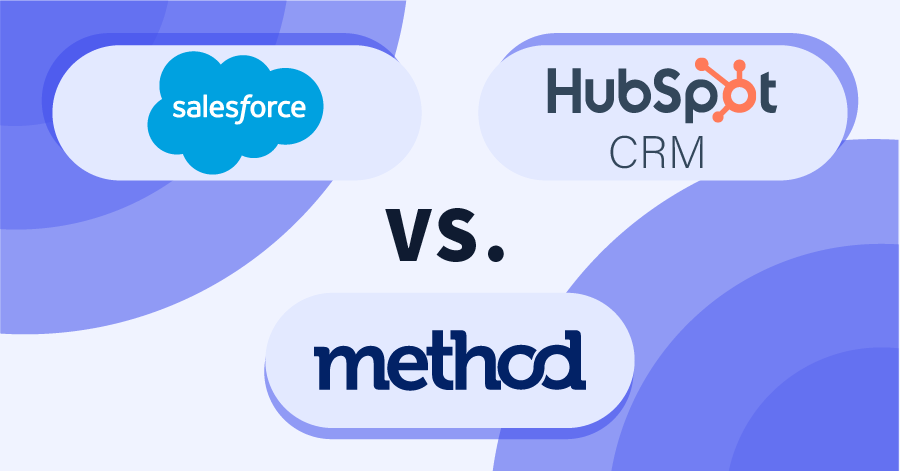 Which CRM will help your company generate more leads and improve employee efficiency to increase profits?
Integrating a CRM into your business helps:
Better manage your customer relationships.
Build custom documents like reports, quotes, and proposals.
Track sales opportunities
Automate your marketing campaigns and sales efforts.
But with so many options to choose from, how do you know which CRM is right for your business? If you want to find the best solution for you, consider three CRM software:
Salesforce.
HubSpot.
Method:CRM.
Use this blog to select a CRM that will help your company generate more leads and improve employee efficiency to increase profits.
Salesforce vs. Hubspot CRM vs. Method:CRM
The main difference between Salesforce, HubSpot, and Method:CRM is that Hubspot and Salesforce do not have a two-way native QuickBooks sync like Method:CRM.
They also differ with:
Pricing.
DIY customization limits.
Workflow automation
Customer service availability.
How their self-serve customer portals resolve issues.
Let's explore which CRM software will be the most beneficial to your business based on all these components!
Salesforce overview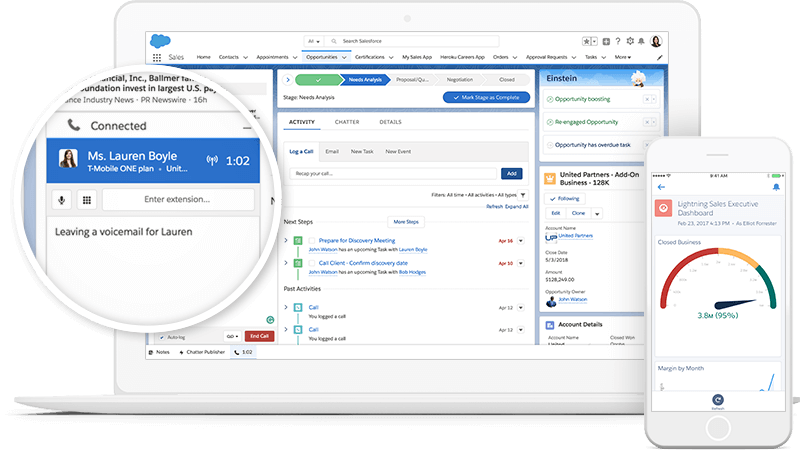 With Salesforce, you gain a full view of your customers whenever they come into contact with your business. Its CRM components like sales forecasting, workflows and approvals, sales collaboration, territory management, and partner management, among others.
Around three times a year, Salesforce introduces new product features to its customers enabling them to do more with the product. Some recent offerings include:
Pipeline Inspection. This feature lets users see an in-depth view of their entire sales pipeline.
Salesforce Meetings. A feature that allows you to schedule in-app meetings with sales contacts and employees.
Global Models for Opportunity Scoring. Through AI analysis, this feature determines whether a sales opportunity has a high or low chance of being closed.
Although this CRM is one of the most well known out there, that doesn't necessarily mean it's the best fit for your business.
How Salesforce works
Salesforce uses cloud based computing to automate repetitive tasks to optimize you and your team's time so that you can focus on the bigger picture.
Offering tools like marketing automation, commerce management, as well as third party app-integrations with Slack, Google Workspace, and QuickBooks, Salesforce is good for handling typical CRM tasks such as:
Keeping track of your customer relationships.
Pulling reports of key insights.
Highlighting customer opportunities.
Automated email communication with clients.
HubSpot CRM overview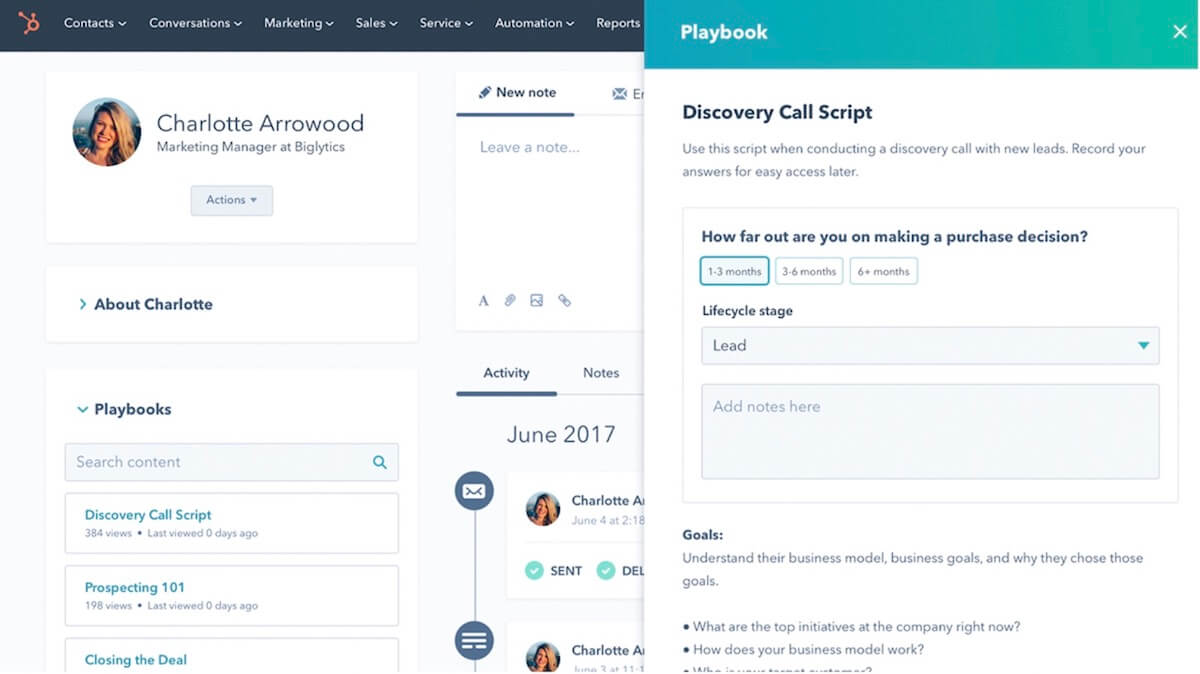 HubSpot wears many hats, serving as a marketing platform and CRM that fulfills the requirements of a first time CRM user.
Filled with time saving tools, workflow automation features, and sales tracking features, you can handle all your tasks in a personalized system.
How HubSpot CRM works
HubSpot gets its name from the "hubs" it uses to categorize your activities. You can bundle together the following hubs based on your needs:
Marketing.
Sales.
Service.
Content Management.
Operations.
Similar to the Marketing Hub, HubSpot offers sales teams a software solution to boost their performance. This platform is known as the Sales Hub.
It features offerings like pipeline management, deal tracking, dashboard reporting, ad management, and a centralized inbox for your client interactions..
Method:CRM overview
Method:CRM is the #1 QuickBooks CRM for small businesses looking to automate their workflows with a personalized solution.
A CRM that grows with you and your team, Method helps you accomplish more in less time, so you can spend more time bettering your customer experience.
How Method:CRM works
Method:CRM's top feature is its two-way QuickBooks and Xero sync.
When you integrate your CRM with your accounting software, information updates automatically in Method:CRM, so the appropriate members of your team can access it in real time.
This ensures your business is never hampered by information delays and keeps things moving forward!
Plus, Method:CRM's workflow automation reduces the number of repetitive tasks in your day by automating your workflows and payment processing. It's powerful platform analyzes your opportunities, and allows you to better nurture your client relationships.
To take your efficiency up a notch, connect Method with several third-party integrations such as:
Gmail.
Outlook.
Mailchimp.
Zapier.
Comparing Salesforce, Hubspot CRM, and Method:CRM
So far you've covered Salesforce, HubSpot, and Method:CRM. But what are each platform's upsides and downsides?
To widen your knowledge of other CRMs, consider these articles:
Key features
Email alerts for deals are sent to your inbox.
Strong reporting tools.
User-friendly interface.
Industry-specific templates.
Auto-assign task feature.
Primary benefits
Advanced marketing and sales automation tools.
Flexible customization.
Easily connect Salesforce and Slack.
Extensive options for third-party integration.
Limitations
Salesforce is one of the pricier CRMs for small businesses when you factor in implementation, support, and customization costs.
Salesforce doesn't offer ready-to-set-up-and-go solutions for smaller niche industries, so that's something to consider during evaluation.
Key features
Lead capture and segmentation.
Integration between your marketing and sales tools.
Support services.
Primary benefits
HubSpot academy for platform education.
App integrations with popular platforms like Outlook and Google Workspace.
Its basic CRM version is free!
Streamline customer service with a team inbox.
Limitations
With your business growing, it won't take long for you to mature from HubSpot and need to upgrade to a more advanced CRM solution.
When you upgrade to a paid HubSpot plan, you will see a steep price increase that isn't feasible for many small businesses.
Key features
Seamless two-way sync with QuickBooks and Xero for constant flow of data.
Automated lead capture and custom reporting tailored to your business needs.
Multiple payment gateways and a self-service customer portal.
Native integrations with Outlook, Gmail, Google Calendar, Zapier, and more!
Pipeline management and sales tracking.
Primary benefits
Lead capture is instant with web-to-lead forms.
No code platform with unlimited DIY customizations.
Email, invoice, and estimate templates you can personalize.
Turn your estimates into invoices to prevent data entry errors.
Client self-serve portals for fast, easy payments.
Limitations
To experience Method:CRM to its full potential, being a QuickBooks or Xero user is required.
Moreover, Method is only available in the English language.
Salesforce pricing
Salesforce offers four pricing plans:
Essentials: $25 per user per month.
Sales Professional: $75 per user per month.
Service Professional: $75 per user per month.
Pardot Growth: $1250 per month for up to 10,000 contacts.
Salesforce offers a free trial.
HubSpot pricing
HubSpot CRM starts free, but gets costly as your business expands.
HubSpot's Starter plan starts at $45 per month billed monthly or $540 when billed annually. Plans in this tier have marketing, sales, and service hubs available to two paid users.
Moreover, HubSpot's Professional plan costs $1600 per month or $19,200 annually. Five paid users are included in this option.
If you want to go outside of these two plans, HubSpot offers pricing by hub or in customized bundles.
Method:CRM pricing
Method:CRM has three pricing plans:
Contact Management: $25 per user per month.
CRM Pro: $44 per user per month.
CRM Enterprise: $74 per user per month.
Method:CRM offers a free trial with no credit card or contract required, so you can rest assured it's the perfect option before you commit!
Who should use Salesforce?
Salesforce is a great CRM for larger businesses with many team members and clients to take care of.
It's a fairly high-budget CRM, however, and likely not worth the cost for small businesses with only a handful of employees and customers.
Who should use HubSpot CRM?
HubSpot is a suitable first-time CRM for small businesses looking to improve sales, optimize marketing efforts, and manage customer service.
HubSpot CRM starts off as free, however, you'll likely outgrow this tier quickly as you see your business grow.
Who should use Method:CRM?
Calling all QuickBooks and Xero users looking to leverage automation — Method:CRM is the best option for you!
As your business grows, Method:CRM evolves with you to fit perfectly into all your business needs.
Going beyond CRM with customization, Method can handle sales commission tracking, estimate approvals, purchase history, and signature tracking to name a few.
Bottom line
Salesforce, HubSpot, and Method:CRM are all great options, but the key is to choose the right CRM for your individual business needs. With a CRM solution, you can optimize your time and make your customers happier.
Start your free free trial of Method:CRM today.