Compare Pipedrive vs. Salesforce vs. Method:CRM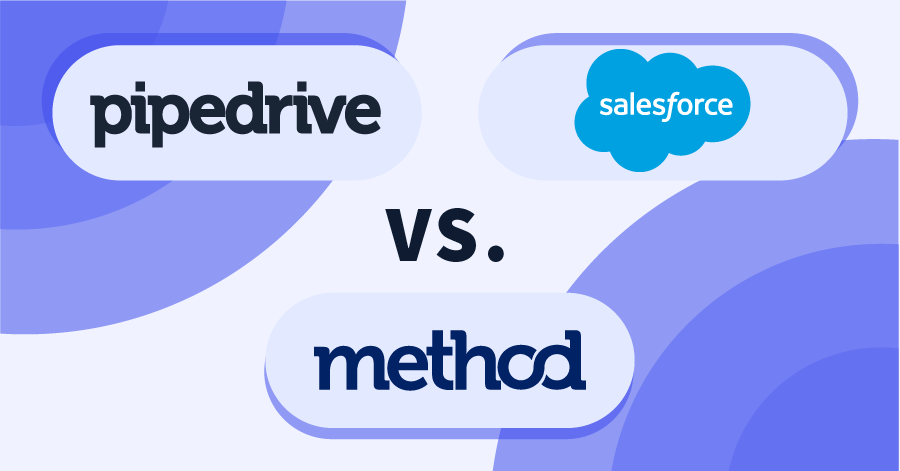 Determine which one is the best CRM for you.
Your business might already have a semi-functional customer relationship management (CRM) system, but what if you found a solution that met your every need?
CRM solutions improve your team's effectiveness by:
Automating workflows.
Monitoring relationships with past, present, and prospective clients.
Delivering insights on key performance metrics.
Creating a collaborative, digital environment.
In this article, you'll learn everything you need to know about what Pipedrive, Salesforce, and Method:CRM have to offer. You'll take a deep dive into the ways that these three software stand out in today's competitive business world. You can then use the comparisons and tips to determine which is the best CRM for you.
Pipedrive vs. Salesforce vs. Method:CRM
Based on our firsthand experience, although these three software feature similarities, each of their tools has its unique attributes. The main differences between Pipedrive, Salesforce, and Method:CRM are the robustness of their analytics and their customization features. Keep reading for a deeper dive into each CRM's capabilities.
Pipedrive overview
Pipedrive CRM features help you manage leads, marketing campaigns, customer data accounts, and relationships more effectively.
Despite its limited customization features, our team discovered through using this product that Pipedrive is a good option if you want to optimize basic processes.
Its intuitive interface helps your salespeople save time on menial tasks like:
Appointment scheduling.
Email communications.
Organizing team workflows.
Creating performance reports.
Following up on customer payments.
How Pipedrive works
Pipedrive's easy-to-use visual interface, charts, and detailed data let you see your overall progress and business performance at every level through one clean dashboard.
Drag and drop deals from one stage of the funnel to another to easily update the status of sales opportunities, so that your sales reps can say goodbye to spreadsheets for good.
Then use Pipedrive's reporting tools to uncover insights in order to determine key opportunities in your sales pipelines.
Salesforce overview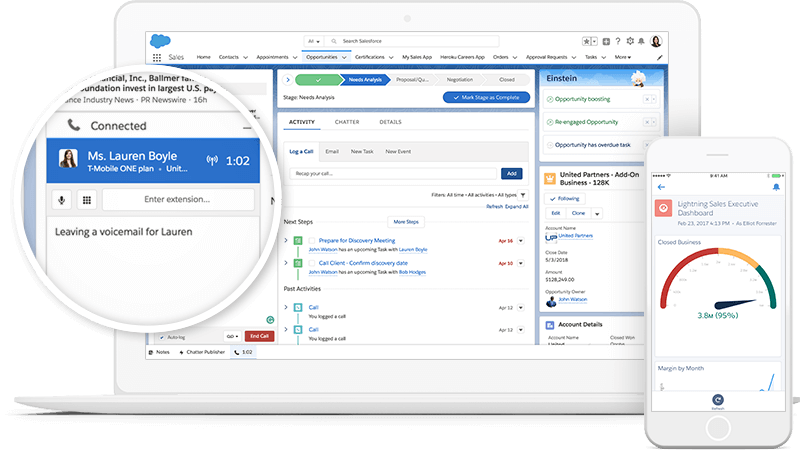 From sales to customer service and marketing, Salesforce is an ideal solution for customer management.
As indicated by our tests, it helps you manage:
Social media interactions.
Sales activities.
Marketing touch points.
And more!
Our analysis of this product revealed that you can use trends and data to gain critical insights into your customer base.
And based on our observations, this powerful CRM solution is geared toward rapidly growing business needs, so it will be more valuable to you as your company grows.
How Salesforce works
Salesforce is a cloud-based software that focuses on four different areas which include:
Sales.
Customer service.
Team collaboration.
Marketing.
Its CRM is better known as Salesforce Sales Cloud. You can integrate your Sales Cloud with other Salesforce cloud services and apps to create a full-scope software that meets all your needs.
Method:CRM overview
Method:CRM is the #1 CRM for QuickBooks and Xero users, with 1,300+ five stars reviews on apps.com. Method's two-way sync ensures you have access to accurate data anytime, anywhere. The software allows you to:
Add customer information.
Create estimates, invoices, and receipts for vendors and customers.
Accept secure online payments.
Automate data entry and custom workflows.
Save time to focus on more important tasks.
You can also personalize your reports, document templates, lead management tools, dashboards, and more with Method:CRM.
To increase your productivity even further, Method allows you to integrate a range of popular apps including Outlook, Gmail, and Google Calendar!
How Method:CRM works
Method:CRM enhances your customer experience and operations through automation. You can implement personalized automation that mirrors your exact process to maximize productivity and give your business a competitive edge. The best part is that you can customize everything with your company's logo including invoices and reports.
Beyond this, the ability to create custom dashboards in Method:CRM keeps you and your sales teams focused on the metrics that matter to reach your goals.
With dedicated Customer Success Managers, a knowledge base including FAQs, free customer support, and training videos, your team will get up and running on the program in no time. Our advisors are here to help you clear up questions you may have on anything from getting started to flexible customization options as you scale.
Moreover, Method has both a mobile application and desktop app so that you can create a flexible work environment. So, whether you're on an iPhone or using a Windows desktop version, you always stay up to date with real-time information.
Comparing Pipedrive, Salesforce and Method:CRM
Choosing the right CRM is the key to realizing your full growth potential. To expand your search, check out these resources:
Key features
Lead generation chatbot.
Bulk editing functionality to change multiple fields at once.
Live dashboards for a real-time look at your organization.
Mobile app with notifications for Android and iOS products.
Goal setting and sales pipeline activity tracking.
Primary benefits
Easy-to-use interface.
AI-powered sales assistant that provides live advice and recommendations.
Activities overview.
Offers CRM training courses and tutorials.
Third-party integrations with Outlook, QuickBooks, Slack, etc.
Limitations
Pipedrive allows you to connect with a range of task management tools on the app marketplace. But while Pipedrive is an ideal CRM option for small businesses, it's limited in terms of its number of features and availability of customization options in comparison to CRMs like Method:CRM.
Our investigation demonstrated that it also has a steeper learning curve than most other CRMs, particularly for users who are not familiar with CRM systems.
Key features
Opportunity stages feature for simplified opportunity management.
Marketing campaign manager.
Email and calendar integration.
Customizable, automated solutions for lead scoring.
Lightning application builder.
Primary benefits
Collaborative sales management and forecasting capabilities.
Customer cloud to create an integrated purchasing experience.
Lightning voice to make calls right from Sales Cloud.
Salesforce scheduler to simplify scheduling for meetings and appointments.
Email sync with platforms like Outlook, Gmail, etc.
Limitations
While Salesforce is a great CRM tool, most of its more advanced features hold value for larger enterprises and may be irrelevant for small to medium-sized businesses.
Key features
Two-way QuickBooks and Xero sync.
Email campaigns app and marketing automation.
Native integrations with Gmail, Outlook, Mailchimp, Zapier, and more.
Mobile app for on-the-go insights from your phone.
Primary benefits
Enhance accuracy by automatically syncing your data between Method:CRM and QuickBooks or Xero.
Reusable templates for emails, reports, and transaction documents.
Convert estimates into invoices in a few clicks.
Web-to-lead forms to save new prospects directly to your CRM.
Limitations
The only accounting systems that integrate with Method are QuickBooks and Xero. The platform is also only available in English.
Pipedrive pricing
Pipedrive has four pricing tiers with several add-ons available to enhance your solution. The rates are as follows:
Essential: $12.50 a user per month.
Advanced: $24.90 a user per month.
Professional: $49.90 a user per month.
Enterprise: $90.00 a user per month.
Pipedrive also offers a 14-day free trial.
Salesforce pricing
Salesforce pricing can get as complex so let's stick to their small business pricing models to keep things simple:
Essentials: $25 a user per month.
Sales Professional: $75 a user per month.
Service Professional: $75 a user per month.
Pardot Growth: $1250 per month for up to 10,000 contacts.
Salesforce also offers a 30-day free trial.
Method:CRM pricing
You can choose from three Method:CRM plans. The prices are as follows:
Contact Management: $25 per user per month.
CRM Pro: $44 per user per month.
CRM Enterprise: $74 per user per month.
Method:CRM also offers a free trial. Get started with no credit card or contract to decide if it's the right fit for you.
Who should use Pipedrive?
Pipedrive is well suited for businesses looking for an out-of-the-box CRM solution with little customization. After putting it to the test, we found that its interface is easy to use, but its features are limited.
Who should use Salesforce?
Salesforce is a great CRM for fast-growing businesses looking for a solution that can expand with them.
However, our findings show that it might not be the best fit for a lot of small-to-medium businesses with limited budgets due to issues with its complexity.
Who should use Method:CRM?
Method:CRM is the winner in terms of a customizable CRM for many reasons. It's best suited for QuickBooks and Xero users looking for a CRM that is tailored to their needs.
If you're interested in a solution that offers powerful workflow automation, then Method:CRM should be your top choice!
Bottom line
Every CRM solution offers different benefits. The onus is on you to decide what challenges you need to solve with a CRM, and to then find one perfectly suited for your business.
You'll want to consider product features, costs, customizations, limitations, and ease of use as you go through the evaluation process.
To get a hands-on experience with each CRM, it's best to try before you buy, so look for solutions:
With a free trial.
That don't require a long-term commitment or credit card up-front.
Method:CRM could be just what you need. Start your full access free trial today!