Compare Pipedrive vs. Keap vs. Method:CRM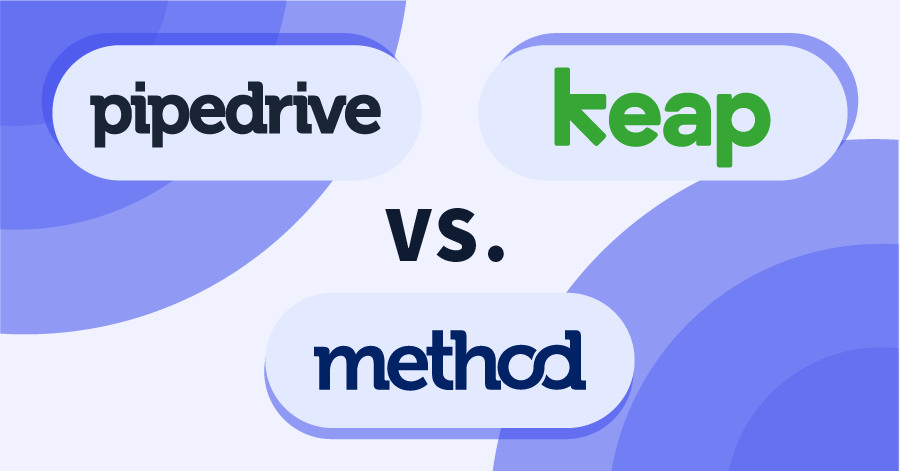 Determine which CRM is the right solution for your business.
Whether you are getting started with CRMs or already using one, it's important to find the perfect fit. As per our expertise, you need to understand your business' needs to find out which of the many CRM products will be most beneficial for you.
This guide provides an in-depth comparison between Pipedrive, Keap, and Method:CRM's features, SaaS pricing model, and limitations to guide you toward the right solution for your business.
Pipedrive vs. Keap vs. Method:CRM
The main differences between Pipedrive, Keap, and Method:CRM involve their customization and automation capabilities.
Although Pipedrive is customizable, its customization capability is very limited when compared to other solutions. For this reason, it's not a solution that's able to scale with you.
As your company grows, you likely have more contacts and business activities to manage. And if your CRM isn't able to keep up, this becomes an issue in the long term.
Keap, on the other hand, has a robust list of features available to use from day one.
However, these are all within the customer relationship management sphere. So Keap doesn't benefit any examples of business processes that don't involve customer relationships.
As for Method:CRM, because it is fully and infinitely customizable, it keeps up as your business scales. You can automate your business-specific workflows and continue to tailor the platform to your needs.
Method:CRM's accounting software integration is also one of the strongest in the market.
Its two-way sync allows your team to have visibility into your accounting data without needing to access QuickBooks or Xero. All in a way that's secure and automated!
With that said, let's take a deeper dive into these three CRM solutions to help you make a better-informed decision.
Pipedrive overview
Pipedrive is a fairly user-friendly customer relationship management software. It's ideal for small businesses that don't have a CRM solution in place yet.
After we trialed this product, we found that it's mainly sales-focused; many of its features help companies gain visibility into their sales pipelines and revenue streams.
The downside of this sales focus is that there isn't a lot of value to be derived from other types of operations.
How Pipedrive works
Pipedrive allows you to automate multiple sales and marketing workflows. For instance, you can create a deal once a new contact is added to the system. Or, you can take advantage of Pipedrive's email automation and trigger personalized email template responses.
After putting it to the test, tracking each step of your sales process is also easier as you're able to tweak your sales pipeline and personalize sales reports.
Customization can be tricky however, as to further personalize features, you have to use Pipedrive's open API. This can become a challenge if you don't have a developer on your team.
If lead generation through a chatbot sounds appealing, you can also make use of Pipedrive's add-on LeadBooster for an additional fee.
Pipedrive's most useful CRM features include:
Communication activity tracking (i.e. phone call, text message, emails, etc.).
Invoicing.
Third-party integrations with 300+ tools.
Keap overview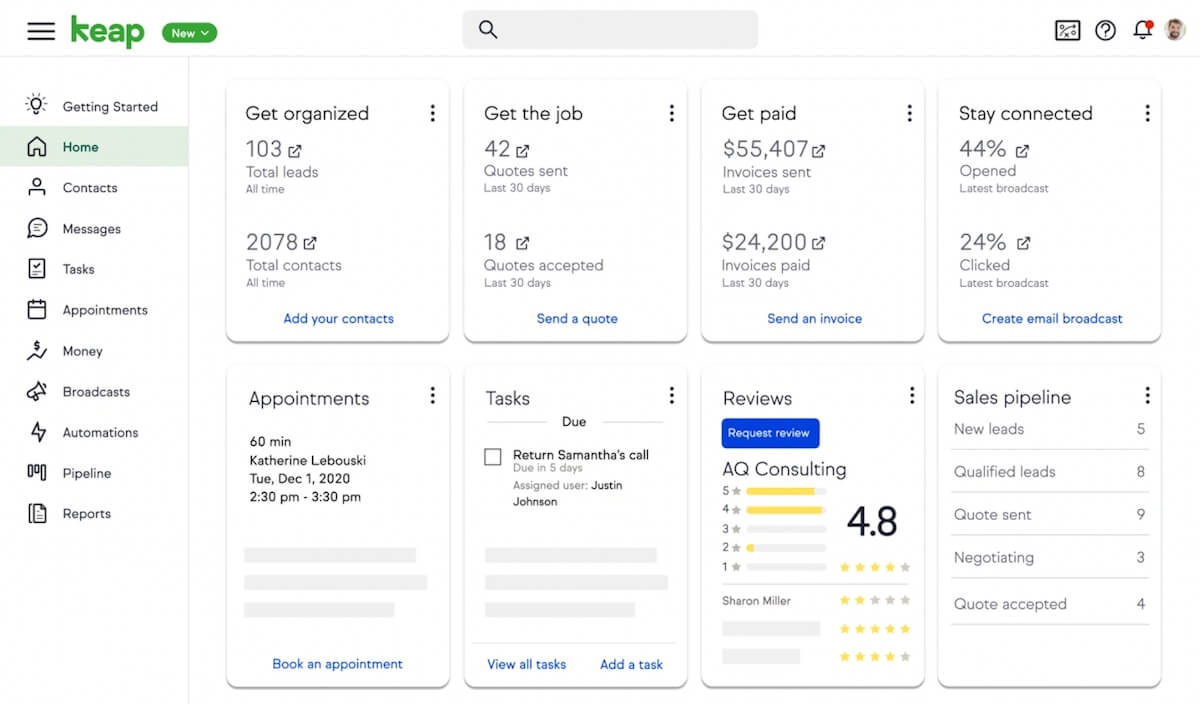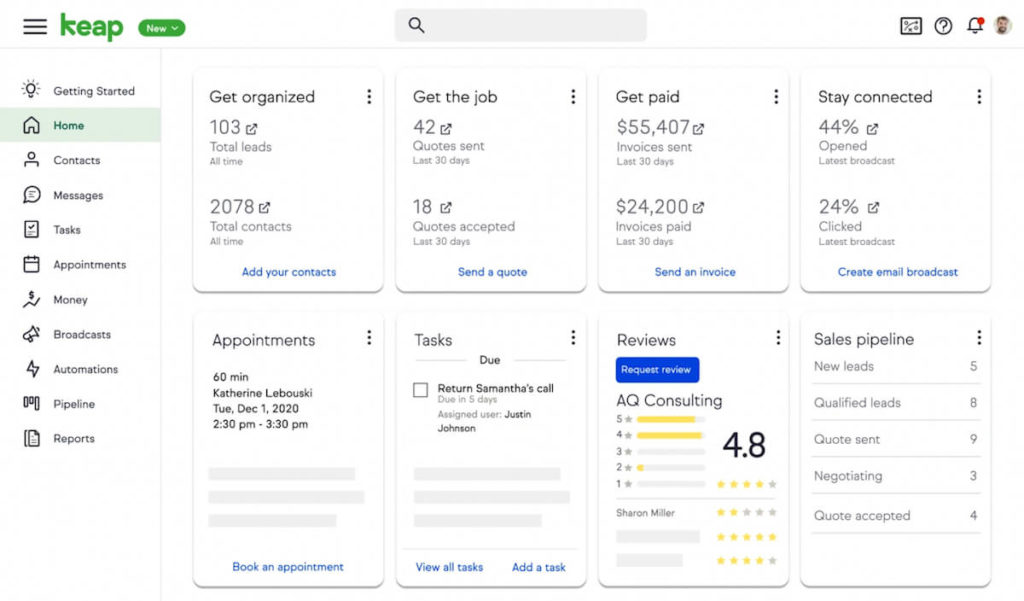 Keap centralizes your sales and marketing processes, so you can nurture leads and bring on new customers.
In a nutshell, Keap combines contact management and automation.
How Keap works
Keap's main focus is lead management with the goal of conversion. Its features involve automating sales and marketing workflows mostly, with the goal of maximizing your lead captures.
Keap provides:
Contact management and lead generation.
Email marketing.
Workflow automations.
Method:CRM overview
Method:CRM is the #1 CRMfor small businesses who want powerful automation and to connect their accounting and sales workflows. The two-way sync with QuickBooks or Xero, save hours weekly and improve your business operations.
How Method:CRM works
The key to Method:CRM's effectiveness lies in its native two-way QuickBooks or Xero sync. In the case of Method's QuickBooks user ratings, this sync has helped it earn 1300+ 5-star reviews on Apps.com. The sync is so valuable because it:
Centralizes all your customer details in one software, so no more switching between multiple windows.
Eliminates the need for double data entry.
Increases visibility for all your team members.
One of Method:CRM's top benefits is the ability to automate multiple workflows to increase your capacity and save hours of manual work. With that in mind, one of the biggest pros is that you're able to close more deals faster.
Also, Method:CRM facilitates seamless communication with integrations with Gmail, Outlook, Mailchimp, Zapier, and other popular software clients.
Not to mention, Method offers customizable self-serve portals. With these portals, your customers can perform a variety of actions.
The portals' cloud-based functionality allows your customers to do everything from accessing documents to consulting your help resources (i.e. tutorial videos) to making payments. Plus, you can add your branding to your portals, including your company logo on a particular section of them.
Since Method:CRM can be personalized for your every need, it grows with you as your business needs change.
Comparing Pipedrive, Keap, and Method:CRM
Now that you understand more about Pipedrive, Keap, and Method:CRM, let's find out which is best for you.
And if you'd like to compare these with other CRMs, give the following a read:
Key features
Bulk field editing.
Customizable chatbot for lead generation.
Live dashboard.
User-friendly mobile app.
Primary benefits
Boost productivity through automation.
Acquire more customers through lead generation.
Improve the digital workspace with centralized data.
Easy-to-navigate user interface for both mobile and desktop dashboards.
Limitations
Pipedrive's main limitations have to do with customization, especially when compared to CRM solutions in the same price range.
For this reason, our research indicates that this platform may not be able to keep up with your growth long-term.
Key features
Automated payment collection through Paypal, Stripe, and other processors.
Business reporting and analytics.
Customized lead follow-ups.
Sales and marketing workflow automation.
Primary benefits
More sales opportunities through data insights.
Personalized communications.
Pro plan lets you build landing pages and create smart forms with custom fields.
Improved customer experience.
Limitations
While Keap is phenomenal at automating the workflows of your marketing and sales teams, it does have a steep learning curve if your business needs fall outside its key features.
Some users have also reported limited search capabilities, and that information can be lost unless saved.
Additionally, Keap's Campaign Builder isn't supported by Firefox.
Key features
Two-way native QuickBooks and Xero sync.
Lead generation through website forms.
Online self-serve customer service portal.
Native integrations with Gmail, Zapier, Mailchimp, task management apps, and more.
User-friendly mobile app for iOS and Android.
Reusable email, report, and transaction templates.
Primary benefits
Accurate and secure data with the automatic QuickBooks or Xero sync.
Custom reporting and analytics.
Easy to convert estimates to invoices.
Send automatic reminders to your customers.
Free trial with unlimited features and users.
Solid customer support.
Limitations
To get the best results from Method:CRM, you should be a QuickBooks or Xero user. Also, the only language option currently available is English.
Pipedrive pricing
Pipedrive currently offers a 14-day free trial and has four pricing options:
Essential: $19.90 per user per month.
Advanced: $34.90 per user per month.
Professional: $59.90 per user per month.
Enterprise: $119 per user per month.
Keap pricing
Keap offers a 14-day free trial, and has two pricing plans available:
Pro: $129 per month for 2 users.
Max: $199 per month for 3 users.
Additional users are $29 per month each.
Method:CRM pricing
Method:CRM offers a free trial with unlimited features and users — no credit card required. There are three plans:
Contact Management: $25 per user per month.
CRM Pro: $44 per user per month.
CRM Enterprise: $74 per user per month.
You can also mix and match plans, so that you only pay for the features you need.
Who should use Pipedrive?
If you're a small business in its early stages and want a CRM with basic features, then Pipedrive is a good choice.
Just keep in mind that this software might not be able to handle sudden, rapid growth. It struggles with scaling as your amount of customers and vendors grows.
Who should use Keap?
Our findings show that Keap is a good solution for companies who need a standard CRM tool, optimized for sales and marketing processes.
It's especially useful to United States-based businesses because of its SMS messaging feature.
Who should use Method:CRM?
Method:CRM is the #1 choice for those looking to spend less time on processes and accelerate their business' growth through automation.
The tool is the perfect choice for QuickBooks or Xero users thanks to its instant, two-way sync with these tools.
Its adaptability meets the needs of a wide range of industries, particularly construction, distribution, manufacturing, and wholesale.
Bottom line
Here's a summary of what you need to know when it comes to Pipedrive, Keap, and Method:CRM.
For a small business that's just getting started with customer relationship management, you might opt for Pipedrive. But remember — this is not a tool that keeps up with growth well.
If you want to automate processes that go beyond marketing and sales, then Keap might not be the right choice either.
Method:CRM offers personalized workflow automation and a reliable, two-way sync with QuickBooks and Xero. It's also a solution that continuously adapts to your processes long-term.
Unlock the power of automation with your free trial of Method:CRM!