Compare Pipedrive vs. HubSpot CRM vs. Method:CRM
Use this in-depth comparison guide of Pipedrive, HubSpot CRM, and Method:CRM to find out.
Determining what makes your CRM options different is the first step in choosing the right one for your business.
Ideally, you want a user-friendly, cost-effective, and efficient solution for workflow optimization.
The question then becomes, which option is the best option among the CRMs out there?
Use this in-depth comparison guide of Pipedrive, HubSpot CRM, and Method:CRM to find out.
Pipedrive vs. Hubspot CRM vs. Method:CRM
The main difference between Pipedrive, HubSpot CRM, and Method:CRM is what the tools specialize in. For instance, Method:CRM is best for powerful workflow automation, whereas HubSpot offers the strongest marketing capabilities.
On the other hand, Pipedrive a great sales management tool.
There are other differences like price and features as well. For example, HubSpot is a good, free CRM option, but Pipedrive and Method:CRM provide more advanced features that help your business grow.
Pipedrive overview
Image credit: Pipedrive
Pipedrive is a small to medium-sized business CRM solution that offers unlimited contacts, custom fields, visual pipelines, and 24/7 support across all plans.
Your customized pipelines and process stages are built, optimized, and organized in real time with Pipedrive, giving your team a detailed history of all their sales activities.
How Pipedrive works
This CRM is fitted to its name as its features work to drive your sales pipeline to new levels!
With Pipedrive CRM:
Create new deals.
Manage your activities.
Set your goals.
Track the progress of your customer journeys through one simple-to-use interface.
Pipedrive focuses on the actions that lead to a sale rather than the result, otherwise known as "activity-based selling."
As leads are created and imported, then are assigned to team members to be moved  through the sales cycle.
HubSpot CRM overview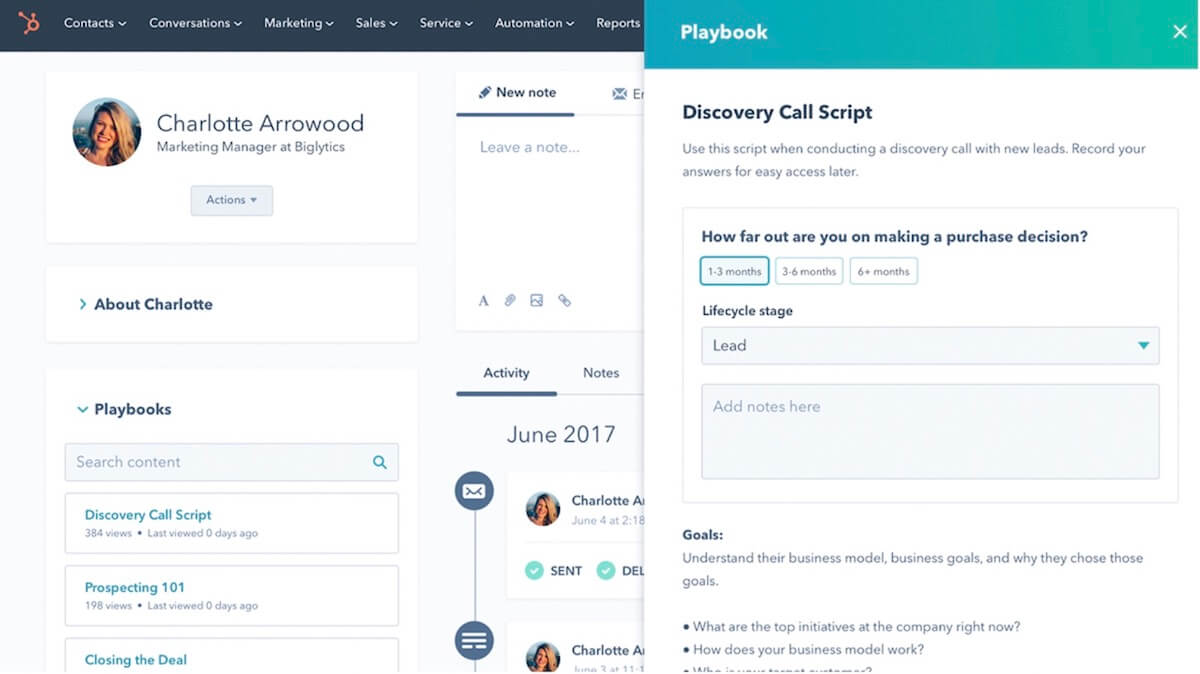 Image credit: HubSpot
Because HubSpot CRM is free, it's everything you can expect from a simple, bare-bone CRM.
At its core, HubSpot is a growth marketing platform, which makes it convenient for improving operations of your business like:
Content marketing.
Communications.
Email automation.
Customer service.
Different "hubs" aka features can be bundled together in HubSpot CRM to create your simple but effective customer management system. Popular hubs are the Sales Hub, Service Hub, and Content Marketing (CMS) Hub.
How HubSpot CRM works
With HubSpot CRM, you add your sales team members, customize your settings, import your customer information, and integrate your tools to optimize your workflows.
Rather than buying individual products that stand alone on their own, HubSpot's features allow you to select bundles that suit your business needs.
Method:CRM overview
Method:CRM is the #1 CRM for QuickBooks and also integrates with Xero users. Use it to directly sync your accounting data into your CRM for a 360-degree view of each customer!
What's so cool about this feature? It:
Eliminates  errors in data entry.
Saves you from having to log data twice.
Lets you create invoices, quotes, and other documents in seconds!
Plus, Method offers a no-code platform that lets you create a CRM that grow with the evolving needs of your business, rather than trying to make your business fit with the software itself.
How Method:CRM works
The easy-to-use interface allows you to build a custom solution that:
Automates your key workflows.
Reduces administrative tasks.
Gives you more time to focus on growth!
With Method's customized data visualizations and reports, you can identify exact opportunities for scaling your business.
It is also easy for customers to pay you using a self-service portal that automates many other areas of customer service for you.
These are just a few of the ways Method optimizes your business. All of its features create a more optimal experience for you and your customers, giving you a better opportunity to scale!
Comparing Pipedrive, HubSpot CRM and Method:CRM
Although these CRMs are viable options for scaling your business, you must choose the one that best suits your needs.
To continue your search for the perfect CRM, consider these resources:
Key features
Sales pipeline management.
Email marketing.
Web visitor tracking.
Shareable document creation with Smart Docs.
LeadBooster add-on to earn more leads.
Primary benefits
Third-party integrations with apps like Google Sheets, DocuSign, Zoom, Asana, etc.
All-in-one activity-based selling platform.
Sales process tweaking for maximum results.
Easy to use.
Unlimited contacts.
Designed by sales people, for sales people.
Limitations
Pipedrive is so focused on your sales processes that some consider it more of a sales optimization platform than a full-service CRM solution.
Pipedrive is great for scaling your sales opportunities but may not be suitable for managing other critical areas of your business.
Key features
Content marketing and email automation.
Analytical tracking to monitor progress.
Contact management.
Automated data capture.
Real-time sales tracking.
Call and event scheduling.
Primary benefits
HubSpot learning academy for platform education.
Cost-effective with a free CRM basic plan.
Designated hubs to manage all of your operations in one place.
Search engine optimization (SEO) tool.
Limitations
Despite HubSpot CRM's free option, it becomes increasingly expensive as your business scales.
Customizations are pricey, and contacts and users are minimal with the basic plan — so you might find this option veering out of your price range sooner than you think.
Key features
Two-way sync with QuickBooks and Xero — saving time and eliminating errors.
Automatic lead capture and opportunity tracking.
Unlimited DIY customizations.
Multiple payment gateways and a self-service customer portal.
Sales forecasting.
Native integrations with Outlook, Gmail, Google Calendar, Zapier, and more.
Primary benefits
A no-code platform that can be designed perfectly to your needs.
A constant flow of up-to-date information with the automatic sync of your accounting data.
Personalized document templates and in-app sharing.
Affordable small to medium-sized business CRM.
Web-to-lead forms.
free trial option!
Limitations
Method:CRM is only available in the English language.
Moreover, you'll need to be a QuickBooks or Xero user to take advantage of the true power of this CRM solution.
Pipedrive pricing
Pipedrive has four pricing plans:
 Essential: $19.90 per user per month.
Advanced: $34.90 per user per month.
Professional: $59.90 per user per month.
Enterprise: $119.00 per user per month.
The most popular plan is the Professional Plan as iIt includes all the tools you need to boost performance and revenue.
If you have a bigger team or more complex needs, you may want to consider the Enterprise plan, which allows you to customize without limits.
HubSpot CRM pricing
As mentioned, HubSpot starts free but gets expensive fairly quickly as you scale your business.
The pricing plans are as follows:
Starter: $45 per month with a minimum of two users.
Professional:  $360 per month with a minimum of five users.
Enterprise: $1,200 per month with a minimum of ten users.
The costs above reflect different tiers of HubSpot's CRM Suite bundle and include the Marketing Hub, Service Hub, and Sales Hub.
Method:CRM pricing
Method:CRM has three pricing options:
Contact Management: $25 per user per month.
CRM Pro: $44 per user per month.
CRM Enterprise: $74 per user per month.
You can also test-drive Method:CRM without a credit card or contract to see if it works for your business with a 30 day free trial!
Who should use Pipedrive?
Whereas HubSpot CRM and Method:CRM focus on optimizing multiple areas of your business, Pipedrive focuses solely on improving your business's sales processes.
Teams looking to hone in on growing their sales operations are an ideal group for Pipedrive CRM.
Who should use HubSpot CRM?
HubSpot CRM is great for those looking for a free, basic CRM solution.
However, HubSpot gets expensive as your needs grow.
A full-fledged CRM, on the other hand, gives you the best chance to scale your business. Plus, there are many comparable CRM options available that won't be as hard on your bank account long-term like Method:CRM.
Who should use Method:CRM?
The integration of Quickbooks and Xero truly makes Method what it is.
Looking to sync client information from one of these accounting software? Then, Method:CRM is the solution for you!
As a DIY tool that allows unlimited customizations, automated workflows, and consistent two-way data syncing, Method creates a seamless experience for scaling your business.
Bottom line
Whether you're looking for efficiency in menial tasks or to expand your sales processes to increase profits, you have to ask yourself, "What do I really want from my solution?"
From here, take your shortlist of CRM criteria and compare it to what's available in the market.
Many CRM providers offer free trials, so you can explore each option. Make sure to take advantage of trials to truly understand how a solution fits into your business.
Start your journey today with a free trial of Method:CRM!