Method:CRM — The best Pipedrive alternative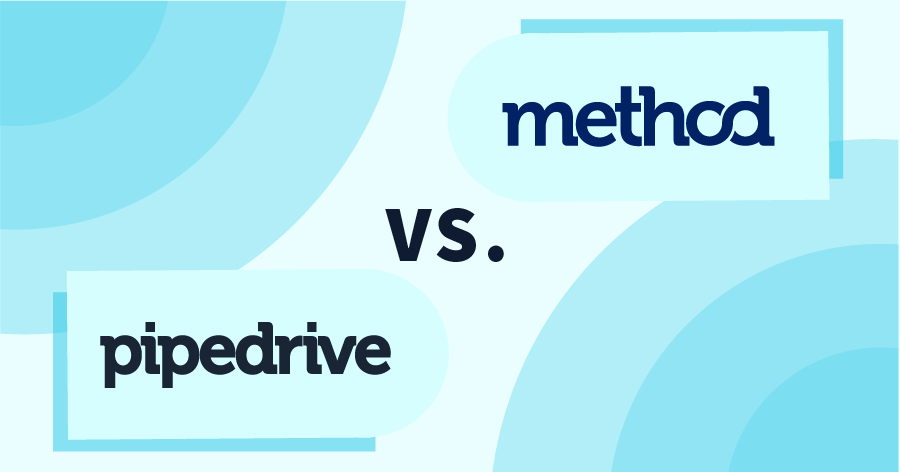 Review Pipedrive and Method:CRM to determine which one is the right solution for your business.
Pipedrive is an easy-to-use CRM that's good for small businesses looking for a first-time CRM solution. However, drawing from our experience, if you're planning for growth and need scalability, Pipedrive may not be able to keep up with your expanding business processes.
For this reason, it's good to consider customer relationship management alternatives with long-term potential to grow with your business, such as Method:CRM.
When weighing the pros and cons of these two products, it's particularly important to evaluate the quality of their sales features and how they will bring your business more success. This is because one of the biggest reasons to invest in a CRM is to streamline your sales automation, sales forecasting, and sales management.
This guide serves as a comparison between Pipedrive and Method:CRM so you can determine which one is the right solution for your business.
Why consider alternatives to Pipedrive?
Pipedrive has the basic features to take the first step in transforming your business. However, our analysis of this product revealed that its features are limited and not suitable for companies looking to scale up their size and sales processes.
In contrast, Method:CRM's functionalities are built for small business growth. As your business evolves, so does Method, ensuring that your CRM platform never holds you back.
When you're making a decision, imagine that you and your CRM are partners — you need to be able to work and grow together. This is something that's especially true when you're one of many small businesses or startups.
Method:CRM vs. Pipedrive
The main difference between Method:CRM and Pipedrive is customization. Although Pipedrive is customizable, it's limited and doesn't measure up to other CRMs.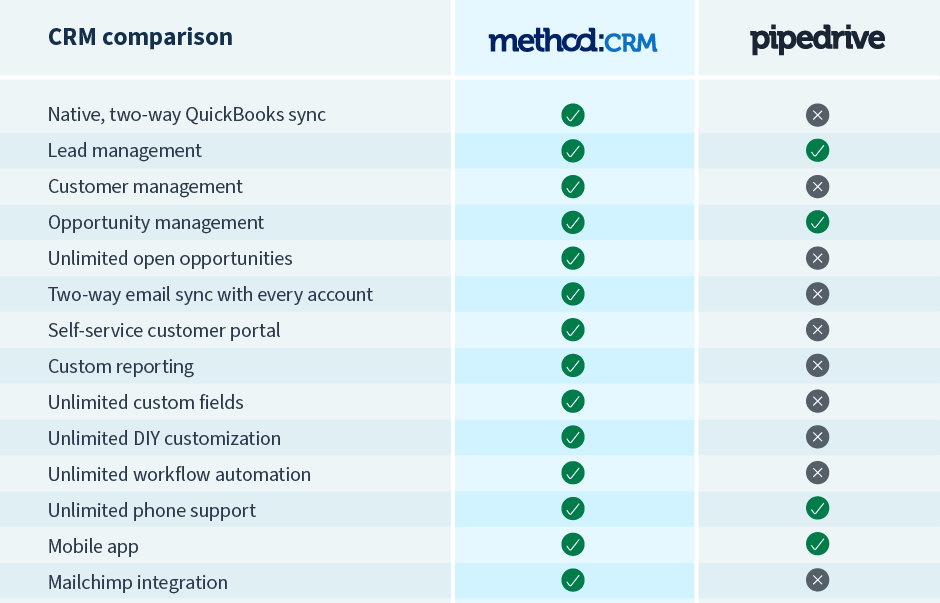 Method:CRM, while every bit as good as Pipedrive, also offers unlimited customization. As per our expertise, this empowers you to build your perfect CRM solution, making Method one of the best Pipedrive alternatives.
Let's explore what these two CRMs have to offer.
Method:CRM overview
As the #1 QuickBooks CRM software, Method:CRM improves how you work in your accounting software, so it grows with you.
Besides providing a full suite of fundamental CRM tools, Method:CRM's features automate your workflows, streamline your operations, and help you deliver top-notch customer service.
With Method, you create an added layer of security for your financial records by managing user permissions and access to your QuickBooks account.
How Method:CRM works
At Method:CRM's core is its two-way QuickBooks and Xero sync. When you update information in one platform, it automatically updates in the other for an effortless flow of information.
Method:CRM is a great long-term CRM because of the unlimited customization possibilities. Method's no-code platform allows you to create your dream solution, from custom online portals to branded web-to-lead forms.
These portals allow your customers to self-serve through online payments and automated support services, such as accessing educational resources (video guides, frequently asked questions, etc.).
What's more, Method:CRM integrates with the apps and tools you love so that you don't have to change your workflow. This means you work within a unified ecosystem, where everything you need is available to you in one location.
For example, integrate Method and Mailchimp if you already use it for email campaigns, or simply use Method's Email Campaigns app. You don't need another inbox to worry about.
Beyond that, after putting it to the test, Method:CRM's automation saves time on regular business actions like:
Lead collection.
Transaction document creation.
Sales follow-ups
Payment collection.
Pipedrive overview
Pipedrive is a simple, user-friendly software solution ideal for smaller organizations looking for their first CRM.
After using Pipedrive, we have found that it visualizes the sales process from start to finish to allow you to form a streamlined CRM process. As a result, you gain better visibility into your revenue to make the best decisions for your business.
How Pipedrive works
Based on our observations, Pipedrive is a sales-focused CRM. It has a lot of features that improve how you track your sales and serve your customers.
Pipedrive has several marketing automation aspects. For example, you can trigger personalized email templates or the creation of a deal when a new contact comes in. Plus, Pipedrive lets users create and tweak the stages in their sales pipelines to maximize productivity for your sales teams.
In terms of customization, our findings show that Pipedrive offers:
Sales pipeline management.
Sales report personalization.
Custom fields.
To do more, you have to use Pipedrive's open API to develop additional custom features or pay for LeadBooster — a lead generation tool with a customizable chatbot.
Beyond that, Pipedrive's other CRM features include:
Third-party integrations with over 300 tools.
The ability to create and send invoices directly from your CRM.
Email and communication tracking across multiple channels (phone calls, SMS text threads, emails, meetings with sales team members, etc.).
In the past, one of Pipedrive's main limitations was its lack of email marketing functionality, but that's about to change.
Pipedrive is currently working on an email marketing feature to allow you to create and deliver campaigns from your CRM.
Comparing Method:CRM and Pipedrive
Now that you're up to speed on each solution, it's time to compare Method:CRM and Pipedrive.
There are all sorts of CRM applications out there, so there's value in doing your research before committing.
Considering other competitors, like Salesforce, Copper, or Freshsales? Check out other helpful content comparing the most popular CRM platforms:
Key features
Two-way QuickBooks and Xero sync.
Email campaigns app ready to go out of the box.
Unlimited customization.
Integrations with Gmail, Outlook, Microsoft Teams, Mailchimp, Zapier, and more.
Web forms for stronger lead management.
Mobile app for on-the-go insights.
Primary benefits
Save time and enhance accuracy by automatically syncing your data between Method:CRM and QuickBooks or Xero.
Reusable templates for emails, reports, and transaction documents.
Strong project management with configurable automatic reminders.
Use no-code technology for DIY customization.
Automation saves time for you, sales agents, and the rest of your employees.
Convert estimates into invoices with ease in just a few clicks.
Limitations
For now, you must be a QuickBooks or Xero user to use Method:CRM, and the solution is only available in English.
Key features
Lead generation chatbot that automates finding prospects.
Bulk editing to change multiple fields at once.
Live dashboards for a real-time look at your business.
Sales reporting tools to gather metrics and analytics on things like sales performance and customer behavior.
Mobile app for Android and iOS.
Primary benefits
Easy drag-and-drop user interface.
Simple to learn and use, making onboarding a breeze.
Third-party integrations with Google Workspace, Slack, proposals tools, and other business add-ons.
Option to add LeadBooster for custom chatbots.
Limitations
Once again, our investigation demonstrated that Pipedrive's customization options are limited compared to other CRMs on the market with a similar price point.
What's more, Pipedrive CRM doesn't separate your leads from contacts. This makes lead conversion even more difficult, as it's tricky to distinguish between new and qualified leads.
Method:CRM pricing
Method offers three subscription plans:
Contact Management: $25 per user per month.
CRM Pro: $44 per user per month.
CRM Enterprise: $74 per user per month.
Method also offers a free trial, and no credit card is required.
Pipedrive pricing
Pipedrive has four pricing plans:
Essential plan: $12.50 per user per month.
Advanced: $24.90 per user per month.
Professional plan: $49.90 per user per month.
Enterprise: $90.00 per user per month.
Pipedrive also offers a 14-day free trial.
Pipedrive has several add-ons for an additional price, such as the LeadBooster add-on at $32.50 per company per month.
Who should use Method:CRM?
It's important to note that QuickBooks users looking for a CRM that integrates with their accounting software should use Method:CRM — not Pipedrive.
Our research indicates that many users have been disappointed with Pipedrive's QuickBooks integration, as evidenced by a considerable amount of reviews with a 1-star score. Barbara Stobienia's review shares some of its limitations, such as missing invoice numbers and item lists.
Instead, QuickBooks and Xero users should consider Method:CRM for its two-way sync and advanced customization features.
In addition to these features, Method:CRM is also the top choice to introduce workflow automation into your processes and drive efficiency. With Method, you close deals faster and more reliably, making your business more money in the long run.
Who should use Pipedrive?
If your small business is in its first stage and you're looking for an easy-to-use CRM without too many bells and whistles, then Pipedrive is a good start.
However, based on our firsthand experience, keep in mind that if your business experiences rapid growth, Pipedrive may not be able to keep up with your ever-expanding business projects and goals.
Bottom line
Through our practical knowledge, if you're starting off with no CRM, then both Pipedrive and Method:CRM will improve the way you handle customer relationships and run your business.
But if you're looking for a tool to keep up with your growing needs, Method:CRM is a better choice in the long run.
Make sure you test out both options before committing to a solution.
Start your free trial of Method:CRM today.