Compare Nutshell vs. Zoho vs. Method:CRM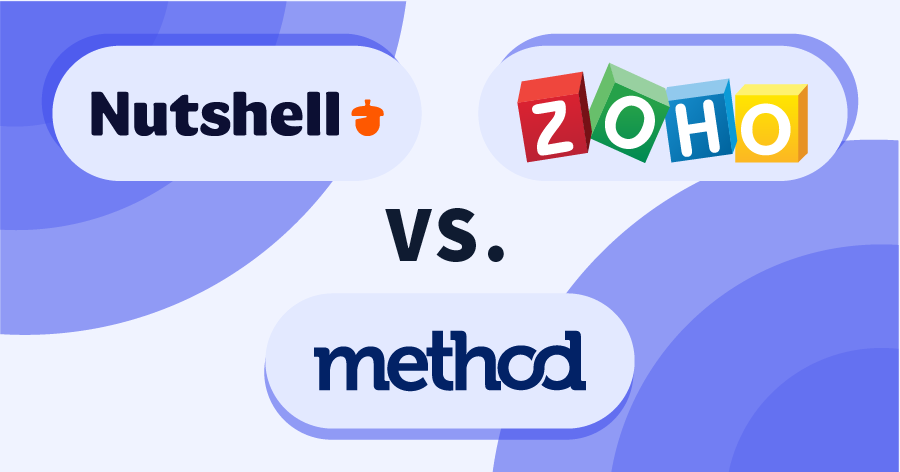 Choose the best CRM solution for your business.
There's no doubt that a CRM improves your customer service and transforms your business. But not every CRM is built the same.
This guide will show you how different CRMs work by comparing the following three solutions:
Nutshell.
Zoho.
Method:CRM.
In the end, you'll have the knowledge to choose the best CRM solution for your business.
Nutshell vs. Zoho vs. Method:CRM
The main difference between Nutshell, Zoho, and Method:CRM lies in their features, the key one being customization.
Each of these CRM software options enhances your business operations to improve your bottom line. However, they do so in different ways.
Let's check out what each solution has to offer.
Nutshell overview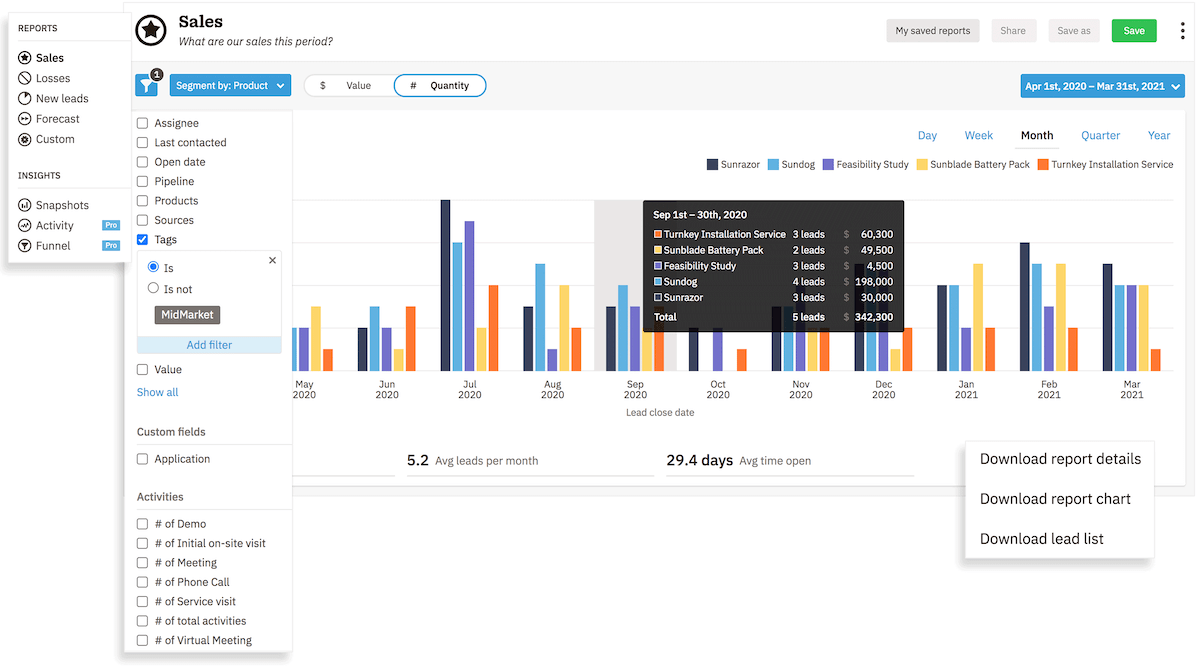 Nutshell's simple interface and intuitive design make it a great choice for those who have never used a CRM before.
Nutshell has strong sales and marketing features that streamline your everyday processes. This increases your team's efficiency and keeps you organized throughout the day.
How Nutshell works
Nutshell is best known for their email marketing automation.
Nutshell's personal email sequence tool allows you to create and schedule one-on-one sales drips catered to your leads, increasing your open rate and chance at success.
Nutshell's other email features include:
Email templates.
Segmented email lists.
Integrations with Constant Contact and Mailchimp.
Sync with Gmail and Office 365.
Nutshell also provides data to measure how effective your emails are. You can measure the reply rates of your email sequences or use the email health checker to ensure you aren't overwhelming your contacts with emails.
Beyond that, Nutshell offers the CRM features you expect, such as lead management tools and dashboards for an at-a-glance view of your business.
However, it's important to note that Nutshell isn't the most customizable CRM. Full customization can only be done on reports.
Zoho overview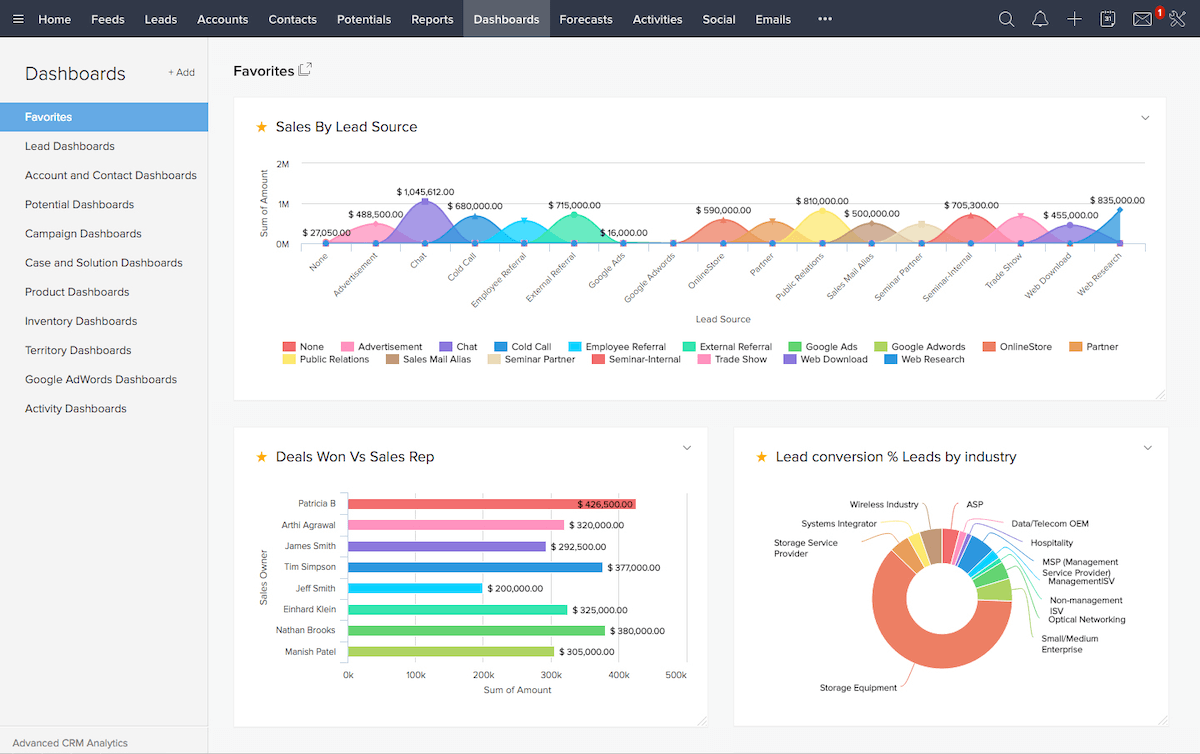 Zoho has the tools you need to convert more leads, engage with customers, and grow your revenue.
Zoho is known for having a large collection of features. But beware, as having more features doesn't always make for a better CRM.
Focus on the quality of the features to determine if they'll work well for your business (versus getting distracted by the bells and whistles).
How Zoho works
In the past few years, Zoho has added several new features.
Zoho improved their analytics process by introducing ZIA, an AI-powered analytics engine.
ZIA tracks your sales trends and presents them in an easy-to-read format. to make data-driven decisions for your business.
In 2022, Zoho introduced Canvas, a drag-and-drop interface editor for simple customization. Canvas allows you to add custom fields or personalize the layout of templates quickly and without the help of a developer.
Beyond that, Zoho strengthens your communication by allowing you to connect with your customers in whatever way works best for them, including:
Phone (through Telephony).
Live chat.
Email.
Social.
Zoho's other CRM features include customer journey orchestration and a mobile app to take business with you on the go.
Method:CRM overview
Method:CRM is the #1 QuickBooks CRM for small businesses looking to automate their workflows. This is done by linking yourr favorite accounting software to yourr other business systems.
What's more, Method goes beyond a CRM by allowing you to personalize how you use the solution. As a result, you empower your sales team to accomplish more and get a solution that evolves with your needs.
How Method:CRM works
Method:CRM is most known for their two-way QuickBooks and Xero sync.
Here's how it works: update information in your accounting software, then watch it automatically show up in Method for the right team members to view, and vice versa. It's that simple to ensure that your information flows securely and automatically.
What's more, Method:CRM workflow automation lets you spend less energy on repetitive and tedious tasks. Automate workflows such as lead collection and payment processing to move on to other tasks such as gaining new customers.
Drive efficiency even more by connecting Method with several third-party integrations such as Gmail and Outlook.
Finally, Method:CRM's customization turns this CRM into a solution specially made for your business.
You can personalize Method your way, whether you do it on your own or consult Method's customization experts for quick results.
Comparing Nutshell, Zoho and Method:CRM
With introductions out of the way, let's compare the features, benefits, and limitations of each CRM.
If you're interested in more CRM comparisons, check out these other guides:
Key features
Automatic lead assignment and advancement.
Bulk edit feature to modify multiple records at once.
Insightful news feed to see what's going on in your business.
Import your leads with Excel or update data manually.
Email sequence tool for custom sales drips.
Mobile app for on-the-go updates.
Primary benefits
Simple interface for a gentle learning curve.
No limits on users or records.
Detailed dashboards.
Custom reporting.
Several everyday integrations
Limitations
It's important to note that, unlike other CRMS, Nutshell does not separate leads and opportunities. Instead, it tracks sales as leads throughout no matter where they're at in the sales pipeline.
What's more, Nutshell doesn't have the same level of customization as other CRMs. This makes it a less desirable CRM solution for businesses aiming to scale up.
Key features
Real-time notifications from customer interactions.
ZIA — an AI-powered virtual assistant.
Canvas — a new customization tool.
A user-friendly mobile app with most features.
Extensive third-party integrations.
Primary benefits
Customers can easily contact you from several communication channels.
The ability to create personalized customer journeys.
Tools to measure the effectiveness of your customer service.
Customization for a personal solution.
Free online resources to get started.
Limitations
Although Zoho has recently improved their customization features, they don't offer support specifically for customization.
If you're looking for help along the way Method has a team of dedicated customization experts to simplify the process and custom-tailor your perfect solution.
Key features
Automatic QuickBooks and Xero two-way sync.
Lead gen forms to capture interest from your website visitors.
Online customer portal for an improved customer experience.
Mobile app for updates on-the-go.
Custom reporting tailored to your business.
Native integrations with the tools you use.
Primary benefits
Sync your data between Method:CRM and QuickBooks or Xero for a swift flow of information.
Custom reporting capabilities for powerful business insights.
Reusable templates to personalize your emails, reports, and transaction documents such as invoices and estimates.
No more double data entry — convert estimates into invoices with a few clicks.
Increase customer satisfaction with multiple payment gateways and a self-service portal.
Unlimited customization to create your personalized solution.
Limitations
The main limitation of Method:CRM is that you must be a QuickBooks or Xero user to use this solution. Currently, Method:CRM is also only available in English.
Nutshell pricing
Nutshell offers two pricing plans. The Starter Plan is $20 per user per month, and the Pro Plan is $42 per user per month.
They also offer a 14-day free trial with no credit card required.
Zoho pricing
Zoho has four pricing options:
Standard: $14 per user per month.
Professional: $23 per user per month.
Enterprise: $40 per user per month.
Ultimate: $52 per user per month.
Zoho also offers a 15-day free trial, no credit card required.
Method:CRM pricing
Method offers three subscription options:
Contact Management: $25 per user per month.
CRM Pro: $44 per user per month.
CRM Enterprise: $74 per user per month.
Method also offers a free free trial, and no credit card is required.
Who should use Nutshell?
Nutshell is great for a variety of small businesses in different industries.
However, its CRM and sales features are just adequate. So if you primarily need a solution to improve your email marketing automation, you should consider Nutshell.
Who should use Zoho?
If you're looking for a CRM with a large list of features, then you should give Zoho a shot.
However, make sure that, amongst Zoho's large list of features, you find the right ones for your business.
Who should use Method:CRM?
If you're a QuickBooks or Xero user looking to cut down on manual work and leverage automation, then Method:CRM is for you. Especially, if you want a solution capable of mirroring your exact processes.
Bottom line
Nutshell, Zoho, and Method are all great choices for a CRM solution that boosts your team's productivity and improves your bottom line. Considering that these solutions are so different, it's important to take your time in choosing the right one.
See for yourself which CRM is the best choice for your business.
Start your free trial of Method:CRM today.