Compare Nutshell vs. Salesforce vs. Method:CRM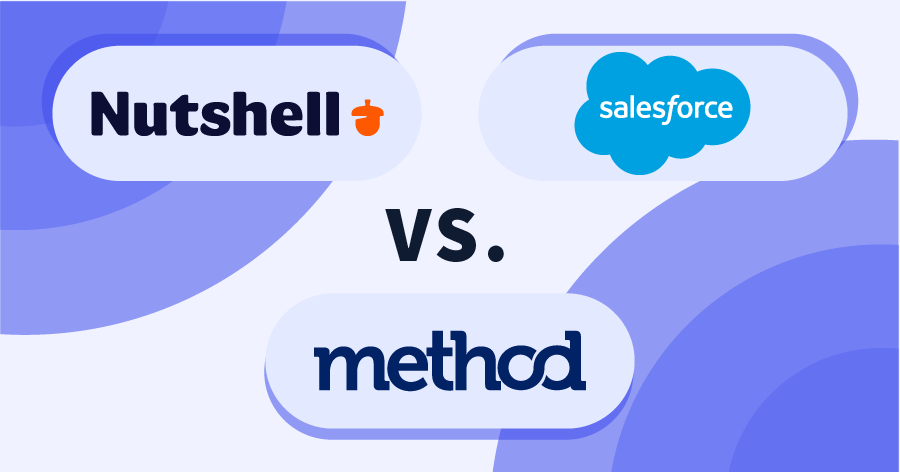 A thorough comparison of these three solutions, their features, benefits, and limitations.
You want a reliable CRM system that gives your business the boost it needs to build itself up. But with so many options, how do you choose the right solution?
Your top three choices for a CRM software are:
Nutshell.
Salesforce.
Method:CRM.
Here is a thorough comparison of these three solutions, their features, benefits, and limitations. With this guide, you'll be well prepared to make a smart decision for your business.
Nutshell vs. Salesforce vs. Method:CRM
These CRM options simplify your everyday processes. But it's critical to dive into what makes them different and where they might not benefit your business.
Nutshell overview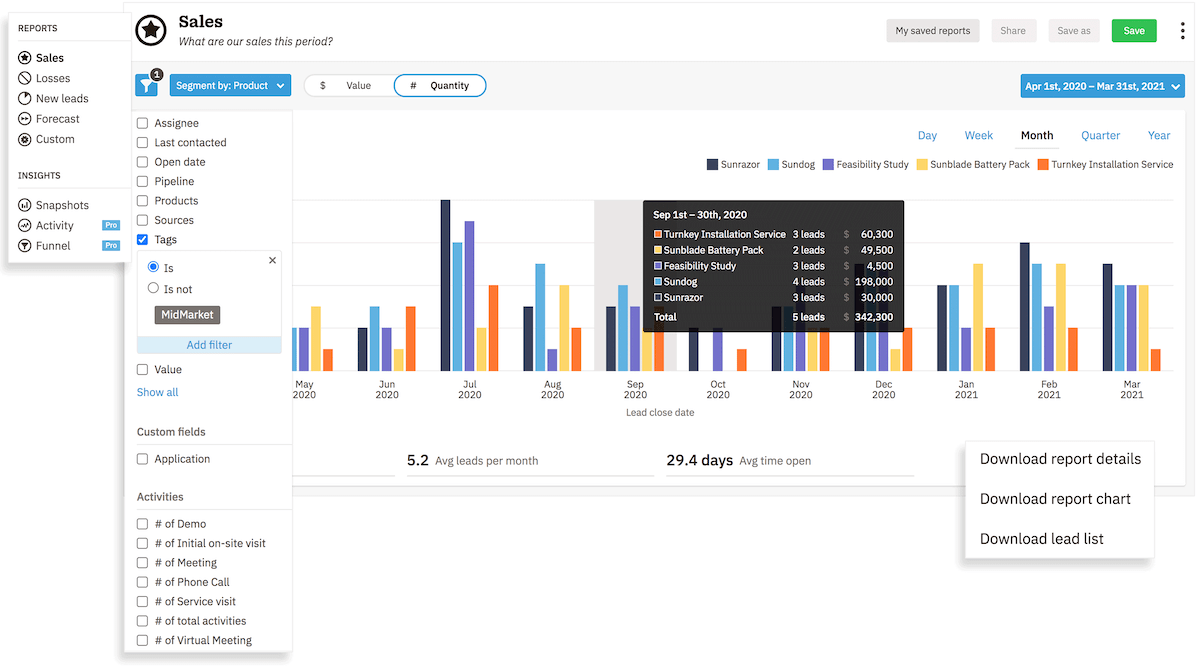 Image credit: Nutshell
Nutshell is known for its easy-to-use interface, making it simple to pick up and start using right away. They are also a leading email marketing solution.
With Nutshell's advanced email marketing and lead management tools, staying organized and getting time back in your workday is much easier.
For pairing your sales and marketing tasks into one system, Nutshell is a top option to consider.
How Nutshell works
The most important function of Nutshell is its email marketing automation. Nutshell t lets you design and plan one-on-one sales drips to better capture each lead's attention.
These email features that Nutshell provides include:
Email templates.
Personalized email lists.
Constant Contact and Mailchimp email integrations.
Gmail and Office 365 integration.
Furthermore, Nutshell provides statistics to measure the effectiveness of your emails. Top email analytics features in Nutshell include:
Keeping track of email response rates.
Reporting on open rates.
An email health counter that notifies you when to moderate how many emails you send.
Customizations are where Nutshell's limitations are, as they only offer full customization on reports. This means you'll need to adapt your existing process to your CRM instead of the other way around!
Salesforce overview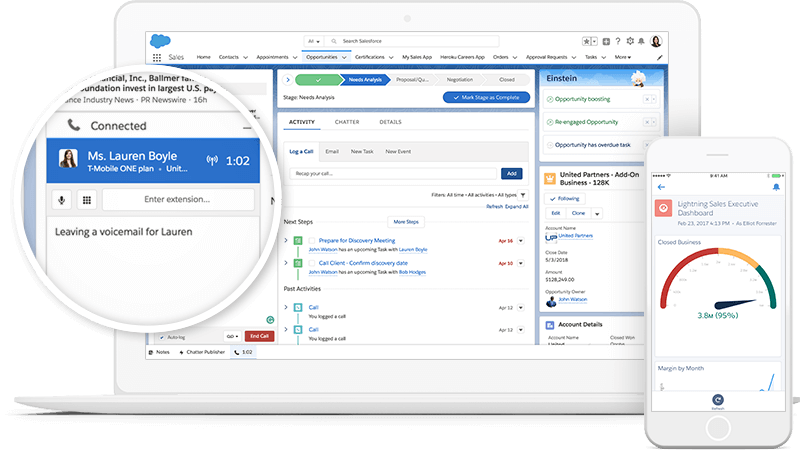 Image credit: Salesforce
Salesforce brings your company's workflows together to make your business processes more manageable. This applies to your sales and marketing processes.
How Salesforce works
Salesforce allows businesses to communicate with their customers, leads, and other contacts through cloud technology.
Salesforce works by:
Monitoring and recording all customer activity.
Analyzing data and producing detailed reports.
Sorting potential customers.
Marketing via automated email follow-ups.
Method:CRM overview
Method:CRM transforms how you use your favorite apps like Gmail, Outlook, Mailchimp, and your accounting software with powerful integrations and syncs.
Method empowers you with flexible, automation that replaces your timely admin work and operates in the background.
This CRM solution integrates with QuickBooks and Xero, allowing you to spend less time on double-data entry and more time on building revenue.
Overall, Method:CRM automates your processes, enhances your customer service, and keeps your team up-to-date with real-time information.
How Method:CRM works
Method makes it simple for QuickBooks and Xero users to sync data from their accounting software to their CRM instantly.
Updates to either software are automatically made available to your team, so you always have the most current data available across your company.
Method's customization capabilities are unbeatable and let you create a CRM that fits your business' specific needs.
Method allows you to automate your:
Invoicing and estimates.
Lead capture.
Follow-up emails.
Billing and payment processes.
Finally, Method:CRM's integration with Google Calendar, Gmail, and Outlook gives you the complete system your business needs.
Comparing Nutshell, Salesforce and Method:CRM
The main difference between Nutshell, Salesforce, and Method:CRM is their automation tools and customizability. The right fit for you depends on your budget, experience with CRMs, and the tools you need.
Now that you have an overview of what each software offers let's find out which CRM is best for you.
Are you looking for insight on another CRM solution? More alternative articles can be found here:
Key features
Dashboard with team activities that keep everyone updated.
Bulk email templates.
Updates from anywhere with a mobile app.
Integration with a wide range of business apps.
Primary benefits
​A simple interface for a great user experience.
Unlimited storage and users.
Detailed dashboards provide a full overview of your company.
Personalized reporting and analytics.
Integrations with popular third-party apps.
Limitations
Mainly an email automation solution.
Does not distinguish leads from opportunities.
Limited customization capabilities.
Key features
Effective reporting tools.
Templates for a wide range of industries.
Simple dashboard and interface.
Primary benefits
Advanced marketing and sales automation.
Support forums and a large customer community.
A lot of reporting features.
Limitations
It's difficult to get through to an actual customer service representative.
Most customizations require assistance from a Salesforce rep.
There are no customer self-service portals.
Free trial is only available for 14 days.
Key features
Two-way sync with QuickBooks and Xero.
Automated lead capture.
Customizable and segmented reporting.
Get CRM on the go with a mobile app.
A self-service customer portal.
Multiple payment channels.
Integrations with Outlook, Gmail, Google Calendar, and more.
Primary benefits
​​Tailored reporting for business insights.
Fully customizable email, invoice, and estimate templates.
Eliminates double-entry of data.
Customer-friendly online portals.
There are no limits to how you can customize your CRM to meet your needs.
Free trial for 30 days with unlimited features and users.
Limitations
Currently, Method is only available in English.
You must be a QuickBooks or Xero user to get the most out of Method:CRM.
Nutshell pricing
Nutshell offers two pricing plans:
Starter Plan: $20 per user per month
Pro Plan: $42 per user per month.
They also offer a 14-day free trial.
Salesforce pricing
Salesforce offers four pricing plans for small businesses:
Essentials plan: $25 per user per month.
Sales Professional plan: $75 per user per month.
Service Professional plan: $75 per user per month.
Pardot Growth plan: $1250 per month for up to 10,000 contacts.
Method:CRM pricing
There are three pricing plans available from Method:
Contact Management plan: $25 per user per month.
CRM Pro plan: $44 per user per month.
CRM Enterprise plan: $74 per user per month.
Method also offers a full-access free trial, requiring no credit card.
Who should use Nutshell?
Industries involved with advertising, retail, and even nonprofits benefit greatly from Nutshell.
Businesses searching for simple email marketing automation should consider Nutshell, even though it lacks a few basic CRM features.
Who should use Salesforce?
Salesforce can be a difficult software for smaller companies to manage and is best suited for businesses that have:
A budget set aside for CRM customization.
Time and budget for extensive support services.
A need for a lot of reports and analytics.
Prior experience with CRMs.
Who should use Method:CRM?
Method:CRM is ideal for QuickBooks or Xero users who want to automate their workflows and need a complete solution that syncs customer information, transaction history, and more across their tools.
It's an excellent software solution for small to mid-sized companies and is useful for a wide range of sectors, especially:
Manufacturing.
Wholesale.
Distribution.
Construction.
Field Services.
Method's customization capabilities alone make it an ideal solution for small businesses looking to compete with larger companies.
Bottom line
All three of these CRMs are worth consideration as they bring different benefits to your business. To narrow down your choices, think of the areas of your business you want to improve with software.
For example, Nutshell has fantastic email automation capabilities, where Salesforce makes business management simple once you work with a Salesforce rep.
On the other hand, Method:CRM offers QuickBooks and Xero users powerful automation for multiple areas of business from sales to billing.
Pro-tip: See the difference a CRM makes for your business by trying it out.
Kick things off with a free trial of Method:CRM!