Compare Nutshell vs. Insightly vs. Method:CRM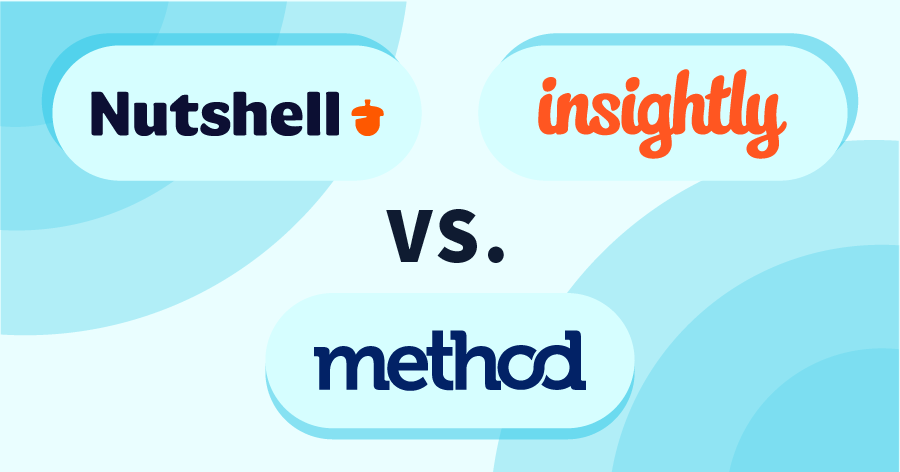 In the market for new CRM software? With so many options, it's easy to get overwhelmed.
In the market for new CRM software? With so many options, it's easy to get overwhelmed.
However, three CRMs should be at the top of your list:
Nutshell.
Insightly.
Method:CRM.
To help you make the right decision, we've compared these three CRM solutions to highlight their features and understand their limitations. Keep reading to discover which one should be your next tool.
Nutshell vs. Insightly vs. Method:CRM
The main difference between Nutshell, Insightly, and Method:CRM is the way they enhance your business processes. Some will bring your business to a new level better than others can.
These CRMs simplify your processes and increase your productivity. They all have unique features that enhance your business, but be sure to look closely — some may lack the advanced features you need.
Let's jump in and look closer at each of these CRMs.
Nutshell overview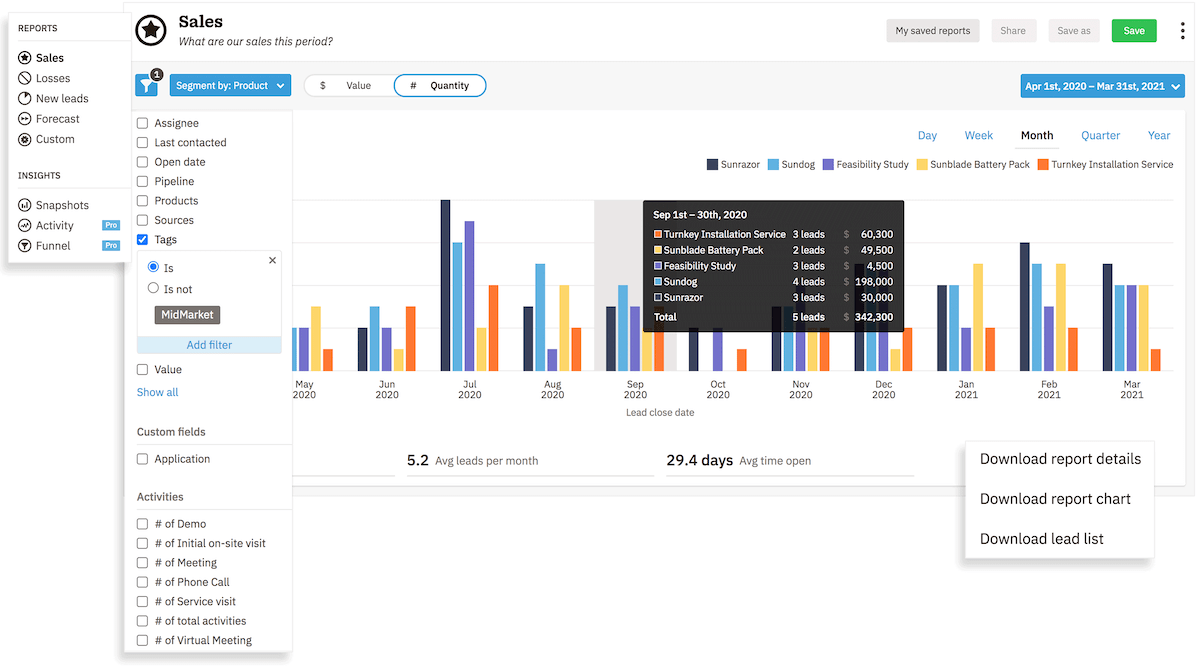 Nutshell's user interface is simple to lessen the learning curve and get you up and running sooner.
As an all-in-one sales and marketing tool, Nutshell combines your processes to save you time and maximize your productivity.
How Nutshell works
Nutshell has many of the functionalities of most CRMs, such as dashboards and lead management tools.
However, the solution is most known for its email marketing automation. Nutshell's email sequence tool allows you to create and schedule personalized sales drips catered to your leads. As a result, you increase the effectiveness of your emails.
Nutshell's other email features include:
Email templates.
Custom email lists.
Email integrations with Constant Contact and Mailchimp.
Sync with Gmail and Office 365.
Nutshell also features a series of email analytics features, such as:
Measuring the reply rates of your email sequences.
Seeing how many times each email has been viewed.
An email health counter that lets you know when you're sending too many emails.
Insightly overview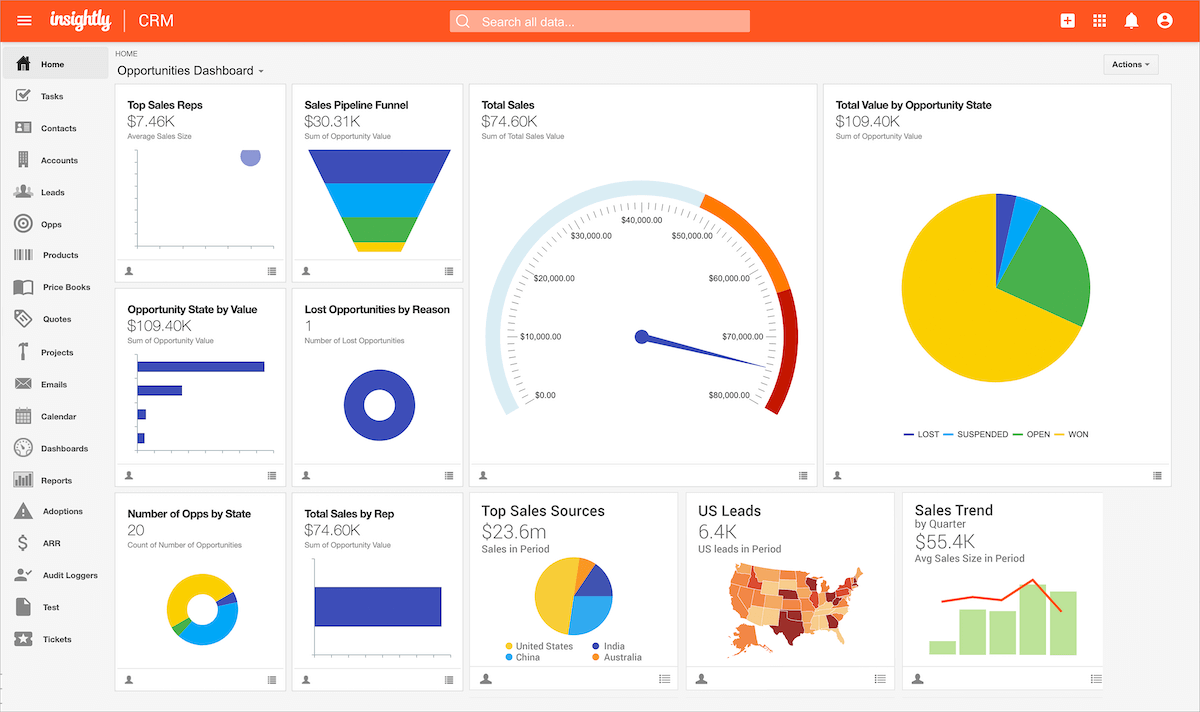 Insightly offers CRM features catered to small business needs. Its user-friendly interface makes it a quick tool for any member of your team to learn.
Popular amongst Google and Office 365 users, Insightly can swiftly integrate into your CRM workflow.
How Insightly works
Insightly lets you manage your customers, sales, and data all in one place.
One of this CRM's top features is tracking relevant lead information to route prospects to the right sales rep.
As a result, your follow-ups are timely, and leads move down the sales funnel efficiently. All you have to do is choose your criteria to base the trajectory on, such as marketing campaign source, and your CRM does the rest.
Once an opportunity is won, it automatically converts to a project, allowing you to use Insightly's integrated project management tools to track each step of the way.
Beyond that, Insightly's built-in telephony system, Insightly Voice, lets you make calls directly from your CRM. What's more, use the solution's email integrations to save, track, and send emails directly from the CRM.
Method:CRM overview
As the #1 QuickBooks CRM, Method:CRM enhance the value of the tools you love like Gmail, Mailchimp, Outlook, and of course, the accounting software you power your business with.
This CRM enhances your QuickBooks and Xero workflows so you spend less time on admin work and more time on revenue-generating tasks, such as finding new customers.
Method:CRM automates your workflows, manages your customers, and ensures that your team is always in the loop with real-time insights.
How Method:CRM works
Method is best known for their two-way QuickBooks and Xero sync. When you update information in your accounting software, it automatically updates in Method and vice versa.
As a result, you don't have to worry about manual data entry, and your team is always up-to-date.
Kick your email marketing up a notch with Method's Email Campaigns app. Take advantage of email templates and performance analytics to deliver the most personalized emails.
Further, Method's customization capabilities let you create your perfect solution. Call one of Method's customization experts to help you, or take on the task yourself with drag-and-drop tools.
Method:CRM's workflow automation simplifies repetitive and tedious tasks, such as:
Lead collection.
Estimates.
Invoicing.
Sales follow-ups.
Payment collection.
What's more, Method:CRM fits easily into your workflow thanks to several third-party integrations with the tools you already use, such as Google Calendar and Outlook.
Comparing Nutshell, Insightly, and Method:CRM
Now that you're up to speed on what each CRM has to offer let's see which one is best for you.
Looking for information about another CRM? Check out this list for more options:
Key features
Assigns leads automatically.
Newsfeed for team transparency.
Option to import your leads.
Bulk edit to save time on updates
Email sequence tool for sales drips.
Mobile app.
Primary benefits
Simple interface for easy user experience.
Unlimited users and storage.
Detailed dashboards for a 360-degree view of your business.
Custom reporting.
Popular third-party integrations.
Limitations
Nutshell does not make a distinction between leads and opportunities. Instead, it categorizes your prospects in the same way and tracks sales as leads throughout the sales pipeline.
Beyond that, Nutshell's customization does not level up to other CRMs.
Key features
Lead routing for perfect follow-up timing.
Advanced project management capabilites.
Build custom apps with a few clicks.
Integrations with over 250 apps.
Built-in phone feature.
Primary benefits
Use your mobile app to scan business cards
Easily convert won opportunities into projects
Notifications as soon as your emails are open.
Custom fields for control over how you store data.
The ability to schedule recurring reports.
Limitations
Insightly does not offer strong reporting and dashboard. Customization is limited, and you only get a high level view of your business.
What's more, Insightly's top features — Telephony and live support — are not included in any of their subscription plans. Other CRMs, such as Method, offer free phone, chat, and email support.
Key features
QuickBooks and Xero two-way sync so that your data is always up to date.
Lead gen forms to capture demand.
Online customer portal for a personalized customer experience.
Mobile app to bring your business with you everywhere.
Custom reporting tailored to your business.
Integrates with Gmail, Outlook, Mailchimp, Zapier, and more for an all-in-one system.
Primary benefits
Automatically sync your data between Method:CRM and your QuickBooks or Xero account for the most up-to-date information.
Custom reporting capabilities for powerful business insights.
Reusable templates to personalize and brand your documents.
Convert estimates into invoices without manual data entry.
Additional payment gateways and a self-service portal to empower your customer.
Unlimited customization.
Limitations
To use Method:CRM, you must be a QuickBooks or Xero user. As well, Method:CRM is also only available in English for now.
Nutshell pricing
Nutshell offers only two pricing plans:
Starter Plan is $20 per user per month.
Pro Plan is $42 per user per month.
They offer a 14-day free trial with no credit card required.
Insightly pricing
Insightly also offers three subscription plans:
Plus plan: $29 per user per month.
Professional plan: $49 per user per month.
Enterprise: $99 per user per month.
Insightly does not offer a free trial. They have a free plan, but it only allows two users and has limited features.
Method:CRM pricing
Method has three pricing plans:
Contact Management: $25 per user per month.
CRM Pro: $44 per user per month.
CRM Enterprise: $74 per user per month.
If you want to try it out with no commitment, Method offers a free trial with no credit card or contract required.
Who should use Nutshell?
Several industries can find value in Nutshell. Some of those industries include:
Advertising.
Retail.
Non-profit.
Although it lacks a few common CRM functionalities, businesses looking for easy email marketing automation should consider Nutshell.
Who should use Insightly?
Insightly also works for various industries, but this CRM is best for businesses with a heavy focus on project management.
If you manage several teams with ongoing projects, then Insightly is the best choice for you.
Who should use Method:CRM?
Method:CRM works for a variety of businesses and industries. What's more, this CRM's customization abilities make it a great choice for any small business.
If you use QuickBooks or Xero, value workflow automation, and want a personalized solution that grows with you, then Method:CRM is made for you.
Bottom line
Using a CRM to better your business operations Is a no-brainer. The question is which CRM is best for your business.
If your choices are between Nutshell, Insightly, and Method:CRM, you're on your way to choosing a CRM that:
Boosts your efficiency.
Increases your revenue.
Improves the way you run your business.
Make the best decision by trying out your options.
Kick things off with your free trial of Method:CRM!