Compare Nutshell vs. HubSpot CRM vs. Method:CRM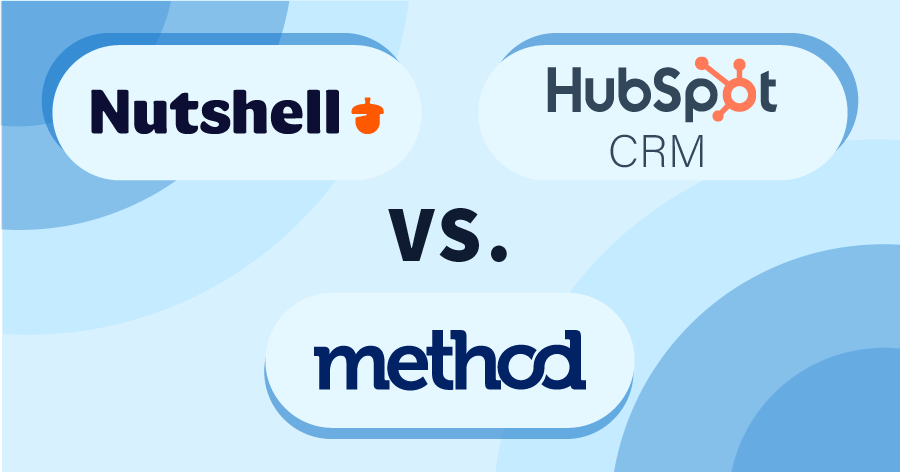 We highlight the features, benefits, and limitations of each of these CRMs to guide you to the best software for your business.
A CRM is a must for any small business looking to provide a top-notch customer experience.
If you're considering Nutshell, HubSpot, or Method:CRM as your next CRM, you're off to a great start.
This guide will make that decision easier by highlighting the features, benefits, and limitations of each of these CRMs to guide you to the best software for your business.
Nutshell vs. HubSpot CRM vs. Method:CRM
The main difference between Nutshell, HubSpot, and Method:CRM are their prices, which range from free to $45 per user per month.
However, the price does not decide how good a CRM is. You should instead focus on the features each solution offers to determine whether they align with your business needs.
Let's take a closer look at each CRM.
Nutshell overview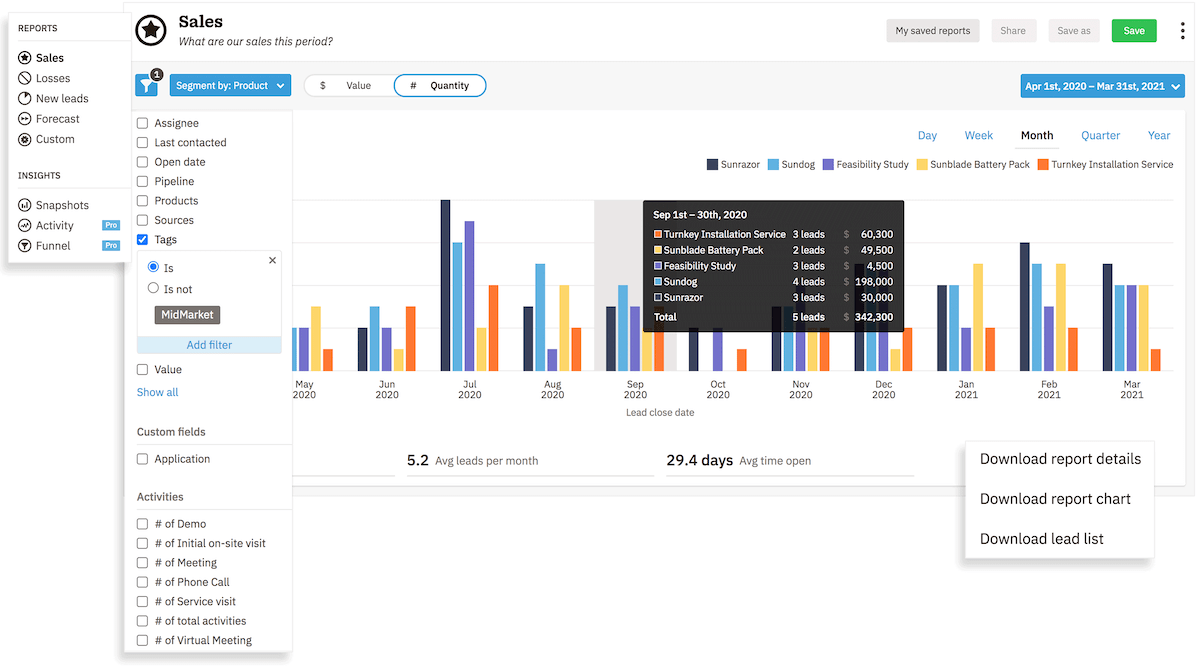 Image credit: Nutshell
Nutshell has a simple user interface so, you spend less time figuring out your new CRM and more time using it.
Nutshell combines your sales and marketing tasks into an all-in-one system. As a result, it's easier to stay organized and save time.
How Nutshell works
Nutshell's known for its email marketing automation. Their personal email sequence tool allows you to create and schedule personal sales drips to better capture each lead's attention.
Nutshell's email automation features include:
Email templates.
Custom email lists.
Email integrations with Constant Contact and Mailchimp.
Sync with Gmail and Office 365.
What's more, Nutshell has email analytics  that make it easy to measure the success of your emails. These include:
Measuring the reply rates of your email sequences.
Seeing the number of times each email has been viewed.
An email health counter that lets you know when you're sending excessive emails.
Beyond that, Nutshell offers other classic CRM features, such as dashboards and lead management tools.
HubSpot CRM overview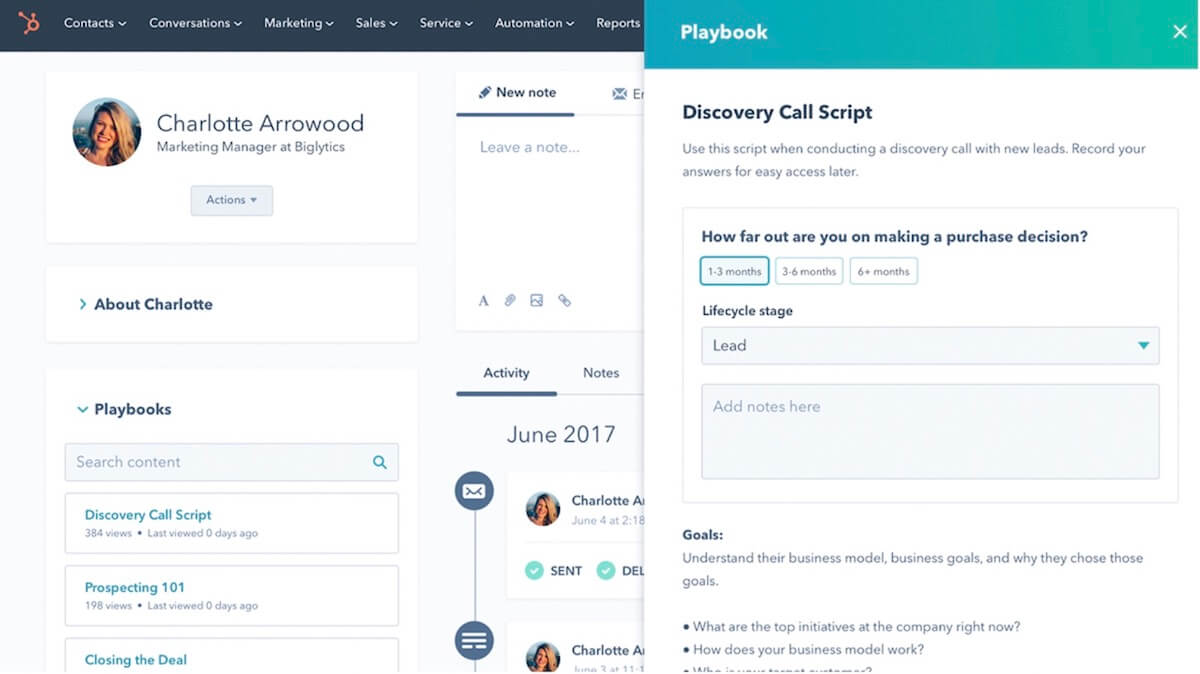 Image credit: HubSpot
While mainly known for its marketing software, HubSpot has a small business CRM that provides basic CRM functions.
HubSpot offers the features you need to provide world-class customer service. HubSpot has hubs that are great on their own, but to enjoy the full potential of this solution, you should combine them to create a complete system.
How HubSpot CRM works
HubSpot is separated into different hubs that include:
Marketing.
Sales.
Service.
Content Management System (CMS).
Operations.
Their three main hubs include marketing, sales, and service, which are usually bundled together for small businesses looking for an all-in-one solution. This allows you to:
Track and analyze sales activities in real-time.
Manage your sales pipeline smoothly.
Capture new leads with ad management tools.
Have an universal inbox for all customer communications.
Method:CRM overview
As the #1 QuickBooks CRM, Method:CRM improves the way that you work in your accounting software to increase efficiency.
Method:CRM helps you manage your customers and automate your processes to improve customer satisfaction.
How Method:CRM works
What makes Method unique is the platform's two-way QuickBooks and Xero sync, which makes double data entry a problem of the past.
When you update information in your accounting software, it automatically updates in Method and vice versa, giving your team the most up-to-date information.
What's more, use Method's Email Campaigns app with email templates and performance analytics to form better connections with your leads.
Method's customization capabilities empower you to create your ideal solution on your own or with the help of a dedicated customization expert.
Beyond that, Method:CRM saves time on tedious tasks by introducing workflow automation. Automate tasks such as:
Lead collection.
Estimates.
Invoicing.
Sales follow-ups.
Payment collection.
Comparing Nutshell, HubSpot CRM and Method:CRM
Now that you know what each CRM has to offer, you're one step closer to making a decision.
Let's compare the three CRMs to better understand each one's strengths for your business.
Considering another CRM? Take a look at our other guides:
Key features
Automatic lead assignment and advancement.
Real-time news feed for insights into what your team members are doing.
Import an Excel spreadsheet with leads or update data manually.
Bulk edit multiple records at once.
Email sequence tool that allows you to create personal sales drips.
Mobile app for on-the-go updates.
Primary benefits
Simple, easy-to-use interface.
No user limits, storage caps, or restrictions on records.
Detailed dashboards
Custom reporting.
Large range of integrations.
Limitations
The main drawback of Nutshell is that it does not separate leads and opportunities — something that is common among CRMs.
Instead, it tracks sales as leads throughout the sales pipeline. This makes it a little challenging to identify the exact state of your prospects.
Beyond that, Nutshell doesn't have the same level of customization as other CRMs, meaning you may outgrow it sooner than desired.
Key features
Capture and segment prospects efficiently.
Manage and organize contacts the way you choose.
Your choice of live chat or chatbots for support services.
An extensive app marketplace where you can connect your other tools.
Primary benefits
Educational resources are available through HubSpot academy.
Several third-party app integrations such as Outlook and Google Workspace.
Simple dashboard for ease of use.
Access to a team inbox for easy collaboration.
Free basic CRM option.
Limitations
HubSpot's main limitation is how expensive it is when you outgrow its free plan. Their prices are out-of-reach for many small businesses just starting up.
What's more, HubSpot's customization and template options are limited, making it hard to personalize the solution to your business.
Key features
Powerful QuickBooks and Xero two-way sync for constant up-to-date data.
Lead gen forms for your website.
Online portal for customer convenience.
Unlimited customization to implement your perfect solution.
Native integrations with Gmail, Outlook, Mailchimp, Zapier, and more.
Mobile app so that you're always in the loop.
Primary benefits
Automatically sync your data between Method:CRM and your QuickBooks or Xero account to minimize manual data entry.
Personalized templates to reuse for emails, reports, and transaction documents.
Full customization capabilities, from transaction templates to reports.
Convert estimates into invoices with a few clicks.
Payment gateways and a self-service portal for the best customer service.
Limitations
For now, you must be a QuickBooks or Xero user to use Method:CRM, and the solution is only available in English.
Nutshell pricing
Nutshell offers two pricing plans. The Starter Plan is $20 per user per month, and the Pro Plan is $42 per user per month. They offer a 14-day free trial with no credit card required.
HubSpot CRM pricing
HubSpot sells its software by hub or in bundles. Pricing depends on your needs and can vary from a few business tools to a whole new solution.
HubSpot CRM offers a free version of its CRM, with upgrades available as your company grows.
From there, their Starter plan starts at $45 per month billed monthly or $540 billed annually. This plan includes their marketing, sales, and service hubs with 2 paid users.
You can buy one of their premade bundles or create your own with different hubs and number of users.
Method:CRM pricing
Method:CRM offers three subscription options:
Contact Management: $25 per user per month.
CRM Pro: $44 per user per month.
CRM Enterprise: $74 per user per month.
Method:CRM also offers a free free trial, and no credit card is required to get started.
Who should use Nutshell?
Nutshell is another solution that works for businesses in various industries, from non-profit to retail.
If you're in the early stages of your business and want easy email marketing automation and a simple user interface, then Nutshell is a good choice.
Who should use HubSpot CRM?
HubSpot is ideal for small businesses looking to improve specific processes using HubSpot's different hubs.
HubSpot is the best choice for businesses that want specific features without committing to an entire solution.
Who should use Method:CRM?
For QuickBooks and Xero users looking to automate their workflows and tailor their dream solution, Method:CRM is the best choice.
What's more, Method offers a versatile solution that works for various industries, from accounting to construction.
Bottom line
Nutshell, HubSpot, and Method:CRM are all capable of pushing the limits of your business' potential and driving efficiency. It's just a question of which one has the best features to do that.
The best way to find out is by giving each solution a try.
Start your free trial of Method:CRM today!