Method:CRM — The best Nutshell alternative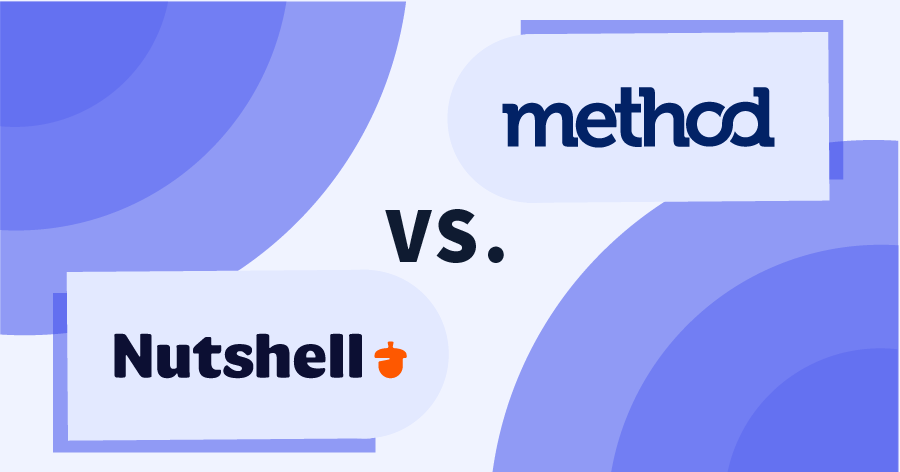 Learn everything you need to know about Nutshell and Method:CRM to determine which one is the best choice to improve your bottom line.
Looking to push your business to the next level? Customer relationship management (CRM) software can get you there.
Nutshell is a good CRM and email marketing tool, but our research indicates that it may not be the best option for every aspect of your business.
So before committing to Nutshell as your next solution, it's worth exploring other CRM system competitors that personalize your workflows, such as Method:CRM.
In this guide, you'll learn everything you need to know about Nutshell and Method:CRM to determine which of these platforms gives you the best value to improve your bottom line.
Why consider alternatives to Nutshell?
Nutshell is a simple-to-use tool for both CRM and email marketing. It has several third-party integrations to operate your business from one place.
Although Nutshell boasts several great sales automation and reporting features, and has over 150 5-star reviews on Capterra, it isn't a one-size-fits-all solution. Nutshell's customization features are weaker than most CRMs, making it difficult to tailor to your business.
Based on our firsthand experience, the reason that customization is so important is that as your business evolves, so should your tools. You don't want the type of software you choose to determine your processes or limit your success.
That's why Method:CRM is one of the most customizable CRMs on the market — unlimited personalization to support unlimited business growth.
Method:CRM vs. Nutshell
The main difference between Nutshell and Method:CRM is that although they are both made for small and medium business sizes, they enhance your business in very different ways.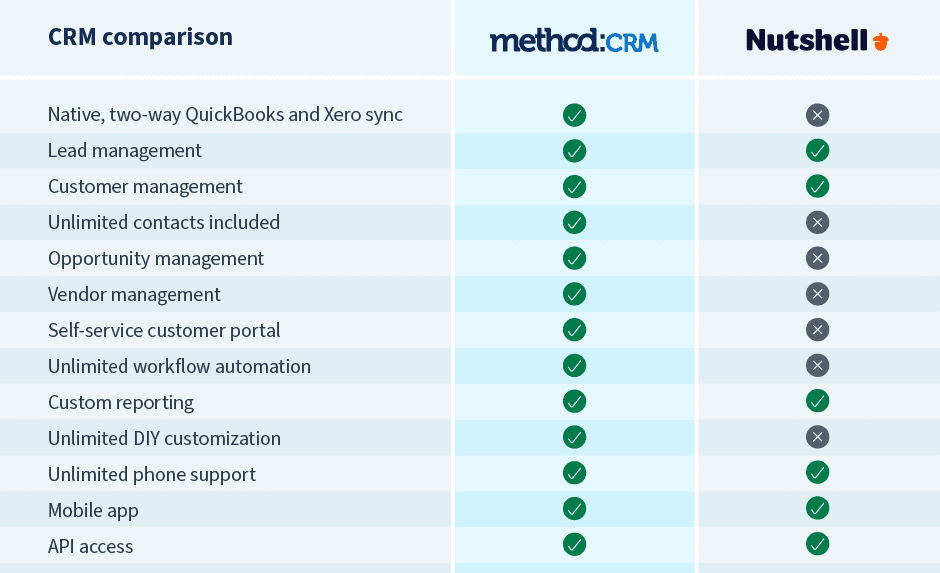 Let's take a look at what each CRM solution has to offer.
Method:CRM overview
As the #1 QuickBooks CRM, Method:CRM improves the way that you work in your accounting software so it grows with you.
Method:CRM's features automate your workflows, manage your customers, and help you deliver top customer service.
How Method:CRM works
As per our expertise, Method's two-way QuickBooks and Xero sync is what sets this CRM apart from the rest.
When you update information in your accounting software, it automatically updates in Method and vice versa, giving your team the most up-to-date information for easy collaboration.
For email marketing, use Method's Email Campaigns app with email templates and performance analytics to connect with your prospects on a personal level. This way you strengthen your customer relationships without slowing down your sales process.
As mentioned, Method's customization capabilities empower you to create your dream solution. You can go the DIY route or call on one of Method's customization experts to help you.
This includes configuring self-serve customer portals that you can design exactly how you want, like adding trademarks or the logo of your organization, for example.
All you have to do is provide your customers with a login link, and they can independently access your services and information on your products (i.e., training videos, FAQs, help resources, etc.). This gives your sales teams more time to focus on getting results and earning more revenue.
Method's emphasis on personalization ensures a positive user experience as it gives your customers an added sense of security.
Beyond that, Method:CRM gives you the ability to automate your repetitive and tedious tasks, such as:
Lead collection.
Estimates.
Invoicing.
Sales follow-ups.
Customer support.
Payment collection.
Finally, seamlessly merge Method:CRM into your workflow by taking advantage of several third-party integrations with the tools you already use and love, such as Google Calendar, Outlook, and popular project management platforms.
Nutshell overview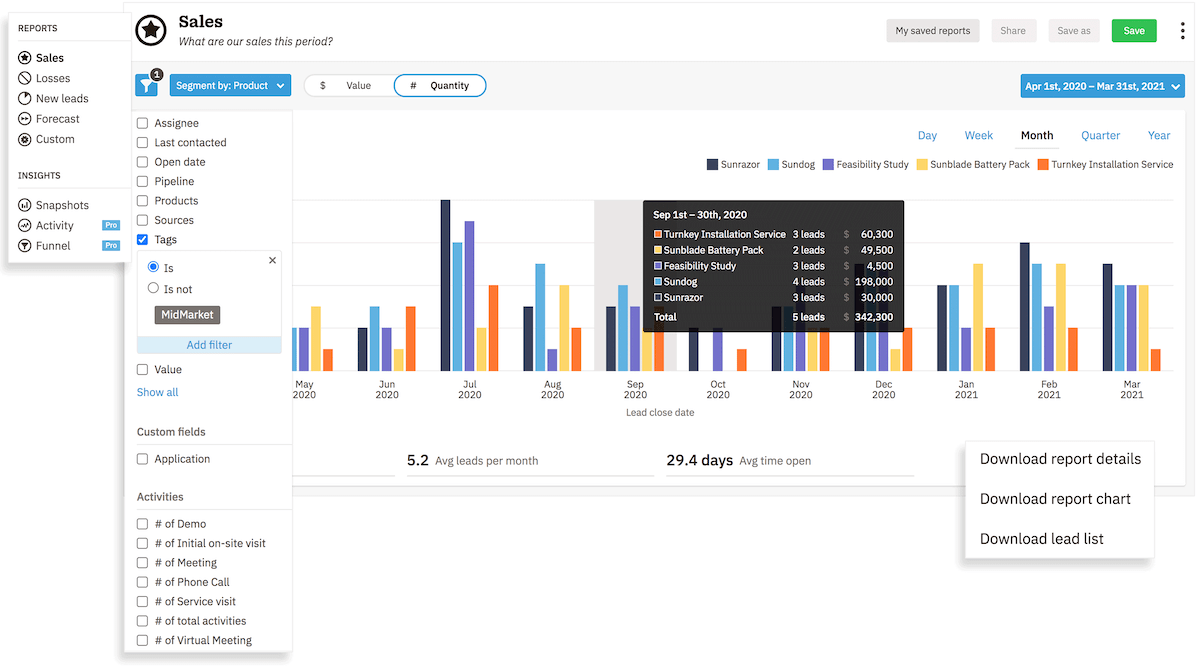 Nutshell is known for its simple user interface that makes it easy to learn, so you can hit the ground running.
Use Nutshell to combine your sales processes and marketing activities into one system. As a result, it's easier to stay organized and save time.
How Nutshell works
Our analysis of this product revealed that Nutshell's top feature is email marketing automation. They have a personal email sequence tool that allows you to create and schedule one-on-one sales drips to better capture each lead's attention through their email inbox.
After putting it to the test, Nutshell gives you the email features you'd expect from a software solution, including:
Email templates.
Custom email lists.
Email integrations with Constant Contact and Mailchimp.
Sync with Gmail and Office 365.
What's more, Nutshell gives you ample data to measure how effective your emails are so that you're always following the best practices. Nutshell's top email analytics features include:
Measuring the reply rates of your email sequences.
Seeing how many times each email has been viewed.
An email health counter that lets you know when you're sending too many emails.
Beyond that, Nutshell offers the CRM features you expect, such as lead management tools and detailed dashboards.
On the other hand, it does fall short on certain aspects, such as customization. Full customization is possible on reports, but nothing else.
Comparing Method:CRM and Nutshell
With these two CRM options in mind, it's time for an in-depth comparison between Method:CRM and Nutshell to determine the best solution for your business.
Interested in comparing other CRMs such as Salesmate or Thryv? Check out these articles:
Method:CRM
Key features
QuickBooks and Xero two-way sync so your data is always up to date.
Lead gen forms to embed on your website.
Online portal for a simplified customer experience.
Unlimited customization to tailor your perfect solution.
Native integrations with Gmail, Outlook, Mailchimp, Zapier, and more.
Mobile app for iOS and Android devices so that you're always in the loop.
Primary benefits
Automatically sync your data between Method:CRM and your QuickBooks or Xero account to save time and improve accuracy.
Track your contacts' transaction and communication (i.e., phone calls, email, SMS) history.
Personalized templates to reuse for emails, reports, and transaction documents.
Customize every aspect of your workflow from transaction templates to reports.
Convert estimates into invoices with a few clicks to close deals faster.
Payment gateways and a self-service portal to give your customer added flexibility.
Limitations
For now, you must be a QuickBooks or Xero user to use Method:CRM and the solution is only available in English.
Key features
Automatic lead assignment and advancement.
A news feed that lets you know what everyone at your company is doing.
Import an Excel spreadsheet with leads or update data manually.
Bulk edit feature to modify multiple records at once.
Email sequence tool that allows you to create one-on-one sales drips.
Mobile app for on-the-go actions and updates.
Primary benefits
Simple interface for ease of use.
No user limits, storage caps, or restrictions on records.
Detailed dashboards for an at-a-glance view.
Custom reporting for useful metrics and insights.
Wide range of integrations with a suite of third-party apps.
Limitations
Unlike other CRMs, Nutshell does not separate leads and opportunities. Instead, it tracks deals as leads move throughout the sales cycle.
Drawing from our experience, this makes it a little tricky to identify the exact state of your prospects. Sales pipelines that aren't clearly defined impede salespeople and make it harder to meet business needs.
What's more, Nutshell doesn't have the same level of customization as other CRMs. This makes it a less desirable CRM platform for companies aiming to scale up.
Method:CRM pricing
Method offers three subscription options, at the following prices:
Contact Management: $25 per user per month.
CRM Pro: $44 per user per month.
CRM Enterprise: $74 per user per month.
Method also offers a free trial, and no credit card is required.
Nutshell pricing
Nutshell offers two pricing plans. The Starter Plan is $20 per user per month, and the Pro Plan is $42 per user per month. They offer a 14-day free trial with no credit card required.
Who should use Method:CRM?
For QuickBooks and Xero users looking for a solution to automate their workflow end-to-end, Method:CRM is the best choice.
What's more, Method offers a versatile solution that works for a variety of industries, from accounting to construction.
Who should use Nutshell?
Nutshell is another solution that works for a range of industries, from retail to real estate.
Although its CRM functionalities aren't the most powerful, if you want easy email marketing automation for a reasonable amount of money, then Nutshell is a strong contender.
Bottom line
Method:CRM and Nutshell are both top CRM solutions worth considering. Nutshell can quickly get your email marketing automation into shape, while QuickBooks and Xero users can take advantage of Method:CRM's powerful two-way sync.
The best way to find the best CRM is to try them out for yourself.
Start with a free trial of Method:CRM.