Compare Keap vs. Jobber vs. Method:CRM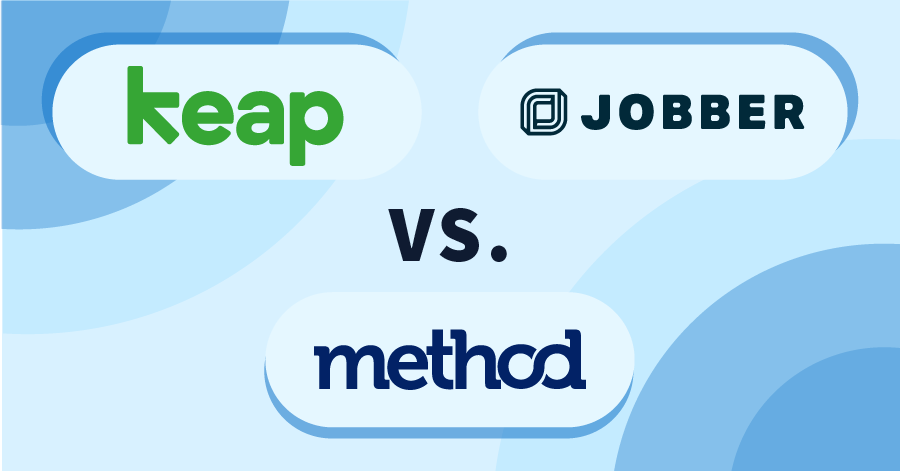 Decide which option is the best for your business by exploring what Keap, Jobber, and Method:CRM offer!
CRM systems help your business remain agile and focused so that you can achieve:
An improved customer experience.
Higher revenue.
Increased efficiency.
Decide which option is the best for your company by exploring what Keap, Jobber, and Method:CRM offer! This blog dives into each of the software's details and key features, as well as pros and cons of each.
Keap vs. Jobber vs. Method:CRM
The main difference between Keap, Jobber, and Method:CRM is the types of users they serve. Due to this, their features, including sales processes, inventory management, and customer data management, differ.
Keap overview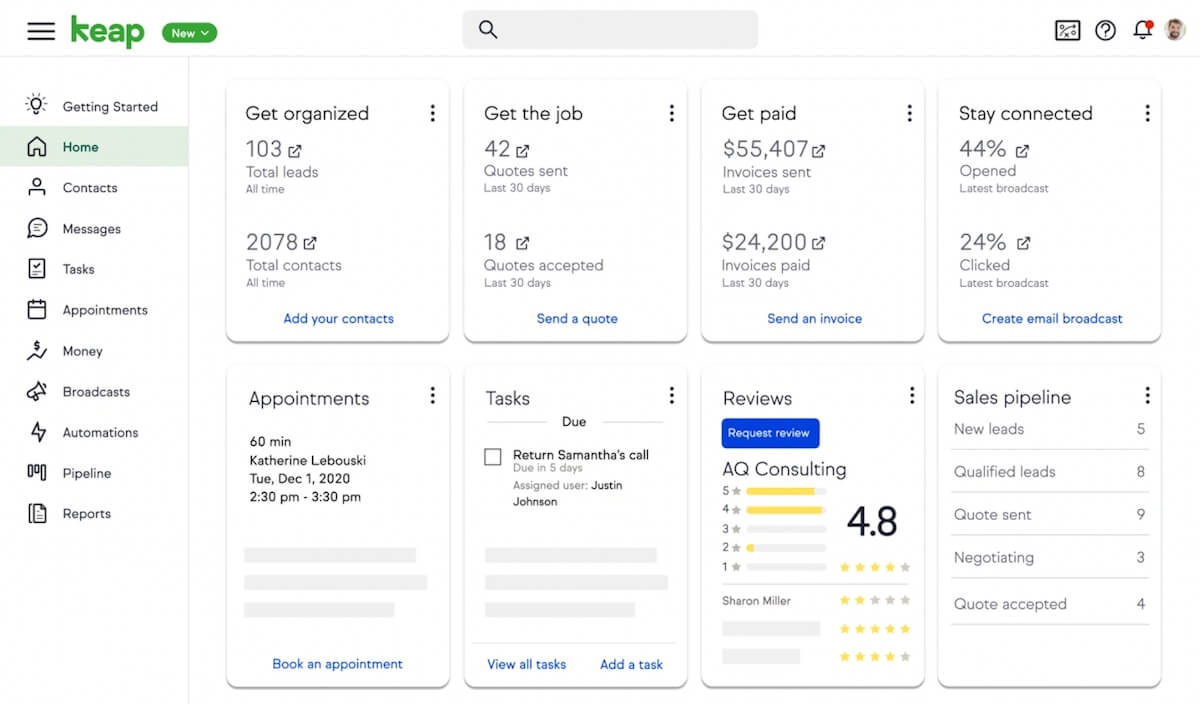 Small businesses looking to optimize basic workflows will find Keap a useful CRM for managing leads, organizing customer information, and tracking conversions.
Helping you automate simple processes at an affordable cost, you can optimize your:
Email marketing.
Electronic payments.
Billing and invoicing.
Reporting and analytics.
Sales workflows.
As a result of its ease of use, Keap is popular among freelancers, self-employed people, and small business owners.
How Keap works
With Keap, you can keep track of client information, status of open activities, and have your daily workflows in one place.
Better yet, visualize your performance on each campaign and identify growth opportunities with the drag-and-drop campaign builder.
Using Keap's mobile application and desktop app, users stay up to date with real-time insights.
Jobber overview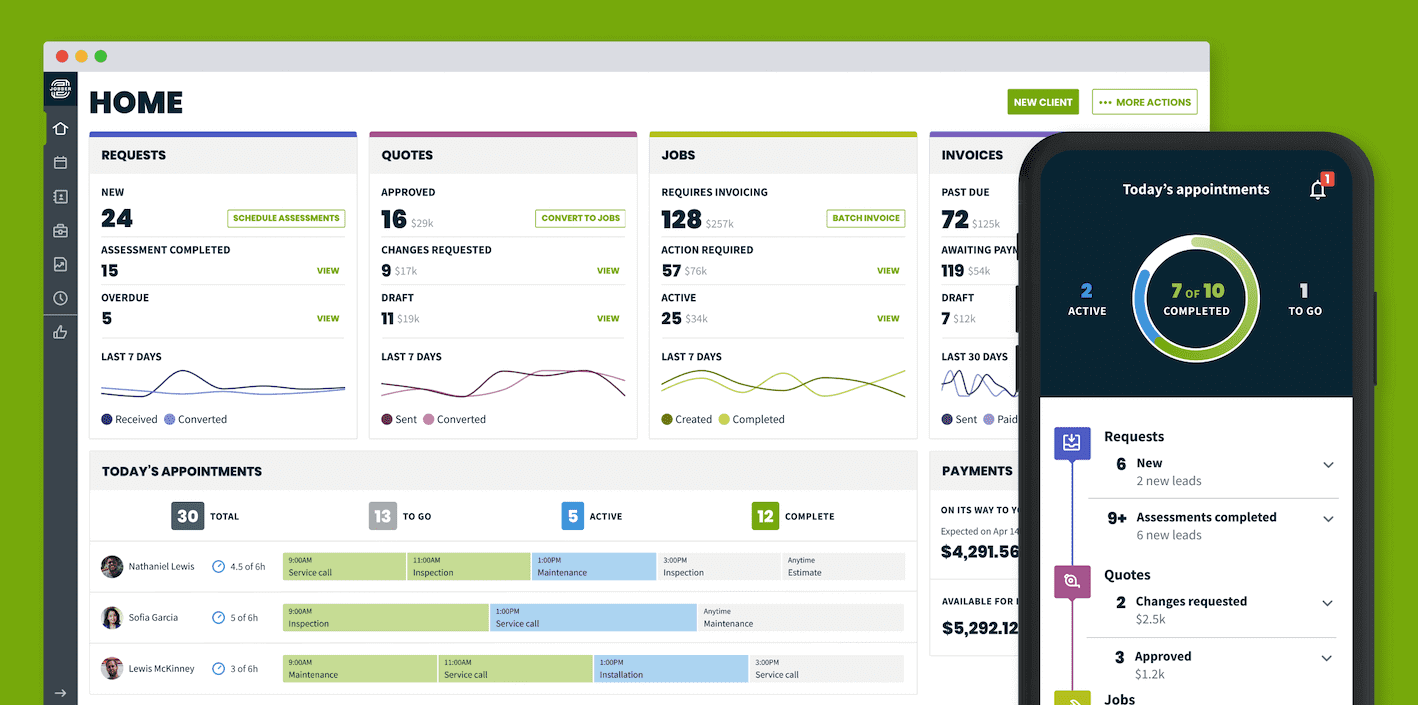 Jobber understands the challenges of the field service industry and caters to them.
It is abundant in its invoicing, payment, scheduling, customer communications, and task management features. The software is designed to improve relationships with clients, manage orders, and enhance the overall customer experience.
Making it easier to manage multiple contacts and jobs in real time, technicians can update information as they work and receive job payments faster through a self-service customer payment portal with Jobber.
How Jobber works
Jobber uses a simple dashboard to display essential fields like:
Requests.
Quotes.
Appointments.
Invoices.
Jobber helps you automate field service functions with the ability to create instant quotes, client portals, contract and licensing agreements, and more.
Method:CRM overview
Method:CRM's two-way QuickBooks and Xero sync let you access detailed customer profiles and financial information from one central hub.
As a result, you can track a sales opportunity effectively, follow up on late customer payments, and focus on closing deals and growth instead of menial tasks like data entry. Method CRM offers a cloud-based solution that works both on Windows and Mac systems.
Take advantage of built-in solutions for lead management, invoicing, and more, or personalize Method:CRM to meet your specific requirements!
Small and medium businesses across various industries can create a solution that meets their unique needs with the help of a dedicated customer success manager and unlimited customization possibilities.
If you're ever stuck, our customization teams are always ready to support you with advice and solutions. What's more, Method CRM offers a range of customer service options, including phone and chat support, help desk, and an extensive knowledge base.
How Method:CRM works
You can customize Method to make it feel like it was designed solely for your business.
Its no-code platform allows you to manage:
Client communications.
Communication and productivity.
The customer experience through online portals.
Service inquiries.
Stay on top of your customer and vendor data, communications, and transaction history in one place with powerful third-party integrations like Zapier, Mailchimp, and Outlook.
Here are some common needs that do not come automatically with a Method account that can be achieved through customization:
Commissions tracker.
Adding signatures to invoices and estimates with the click of a button.
Creating custom fields and tables.
Modifying templates for estimates, invoices, or other QuickBooks transactions.
Creating custom reports.
Creating brand new apps specific to your client's business.
Comparing Keap, Jobber and Method:CRM
Continue your search of CRM software categories with recommendations from these additional resources:
Key features
Sales pipeline management.
Drag and drop campaign builder.
Email marketing,
Task management.
Marketing automation.
Appointments.
Invoicing and payments.
Primary benefits
Easy to use basic CRM.
Manage interactions with customers via email and text.
Onboarding support.
Customer success management.
14-day free trial.
Limitations
Our analysis of this product revealed that although Keap may initially save you money, its basic version is one of the most limited CRM options available compared to its other products.
If you don't want to pay for Keap's upgraded plan, you might want to consider another option.
Key features
Quoting and follow-ups.
Email and postcard marketing.
Online payments.
Reporting.
Job forms.
Expense tracking.
Primary benefits
Mobile application to log information on the job.
Client hub.
"On my way" text messages for clients.
Credit card processing.
14-day free trial.
Limitations
Although Jobber excels at field service management, it cannot handle the complex sales and marketing needs of businesses in other industries.
According to user ratings, the main issue lies with their QuickBooks sync.
Many users have reported data lossloss of data, inaccurate sales tax calculations, and duplicate contact lists. Due to this integration problem, project and contact list management capabilities are also very limited.
Key features
Two-way QuickBooks and Xero sync.
Email campaigns app.
Unlimited customization.
Native integrations with Gmail, Outlook, Mailchimp, Zapier, and more.
Integrations with popular tools such as Google Calendar, Shopify, and ActiveCampaign.
Mobile app optimized for all devices, including, Android , iPhone, and iPad.
Primary benefits
Save time and enhance accuracy by automatically syncing your data between Method:CRM and QuickBooks or Xero.
Personalized email, invoice, and estimate templates with your company logo.
Use the Gmail sidebar to access customer details and records from your inbox.
Easily convert estimates into invoices.
Use no-code technology for DIY customization.
Convert estimates into invoices with a few clicks.
Limitations
The only accounting systems that integrate with Method are QuickBooks and Xero. Ideally, you should use one of these to get the most out of this CRM software.
The platform is also only available in English.
Keap pricing
Keap has two main pricing plans:
Keap Pro: $129 a month and includes 1500 contacts and two users.
Keap Max: $199 a month and consists of 2500 contacts and three users.
The Max Classic plan is Keap's upgraded sales and marketing service. Pricing is not listed online for this plan.
Jobber pricing
Jobber has three pricing plans:
Core: $49 a month for one user.
Connect: $149 a month for up to seven users.
Grow: $299 a month for up to 30 users.
Method:CRM pricing
Contact Management: $25 a user per month.
CRM Pro: $44 a user per month.
CRM Enterprise: $74 a user per month.
Method:CRM offers a full-access free trial, requiring no credit card if you want to get started with this solution.
Who should use Keap?
Keap holds most value for small to medium-sized business needs, freelancers, and self-employed businesses looking for a solution with easy onboarding and simple automation.
Who should use Jobber?
As the top task scheduling app in the service industry, Jobber is perfect for field service professionals.
Who should use Method:CRM?
Method:CRM is ideal for QuickBooks and Xero users with its instant, bidirectional sync with these accounting platforms.
According to user reviews, Method:CRM specifically meets the needs of small to medium-sized businesses in the following industries:
Construction.
Manufacturing.
Field services.
Bottom line
Different CRMs cater to various industries and types of users, but it's essential to find one that's right for your business.
The best way to do this? Try before you buy!
Test each of the above CRMs to make notes and form comparisons, then decide which is the perfect fit for your business.
Start a free trial with Method:CRM today!