Method:CRM — The best Keap alternative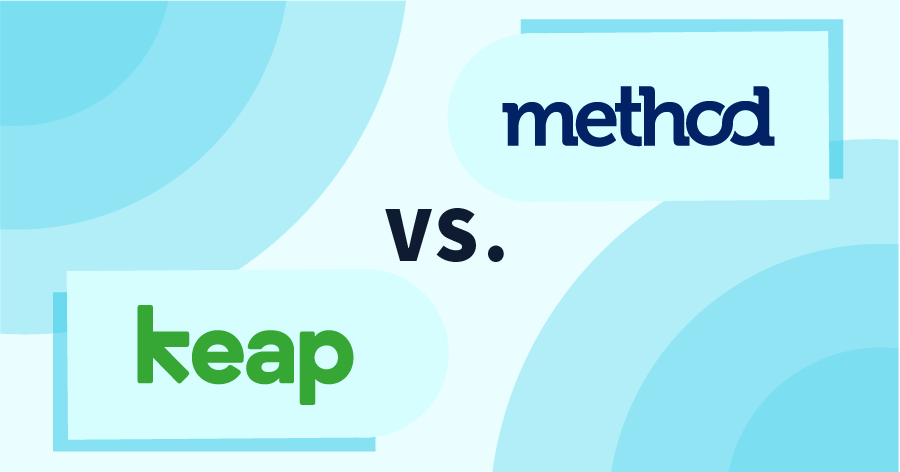 Decide whether Keap or Method:CRM is the best choice for your business.
Whether you're looking into CRMs for the first time or currently use one and want to explore other options, it's important to know there might be better alternatives.
Here is your guide for deciding whether Keap or Method:CRM is the best choice for your business.
Why consider alternatives to Keap?
If you've used a CRM before, you know the basic features you need to run your business.
Keap offers many CRM tools that are necessary for business growth, but the main reason you may want to consider a different solution is if you're looking for software that runs your business for you.
With Method:CRM, you can build a personalized system that automates all your workflows and makes it easier to focus on growth.
Method:CRM vs. Keap
The main difference between Keap and Method:CRM comes down to the power of their automation and customization abilities.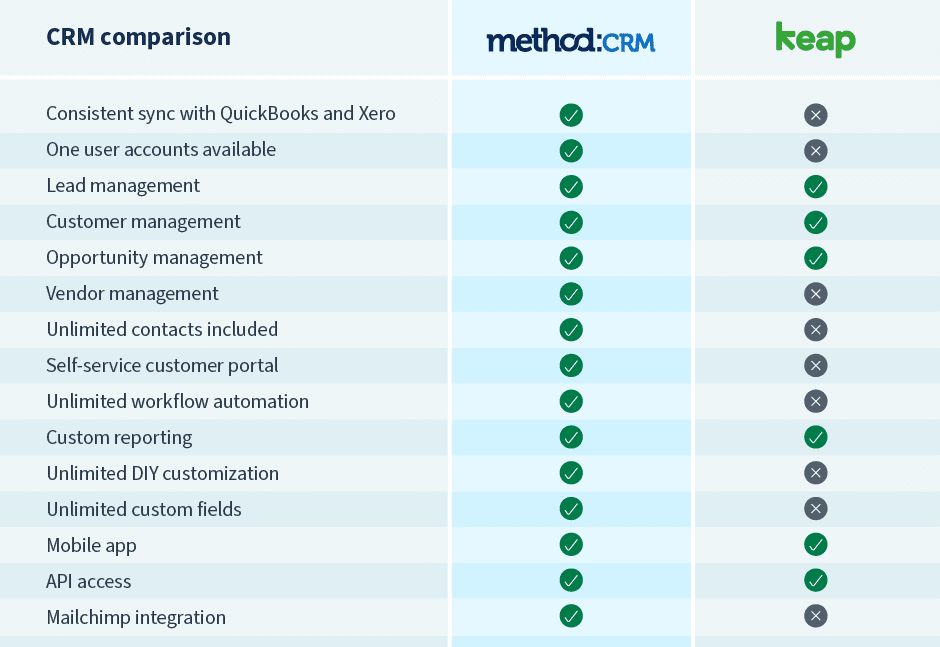 They both offer CRM functions for small and mid-sized businesses, but, Keap focuses on providing an abundance of CRM features, whereas Method focuses on automating your business processes.
Let's look at each CRM solution to see which one is best for your company.
Method:CRM overview
Method:CRM's powerful automation features give you time back in your workday and operate your business in the background.
Method:CRM is the #1 CRM for QuickBooks customers, as it improves your accounting, sales, and operations through impressive integrations.
How Method:CRM works
Transform your business with the sales, marketing, and customer service automation that Method:CRM offers.
Method's customization capabilities allow you to create a CRM tailored to your business's specific needs. Automations are available for:
New customer data capture.
Follow-ups and reminders.
Payment processes.
Customer portals.
For QuickBooks and Xero customers, Method makes it simple to sync data from your accounting software to your CRM. Updates to both software are automatically made available to your team, so you always have current information.
Lastly, Method:CRM's integrations with third-party apps like Google Calendar, Gmail, and Outlook let you keep your contacts organized, anytime, anywhere.
Keap overview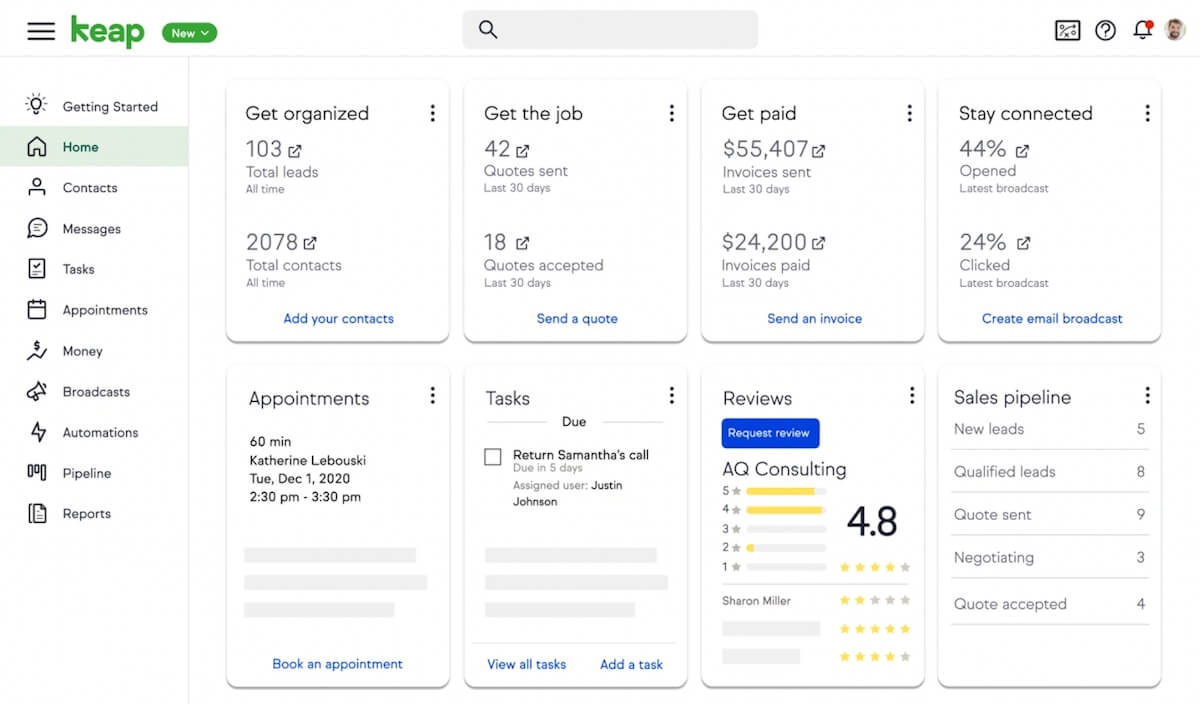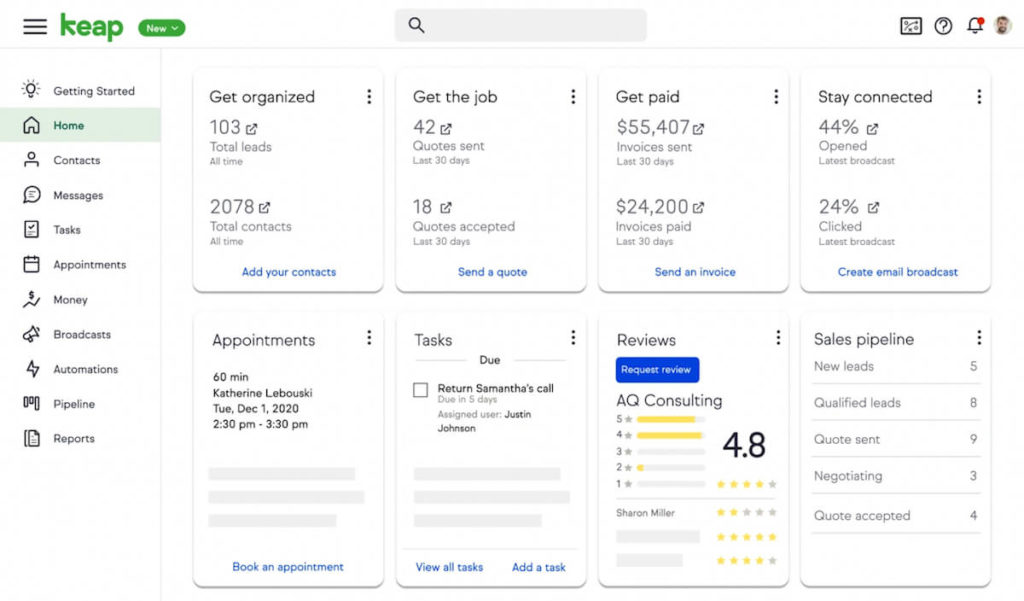 Image credit: Keap
Keap helps you organize your sales and marketing processes in one software. It lets you focus on gaining new customers while the rest of your business is taken care of.
How Keap works
Keap is a company growth platform that focuses on organizing leads and helps you win more sales. By combining CRM tools like contact management with automation, Keap helps turn your leads into customers.
Keap's main features include:
Customer management.
Workflow automation.
Email marketing.
Lead generation.
Comparing Method:CRM and Keap
Now that you have an overview of both Method:CRM and Keap, let's discuss which software is best suited for your business.
Looking for another alternative software? Here's a list of other comparisons:
Key features
Consistently updated data thanks to its two-way sync with QuickBooks and Xero.
End-to-end sales process automation.
Instant lead capture from your email, website, etc.
Custom small business reporting.
CRM data is available through a mobile app.
A self-service customer portal.
Integrations with Outlook, Gmail, Google Calendar, Zapier, and other apps.
Primary benefits
Business process automation from lead to repeat and everything in between.
Tailored reporting provides businesses with growth insights.
Personalized templates for emails, estimates, invoices, and more.
No more double data entry.
Customer-friendly online portals.
Endless customizations for a made-for-you solution.
Free trial for 30 days with unlimited features and users.
Limitations
Currently, Method is only available in English.
You must be a QuickBooks or Xero user to get the most out of Method:CRM.
Key features
Automation for sales and marketing.
Personalized follow-ups to new leads.
Collect payments automatically using apps like PayPal, wepay, or Stripe.
Analytics and reporting specific to your business.
Primary benefits
Integration with valuable apps like Gmail, Outlook, Zapier, and more.
SMS messaging for your customers.
Built-in templates for email marketing.
Limitations
Steep learning curve.
You will lose your information or work if you do not save it.
Limited search capabilities.
Firefox does not support Keap's Campaign Builder.
Only a 14-day free trial.
Method:CRM pricing
With Method:CRM, you get to choose from three subscription plans:
Contact Management plan: $25 per user per month.
CRM Pro plan: $44 per user per month.
CRM Enterprise plan: $74 per user per month.
You also get a free trial, with access to all features and unlimited users. No credit card is required to get started.
Keap pricing
Keap has two pricing plans which include the:
Pro plan: $129 per month for 2 users (additional uses are $29 each).
Max plan: $199 per month for 3 users (additional uses are $29 each).
Who should use Method:CRM?
With  Method:CRM, you are empowered to reach your growth goals through automation. It's an excellent software solution for small to mid-sized companies looking to spend less time on operations and more time generating revenue.
Method:CRM is ideal for QuickBooks or Xero users who want to automate workflows and sync customer information, transaction history, and more between their accounting and CRM systems.
Who should use Keap?
Keap is a solution that benefits a company looking for a jack-of-all-trades software solution that offers most of the basic CRM tools that a small business needs.
Keap is great for U.S. businesses as its SMS messaging feature is only available in the U.S.
Bottom line
It's not a secret that Keap is a powerful CRM that offers vital features to small business growth, but that doesn't mean it's the right choice for your business.
While Keap has powerful CRM features, Method:CRM offers personalized business process automation and an unbeatable sync with QuickBooks and Xero.
See what automating your processes does for your small business with Method:CRM.
Start your free trial of Method:CRM!