Compare Insightly vs. Zoho vs. Method:CRM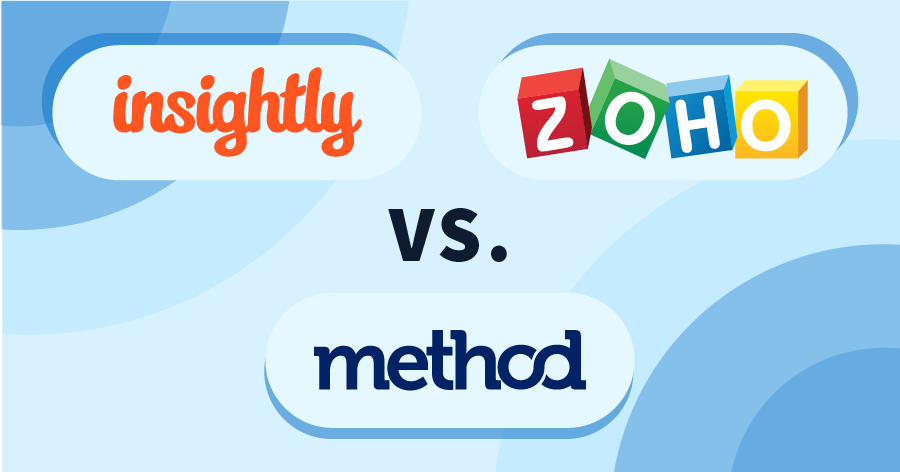 A CRM is a valuable tool for business growth, but you have to find the right one to see results.
A CRM (customer relationship management) software is a valuable tool for business growth, but you have to find the right one to see results.
If you're not sure which CRM is best for your business, you've come to the right place. To help you make a decision, this guide compares the following three top CRMs on the market:
Insightly.
Zoho.
Method:CRM.
After a comprehensive evaluation, we've narrowed down all the information worth learning about these CRM products, namely:
Key features.
User experience.
Pricing plans.
Customer support.
By the end of this article, you'll know which CRM is the best option for your business needs and budget.
Insightly vs. Zoho vs. Method:CRM
The main difference between Insightly, Zoho, and Method:CRM is the way each solution improves your processes. Ask yourself: what do you want out of your CRM?
Each of these CRM platforms offers various app modules, and workflow automation features for different business needs.
If you want a cluster of features that touch every workflow, you should consider Zoho. When it comes to an intuitive CRM to get started right away, Insightly is a top choice.
If you're looking for a solution with process automation at its core, then Method:CRM is your answer.
Let's take a closer look at each CRM option.
Insightly overview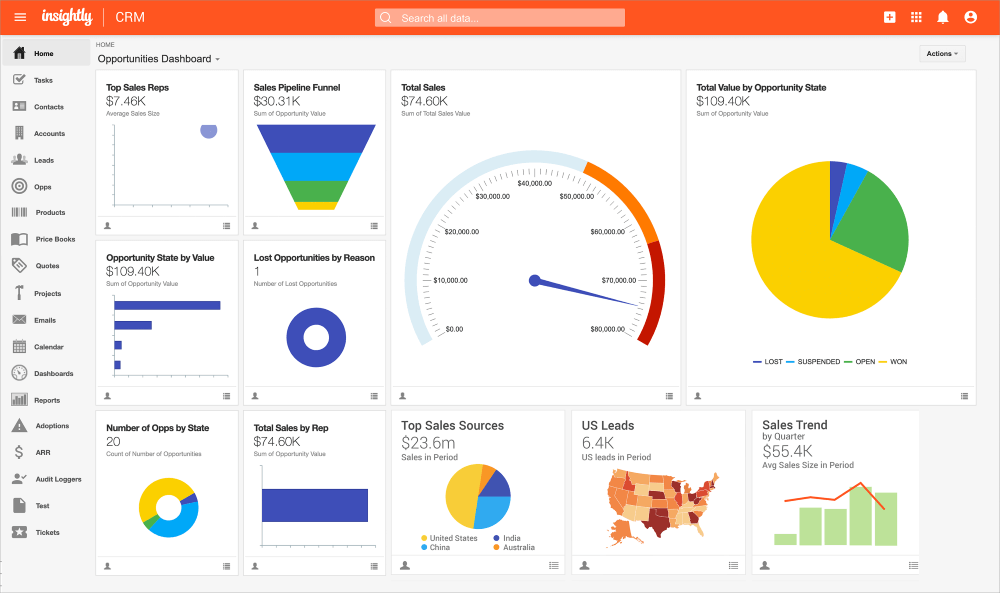 Insightly's intuitive design makes this software easy to use, so it's a good choice for busy business owners who want their software working for them right away with little to no training.
Our analysis has shown that Insightly offers a number of basic CRM features, including contacts and leads management, and sales opportunities tracking.
However, the trade-off is a lack of advanced features, such as a deeper view of your company and advanced support.
How Insightly works
Insightly allows Google Drive and Office 365 users to manage their customers, sales process, and data all from one place.
Insightly takes over your lead tracking and routes sales prospects to the right rep. This way, you can follow-up while your lead's still hot. You can use the criteria of your choice to trigger this, such as marketing campaign source or specific actions.
When your lead becomes a customer, your opportunity automatically converts to a project, allowing you to use Insightly's integrated project management tools to track milestones.
Beyond that, Insightly's email integrations let you manage your emails in your CRM software. You can even use the built-in phone app, Telephony, to make calls directly from your CRM.
Zoho overview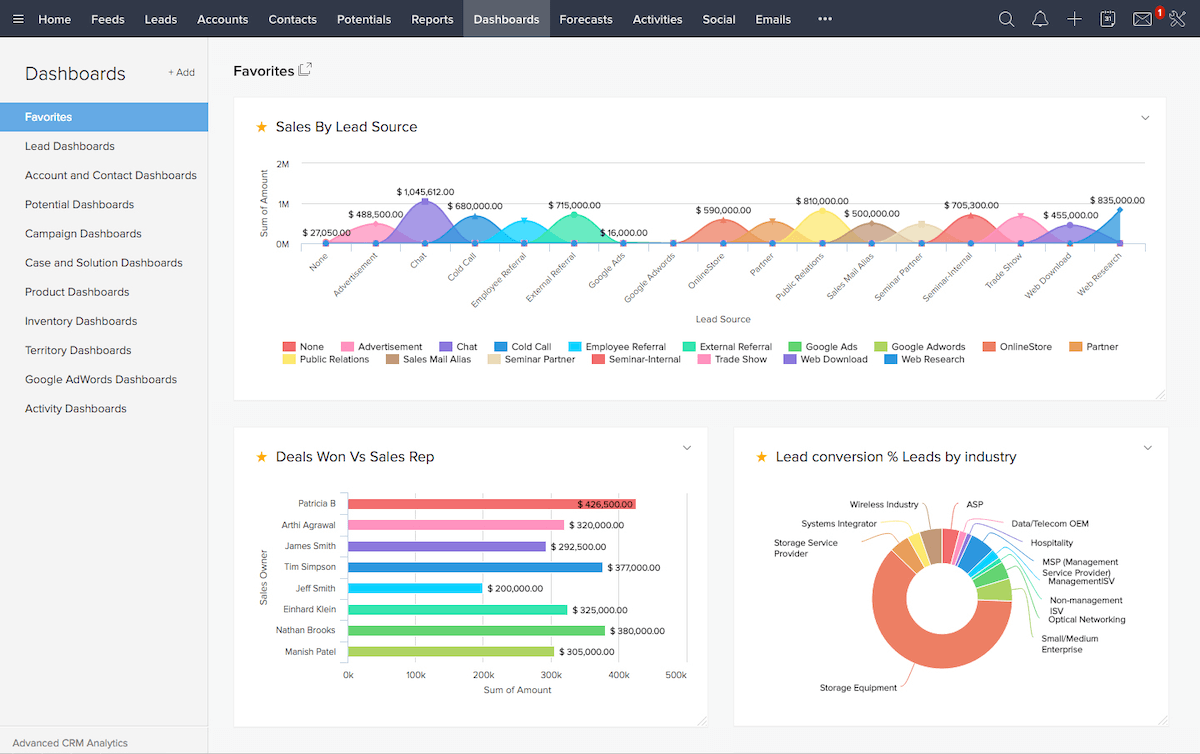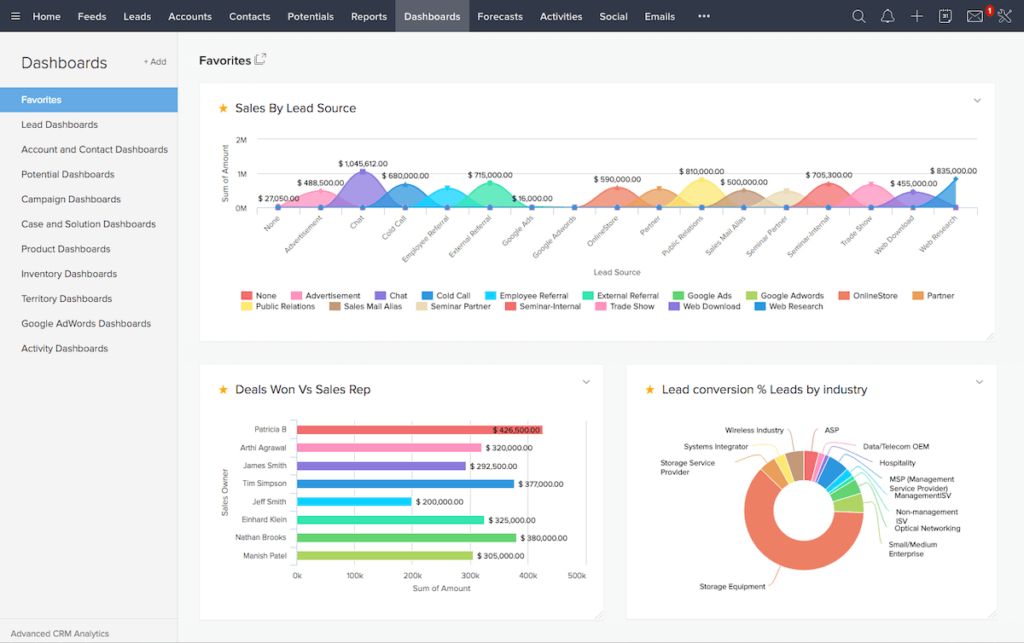 Zoho has tools to improve each of your workflows to drive a lot more efficiency and grow revenue. From analytics to journey mapping, Zoho can transform every aspect of your business.
This software is known for its robust set of features, which include a help desk, administration task management, and email marketing automation.
But beware — having more features doesn't mean better results.
How Zoho works
Zoho's many features include:
Lead, deal, and contact management.
Customer journey orchestration.
Online portal for your clients.
Web templates and email campaigns.
User-friendly mobile app optimized for your iOS or Android device.
Zoho has made a few changes recently to keep up with other CRMs on the market. This includes the addition of some new features.
The first addition is ZIA, an AI-powered analytics engine. ZIA gives you a better understanding of your sales trends and highlights opportunities for improvement.
However, Zoho's newest feature is Canvas, a drag-and-drop interface editor. Canvas allows for simple customization without a developer. Personalize the layout of templates to make them your own with this feature.
Beyond that, Zoho makes communicating with your customers easy. Connect with them in whatever way works best, including:
Phone (Telephony).
Live chat.
Email.
Social.
Method:CRM overview
Method:CRM is the #1 QuickBooks CRM, whether you use the Online version or Desktop edition. Made for small businesses, Method has an abundance of features to automate your processes and drive business growth.
With it, sales management becomes a breeze. Method equips your sales teams with everything they need to close deals, from centralized contact information details to communication history throughout the entire sales funnel.
How Method:CRM works
What sets Method:CRM apart from Insightly and Zoho is the solution's two-way QuickBooks and Xero sync.
When you update information in your accounting software, it automatically updates in Method and vice versa, providing your team with the most up-to-date information.
Whether your team is in the office or a remote location, they can access customer records, project files, and report charts, depending on the permissions you set.
Method's other strength is automation. Method:CRM allows you to automate tasks such as:
Lead collection.
Customer service.
Payment processing.
What's more, you can convert documents in a few clicks, and use native integrations to create a streamlined all-in-one system that connects your existing applications.
Better yet, take advantage of Method's no-code platform to create your perfect solution that encompasses a range of software categories — that grows with your business as you crush your goals.
Comparing Insightly, Zoho, and Method:CRM
Now that you're caught up on what Insightly, Zoho, and Method:CRM have to offer, let's dive deeper and compare these three CRM systems.
These comparisons provide recommendations based on:
The quality of services provided by these companies.
How intuitive the user interface is.
The system's overall performance.
The value for your money spent.
We compiled these comparison lists through our hands-on experience and by looking at user reviews and ratings for these CRM vendors.
Have another CRM in mind? Check out these other guides:
Key features
Lead routing to allow sales reps to follow up promptly.
Built-in project management tools.
Build custom apps without a developer.
Over 250 app integrations.
Telephony system to make calls within Insightly.
Primary benefits
Convert your won opportunities to projects.
Instant notifications when your emails are opened.
Advanced lead management tools.
Custom fields to store unique data.
Schedule recurring reports.
Limitations
Unfortunately, Insightly's simple design means that custom reporting and dashboards only provide a basic overview of your business.
Beyond that, for live support, you have to pay extra. This isn't the case with Method:CRM, where phone, chat, and email support is free.
Key features
Get real-time notifications from customer interactions.
ZIA — an AI-powered virtual assistant.
Canvas — a DIY customization tool.
User-friendly mobile app.
Third-party integrations with Slack, Shopify, and more.
Primary benefits
Connect with customers across every communication channel.
The ability to create personalized customer journeys.
Tools to measure the effectiveness of your customer communication.
Near-unlimited customization.
Free online video guides to help you get started.
Limitations
Although Zoho has recently upped their customization game, it's a steep learning curve and they don't offer support specifically for customization.
In contrast, Method has a team of dedicated customization experts to simplify the process and custom-tailor your perfect solution.
Key features
QuickBooks and Xero two-way sync.
Lead gen forms to embed on your website.
Online portals for a simplified customer experience.
Unlimited customization to create your perfect solution.
Native integrations with Gmail, Outlook, Mailchimp, Zapier, and more.
Mobile app for real-time updates on your iPhone or Android phone.
Primary benefits
Automatically sync your data between Method:CRM and your QuickBooks or Xero account for up-to-date information.
Personalized templates to reuse for emails, reports, and transaction documents.
Automate every aspect of your workflow.
Convert estimates into invoices to save time on manual data entry.
Payment gateways and a self-service portal to give your customers added flexibility.
Limitations
For now, you must be a QuickBooks or Xero user to use Method:CRM, and the solution is only available in English.
Insightly pricing
Insightly also offers three subscription plans:
Plus: $29 per user per month.
Professional: $49 per user per month.
Enterprise: $99 per user per month.
Insightly also offers a free plan, but it only allows two users and has limited features.
Zoho pricing
Zoho has four pricing options:
Standard: $14 per user per month.
Professional: $23 per user per month.
Enterprise: $40 per user per month.
Ultimate: $52 per user per month.
Zoho also offers a 15-day free trial.
Method:CRM pricing
Method:CRM offers three subscription options:
Contact Management: $25 per user per month.
CRM Pro: $44 per user per month.
CRM Enterprise: $74 per user per month.
Method:CRM also offers a free trial, and no credit card is required to get started.
Who should use Insightly?
If you want a CRM with strong project management capabilities, Insightly has the tools you need.
But if you're looking for advanced customization beyond adding your logo and contact information to documents, you may quickly outgrow Insightly.
Who should use Zoho?
If you're looking for a CRM with a long list of features, Zoho should be your top choice.
However, it's important to make sure that Zoho has the right features for your business. An extensive list of features is useless if you don't use them.
Who should use Method:CRM?
Method:CRM works for a variety of businesses and industries, from construction to manufacturing, making it an ideal choice for any small business looking to scale up or work more efficiently.
If you use QuickBooks or Xero and want to automate your processes your way, then Method:CRM is the best choice for you.
Bottom line
Choosing a CRM is a great first step toward strengthening your business processes and empowering your team.
But choosing the right CRM is what drives results and allows you to reach your full potential.
Lastly, as well as researching CRM comparison guides on a regular basis, the best way to ensure your right fit is to conduct trials and look at resources such as blogs or FAQs.
Start your free trial of Method:CRM today!