Compare Insightly vs. Salesforce vs. Method:CRM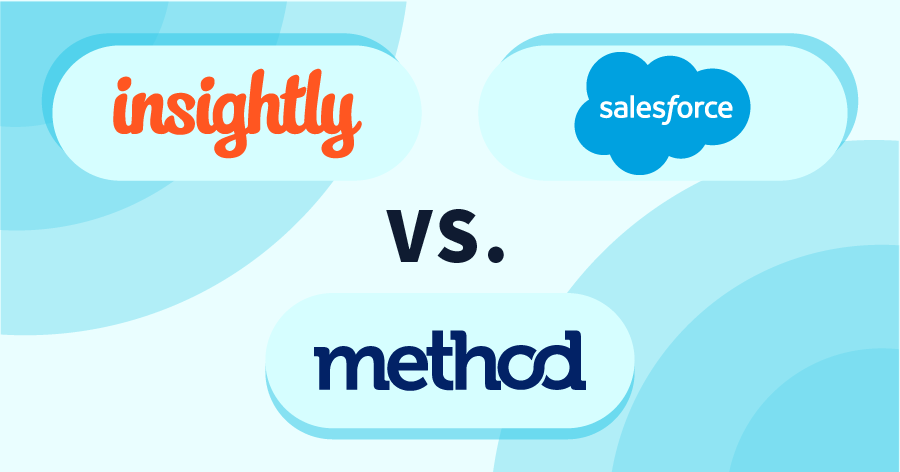 have an idea of which CRM is the best one to skyrocket your business success.
Considering Insightly, Salesforce, or Method:CRM as your next small business tool? If so, you're off to a great start. These customer relationship management products cater to various categories of businesses and enhance your customer support and business relationships.
However, these three CRMs deliver different results for your business. That's why it's important to do your research to understand what each one does best. Through comparisons of their details including features, benefits, user reviews and ratings, and more, you can find the perfect CRM solution for your specific business needs.
Thankfully, this guide has all the important information you need. By the end, you'll have an idea of which CRM is the best one to skyrocket your business success.
Insightly vs. Salesforce vs. Method:CRM
Although these platforms feature some similarities, the important differences between Insightly, Salesforce, and Method:CRM lie in their functionality, usability, performance, as well as the way their features enhance your business.
Let's start by taking a look at each option to find out how these CRMs work.
Insightly overview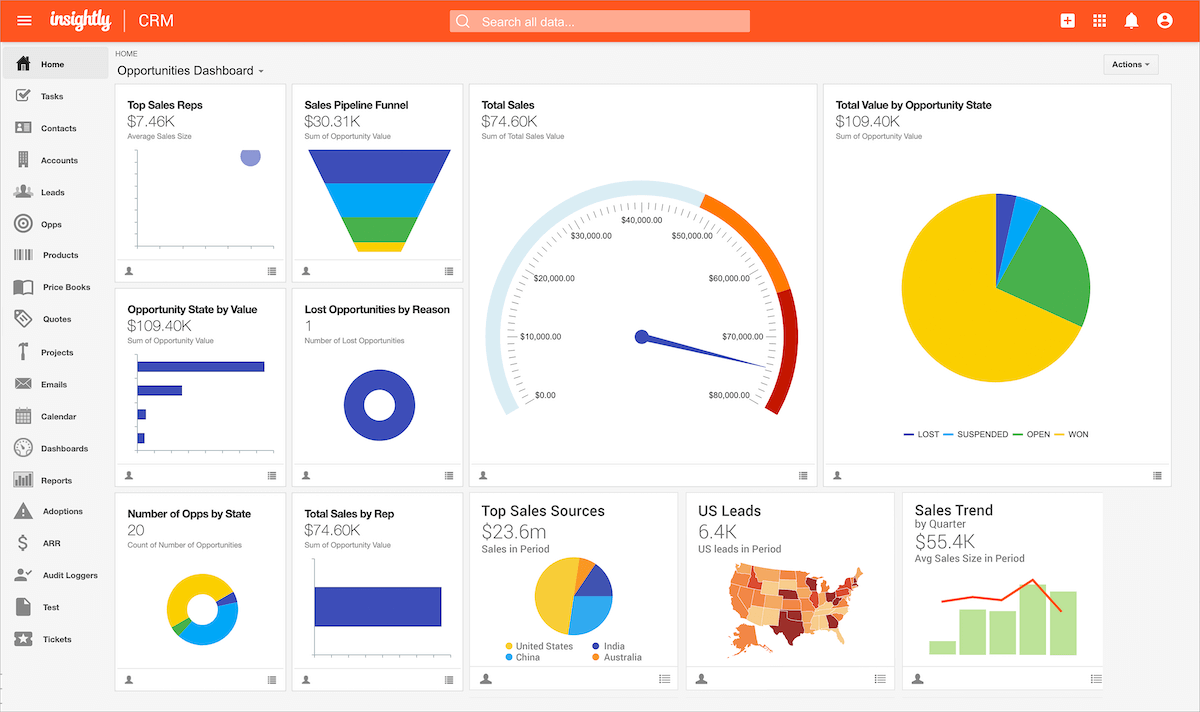 Insightly is an easy-to-use CRM.
Made for small and medium-sized businesses, Insightly offers the basic features you need to manage your leads and strengthen your client relationships.
How Insightly works
Popular amongst Google and Office 365 users, Insightly lets you manage your customers, interactions, sales, and data in one location.
One of the best parts about Insightly is how easy it is to import your data. You have the choice between importing data from:
An Excel spreadsheet.
Google Workspace.
Microsoft Outlook.
In addition to that, Insightly simplifies lead management by tracking prospect information and routing them to the right sales rep. This minimizes the downtime between follow-ups and keeps you top of mind.
Insightly is also known for its integrated project management tools. Once an opportunity is won, it converts to a project, and you gain access to features such as task assignment.
Beyond that, you can use Insightly's email integrations to save, track, and send emails from the software. Insightly offers hundreds of other integrations to extend the power of your CRM.
Salesforce overview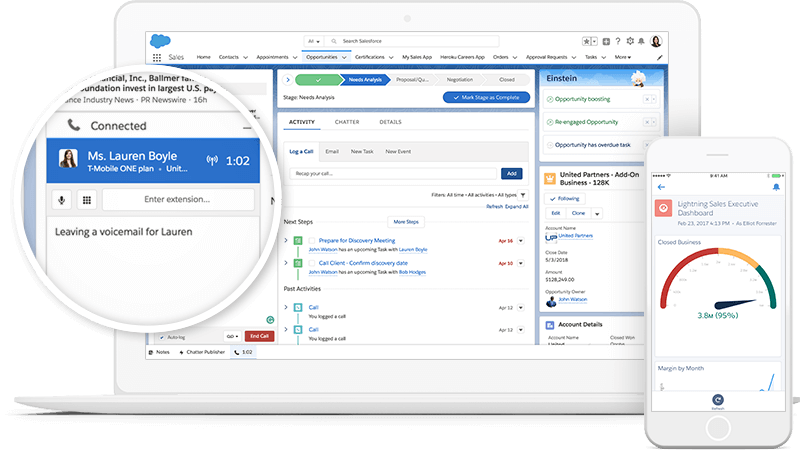 Salesforce connects your sales, marketing, and service processes to streamline your business and maximize your time. It also offers various services, including online support and help, to cater to your business needs.
Salesforce is one of the most well-known software in the CRM category, but beware. Popularity doesn't mean it's the right solution for your business.
How Salesforce works
Salesforce uses cloud technology to handle even the most complex sales and customer management processes.
The system's simple point-and-click interface makes Salesforce easy to navigate. It lets you automate repetitive tasks and customize the solution how you see fit.
Salesforce offers several advanced features, such as marketing automation and commerce tools, and integrates with many third-party apps, including:
Slack (acquired in 2021).
Google Workspace.
QuickBooks.
Beyond that, Salesforce allows you to execute many actions you expect from a CRM, including:
Tracking customer records including their history and activity.
Detailed views of your performance through reports and analytics.
Sorting potential customers.
Marketing to customers through automated emails.
Method:CRM overview
Method:CRM is the #1 QuickBooks CRM.
Made for small and medium-sized businesses, Method:CRM gives you everything you need to manage your business and deliver high-quality customer service at an affordable cost.
How Method:CRM works
Method's main value is its personalized workflow automation. Below are some examples of how Method:CRM automates your everyday tasks to boost productivity.
The first way is through Method's two-way QuickBooks and Xero sync. As you update information in your accounting software, it automatically updates in Method and vice versa.
As a result, you eliminate manual work and minimize the problems that occur with double data entry.
What's more, Method's native integrations with everyday tools such as Outlook and Gmail make it easy to operate your business entirely from your CRM.
Beyond that, Method automates tedious tasks such as:
Lead collection.
Converting documents.
Billing and payment processing.
To solve any issues that may arise, Method:CRM includes a combination of chat support, phone support, customization assistance, and an extensive knowledge base. Its knowledge base includes a FAQs section, where you can find answers to common questions on a range of topics.
Finally, if you notice areas to improve Method:CRM's effectiveness for your organization, you can use Method's customization capabilities to create your perfect solution.
Comparing Insightly, Salesforce, and Method:CRM
By now, you have an idea of what Insightly, Salesforce, and Method:CRM do for your company. Let's compare the features, benefits, and limitations of each CRM for more insights.
Want to continue your search for the perfect solution? Check out these articles for more recommendations: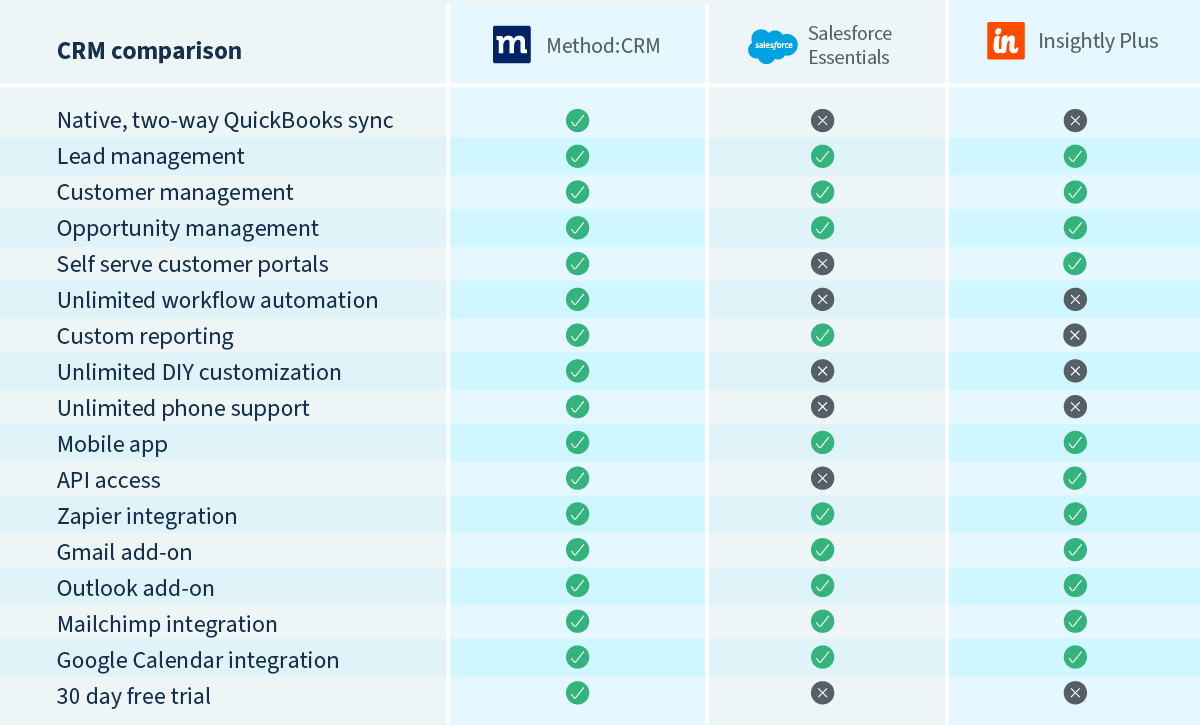 Key features
Google and Office 365 integrations.
Automatic lead routing to the right sales rep.
Excel import option.
Advanced project management tools.
Integrations with over 250 apps.
Primary benefits
Use tags to filter your contacts.
Import data multiple ways.
Easily convert won opportunities into projects.
Custom fields to store data your way.
The ability to schedule recurring reports.
Limitations
When it comes to customizing reports and dashboards, Insightly doesn't measure up to other similar CRM alternatives. Customization in general is limited in this solution.
Key features
Automatic email alerts for deals.
Auto-assign tasks as a deal progresses.
Enhanced reporting tools.
Templates specific to a variety of industries.
Mobile app optimized for all devices including Android and iOS.
Easy-to-use interface.
Primary benefits
Advanced marketing and sales automation tools.
Flexible customization.
Easily connect Salesforce and Slack.
Point-and-click interface for ease of use.
Extensive options for third-party integration.
Limitations
Salesforce is one of the most expensive CRMs on the market and is out of reach for many small business budgets.
Key features
Two-way sync with QuickBooks and Xero for constant flow of data.
Automatic lead capture from multiple sources.
Custom reporting tailored to your business.
Multiple payment gateways and a self-service customer portal.
Native integrations with Outlook, Gmail, Google Calendar, Zapier, and more.
Primary benefits
Simple lead capture with web-to-lead forms.
Unlimited DIY customization with no-code technology.
Personalized email, invoice, and estimate templates that include your company logo.
Easily convert estimates into invoices for your orders to customers and vendors.
Customer portals for fast, convenient payments.
Limitations
To reap the full benefits of Method:CRM, you must be a QuickBooks or Xero user. What's more, the solution is only available in English.
Insightly Pricing
Insightly offers three subscription plans:
Plus: $29 per user per month.
Professional: $49 per user per month.
Enterprise: $99 per user per month.
Insightly offers a free plan, but it only allows two users and has limited features.
Salesforce pricing
Salesforce offers four pricing plans:
Essentials: $25 per user per month.
Sales Professional: $75 per user per month.
Service Professional: $75 per user per month.
Pardot Growth: $1250 per month up to 10,000 contacts.
Salesforce offers a free trial.
Method:CRM pricing
The finance-friendly pricing plans for Method:CRM are as follows:
Contact Management: $25 per user per month.
CRM Pro: $44 per user per month.
CRM Enterprise: $74 per user per month.
If you want to try it out with no commitment, Method:CRM offers a free trial with no credit card or contract required.
Who should use Insightly?
Insightly's top feature its their advanced project management tools, so if you manage several teams with ongoing projects, then Insightly is the best choice for you.
Who should use Salesforce?
Salesforce is best suited for larger companies with many employees and customers to manage. It is ideal for those with a high budget for a CRM.
For small businesses just starting off or with few employees, Salesforce may be overkill.
Who should use Method:CRM?
QuickBooks and Xero users who want a powerful CRM made specifically for their business should consider Method:CRM.
Between workflow automation and customization, Method has the tools you need to optimize your business.
Bottom line
To recap, Insightly, Salesforce, and Method:CRM are all good choices if you're looking to simplify your business workflows. The one that's right for you depends on what specific workflows you're trying to improve.
Start your search with a free trial of Method:CRM.