Compare Insightly vs. Pipedrive vs. Method:CRM
This is your guide to figuring out which of these CRMs is best for you.
There's no doubt that a CRM is a must for small businesses today. The question is: What's the best CRM to drive your success?
In this analysis, we will discuss the factors that differentiate these CRM software products and provide recommendations to help you make an informed decision.
You've probably heard of some of the top CRM vendors in the country, like Salesforce Sales Cloud and Netsuite. But three worthy alternatives that you need to consider include::
Insightly.
Pipedrive.
Method:CRM.
This is your guide to figuring out which of these small business CRMs is best for you. Let's jump in!
Insightly vs. Pipedrive vs. Method:CRM
Nowadays, both small companies and big enterprises need a CRM that scales with their needs and helps them manage customer relationships more efficiently. Marketing automation, sales automation, and analytics are some of the key features you should be looking for in a CRM.
Now, the main difference between Insightly, Pipedrive, and Method:CRM is the type of automated workflows they provide. Each platform offers a unique set of features and functionalities that cater to different areas of your business, such as your customer support or sales activities.
Let's take a deeper look at what each solution has to offer.
Insightly overview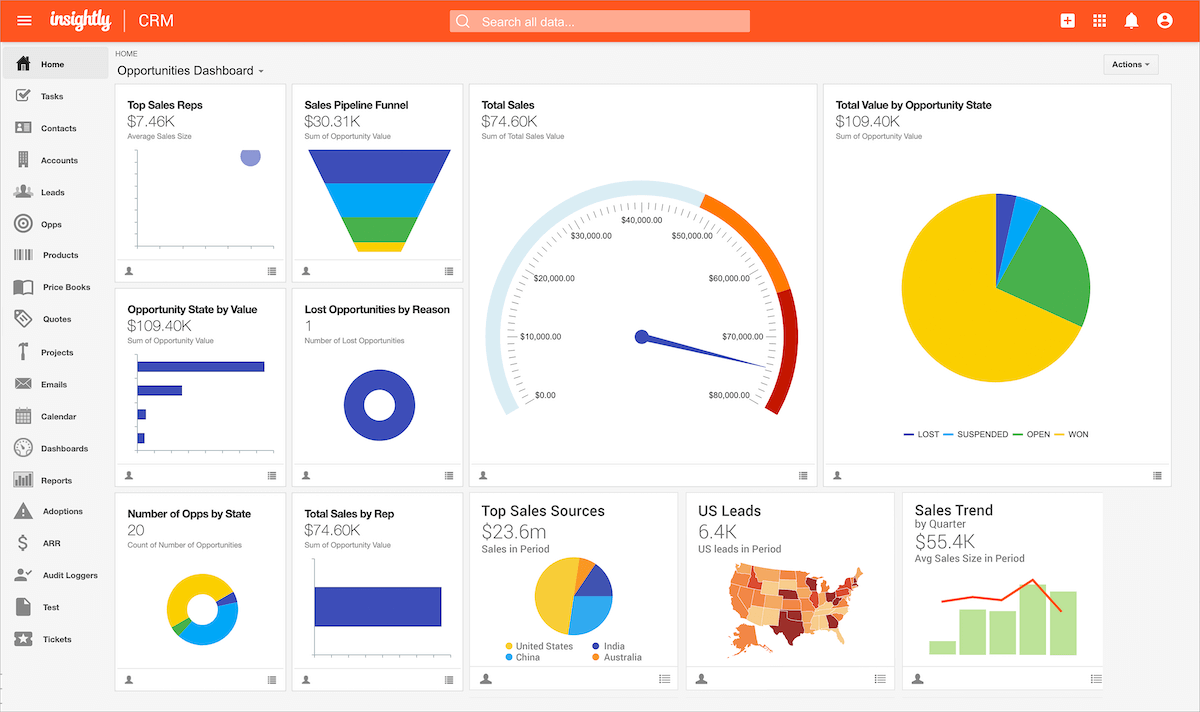 Insightly is a CRM with the standard features that most small businesses need.
What you'll love about this CRM is its user-friendly interface and intuitive design, which means you can jump right into using your new business tool.
How Insightly works
Insightly lets you manage your customers, sales, and data all in one place thanks to some great features.
Insightly tracks relevant lead information to automatically route prospects to the right sales rep, cutting down on follow-up time. All you have to do is set the criteria and let the platform do the rest.
What's more, Insightly has built-in project management tools to manage your closed-won opportunities and track business milestones.
Beyond that, Insightly's email integrations allow you to save, track, and send emails from the software. For a more personal approach, use the integrated telephony system, Insightly Voice, to make calls directly from your CRM.
Pipedrive overview
Pipedrive is a great starting point if you're looking for your first CRM.
This solution lets you envision your sales process from start to finish to optimize your other business processes.
As a result, you gain better visibility into your revenue to make the best decisions for your business.
How Pipedrive works
Pipedrive's features primarily focus on sales. They allow you to automate a variety of tasks, such as triggering personalized email templates or creating an opportunity when a new contact hits your database.
Pipedrive's customization capabilities allow you to modify sales pipelines, personalize your sales reports, and add custom fields.
You can use Pipedrive's open API to connect with other point solutions or pay for LeadBooster — a lead generation add-on with a customizable chatbot.
Beyond that, Pipedrive's other CRM features include:
Third-party integrations with over 300 tools.
The ability to create and send invoices directly from your CRM.
Email and communication tracking.
Method:CRM overview
As the #1 QuickBooks CRM, Method improves how you work in your accounting software, allowing it to grow alongside your business.
Method:CRM's features ensure that you accomplish a lot more thanks to powerful workflow automation and customization.
As a result, your accounting software drives you forward instead of holding you back as you grow.
How Method:CRM works
Method:CRM is best known for its two-way QuickBooks and Xero sync. When you update information in one platform, it automatically updates in the other so that your information is always up to date.
Method:CRM is a great option because of the software's unlimited customization possibilities. With Method's no-code platform, your dream solution is within reach.
Plus, you can create branded web-to-lead forms with your company's logo to drive new business or build custom online portals for an improved customer experience.
Beyond that, Method:CRM's workflow automation saves you time on tasks such as:
Lead collection.
Transaction document creation.
Sales follow-ups
Payment collection.
Comparing Insightly, Pipedrive, and Method:CRM
Now that you know how Insightly, Pipedrive, and Method:CRM work, let's get down to the nitty-gritty of this CRM comparison.
To compare these CRM software products, we looked into the details of each, including unique functionality, ease of use, performance, customer reviews, as well as the availability of support resources like:
Blog posts.
Help pages.
Tutorial videos.
Product screenshots.
A CRM should not only be feature-rich, but also easy to use and navigate. It's also essential to consider the software categories they fall into and the range of services they provide.
Things like mobile app availability for both Android and iOS users, email marketing integration, and calendar syncing are essential for seamless organization and access to everything you need for success.
Additionally, customer support plays a crucial role in the overall client experience, so prompt assistance is a priority for your sales teams that use the platform.
Looking for another CRM? Check out these articles:
Key features
Lead routing for timely follow-ups.
Built-in project management tools.
Batch import leads from an Excel spreadsheet.
Over 250 app integrations.
Telephony system to make calls within Insightly.
Primary benefits
Opportunities convert to projects automatically.
Receive notifications when your emails are open.
Advanced lead management tools.
Custom fields to store more accurate data.
Schedule recurring reports for your team.
Limitations
Insightly's custom reporting and dashboard options only allow for a top-level overview of your business insights.
Beyond that, you have to pay extra for live support. In contrast, phone, chat, and email support is free with Method:CRM.
Key features
Lead generation chatbot for around-the-clock service.
Bulk editing to change multiple fields at once.
Real-time dashboards.
Send invoices directly from CRM.
Primary benefits
Easy drag-and-drop interface.
Smaller learning curve to get to work sooner.
Third-party integrations with Gmail, Slack, and other business tools.
Add LeadBooster for personalized chatbots.
Limitations
Compared to other CRMs, Pipedrive's customization options are limited.
Another thing to consider is that Pipedrive doesn't separate your leads from contacts. This means putting in extra work to distinguish between new and qualified leads.
Key features
Two-way QuickBooks and Xero sync.
Updated Email Campaigns app.
Unlimited customization.
Native integrations with Gmail, Outlook, Mailchimp, Zapier, and more.
Online custom portals for self-serve actions.
Web-to-lead forms.
Primary benefits
Save time and enhance accuracy by automatically syncing your data between Method:CRM and QuickBooks or Xero.
Eliminates the need for double data entry.
Reusable personalized templates for emails, reports, and transaction records.
Advanced customization with DIY no-code technology or with the help of experts.
Convert estimates into invoices in a few clicks.
Limitations
For now, you must be a QuickBooks or Xero user to use Method:CRM, and the solution is only available in English.
Insightly pricing
Insightly offers three subscription plans:
Plus: $29 per user per month.
Professional: $49 per user per month.
Enterprise: $99 per user per month.
Insightly offers a free plan, but it only allows two users and has limited features. They do not offer a free trial of any of their other plans.
Pipedrive pricing
Pipedrive has four pricing plans:
Essential plan: $12.50 per user per month.
Advanced: $24.90 per user per month.
Professional plan: $49.90 per user per month.
Enterprise: $90.00 per user per month.
Pipedrive offers a 14-day free trial.
Pipedrive has several add-ons for an additional price, such as LeadBooster at $32.50 per company per month.
Method:CRM pricing
Method:CRM offers three subscription plans:
Contact Management: $25 per user per month.
CRM Pro: $44 per user per month.
CRM Enterprise: $74 per user per month.
Method:CRM also offers a free trial. No credit card is required.
Who should use Insightly?
If you want a CRM with strong project management capabilities, Insightly should be your top choice.
On the other hand, if you're looking for a tool that gives you a deeper understanding of your business, Insightly might fall short of those expectations.
Who should use Pipedrive?
If you're looking for your first CRM and don't want an overwhelming number of features, Pipedrive is a great place to start.
However, if you expect your business to grow significantly, you may outgrow Pipedrive sooner rather than later.
Who should use Method:CRM?
Method:CRM is the best choice if you're looking to scale up your business and automate your workflows.
Method's customization ensures that you won't outgrow this CRM solution.
Even better, its two-way sync with QuickBooks and Xero ensures that you don't outgrow your accounting software either, so you get a long-term solution for your business on all fronts.
Bottom line
You can't go wrong if Insightly, Pipedrive, and Method:CRM are your top choices for a CRM.
Testing out the features of each CRM system is the best way to figure out which one will bring you to your goals most efficiently.
Start with a free trial of Method:CRM.