Compare Insightly vs. Keap vs. Method:CRM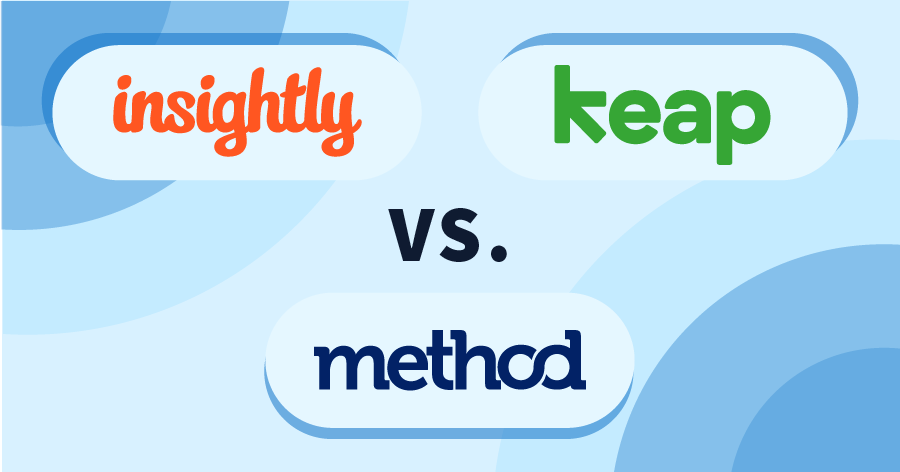 Features, benefits, and drawbacks of these CRMs to help you decide the best one for your business.
If you don't use a CRM for your operations, then your business isn't at max efficiency. The good news is that it's never too late to implement a CRM to optimize your workflows.
There are several CRMs on the market, but there are three that stand out:
Insightly.
Keap.
Method:CRM.
This guide explains the features, benefits, and drawbacks of these CRMs to help you decide the best one for your business.
Insightly vs. Keap vs. Method:CRM
The main difference between Insightly, Keap, and Method:CRM is how effectively their features drive efficiency.
From lead management to e-commerce payments, each of these CRMs has a series of features to improve how you run your business.
Let's look at what each CRM has to offer.
Insightly overview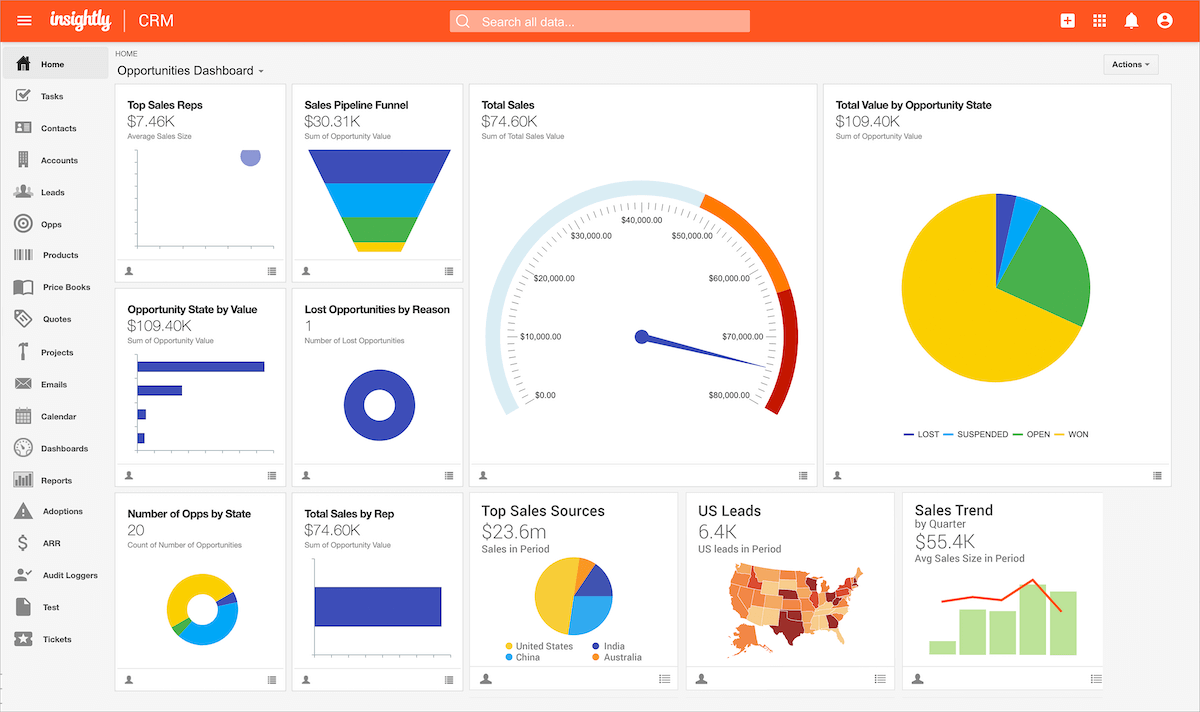 Image credit: G2
Insightly is an easy yet versatile CRM that lets your build stronger relationships with your customers.
The simple interface and integrated tools make Insightly a great solution for those new to using a CRM.
How Insightly works
Popular amongst Google and Office 365 users, Insightly offers small and medium-sized businesses features and integrations to manage your business from one place.
Firstly, Insightly gives you several options to import your data. In addition to importing from Outlook and Google Workspace, you can record leads manually, or batch import them from an Excel spreadsheet.
What's more, Insightly lets you capture leads by embedding contact forms into your website or using the Insightly app to scan business cards that automatically convert into lead information.
Once your leads are in the system, Insightly simplifies lead management by tracking prospect information and routing them to the right sales rep. You can also view every interaction your lead has down the pipeline.
Insightly is also known for its integrated project management tools. When a contact turns into a  potential customer, Insightly converts them into an opportunity.
Once an opportunity is won, Insightly converts it into a project, and you gain access to features such as task assignments.
Beyond that, you can use Insightly's email integrations to manage emails from your CRM. Plus, the app offers hundreds of other integration to extend the power of your CRM.
Keap overview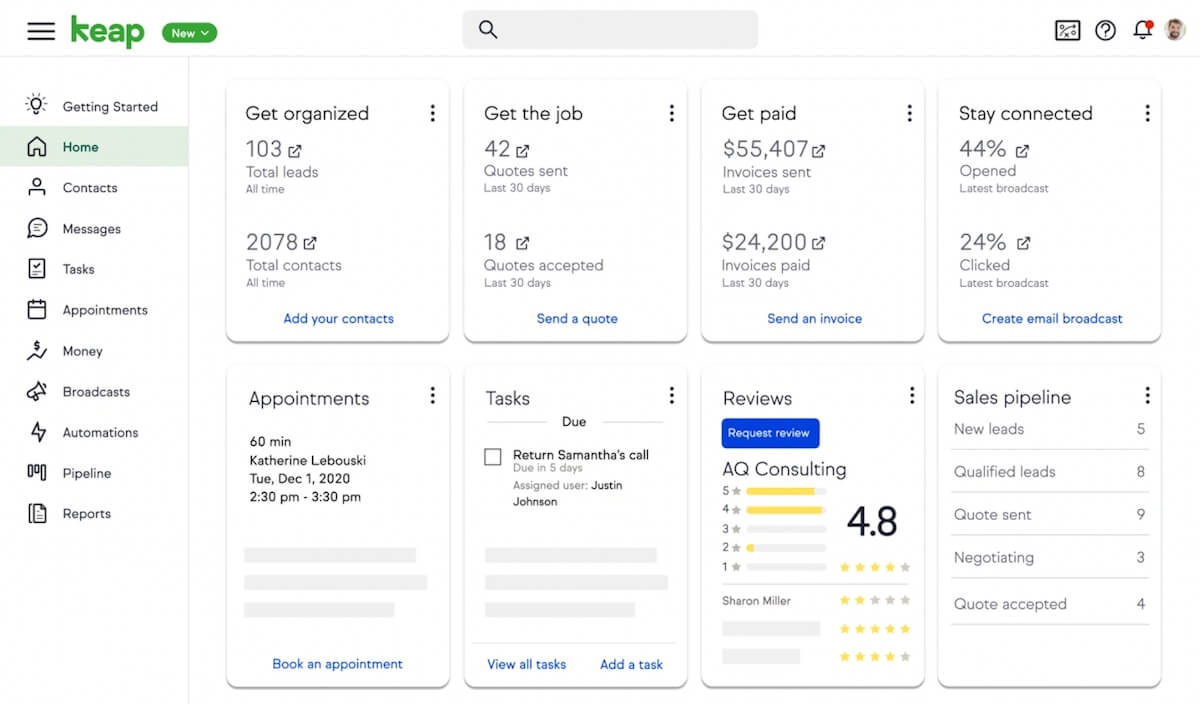 Image credit: Keap
Keap is a simple, all-in-one platform that helps you organize your sales and marketing processes.
Keap is designed for those who aren't experts in CRMs or the sales pipeline and guides you through every step.
How Keap works
Keap has a pre-built sales pipeline template to give you a starting point for lead management. From there, automate emails, tasks, and more by setting triggers for when a deal moves to the next stage of the pipeline.
For further organization, all interactions with your contacts are automatically added to their account and become accessible to your sales team for quick review.
What's more, use the contact dashboard to perform multiple actions, including:
Call.
Text.
Email.
Book an appointment.
Process a transaction.
Keap also has strong analytics tools to measure your business success effectively. With these tools, you gain access to:
Analytics and reports.
Email marketing performance.
Revenue trends.
Beyond that, Keap has several other features to enhance your business, such as:
Workflow automation.
Email marketing.
Lead scoring.
Method:CRM overview
Method:CRM is the #1 QuickBooks CRM and the best CRM for automating your workflows.
Method:CRM improves the way you work in your accounting software and provides you with tools to manage every aspect of your business, from lead generation to invoicing.
How Method:CRM works
What makes Method:CRM unique is the two-way QuickBooks and Xero sync. When you update information in these accounting platforms, it automatically updates in Method and vice versa.
As a result, double data entry is a problem of the past.
But Method's sync capabilities are only the beginning. Imagine building your own personalized workflows to manage your business your way? Method's customization makes that possible.
From custom reporting to reusable templates, you can tailor your workflows in Method to suit your business and industry. You can personalize the CRM yourself or take advantage of our customization services.
What's more, Method's native integrations with everyday tools such as Outlook and Gmail make it easy to operate your business entirely from your CRM.
Beyond that, Method automates tedious tasks to save you time for more productive work. Let Method takes care of tasks such as:
Lead collection.
Document conversion.
Billing and payment processing.
Comparing Insightly, Keap, and Method:CRM
Now that you're up to speed on what Insightly, Keap, and Method:CRM have to offer, let's compare their features to highlight the best one for your business.
Want to explore your options further? Check out these CRM comparison articles:
Key features
Google and Office 365 integrations.
Scan business cards using the Insightly app.
Lead web forms to embed on your website.
Advanced project management capabilities.
Integrations with over 250 apps.
Primary benefits
Automatic lead routing to the right sales rep.
Import data in multiple ways.
Project management tools such as task assignments.
Easily convert won opportunities into projects.
The ability to schedule recurring reports.
Limitations
Insightly has limited customization options. What's more, live support and the built-in Telephony app are an extra charge.
Key features
Pre-built sales pipeline templates.
Personalized follow-ups to new leads.
Contact dashboard with extensive features.
Collect payments automatically using apps like PayPal, Wepay, or Stripe.
Analytics and reporting specific to your business.
Primary benefits
Sales and marketing automation in one platform.
Live support and a dedicated customer success manager.
Integration with valuable apps like Gmail, Outlook, Zapier, and more.
SMS messaging for your customers.
Built-in templates for email marketing.
Limitations
Keap has a large list of integrations, but many require a monthly fee. What's more, Keap is more expensive than other CRMs with similar features.
They also use contact-based pricing, meaning your subscription price increases as your contact list grows.
Key features
Two-way sync with QuickBooks and Xero to enhance your accounting software.
Automatic lead capture from multiple sources.
The ability to create custom workflows.
Multiple payment gateways and a self-service customer portal.
Native integrations with Outlook, Gmail, Google Calendar, Zapier, and more.
Primary benefits
Instant lead capture with web-to-lead forms.
Unlimited customization to meet your every need.
Personalized and reusable email, invoice, and estimate templates.
Easily convert estimates into invoices to eliminate double-data entry.
Customer portals for fast, convenient payments.
Limitations
To use Method:CRM, you must be a QuickBooks or Xero user. What's more, the solution is only available in English.
Insightly Pricing
Insightly offers three subscription plans:
Plus: $29 per user per month.
Professional: $49 per user per month.
Enterprise: $99 per user per month.
Insightly offers a free plan but only allows two users and has limited features.
Keap pricing
Keap has two pricing plans:
Pro: $129 per month for 2 users (additional users are $29 each).
Max: $199 per month for 3 users (additional users are $29 each).
They also offer a 14-day free trial.
Method:CRM pricing
Method:CRM has three pricing plans:
Contact Management: $25 per user per month.
CRM Pro: $44 per user per month.
CRM Enterprise: $74 per user per month.
If you want to try it out with no commitment, Method:CRM offers a free trial with no credit card or contract required.
Who should use Insightly?
Thanks to its easy-to-use interface, Insightly is a good first CRM for many businesses.
However, this CRM works best for small businesses with several teams that want powerful project management tools.
Who should use Keap?
Keap is great for U.S. businesses as its SMS messaging feature is only available in the U.S.
Beyond that, considering their prices are on the high end for a basic CRM, Keap works best for small businesses that are already established and looking to grow.
Who should use Method:CRM?
Whether you started your business yesterday or have been operating for decades, Method:CRM is a versatile solution for QuickBooks and Xero users looking to tap into the power of automation.
With a powerful two-way sync, customization, and several popular integrations, Method:CRM empowers you to create an all-in-one system to streamline your business.
Bottom line
A CRM is a must for any business. The question is, which one is the right one for you? The only way to find out is to try them out!
Start your free trial of Method:CRM today!