Compare Insightly vs. HubSpot CRM vs. Method:CRM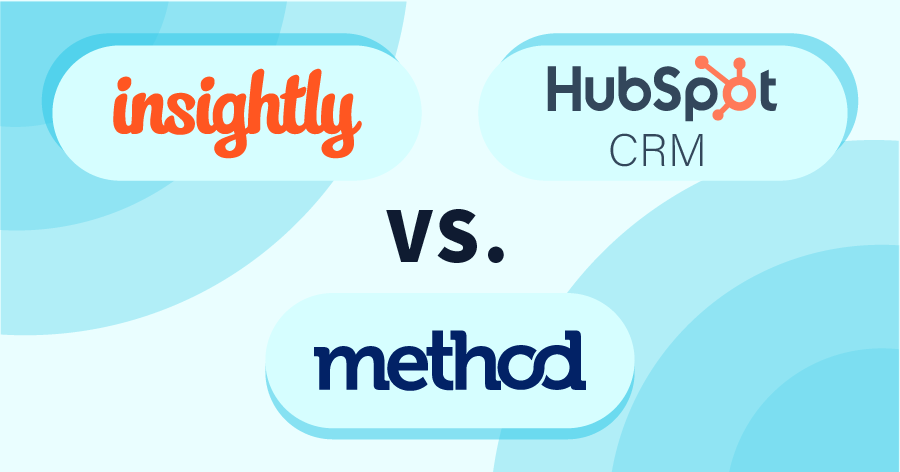 Need help choosing a tool to streamline your business ? You've come to the right place.
Need help choosing a CRM platform to streamline your sales process and manage customer relationships? You've come to the right place.
This article compares three popular CRM systems, Insightly, HubSpot, and Method:CRM, to guide you toward the perfect CRM software for you.
By the end of this comparison, you'll know which one works best for your business!
Insightly vs. HubSpot CRM vs. Method:CRM
When comparing CRM platforms, the main factors to consider include your customers' needs, the products you offer, and the solutions provided by the CRM. It's equally important to consider the CRM's cost and starting price, and its functionality on both web and mobile devices (iOS and Android).
You may also want to look into the CRM's customer support, scheduling features, and integrations with other platforms and sales tools.
The main difference between Insightly, HubSpot, and Method:CRM is the business areas they improve. Each of them caters to different needs and offer a range of features to improve your sales pipeline and customer relationships.
Insightly is best for companies that need project management tools. On the other hand, HubSpot CRM is a good choice for businesses focused on marketing automation, lead management, and email marketing.
But if you're a QuickBooks or Xero user seeking powerful automation tailored to your unique workflows and improved customer service, Method:CRM is your best bet.
Let's take a closer look at what each one offers.
Insightly overview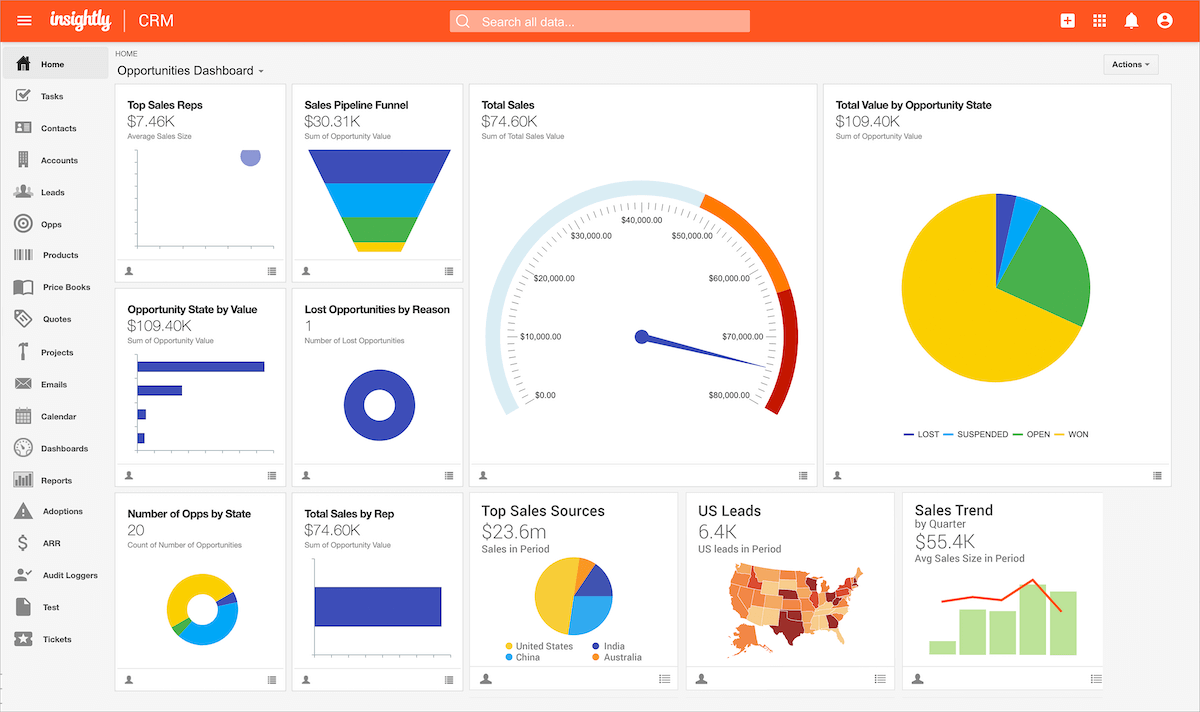 Insightly is simple, intuitive, and a great choice for first-time CRM users.
Made for small businesses, Insightly offers core CRM features to manage your leads and deliver quality customer service.
How Insightly works
Insightly is a popular CRM for Google and Office 365 users, as it combines your favorite tools into one.
One of the top features of Insightly is how easy it is to import your data from an Excel spreadsheet, Google Workspace or Microsoft Outlook.
Beyond that, Insightly tracks prospect information and automatically routes them to the correct sales rep. This way, you spend less time organizing your leads and more time nurturing them.
Insightly has integrated project management tools that include features such as task assignment and management. Once an opportunity is won, it converts to a project and you can begin using these tools.
What's more, Insightly's email integrations allow you to manage your inboxs directly from your CRM. Use the hundreds of other integrations to combine more of your tools for an improved workflow.
HubSpot CRM overview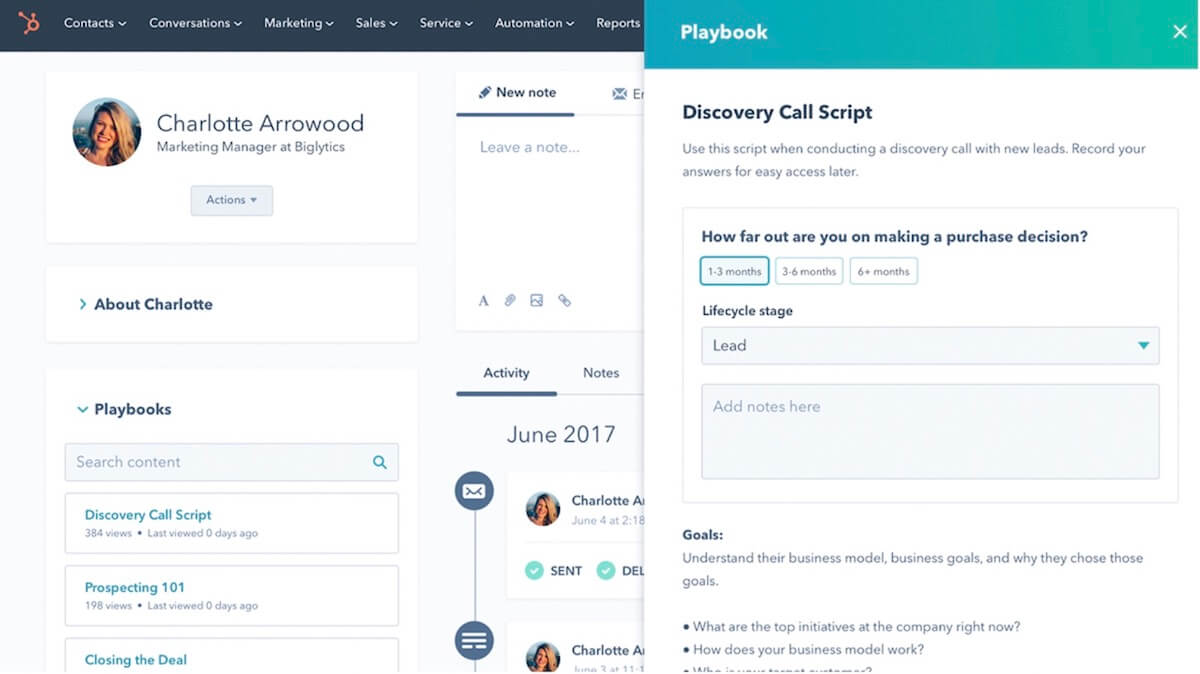 HubSpot has a small business CRM that has functions ideal for first-time CRM users.
With HubSpot, you gain access to features that transform your customer service and strengthen your workflows. You can combine their available hubs to create a system that works for your business.
How HubSpot CRM works
HubSpot features are categorized into different hubs. These hubs include:
Marketing.
Sales.
Service.
Content Management System (CMS).
Operations.
Their three main hubs include marketing, sales, and service, which are usually bundled together to create an all-in-one solution for your business.
Together, these hubs allow you to track and analyze sales activity, as well as manage your pipeline much easier.
Beyond that, you gain access to features such as ad management tools and a universal inbox to easily retrieve all customer communications.
Method:CRM overview
Method:CRM is the #1 QuickBooks CRM, but it does more than enhance your accounting software alone.
Method:CRM allows you to automate your processes and personalize every aspect of your business to help you compete with big enterprises in your country.
The best part is that as your business evolves, so does Method:CRM.
How Method:CRM works
What makes Method stand out is the solution's two-way QuickBooks and Xero sync.
Here's how it works: When you update information in your accounting software, it automatically updates in Method — and vice versa. This ensures your team always has the most up-to-date information.
For emails, use Method's Email Campaigns app with reusable templates and performance analytics to better connect with your leads. You can also add your brand design, such as your logo, and contact information to your transaction documents.
What makes Method an ideal solution for growth is the platform's unlimited customization. You can personalize Method yourself, but there's always customization expertise available to help you and provide recommendations.
Finally, Method:CRM automates a variety of tedious tasks to free up your schedule so you can focus on growing your business. From lead collection to payment processing, Method does the repetitive manual work for you.
Comparing Insightly, HubSpot CRM, and Method:CRM
When comparing CRM systems, consider the size of the database and the knowledge base provided by each platform.
A comprehensive database will allow you to store and manage a large number of customers, raw material providers, and partner details, while a robust knowledge base can help your team answer questions and resolve issues in the most efficient manner.
Insightly, HubSpot CRM, and Method:CRM each offer extensive databases and knowledge bases to track customer interactions, sales progress, and manage relationships with vendors and partners.
The best CRM platform will support your sales, marketing, support, and field service teams in a number of ways, be it through tracking features, chat functionality, or on-the-go apps.
These CRM platforms also provide reporting and forecasting tools to help you make informed decisions and track your sales teams' performance.
Now that you know what Insightly, HubSpot, and Method:CRM are all about, let's dive deeper into their features, benefits, and limitations.
If you want to continue to explore your options, check out these other articles:
Key features
Google and Office 365 integrations.
Lead routing to the right sales rep.
Excel import option.
Built-in project management tools.
Integrations with over 250 apps.
Primary benefits
Multiple ways to import your data for one source of truth.
Automatically convert won opportunities into projects.
Custom fields to store specific data for each category.
The ability to schedule recurring reports.
Limitations
Insightly's customization is limited, especially when it comes to reports and dashboards.
Key features
An organized method to capture and segment leads.
Flexibility in organizing contacts.
Several options for support services.
A large app marketplace to create a single system.
Primary benefits
HubSpot academy to guide you through the CRM.
Popular third-party app integrations such as Outlook and Google Workspace.
Access to a team inbox for easy collaboration.
Free basic CRM option.
Limitations
The downside to HubSpot's free plan is that you're bound to outgrow its simple features. Prices for their paid plans are a dramatic increase that's out of reach for many small businesses.
Key features
Powerful QuickBooks and Xero two-way sync for constant, up-to-date data.
Lead gen forms to capture demand.
Online portal for customer convenience.
Unlimited customization to create your dream solution.
Native integrations with Gmail, Outlook, Mailchimp, Zapier, and more.
Primary benefits
Personalized reusable templates for consistent branding and efficiency.
Full customization capabilities, from transaction templates to reports.
Convert estimates into invoices with a few clicks.
Payment gateways and a self-service portal for an excellent customer experience.
Limitations
For now, you must be a QuickBooks or Xero user to use Method:CRM, and the solution is only available in English.
Insightly pricing
Insightly offers three subscription plans:
Plus: $29 per user per month.
Professional: $49 per user per month.
Enterprise: $99 per user per month.
Insightly offers a free plan, but it only allows two users and has limited features.
HubSpot CRM pricing
HubSpot CRM offers a free version of its CRM, with upgrades available as your company grows.
From there, their Starter plan starts at $45 per month billed monthly or $540 when billed annually. This plan includes their marketing, sales, and service hubs with 2 paid users.
However, the next plan, the Professional plan, is $1600 per month billed monthly or $19,200 billed annually. This plan gives you five paid users.
Beyond that, HubSpot sells its software by hub or in bundles, so prices vary based on your chosen hubs.
Method:CRM pricing
Method:CRM offers three subscription options:
Contact Management: $25 per user per month.
CRM Pro: $44 per user per month.
CRM Enterprise: $74 per user per month.
Method:CRM also offers a free free trial, and no credit card is required to get started.
Who should use Insightly?
Insightly is the best choice for first-time CRM users or those who want a strong project management tool to strengthen your workflows.
Who should use HubSpot CRM?
HubSpot is the right tool for small businesses looking to improve specific aspects of their business, whether that be sales, marketing, or customer service.
Who should use Method:CRM?
Method:CRM is the top choice for QuickBooks and Xero users looking to automate their workflows, and improve their customer service.
What's more, Method:CRM is ideal for those wanting a solution that scales with their business.
Bottom line
When choosing a CRM platform, consider the range of features offered, customer reviews, and cost. Also take note of the CRM's ability to integrate with systems you're already using, and take advantage of free trials or demo versions to determine which is the right fit for your business.
With everything you learned from these CRM comparisons today, you're ready to proceed to the next step of choosing the right for you: Trying them out!
Start your free trial of Method:CRM.