Method:CRM — The best Insightly alternative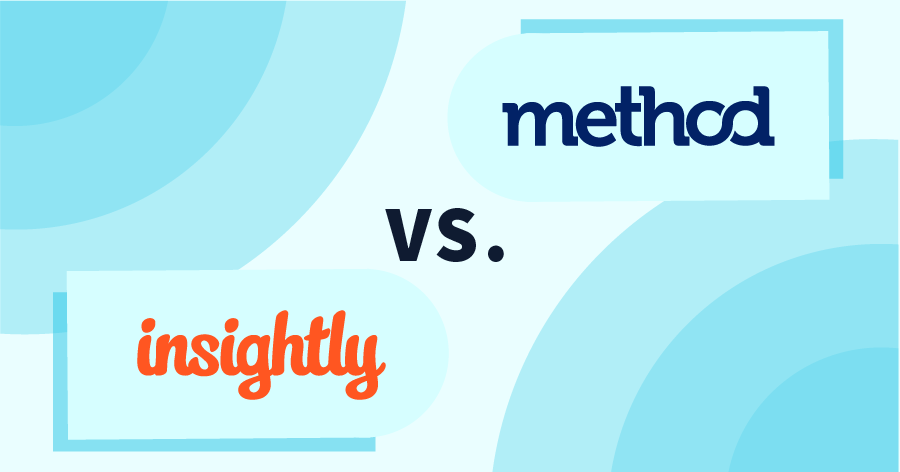 Your comprehensive guide to determining whether Method:CRM or Insightly is the best CRM solution for your business.
Insightly is a CRM platform trusted by small businesses (SMBs) looking to improve their customer relationships, but it isn't necessarily the best software solution for every business.
Whether you just started looking into Insightly, or are currently an Insightly user looking for a change, Method:CRM is an alternative worth considering.
With a suite of features, including automated actions like reminders and revenue tracking, this CRM solution caters to a wide range of business needs.
Review this comprehensive comparison guide to learn everything you need to know about Method's and Insightly's CRM products, so you can determine which is best at tackling your unique business challenges.
Why consider alternatives to Insightly?
Insightly is a visually dynamic CRM software option for small and medium-sized businesses to manage their contacts and improve their business processes.
For example, it offers modules like landing pages and deals, and even document management and storage.
While Insightly has a list of great features that simplify your sales processes, there are some areas where it lacks, such as:
DIY customization flexbility.
Strong workflow automation.
Personalized reports and dashboards.
If these features are important to you, then you should consider CRM options beyond Insightly. One alternative that fulfills each of the needs above is Method:CRM, which is flexible enough to cater to a larger number of roles in your business.
Method:CRM vs. Insightly
The main difference between Method:CRM and Insightly is the level of personalization each tool offers. You can infinitely customize Method:CRM to automate your company's specific workflows, while Insightly offers a more general, rigid tool.
Both are top choices for small organizations looking to strengthen their contact management and improve customer experiences. But since each solution offers different features, it's important to weigh your options to make an informed decision for your business.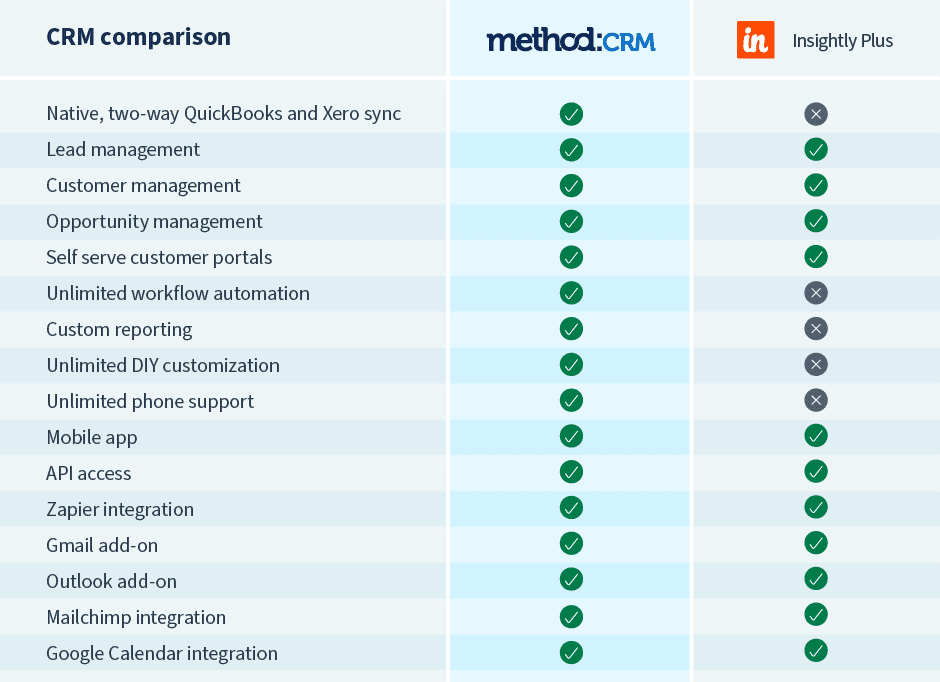 Method:CRM overview
Method:CRM is the #1 QuickBooks CRM. Made for small and medium-sized businesses, Method:CRM has an abundance of features to optimize your processes, manage your customers, and grow your business.
How Method:CRM works
At the heart of Method's offerings is the solution's two-way QuickBooks and Xero sync.
As you update information in your accounting software, it automatically updates in Method and vice versa.
This way, there's no need for double data entry, and your team always has the most up-to-date data on your customers, vendors, activities, and more.
Beyond that, Method:CRM allows you to leverage automation for your business processes. Automate tasks such as lead collection, convert documents in a few clicks, and use native integrations to create a streamlined all-in-one system.
With Method:CRM, managers can automatically assign leads to sales people. You may also leverage Method's integrations with Google Calendar and popular email platforms to view things like customer information, as well as any context needed to close the sale, right from your inbox.
If you feel like something needs tweaking in order to increase Method's effectiveness for your business, no problem. Take advantage of Method's no-code platform to create your perfect solution.
Insightly overview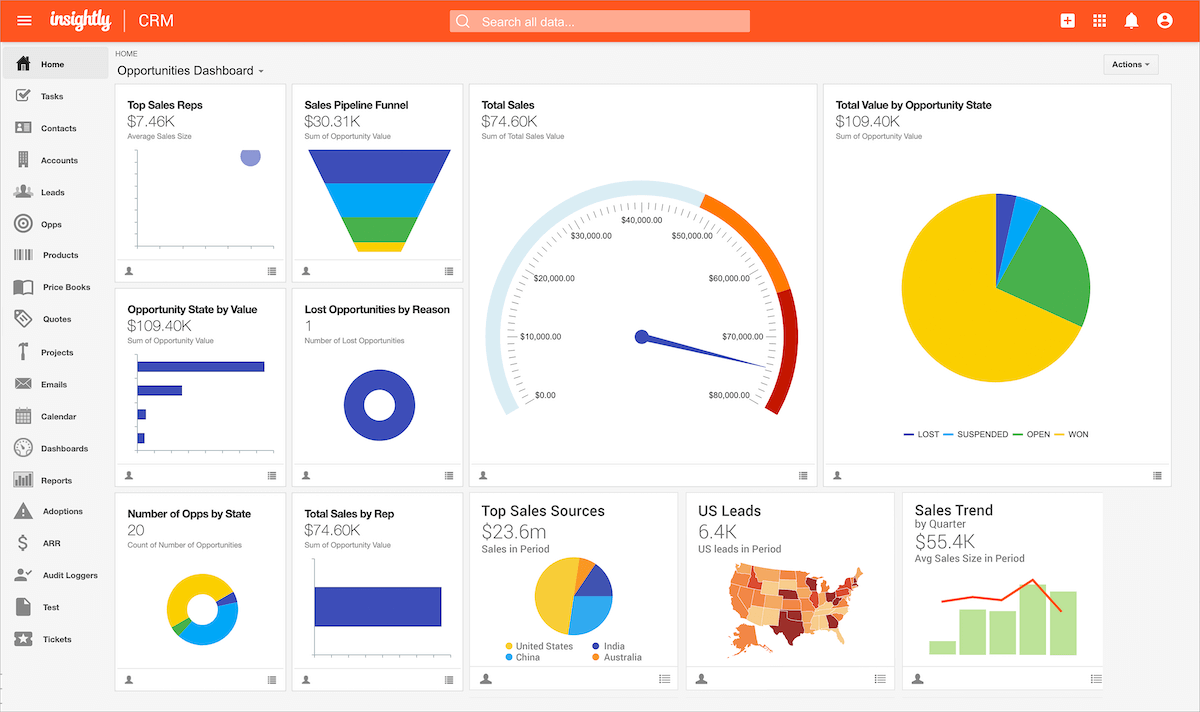 Insightly offers the everyday CRM features that small and medium-sized companies need. With a user-friendly interface, it's easy and intuitive so that you can get up and running sooner.
Insightly does have a few limitations that are worth considering, but this solution provides an overall improvement to your CRM workflow.
How Insightly works
Popular amongst Google and Office 365 users, Insightly lets you manage your customers, sales pipeline, and data all in one place.
Insightly tracks relevant lead information to route prospects to the right rep on your sales team, so that follow-ups and progression down the sales funnel are swift. This is done based on criteria that you set for pipeline management, from marketing campaign sources to specific tasks.
Once an opportunity is won, it automatically converts to a project, allowing you to use Insightly's integrated project management tools to track milestones.
Use Insightly's email marketing automation features to save, track, and send emails from the software. Better yet, use the built-in telephony system, Insightly Voice, to make calls directly from your CRM.
Comparing Method:CRM and Insightly
Now that you have an overview of these two CRM systems, let's compare Method:CRM and Insightly to reveal which is best for your business.
Looking to compare other CRM alternatives? Check out these articles for more insights and analysis:
Key features
QuickBooks and Xero two-way sync so that your data is always up to date.
Lead gen forms to capture interest from your website visitors.
Online customer portal with payment gateways for an improved customer experience.
Mobile app (iOS and Android) so that you're always in the loop.
Custom reporting functionality for powerful business analytics.
Native integrations with Gmail, Outlook, Mailchimp, Zapier, and more.
Primary benefits
Automatically sync your data between Method:CRM and your QuickBooks or Xero account for the most up-to-date information.
Increase visibility into customer data for everyone who needs it.
Boost productivity as a result of sales automation and streamlined operations.
Reusable and personalizable report, transaction document, and email templates.
No more double data entry — convert estimates into invoices with a few clicks.
Unlimited customization options to create your perfect solution.
Limitations
The main limitation of Method:CRM is that you must be a QuickBooks or Xero user to use this solution. Currently, Method:CRM and the services around it are also only available in English.
Key features
Lead routing to allow sales teams to follow up on prospects while they're hot.
Integrated project management tools.
Batch import leads from an Excel spreadsheet.
Build custom applications in a matter of minutes.
Over 250 app integrations.
Primary benefits
Scan business cards from your mobile app.
Convert your won sales opportunities to projects.
Receive notifications when your emails are opened.
Advanced lead management tools.
Custom fields to store data that doesn't fit into premade fields.
Schedule reports to be emailed to your team members on a recurring basis.
Limitations
Insightly's custom reports, charts, and dashboard options only allow for a top-level overview of your business. While its marketing features help simplify email communication, it does not offer social media integrations for Instagram, Twitter, etc.
Beyond that, none of their plans come with the telephony system, which is arguably one of Insightly's best customer service features. They do not include live customer support options either.
For live support, there are additional costs. This isn't the case with Method:CRM, where phone, chat, and email support is completely free.
Method:CRM pricing
Method offers three subscription options:
Contact Management: $25 per user per month.
CRM Pro: $44 per user per month.
CRM Enterprise: $74 per user per month.
Method also offers a free trial, and no credit card is required.
Insightly pricing
Insightly also offers three subscription plans:
Plus plan: $29 per user per month.
Professional plan: $49 per user per month.
Enterprise: $99 per user per month.
Insightly also offers a free plan, but it only allows two users and has limited features.
Who should use Method:CRM?
Method:CRM works for a variety of businesses and industries, making it an ideal choice for any small business looking to compete with bigger enterprises. Its comprehensive sales CRM features let you streamline the entire quote-to-cash process, from collecting leads through web forms to closing deals and collecting payments.
If you use QuickBooks or Xero and want to automate your workflows and customize your perfect solution, then Method:CRM is the best choice for you.
With Method, you empower your teams to access the information they need to do their best work, without compromising the security of your books.
Who should use Insightly?
Insightly also works for various businesses, but this CRM's strengths lie in its project management tools. With it, you can personalize pipelines and give your employees a place to stay in touch as they work together to tackle issues and launch initiatives.
If you want a CRM with strong project management capabilities, Insightly might be the best choice for your business.
Bottom line
Method:CRM and Insightly are both great CRM solutions for small businesses looking to scale up and optimize their workflows.
Insightly is good for ensuring quick follow-ups for leads and managing multiple projects, while Method's two-way QuickBooks and Xero sync and ability to automate your workflows make it ideal for scaling with your business.
However, you won't truly understand who has the upper hand in meeting your needs between Insightly and Method:CRM until you try them out.
Get started with your free trial of Method:CRM today!