Method:CRM — The best HubSpot CRM alternative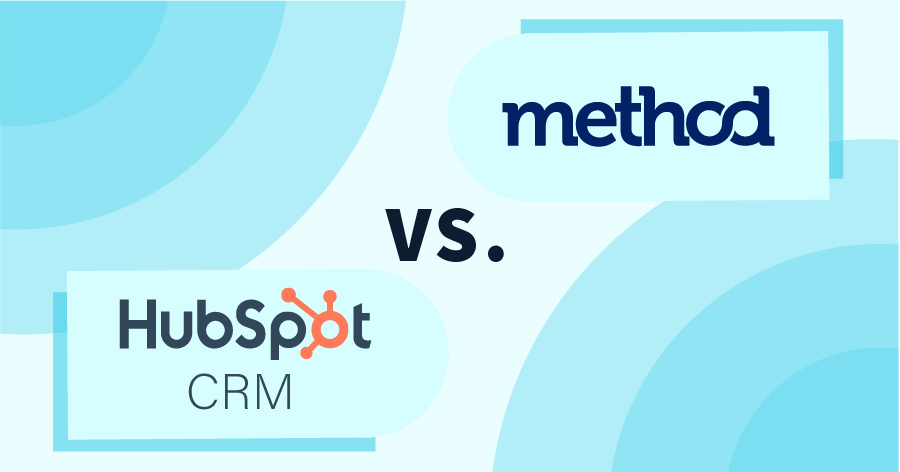 Learn how Method:CRM, the best HubSpot CRM alternative, benefits your business.
HubSpot is a well-known CRM solution for small businesses. But whether you're searching for basic tools to keep track of leads and customers or powerful automation, there might be alternatives that will better suit your unique business.
Dive into this guide on the best HubSpot CRM alternative, Method:CRM to learn the benefits it has for your business.
Why consider alternatives to HubSpot CRM?
One of the reasons that HubSpot is a fan favorite for small businesses is because of its free version of the software.
While this is great for businesses on a budget who want to implement a CRM, its limited features leave gaps in your workflow that make for more work as you adapt your processes to match HubSpot's workflows. Compared to HubSpot,  Method:CRM lets you tailor its software to the way you work — instead of the other way around.
Method offers a free trial without limitations so your business can start benefiting from a CRM right away. With that free trial comes a one-hour session with an in-house expert to see the power of their customization capabilities.
Method:CRM vs. HubSpot CRM
The main difference between HubSpot CRM and Method:CRM is how the tools scale with you.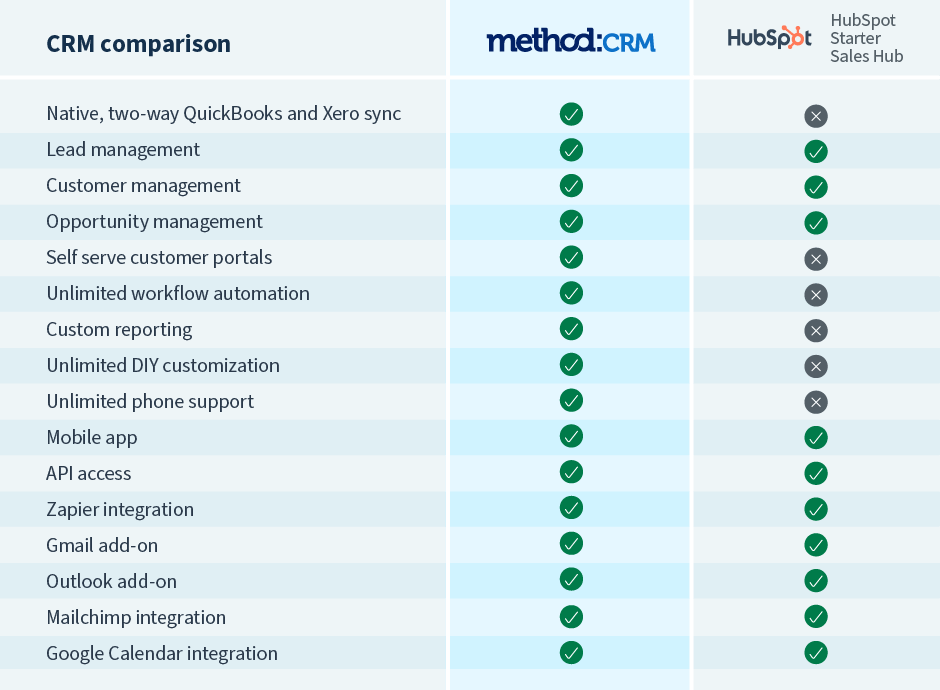 HubSpot is broken down into different hubs which include marketing, sales, service, and more. Their plans let you focus on just a few of their hubs, or you can bundle them together for a more complete solution.
The difficulty that many small businesses face is not knowing which hubs they need.
On the other hand, Method:CRM offers an all-in-one CRM solution that focuses on improving your customer's experience and maximizing operational efficiency.
Method:CRM overview
Replace your repetitive and timely admin tasks with automation that works in the background with Method:CRM.
Known as the #1 CRM for businesses that use QuickBooks, Method:CRM is an excellent option if you want to simplify your sales process, deliver the best customer experience possible, and better your internal operations.
How Method:CRM works
Method makes it simple for QuickBooks and Xero users to stay with the accounting software they love and instantly sync data to their CRM.
Updates to both software are made available to your team so you always have current customer information at your fingertips.
In addition to its robust sync, Method's customization tools let you create a CRM tailored to your specific needs. They also have in-house experts who assist with the customization of your workflows.
With Method:CRM you can automate your:
Invoices and estimates.
Lead capture.
Follow-ups with prospects.
Transactions and payments.
Method's native integrations with Google Calendar, Gmail, and Outlook transform how you use each tool. These integrations let you reap the most benefits from your favorite email and calendar solutions.
HubSpot CRM overview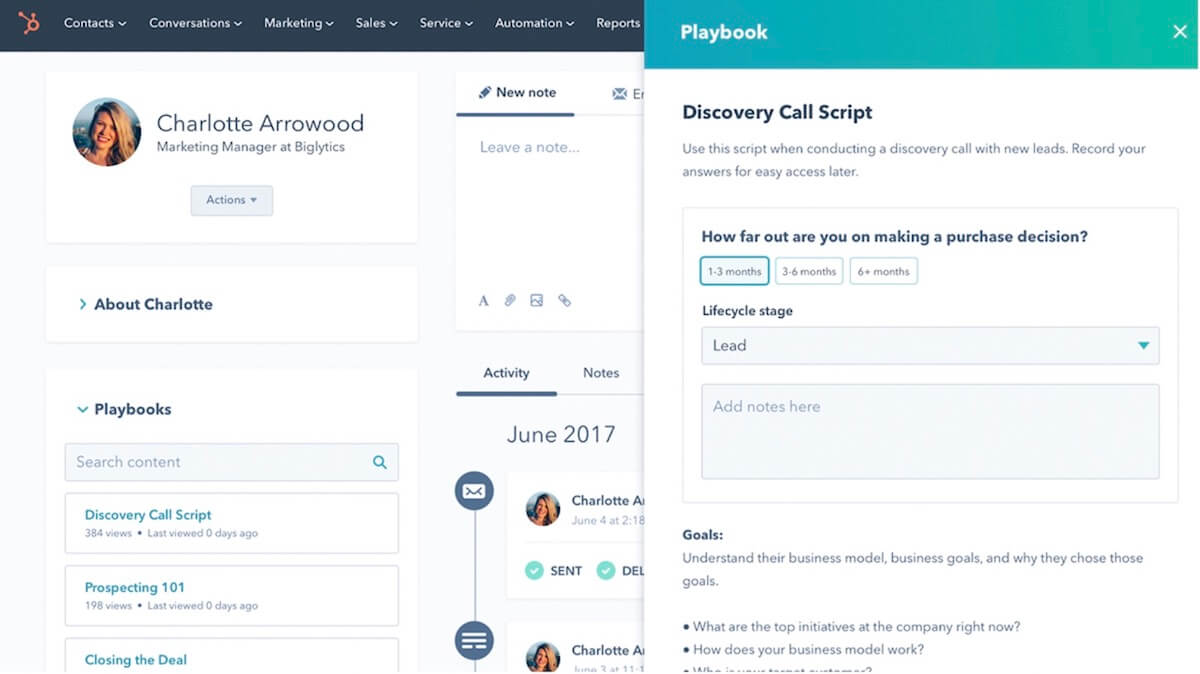 Image credit: HubSpot
HubSpot is a small business CRM that provides basic CRM functions with some customization abilities.
HubSpot combines the tools a growing business needs to provide a world-class customer experience in one software. Their solution aids with all aspects of your small business by providing hubs that are great on their own but work better when used together.
How HubSpot CRM works
HubSpot is separated into different hubs that provide solutions to different problems for your small business, such as :
Marketing.
Sales.
Service.
Content Management System (CMS).
Operations.
Their three main hubs include marketing, sales, and service, which are usually bundled together for small businesses looking for an all-in-one solution.
Comparing Method:CRM and HubSpot CRM
Now that the basics are covered, let's compare Method:CRM with HubSpot to see which one is better for your company.
Want to dive deep into another CRM software? Check them out here:
Key features
Consistently updated data thanks to two-way sync with QuickBooks and Xero.
Automatic lead capture from various channels.
CRM data at your fingertips with a mobile app.
Custom reports to meet your specific business goals.
A self-service customer portal with multiple payment channels.
Native integrations with Gmail, Outlook, Google Calendar, Zapier, and many more.
Primary benefits
Allows you to keep using the tools and processes that work best for you.
Customized reporting provides insights to fuel growth.
Email, invoice, and estimate templates that are fully customizable.
Easily transform estimates to invoices with the click of a button.
Online portals that are simple to use for a positive user experience.
No limits on how you can customize your CRM to match your small business needs.
Free trial with all the features you need and unlimited users.
Limitations
At the moment, Method:CRM is only available in English.
You must use QuickBooks or Xero to get the most out of Method:CRM.
Key features
Capturing and segmenting prospects.
Managing and organizing contacts.
Live chat and chatbots for support services.
Third-party app integrations are available.
Primary benefits
Educational resources available through their HubSpot academy.
A large app marketplace where you can connect your other tools.
Clean and simple dashboard.
Access to a team inbox for easy collaboration.
Limitations
Can be expensive compared to other CRM solutions.
Limited customization.
Takes time to understand how to fully benefit from their tools.
Limited templates require you to start from scratch.
Reporting tools offer vague insights.
Method:CRM pricing
Method has three subscription plans to choose from:
Contact Management plan: $25 per user per month.
CRM Pro plan: $44 per user per month.
CRM Enterprise plan: $74 per user per month.
Method:CRM also offers a free trial that includes full access to all tools and does not require a credit card.
HubSpot CRM pricing
HubSpot sells its software by hub or in bundles. Pricing is dependent on if you need a few business management tools or an all-in-one solution.
To start, HubSpot CRM offers a free version of its CRM, with upgrades available as your company grows.
Their Starter plan starts at $45 per month billed monthly or $540 billed annually. This plan includes their marketing, sales, and service hubs with 2 paid users.
You can buy one of their premade bundles or create your own with different hubs and amount of users.
Who should use Method:CRM?
Method:CRM is ideal for QuickBooks or Xero users who want to automate workflows and sync customer information, transaction history, and more.
It's an excellent software solution for small to mid-sized companies and helps businesses grow in various industries.
Who should use HubSpot CRM?
HubSpot is ideal for small businesses looking for help with specific aspects of their business.
Thanks to HubSpot's different hubs, businesses looking for only marketing tools or just sales solutions can buy those features without committing to the full suite of products.
Bottom line
Both HubSpot and Method:CRM are worth considering for different reasons. HubSpot is a CRM with a variety of pricing plans and bundles, which may be what you need.
On the other hand, Method:CRM provides QuickBooks and Xero users with advanced sales automation tools.
Ultimately, the decision is up to you but it's best to always try before you buy — especially with mission-critical technology like your CRM.
To get started, try out Method:CRM to see the difference it makes for your small business.
Begin your free trial today!