Method:CRM — The best HubSpot CRM alternative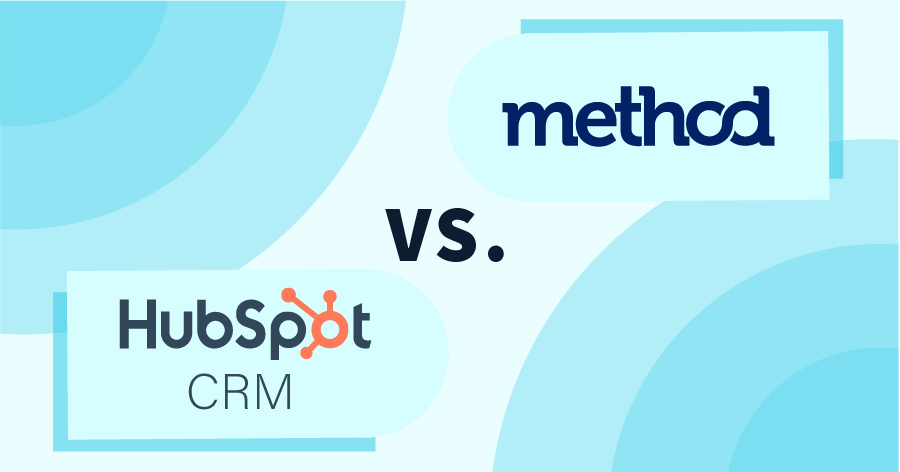 Learn how Method:CRM, the best HubSpot CRM alternative, benefits your business.
A marketing automation software suite like HubSpot CRM helps small businesses automate communication, engage audiences, and drive conversions.
There are thousands of reasons to use a CRM. But whether you're searching for basic tools to keep track of leads and customers or powerful automation capabilities, there are a number of Hubspot alternatives that will better suit your unique business.
Chances are, you've heard of some CRMs such as Freshsales, SugarCRM, Copper, Oracle CRM, and Capsule. However, when it comes to the best CRM alternatives, Method:CRM is at the top of the list.
Dive into this blog on the best HubSpot CRM alternative, Method:CRM, to learn the benefits it has for your business.
Why consider alternatives to HubSpot CRM?
One of the reasons that HubSpot is a fan favorite software for small businesses is its free version.
While this is great for businesses on a budget who want to implement a CRM, its limited features leave gaps in your workflow that make for more work as you adapt your processes to match HubSpot's system. Compared to HubSpot, Method:CRM lets you tailor its software to the way you work — instead of the other way around.
Method offers a free trial without any risk or limitations, so your business can start benefiting from a CRM right away. With this free trial comes a one-hour session with one of our in-house experts to start taking advantage of Method's customization capabilities.
Method:CRM vs. HubSpot CRM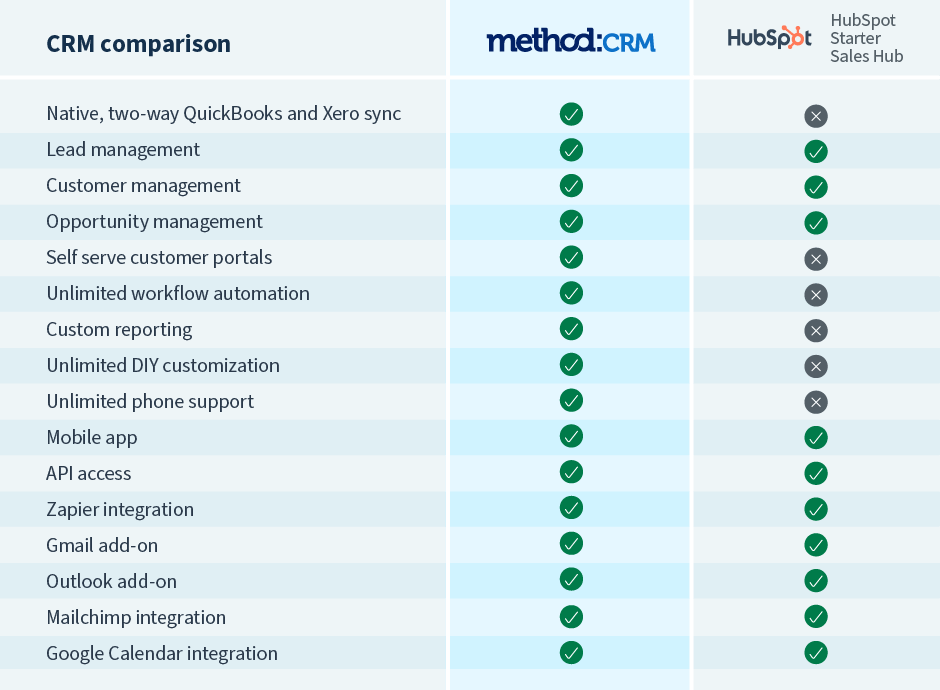 The main difference between HubSpot CRM and Method:CRM is how the tools scale with you.
The main difference between HubSpot CRM and Method:CRM is how the tools scale with you.
HubSpot is broken down into different hubs which include marketing, sales, service, and more. You can choose between just a few of their hubs, or bundle them together for a more complete solution.
However, the difficulty that many small businesses face is not knowing which hubs they need.
On the other hand, Method:CRM offers an all-in-one CRM solution that focuses on improving your customer's experience and maximizing your operational efficiency.
Method:CRM overview
With Method:CRM, you replace your repetitive and timely admin tasks with automation that works in the background.
Known as the #1 CRM by thousands of clients that use QuickBooks, Method:CRM is an excellent option if you want a comprehensive CRM solution. It works to streamline your business processes and increase revenue, all while helping you deliver the best customer experience possible.
How Method:CRM works
Method makes it simple for QuickBooks and Xero users to stay with the accounting software they love and instantly sync data to their CRM.
Even as updates to both software roll out, Method ensures that your team always has current customer information at their fingertips.
In addition to its robust sync, Method's customization tools let you create a CRM tailored to your specific needs, and our in-house experts are regularly available to assist with the personalization of your workflows.
With Method:CRM, you can automate vital business processes, like:
Lead capture.
Follow-ups with prospects.
Transactions and payments.
Invoices and estimates to send to customers or your vendor.
Method:CRM has an extensive list of apps it connects with, including native integrations with Google Calendar, Gmail, and Outlook that transform how you use each tool. These integrations let you make the most of your favorite email and calendar solutions.
Additionally, the platform offers features that allow you to:
Automate communication with people.
Send reminders.
Segment audiences to create customer profiles based on their activity, behavior, and other factors.
One area where Method:CRM shines is marketing automation. Whether you're in the manufacturing or ecommerce industry, there's something for everyone to be able to build powerful marketing campaigns. These automations improve engagement with customers.
Method:CRM's marketing automation tools include a suite of email marketing tools. With email marketing automation, your marketing teams can set up sequences and autoresponders. You can even create email templates and personalize emails for better communications.
Plus, method:CRM offers a drag-and-drop editor that allows businesses to easily create email campaigns, drip campaigns, and landing pages. The email builder and landing page builder tools are user-friendly and allow businesses to create stunning, professional-looking assets effortlessly.
Inbound marketing is also a focus for Method:CRM, making it a great fit for businesses that want to create engaging content to attract and retain customers. You can segment your audience based on specific criteria to create lists and highly targeted campaigns that resonate with your customers at every point of their journey. With the ability to personalize content and pop-ups using machine learning, businesses can create a more personalized experience for their audience.
Method:CRM also offers web forms and newsletters to help businesses engage with their subscribers and increase conversions. You can integrate Method:CRM with popular software like ActiveCampaign to boost productivity even further.
And to track the effectiveness of your marketing efforts, Method:CRM also offers robust analytics and reporting features. With metrics on email campaigns, social media engagement, website activities, and more, you get valuable insights into the status of your marketing attribution and performance, as well as areas of opportunities.
Another standout feature of Method:CRM is its sales funnel management. Method provides an array of automation features that can help businesses manage the leads in their sales pipelines.
Aside from lead management, the platform also offers segmentation and scoring features, making it easy to prioritize and target the right audience with the right message at the right time. With everything in one place, sales teams stay on top of their deals at all stages in their sales funnels.
Method:CRM also serves as an intuitive system to stay on top of meetings and scheduling employees. For instance, you can set up notifications to remind you about upcoming events.
And finally, Method:CRM's customer support is stellar. With features like a helpdesk and knowledge base packed with webinars, customers can get answers to common questions and issues at all times, often on their own.
The platform also offers chat support, phone support, and the ability to submit support tickets to ensure you get the help you need. And if you're ever stuck on how to customize your CRM solution, just like Bays Technology, the support team at Method examines your business requirements and tailors the solution to meet your needs.
HubSpot CRM overview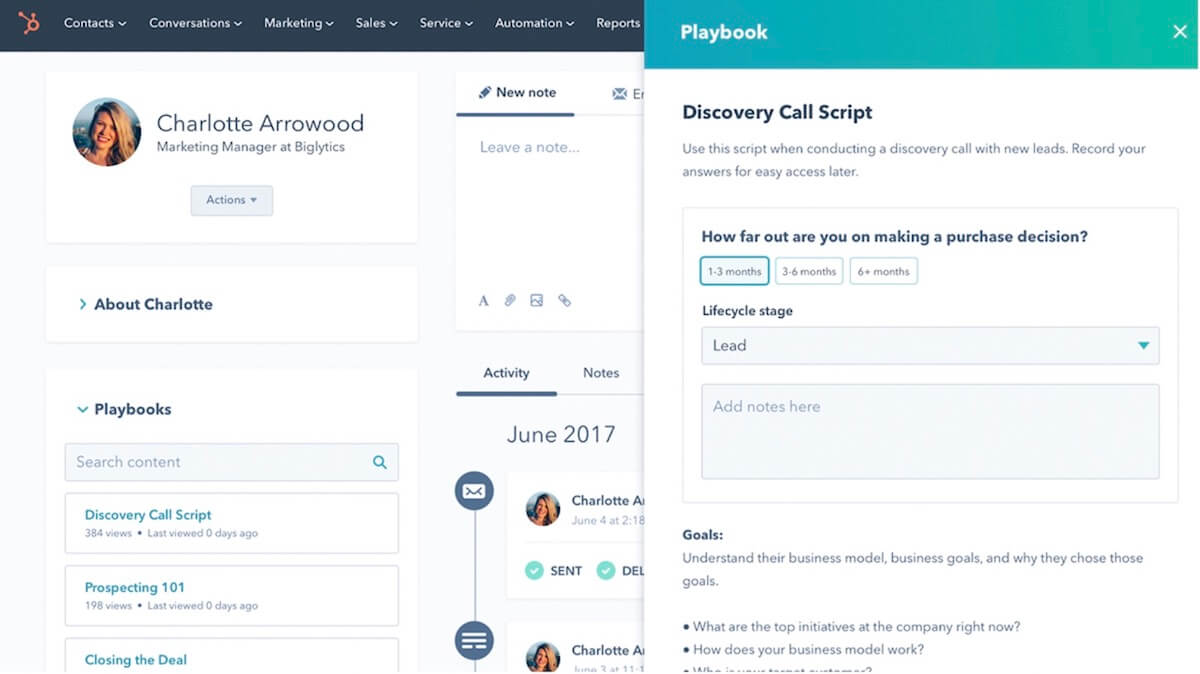 HubSpot is a small business CRM platform that provides basic CRM functions with some customization abilities.
HubSpot combines the tools a growing business needs to provide a world-class customer experience in one software. After testing it out, our team found that the solution aids all aspects of your small business by providing hubs that are great on their own, but work better when used together.
How HubSpot CRM works
Based on our observations and CRM review, HubSpot is separated into distinct hubs that provide solutions to different areas within your small business, such as:
Marketing.
Sales.
Service.
Content Management System (CMS).
Operations.
Their three main hubs include marketing, sales, and service, which are usually bundled together for small businesses looking for an all-in-one solution.
Comparing Method:CRM and HubSpot CRM
Now that the basics are covered, let's compare Method:CRM with HubSpot to see which one is a better fit for your company.
Want to dive deep into another CRM software? Check out these CRM tools here:
Key features
Consistently updated data thanks to a two-way sync with QuickBooks and Xero.
Automatic lead capture through web-to-lead forms.
CRM data at your fingertips with a mobile app.
Custom reports to meet your specific business goals.
A self-service customer portal with multiple payment channels.
Native integrations with Gmail, Microsoft Outlook, Google Calendar, and plenty more.
Primary benefits
Allows you to keep using the tools and processes that work best for you.
Customized reporting provides unique insights to fuel growth.
Email, invoice, and quote/estimate templates that are fully customizable.
Easily transform estimates to invoices with the click of a button.
Online portals that are simple to use for a positive user experience.
Free trial with all the CRM features you need including unlimited users.
Limitations
At the moment, Method:CRM is only available in English.
You must use QuickBooks or Xero to get the most out of Method:CRM.
Key features
Capturing and segmenting prospects.
Contact management and organization using filters and tags.
Call tracker that automatically logs phone calls to your CRM database.
Live chat and chatbots for support services.
Third-party app integrations including SMS marketing and popular software such as EngageBay, Ontraport, GetResponse, WordPress, Sendinblue, etc.
Primary benefits
Educational resources available through their HubSpot academy.
A large app marketplace where you can connect your other tools.
CRM suite includes clean and simple dashboards.
Access to a team inbox for easy collaboration.
Limitations
Can be expensive compared to other CRM solutions.
Limited customization.
Takes time to understand how to fully benefit from their tools.
Limited templates require you to start from scratch.
Reporting tools offer vague insights.
Method:CRM pricing
Pricing is one of the key elements you should consider when choosing a CRM. Both Method:CRM and HubSpot CRM are SaaS-based solutions, meaning you pay a monthly or annual subscription fee to use the software.
But one of the key advantages of Method:CRM over HubSpot CRM is that it offers a more affordable pricing model for businesses, especially when compared to its competitor HubSpot's high price tag.
While HubSpot offers a wide range of tiers with different features and costs, Method:CRM offers a simple pricing structure that provides value to those who are running startups or small businesses and are looking for a discount or to save money. In this case, you get everything you need without having to pay for additional features that you don't require.
Method has three subscription plans to choose from at the following prices:
Contact Management plan: $25 per user per month.
CRM Pro plan: $44 per user per month.
CRM Enterprise plan: $74 per user per month.
Method:CRM also offers a free trial that includes full access to all tools and does not require a credit card.
HubSpot CRM pricing
HubSpot sells its software by hub or in bundles. Pricing is dependent on if you need a few business management tools or an all-in-one solution.
To start, HubSpot offers a free version of its CRM, with upgrades available as your company grows.
Their Starter plan starts at $45 per month billed monthly or $540 billed annually. This package includes their marketing, sales, and service hubs with 2 paid users.
You can buy one of their premade bundles or create your own with different hubs and a specified amount of users.
Who should use Method:CRM?
Method:CRM is ideal for QuickBooks and Xero users who want to automate workflows and sync customer information, transaction history, and more.
It's suitable for both B2B and B2C business dynamics. Whether you own ecommerce businesses or a construction firm, Method:CRM is an excellent software solution for small to mid-sized companies, helping them grow in various industries.
The platform offers a range of features and a simple interface for powerful customer data management all in one location.
Overall, Method:CRM is an excellent alternative to HubSpot CRM, offering plenty of features for simplified customer data and accounts management. With affordable pricing and exceptional customer support, Method:CRM is the top option for businesses looking for a CRM solution to stay ahead of a competitive business environment.
Who should use HubSpot CRM?
HubSpot is ideal for small businesses looking for help with specific aspects of their business.
Thanks to HubSpot's different hubs, businesses looking for a marketing suite, or just sales solutions, can buy those features without committing to the full suite of products.
That being said, our team recently had a conversation with a HubSpot customer, Chris, who was looking to switch over from HubSpot to a different CRM. Despite its modular pricing plan, Chris sought a customized solution in HubSpot, which racked up a surprisingly large cost.
Chris purchased customization from Hubspot to create an invoice template and some new fields, and he's spent $9000 in customizations just to do this. And when looking for other CRM options, he was quoted tens of thousands of dollars from them to migrate between systems.
So, if you're looking for customization, HubSpot is not your best bet. On the other hand, Method provides you a personalized solution without charging an arm and a leg.
Bottom line
Both HubSpot and Method:CRM are great platforms worth considering for different reasons. HubSpot is a CRM with a variety of pricing plans and bundles, which may be what you're looking for.
On the other hand, Method:CRM excels in providing QuickBooks and Xero users with advanced sales automation tools.
Ultimately, the decision is up to you, but it's best to always try before you buy — especially with mission-critical technology like your CRM.
To get started, try out Method:CRM to see the difference it makes for your small business.
Begin your free trial today!