Compare Nutshell vs. Pipedrive vs. Method:CRM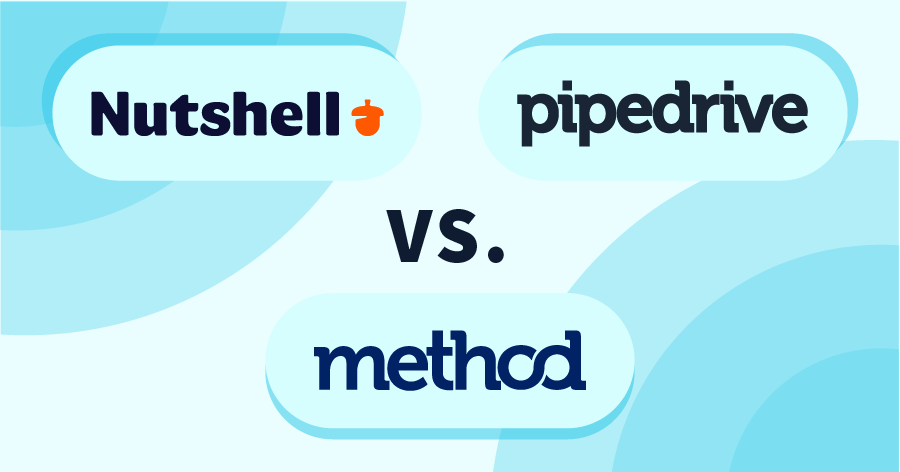 Pick the CRM solution best suited for your company.
A CRM (customer relationship management) software improves customer service and promotes business growth. However, not all CRMs are equal, so it's crucial to consider your options carefully.
One way to compare CRM vendors is by looking at reviews and ratings from customers.
But if you're looking to speed up your research, a comparison guide like this one offers all the information you need to make an informed decision.
The following three CRM products are compared in this guide:
Nutshell.
Pipedrive.
Method:CRM.
With the help of this guide, you'll look into categories like functionality, analytics, pros and cons of each to decide on the best CRM solution for your company.
Nutshell vs. Pipedrive vs. Method:CRM
The main difference between Nutshell, Pipedrive, and Method:CRM is in the level of personalization and automation each offers.
Let's dive deeply into each of these options to find the one that's best for you.
Nutshell overview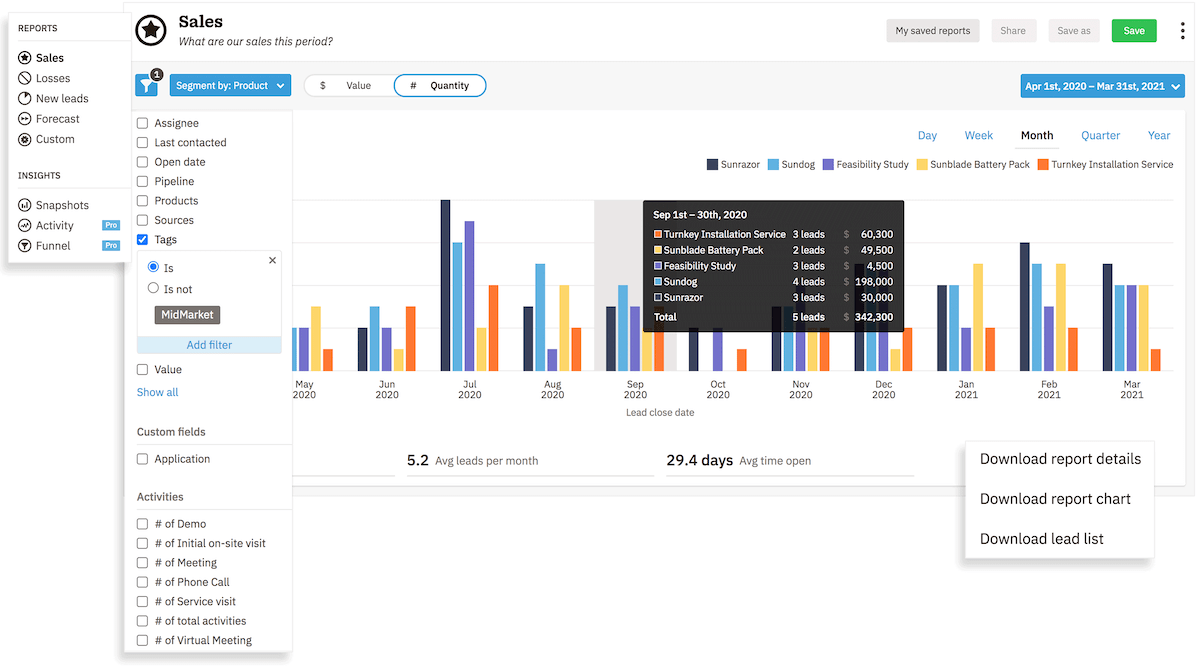 For those who have never used CRM software before, Nutshell's simple interface and intuitive design make it an excellent choice.
Nutshell has powerful sales and marketing features, from lead management to help desk support, that help you streamline your day-to-day operations. This improves team efficiency and keeps you organized throughout the day.
How Nutshell works
Nutshell is well-known for its email marketing automation capabilities.
The personal email sequence tool in Nutshell lets you create and schedule one-on-one sales drips for your leads to improve your open rate.
Their other email features include:
Segmented email lists.
Email templates and guides.
Integrations with Mailchimp and Constant Contact.
Sync with Office 365 and Gmail.
Nutshell provides reports on the effectiveness of your emails. You can track your response rates and use the email health checker to make sure you don't send too many emails to your contacts.
Nutshell also includes the CRM features you expect, such as lead management tools and dashboards for a quick overview of your company.
It's worth noting, however, that Nutshell isn't the most customizable CRM as only the reports can be completely personalized.
Pipedrive overview
Pipedrive is a simple, user-friendly CRM that is ideal for small companies.
Pipedrive outlines the sales process from beginning to end to create a more efficient CRM process. As a result, you better understand your operations and can make the best decisions for your company.
How Pipedrive works
Pipedrive is a CRM that focuses on sales. It has features that help you better track your sales process to drive repeat business.
Pipedrive lets you automate your daily processes. For example, you can set up personalized email templates with your company's logo to send off when a new contact is added.
To expand Pipedrive's abilities, you can pay for LeadBooster, a lead generation tool with a customizable chatbot, or use Pipedrive's open API to connect other tools.
Pipedrive's other CRM features include:
Integrations with over 300 apps, such as Google Calendar and Slack.
Invoice send-off directly from your CRM.
Lead capture through email tracking.
You can also edit your sales pipeline's structure and add custom fields to your sales reports.
However, one of Pipedrive's drawbacks is its lack of email marketing capabilities, but that's scheduled to change.
Pipedrive is developing an email marketing feature that lets you send campaigns directly from your CRM.
Method:CRM overview
For small to mid-sized businesses looking to automate their workflows, Method:CRM is the best tool for QuickBooks and Xero users.
Method:CRM integrates your accounting software with your other business systems to create a complete solution that enhances operations. Method also includes blog resources and FAQs with valuable recommendations on how to get the most out of your QuickBooks or Xero accounts.
This SaaS solution is available on both desktop and mobile. So your teams can access the details they need on their Windows or Android device whether they're in the office or out on the field.
Plus, with Method you get more than a traditional CRM with powerful workflow automation for everything from lead management to customer support and logistics.
As a result, you have a solution that adapts to your changing business needs and grows with you.
How Method:CRM works
The biggest benefit of using Method:CRM is the complete process automation it enables.
From its two-way sync with QuickBooks and Xero, to its ability to mirror workflows end-to-end, Method:CRM powers your operations in the background, so you can focus on closing more deals and generating more money to reinvest in growth.
Method:CRM's workflow automation saves time on tasks such as:
Lead capture.
Invoice creation.
Sales follow-up.
Payment processing.
Lastly, Method:CRM's flexible platform lets you tailor the CRM to your business. You can personalize your dashboard, sales processes, and more with Method:CRM.
Comparing Nutshell, Pipedrive and Method:CRM
Let's compare the features, benefits, and limitations of each CRM option.
If you're interested in other CRM comparisons, check out these guides:
Key features
Lead assignment and advancement is done automatically.
Make changes to multiple records at once with bulk editing.
A useful news feed to keep up with what's going on in your company.
Import leads from Excel or manually update the data.
A tool for creating custom sales drips.
Mobile app.
Primary benefits
Easy-to-use interface.
No limits on users or records.
Detailed dashboards.
Customized reporting is available.
Several integrations.
Limitations
Does not separate leads from opportunities.
Limited customization capabilities.
Does not scale as your company does.
Key features
Lead capture chatbot.
Change multiple fields at once by bulk editing.
Real-time look at your business with live dashboards.
Mobile application.
Primary benefits
Drag-and-drop interface is simple to use.
Simple to use so you can get up and running quickly.
Integrations with Gmail, Slack, and other business tools.
LeadBooster can be added to custom chatbots.
Limitations
Limited customization abilities.
Does not distinguish between leads and contacts.
Key features
Automatic two-way sync between QuickBooks and Xero.
Use lead generation forms to catch the attention of your website visitors.
A better customer experience with an online customer portal.
Mobile app for updates from anywhere.
Reporting tailored to your needs.
Native integrations with your everyday tools.
Primary benefits
Accurate, up-to-date data thanks to the sync between Method:CRM and QuickBooks or Xero.
Useful business insights at your fingertips with custom dashboards and reports.
Personalize your emails, invoices, and estimates with reusable templates.
Convert estimates to invoices with a few clicks instead of entering data twice.
Take customer experience to a new level with multiple payment gateways and a self-service portal.
Customize the software as much as you want to create your own unique solution.
Limitations
The main drawback of Method:CRM is that it requires you to be a QuickBooks or Xero user to benefit from the product fully. Plus, Method:CRM is currently only available in English.
Nutshell pricing
Nutshell offers two pricing plans:
Starter: $20 per user per month.
Pro: $42 per user per month.
They offer a 14-day free trial with no credit card required.
Pipedrive pricing
Pipedrive has four pricing plans:
Essential: $12.50 per user per month.
Advanced: $24.90 per user per month.
Professional: $49.90 per user per month.
Enterprise: $90.00 per user per month.
Pipedrive offers a 14-day free trial.
Pipedrive also offers add-ons for a price, like LeadBooster for an extra $32.50 monthly per company.
Method:CRM pricing
Method:CRM offers three subscription plans:
Contact Management: $25 per user per month.
CRM Pro: $44 per user per month.
CRM Enterprise: $74 per user per month.
Method:CRM also offers a free free trial with full access to the platform and unlimited users. With no credit card or contract required, it's easy to get started.
Who should use Nutshell?
Nutshell is suitable for a wide range of small businesses in a number of industries. However, its features are not as advanced as other CRMs.
If your main priority is to improve your email marketing automation, Nutshell is a good option.
Who should use Pipedrive?
Pipedrive is a good place to start if your small business is in its early stages and you're looking for a simple CRM with standard tools.
Keep in mind that if your company grows quickly, Pipedrive may not be able to keep up with the demand that brings on.
Who should use Method:CRM?
Method:CRM is for QuickBooks or Xero users who want to increase efficiency by automating their daily processes.
It's an excellent software for a wide range of businesses, including:
Field services.
Manufacturing.
Wholesale.
Distribution.
Construction.
Bottom line
Nutshell, Pipedrive, and Method are all excellent CRM options that increase your team's productivity and improve your bottom line.
Given the wide range of options available, it's critical to take your time to select the best option. Find what works for your business by testing out the free trials each solution offers.
Jumpstart your search with your free trial of Method:CRM.